ART MARBELLA – SPAIN – MODERN & CONTEMPORARY ART SHOW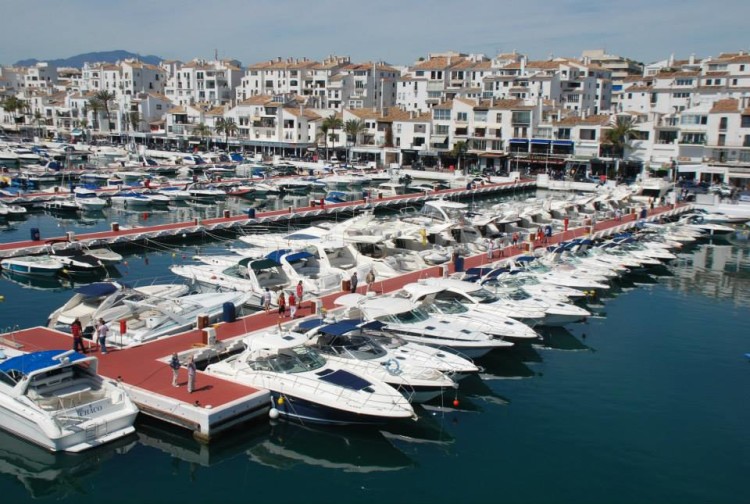 Art Marbella
July 30th – August 3rd
Palacio de Ferias, Congresos y Exposiciones de Marbella
Avda. José Meliá, 2
Marbella
marbellafair.com
MARBELLA, NEW DESTINATION OF THE WORLD OF ART
The most important event of contemporary art in South Europe will turn Marbella into the new indispensable date within the international calendar. Art Marbella is born, a fair and meeting point for Mediterranean creators and collectors.
During 5 days, from July 30 to August 3, 2015, Marbella will become the new worldwide capital of art. Art Marbella, the first great fair of Mediterranean art, will gather near 50 prestigious international galleries. It will also feature specific sections, developed by independent curators, presented as research and deepening spaces on the work of selected artists, and with specific projects carried out by invited artists.
In cooperation with the Centre of Contemporary Art CAC of the neighbouring Malaga, and other museums and art centres from the region, Art Marbella will also develop a full programme of parallel activities for national and international collectors.
While, traditionally, the "Mare Nostrum" has been a meeting point between the Middle East and the West, Art Marbella will serve as its most topical creation. The purpose is to pass on to the large public an exceptional offer of art, where the most emergent proposals coexist with great pieces from the 20th Century. The timing –summer– is when the city becomes a destination for visitors from all over the world with a high purchase power. Considered as the capital of Costa del Sol, Marbella is an essential destination on the Mediterranean Sea for the style, design and art lovers.
In the words of its promoter, Alejandro Zaia, "Marbella is one of the most relevant places of European summer. It gathers a large number of European visitors, but also from places such as Russia and the Middle East, and represents a unique opportunity to establish an international art fair with the excellence and quality deserved both by the city and its visitors". Additionally, Zaia continues "it is a very good occasion to expand the collecting activity's frontiers by incorporating new players within the system, teaching, explaining and showing to them the best existing art in the world".
The fair Art Marbella will be developed in the Palacio de Ferias, Congresos y Exposiciones of Marbella, a modern building located near the historic city centre, next to the beach and the seaside promenade.
This initiative counts with the support and collaboration of the Town Council of Marbella.
Behind Art Marbella.
Art Marbella is promoted by the businessman Alejandro Zaia (Buenos Aires, 1961), co-founder of fairs PINTA New York (2007) and PINTA London (2010), specialized in art from Latin America, Spain and Portugal. Zaia is a communication and marketing expert and has founded and developed communication companies in Argentina, Chile, Mexico and the United States. In addition, he is the director of the MUNDUS NOVUS Collection (dedicated to contemporary Latin American art), and has been part of the board of international consultants on the MOLAA, Museum of Latin American Art of Los Angeles and of the ART Museum for Private Collectors.
A fair's success depends on a careful selection of its participants. For such purpose, Art Marbella has the privilege to count with some of the most outstanding figures of the international artistic scene. In this first edition, the curatorial committee consists of Omar López-Chahoud, independent curator based in New York, and founder and director of the fair UNTITLED of Miami, Neri Torcello, Italian resident in London, who will be in charge of selecting Master artists, and María Chiara Valacchi, curator and director of the Spazio Cabinet Foundation in Milan, who will be responsible for special projects. The criterion agreed by all these curators is to hold a contemporary fair, with certain references and bonds with more-known and well-established artists, so as to give a meaning and provide a context to the youngest artists. Thus, Art Marbella will count with a section of Master artists, where visitors and collectors will find important and relevant works from the international market.
The fair's design and decoration will be entrusted to the Mexican architect Othon Castañeda, also artist and curator –director of the Biennial of the Frontiers–, who will organize and produce an original tour, with wide exhibition spaces and resting and comfort areas for visitors. Art and architecture melt to make of Art Marbella a unique experience.
With an aim to warmly welcome visitors and participating galleries, a committee has been created with prominent people from the world of culture, politics and business. Among others, the Mayor of Marbella, Ms. Ángeles Muñoz, and personalities from the world of culture, collecting and European social life, such as Anibal and Marlise Jozami, Francis Verstraeten, Pablo de Hohenlohe, Sebastián Valdez, Eduardo Diez Hochleinder, Fernando Francés, Flavia de Hohenlohe, Konstantine von Knieriem and Virginia Harley Sartorius, Salvador and Elena Garriga, Luis and Yolanda Caballero, Irina Grafin zu Stolberg-Stolberg, Princess Lulu Al-Sabah.
Art Marbella is also please to announce that applications for its first edition are now open. Application deadline is March 30, 2015.
For further information please contact info@marbellafair.com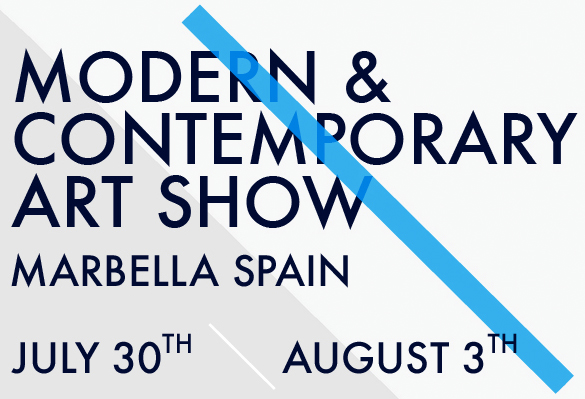 ART MARBELLA
PALACIO DE CONGRESOS Y EXPOSICIONES DE MARBELLA
MARBELLA – SPAGNA
DAL 30 LUGLIO AL 3 AGOSTO 2015
marbellafair.com
Dal 30 luglio al 3 agosto si terrà la prima edizione di ART MARBELLA, grande fiera d'arte del Mediterraneo che per cinque giorni riunirà numerose gallerie di tutto il mondo a Marbella.
ART MARBELLA sarà ospitata nel centro storico della città presso il Palacio de Ferias, Congresos y Exposiciones e sarà aperta al pubblico dalle 17.00 alle 22.00.
La Fiera si collocherà in un contesto territoriale dove l'arte e la cultura stanno trovando terreno particolarmente fertile. Ne è un esempio la vicina Malaga che vanta la presenza di una delle sedi del Museo Thyssen-Bornemisza e le imminenti aperture di una succursale del Centro Pompidou e del Museo di Stato Russo di San Pietroburgo.
Organizzata da Alejandro Zaia, imprenditore e responsabile di importanti fiere come PINTA London e PINTA New York, specializzate in arte Latinoamericana, Spagnola e Portoghese, ART MARBELLA vanta un comitato curatoriale formato da tre importanti professionisti:
Omar López-Chahoud curatore freelance che vive a New York, fondatore e direttore della fiera UNTITLED di Miami, Neri Torcello, italiano residente a Londra che si occuperà della sezione Masters, e Maria Chiara Valacchi, curatore e direttore di Spazio Cabinet a Milano, a cui sono stati affidati i Progetti Speciali.
ART MARBELLA sará una fiera contemporanea aperta a visitatori, collezionisti e addetti ai lavori dove verrà dedicato ampio spazio alla grande arte del Novecento. Diversi saranno i capolavori di rilevanza internazionale presentati nel settore Masters dove opere di artisti del XX secolo convivranno con l'arte più emergente.
ART MARBELLA nasce da un'idea di Alejandro Zaia, ora direttore della Collezione MUNDUS NOVUS dedicata all'arte iberoamericana contemporanea, e in passato consulente internazionale del MOLAA, Museum of Latin American Art di Los Ángeles e del ART Museum for Private Collectors.
L'allestimento e l'arredamento della fiera verrà affidato all'architetto messicano Othon Castañeda, artista e curatore, che disegnerá un percorso originale con ampi spazi espositivi e accoglienti zone relax.
Con lo scopo di dare uno speciale benvenuto agli invitati e ai galleristi, è stato costituito un comitato composto da importanti figure provenienti del mondo della cultura, della politica e dell'impresa come: il Sindaco di Marbella, Ángeles Muñoz,
Anibal e Marlise Jozami, Francis Verstraeten, Pablo di Hohenlohe, Sebastián Valdez, Fernando Vega Olmos, Fernando Francés, Flavia di Honhenlohe, Virginia Harley Sartorius, Salvador ed Elena Garriga, Luis e Yolanda Caballero, Irina Grafinzu Stolberg Stolberg e la Principessa Lulu Al-Sabah.
Il pubblico, che potrà visitare la Fiera e conoscere le nuove tendenze dell'arte in un orario che ben si adatta al clima estivo (17.00-22.00), durante il giorno potrà godersi la bellezza del mare, visitare i luoghi caratteristici della città, oltre a concedersi una partita a golf nei rinomati campi della zona.
INFORMAZIONI
\ WEB http://marbellafair.com/
\ DATE E ORARI
Giovedí 30 luglio – preview ad inviti per la stampa, VIP e addetti ai lavori
Venerdí 31, sabato1, domenica 2 e lunedí 3
Orario: dalle 17.00 alle 22.00
\ LUOGO
Palacio de Congresos y Exposiciones de Marbella
Avda. José Meliá, 2
29600 Marbella, Malaga, Spagna
\ COME ARRIVARE
Aeroporto internazionale di Malaga: 37 minuti
Stazione ferroviaria AVE Malaga: 45 minuti
UFFICIO STAMPA
RENZO – www.renzomadrid.com
Ada Tullo ada@renzomadrid.com | Tel. +39 349 267 4900
Mónica Iglesias monica@renzomadrid.com