arteBA 2011 | BUENOS AIRES – ARGENTINA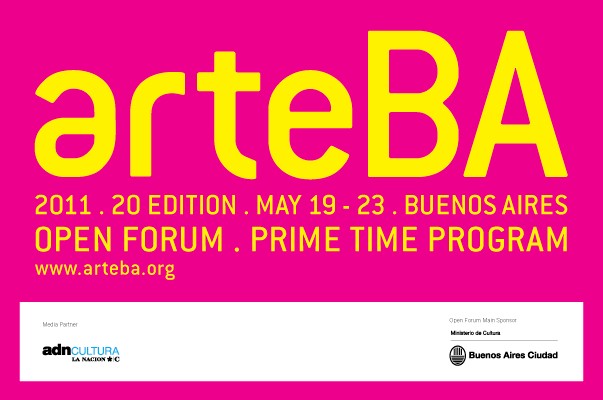 arteBA 2011
20 EDITION
Contemporary Art Fair
Buenos Aires – Argentina
19 – 23 May  2011
OPEN FORUM – PRIME TIME PROGRAM
THURSDAY, MAY 19 – 6 PM
Latin American Art Curators: agendas and challenges
Substantial changes have taken place in Latin American Art's situation in the 21st Century.
Art and artists redefine forms of production and circulation; identity is no longer necessarily a central issue in their poetics. Can we continue to refer to art as Latin American? How do those curators of collections and institutions capable of taking the lead with new initiatives establish their policies? How do they intervene in designing new fields of research? What are their priorities as they define their agendas? This session proposes to analyze different forms of collecting and exhibition planning and their respective effects on the field of what we problematically call Latin American Art.
Michel Blancsube (Curator, JUMEX, Mexico), Cecilia Fajardo-Hill (Curator, MOLAA, USA), Mari Carmen Ramirez (Curator, MFAH, USA), Jochen Volz (Curator, INHOTIM, Brazil).
Coordinator: Andrea Giunta (Writer, curator and researcher, Argentina).
FRIDAY, MAY 20 – 6 PM
The Social Role of Collectors in the 21st Century
They are shapers of taste and opinion, artifices of the global visual arts itinerary: collectors play a decisive role in contemporary society due to their media presence and the visible and inevitable power underlying their purchases. Patrick Charpenel (Collector. Mexico), Cesar Gaviria (Collector. Colombia), Juan Carlos Verme (Collector. Perú), Eduardo Costantini  (Collector. Argentina)
Coordinator: Alicia de Arteaga (Journalist and editor of the adn cultural supplement of La Nación newspaper, Argentina).
SATURDAY, MAY 21 – 6 PM
Light and shadow in the independent curator's task
The very same traits that sustain the joy of this job can degenerate into a nightmare: the diversity of people and institutions one has to deal with, the velocity with which one passes from one project on to the next, the relative distance from economic powers, the relative closeness of relationships with artists, the schizophrenia of alternating between being one's own boss and one's own assistant… Finding support in generational and geopolitical affinities, the curators united for this round table will exchange comic and tragic examples of experience as well as highly subjective opinions regarding the task of being independent.
Ana Paula Cohen (Independent Curator, Brazil), Beatriz Lopez (Independent Curator, Colombia), Abaseh Mirvali (Independent Curator and Producer, residing between Mexico and Berlin), Rodrigo Quijano (Independent Curator, Perú) Coordinator: Eva Grinstein (Independent Curator, Argentina).
SUNDAY, MAY 22 – 6 PM
Can Art Influence World Transformation?
This question is insistently being reinstated in contemporary art. Different responses are conceived on the basis of strategies arranged in accordance with images, texts, editions and research.
The rich intensity of these articulations disarms the limitations of any specific practice; instead, they look to weave alliances, share zones of action or design common platforms. This session will address the strategies that have served as catalysts in activating the power of cultural intervention.
Andrea Giunta (Writer, curator and researcher, Argentina), David Joselit (Professor of Art History at Yale University, USA), Ana Longoni (Writer, Professor at the Universidad de Buenos Aires, researcher at CONICET, Argentina).
For more information or images please contact  Soledad Álvarez Campos prensa@arteba.org
Tel: +5411 – 4816.8704  int:107
arteBA 2011
20 EDITION
La Rural
Blue and green Pavilion
Sarmiento Av. 2704
Buenos Aires – Argentina
www.arteba.org
OPEN HOURS 1 to 9 pm