HANGARBICOCCA PRESENTS CELESTE BOURSIER-MOUGENOT 2011 – MILAN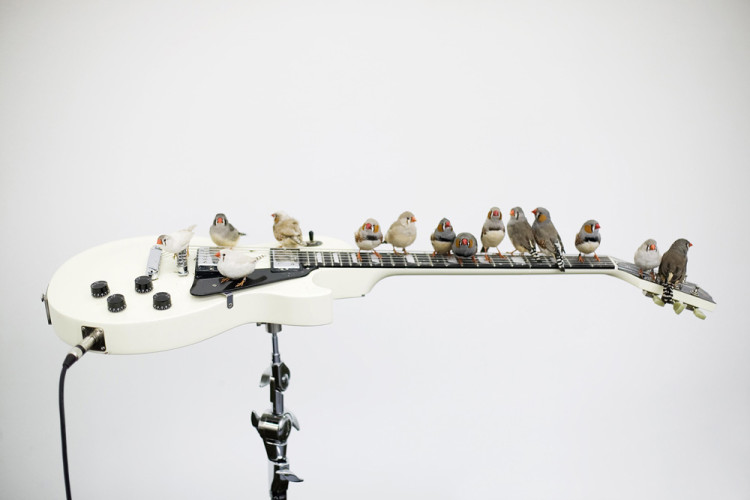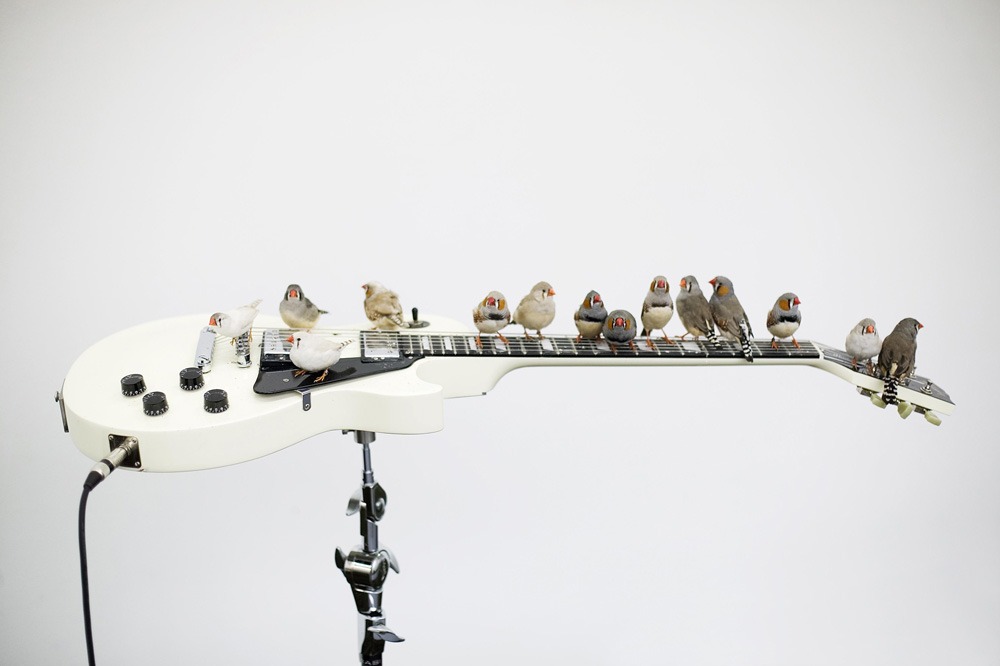 HangarBicocca presents
from here to ear (version 15)
Céleste Boursier-Mougenot 2011
Download CBM bio ENG
Céleste Boursier-Mougenot (born in 1961) is a French visual artist whom finds a musical potential in everything and explores music in relation to the chaos theory and everyday life. During the last two decades, the sonic adventures of the French artist have measured with vacuum cleaners played as squeeze boxes, with waving dishes that have become percussion instruments and with street sounds processed and re-edited. And in particular with birdies that have played guitars and percussions in the most powerful tradition of indie and experimental music, producing a musical junction between Sonic Youth and avant-garde.
Boursier-Mougenot wasn't born as a visual artist, but as a musician at the Conservatory in Nice and as composer for a period of nine years (1985-1994) at the Pascal Rambert Theatre Company, an avant-garde theatre group. He moved inch by inch towards contemporary art and, starting from the early 90's, he began to expose sonic installations in museums, galleries and exhibition spaces, perfect places for his original compositions that have slowly entered in the repertoire of the memorable works of the last decade.
In his approach there is something taken from John Cage, supporter of the claim "everything we do is music", thus Boursier-Mougenot doesn't pursue the sound chaos that fills everyday life as Cage, but revises and orchestrates situations where there is something random, he is able to create new kinds of music, or to reveal hidden worlds, often involving the public – especially the youngest – in the participation to the artwork, as it happens in from here to ear, when a birdie chooses to land on earth or to fly on a guitar.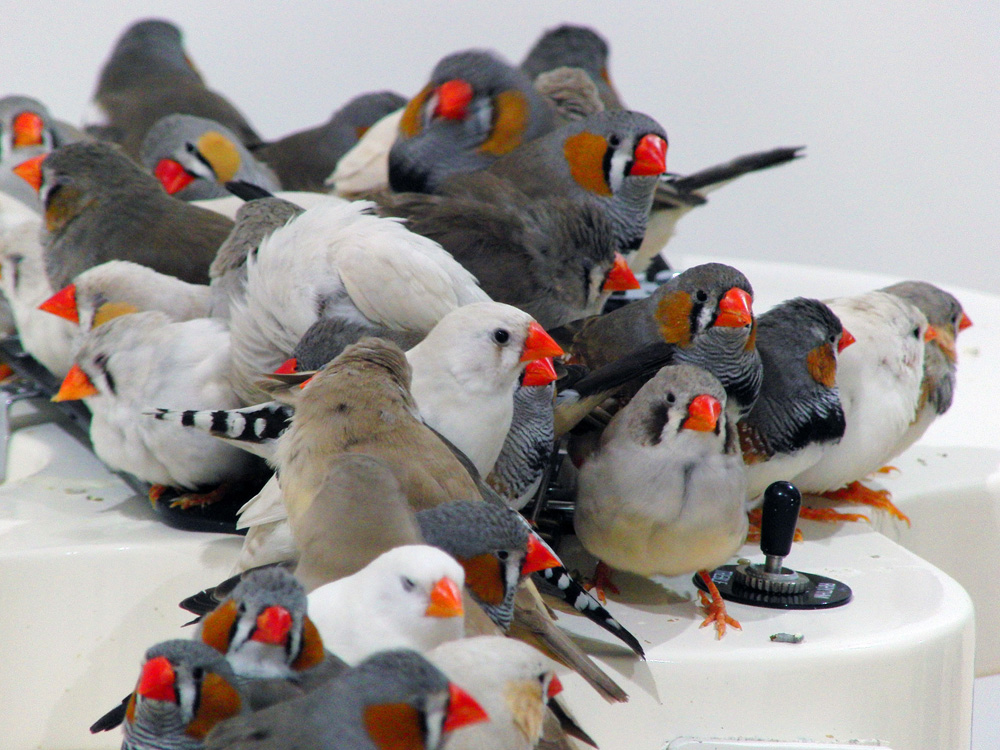 from here to ear (version 15), the installation Boursier-Mougenot presents in the Cube of the HangarBicocca, curated by Andrea Lissoni, is a version especially conceived for the most spectacular space of HangarBicocca, and arrives in Milan with an original set-up after the great success received from the public and the critics in London on the occasion of his exhibition at the Barbican Art Centre during Spring 2010. This installation continues the tradition of attention to experimental yet of great impact art forms started by the HangarBicocca Foundation with the Terre Vulnerabili project, which will go on October 13th with the live diffusion  of the musical composition The Station by the Swiss artist Herbert Distel.
Boursier-Mougenot's work is reliant on space, an artificial landscape which has been carefully calculated by the artist. Whether this space be a collection of pools of water, as in his piece Variation (Pinacothèque, Sao Paolo, Brazil, 2009) or a long stretch of concrete surrounded by grass and electric guitars balancing on metal stands used in his much acclaimed work From Here to Ear (Gallerie Xippas, Paris, France, 2008), the artist successfully exploits nature and human nature in these environments to their highest, virtually untapped musical potential.
Boursier-Mougenot, already awarded multiple prizes, including the Golden David Award (David Contemporary Art Academy) in 2009, the AFAA Artists' Studio Program (P.S.1 – Institute for Contemporary Arts) in 1998 and the FIACRE Grant in both 1997 and 2004, is able to touch a large variety of public through a wide choice of media within a controlled space, in his innovative approach towards the combination of familiar elements of life: one which is universally appreciated – music – and that which is generally taken for granted – the ordinary, a result that has been rarely reached and never in his very personal way.
The online clip of his installation From Here to Ear has had more than half a million views highlighting the universal appeal of his work which is even more captivating when visited in person. Despite the widespread popularity of his art, Boursier-Mougenot integrates science, something which is generally considered to be trying and specialist, in creating order in chaos.
In his piece Virus (2006) Céleste Boursier-Mougenot creates for example an image through filtering the video feedback which is projected onto a white wall. The effect produced is a subtle, curious and slightly grotesque image which echoes the formation of a virus, the title of the artwork. Visual elements are also present in others of his installations as a necessary element, for instance zebra finches hopping on guitar strings in from here to ear, which further complement the musical components of his creations.
Boursier-Mougenot uses thus a controlled variable – an environment, specifically chosen objects and/or animals – in relation to an independent variable, the behaviour of these controlled elements in relation to each other – to create an intentional randomness. This approach is best demonstrated in his piece Index (Théâtre de Genneviliers, 2008-2009) in which some files on a computer pass through a code which has been carefully designed by the artist and emerge through a grand piano in the centre of the room in a Gyorgy Kurtag-esque manner. This combination of concept, calculations and chance allows Boursier-Mougenot to declare that "we must let the objects talk" or even better "I want to reveal the musical potential of objects or materials that are not produced for their acoustic qualities".  In his monograph the artist is described as a "life-hacker", someone who taps into life through a series of intelligent and highly tested actions and retrieves its musical and visual code.
His artworks have been exposed either in private and in public collections all over the world, among which: Centre Georges Pompidou, Paris; Museum of Old and New Art, Hobart, Tasmania; Israel Museum, Jerusalem; San Diego Museum of Contemporary Art, La Jolla, CA; Fonds National d'Art Contemporain, Paris; Fonds Régional d'Art Contemporain (FRACs), France.
All of the activities of HangarBicocca are made possible thanks to the contributions made by the following:
Founding partners: Lombardy Region, Milan Chamber of Commerce and Pirelli & C.
Contributing partners: Mba Group, Ogilvy and The Family
For the Cube: BNL, BNP Paribas Group
Partners: Fondazione Corriere della Sera, DHL, Erco, Mainsoft and April
Media Partners: Mymi, Telesia and University.it
For the Education Department: Rottapharm | Madaus and Trivioquadrivio
Opening: October Wednesday 5th 2011 from 19.30
Dates: October 6th to December 4th 2011
Place: HangarBicocca, Via Chiese  2  (parallel to V.le Sarca)
Orario: everyday from 11.00 to 19.00, Thursday from 14.30 to 22.00, closed on Monday
Entrance: Free
For further information:  info@hangarbicocca.it / www.hangarbicocca.it
Press Office: Lucia Crespi, tel. 02 89415532 – 89401645, lucia@luciacrespi.it
Videos:
http://vimeo.com/10116574
http://www.youtube.com/watch?v=8ZQ4VmicDeM

Céleste Boursier-Mougenot at London's Barbican from The Wire Magazine on Vimeo.