HANGARBICOCCA, THE SPACE REOPENS – HANGARBICOCCA SI RINNOVA – MILAN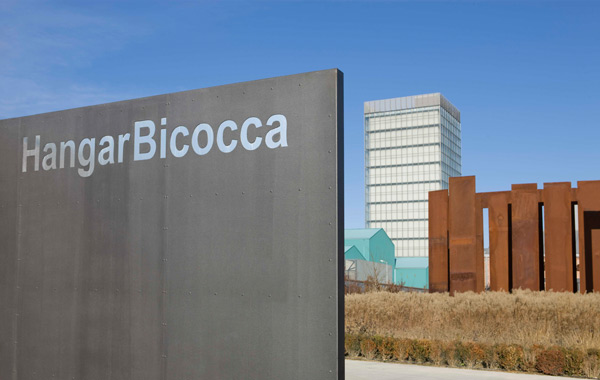 HangarBicocca, the space reopens
The centre for contemporary art presents new spaces and new exhibitions
from 11 April 2012
HangarBicocca reopens to visitors on 11 April 2012, having been temporarily on hold, with renewed spaces, a new visual identity and two original exhibition projects: NON NON NON, the first retrospective dedicated to visual artists Yervant Gianikian and Angela Ricci Lucchi, undisputed voices of artistic culture in the 20th and 21st centuries, and an original version of the famous installation Shadow Play by German artist Hans-Peter Feldmann, among the most highly rated in the world.
HangarBicocca has improved its 15,000 m² with more functional spaces for exhibitions and cultural activities: There will also be a special space for children, an interactive multimedia wall, a multifunctional area for workshops and conferences and a café-restaurant. HangarBicocca is a place with an international outlook for the production and exhibition of contemporary art; it is now opening up more to local needs, with programmes aimed at a broad audience, seeking to involve them in art related initiatives.
Other innovations include: longer opening hours, extending into the evening (from 11 AM to 11 PM, free entry, continuing education activities, the presence of trained staff to accompany visitors and talk about the themes presented in the exhibitions, and new-look informative and educational visual materials.
HangarBicocca performs a cultural, educational and constructive role, with the aim of offering visitors the opportunity to confront the artists' ideas and their works, making them comprehensible and accessible to all, and not only to the experts.
A big workshop with an experimental and informative vocation, and programming entrusted to the capable hands of director Chiara Bertola and curator Andrea Lissoni.
The exhibition projects will continue to interact with the permanent installations: Anselm Kiefer's evocative work The Seven Heavenly Palaces (2004) and Fausto Melotti's sculpture, Sequence (La Sequenza) (1971-1981), located in the public garden.
The HangarBicocca project is promoted by Pirelli, a founding partner of the Foundation, chaired by Marco Tronchetti Provera, together with the Region of Lombardy and the Milan Chamber of Commerce.
Pirelli views the HangarBicocca project as the natural extension of a business culture that has always been centred around innovation and research. The decision to support an institution focusing on contemporary art and open to the people of the city is the fruit of a deep-seated belief that culture is one of the main drivers of social development.
HangarBicocca, Via Chiese 2, Milan http://www.hangarbicocca.org/
Information for the general public: info@hangarbicocca.it /tel. 02.6611.1573
Opening hours: Thursday – Sunday from 11 am to 11 pm. Free entry.
.-.-.-.
HangarBicocca si rinnova
Dall'11 aprile il centro per l'arte contemporanea riapre con
nuove mostre e nuovi spazi
HangarBicocca riapre le porte ai visitatori l'11 aprile 2012, dopo una temporanea sospensione delle attività, con spazi rinnovati, una nuova immagine e due originali progetti espositivi: NON NON NON, la prima retrospettiva dedicata agli artisti visivi Yervant Gianikian e Angela Ricci Lucchi, interpreti indiscussi della cultura artistica del XX e XXI secolo, e una inedita versione della celebre installazione Shadow Play di Hans-Peter Feldmann, artista tedesco tra i più accreditati al mondo.
I quindicimila metri quadrati di HangarBicocca offriranno aree più funzionali per le attività espositive e culturali: dal nuovo spazio dedicato ai bambini alla parete multimediale interattiva, dall'area polifunzionale per workshop e conferenze al rinnovato ristorante-caffetteria. Come luogo di respiro internazionale per la produzione e l'esposizione di arte contemporanea, HangarBicocca si apre maggiormente, dunque, alle esigenze del territorio, con programmi rivolti a un pubblico ampio, da coinvolgere in iniziative collegate all'arte.
Le novità riguarderanno inoltre: gli orari dilatati anche nella fascia serale (dalle 11 alle 23), la gratuità, le attività educative continuative, la presenza di personale preparato a spiegare i temi presenti in mostra, il materiale visivo, informativo e divulgativo creato con una veste grafica rinnovata. Attraverso un'offerta culturale, educativa e didattica, HangarBicocca intende quindi stimolare i visitatori a misurarsi con le idee degli artisti e con le opere, rendendole comprensibili e accessibili a tutti, addetti ai lavori e non.
Un grande laboratorio dalla vocazione sperimentale e divulgativa con una programmazione affidata alla direttrice Chiara Bertola e al curatore Andrea Lissoni.
I progetti espositivi continueranno a dialogare con le installazioni permanenti: la suggestiva opera di Anselm Kiefer I Sette Palazzi Celesti (2004) e la scultura di Fausto Melotti, La Sequenza 1971 (1981), collocata nell'area esterna.
HangarBicocca è sostenuto dalla Fondazione HangarBicocca, presieduta da Marco Tronchetti Provera. Pirelli è Socio Fondatore Promotore della Fondazione oltre che Socio Fondatore, insieme a Regione Lombardia e Camera di Commercio di Milano: i tre partner sono concordi nel ritenere che la cultura sia uno dei principali motori dello sviluppo e che l'arte contemporanea abbia una funzione essenziale per l'individuazione e la rappresentazione dei mutamenti sociali. Per Pirelli, in particolare, HangarBicocca è il naturale proseguimento di una cultura di impresa che da sempre pone al centro la ricerca e l'innovazione.
HangarBicocca Via Chiese 2 Milano http://www.hangarbicocca.org/
Info per il pubblico: info@hangarbicocca.org /tel. 02.6611.1573
Orari di apertura: Giovedì – Domenica dalle 11 alle 23. Ingresso gratuito.
Ufficio Stampa
Angiola Maria Gili angiola.gili.ex@hangarbicocca.org /tel. 335 6413100
Stefano Zicchieri stefano.zicchieri.ex@hangarbicocca.org /tel. 334 6160366