COVER ART – TRALEVOLTE – ROME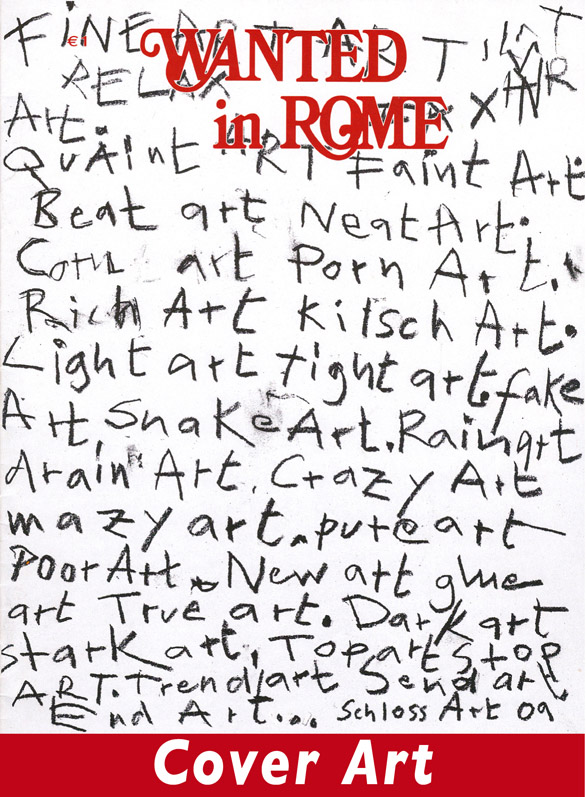 Associazione Culturale TRAleVOLTE
Wednesday, 28 November 2012, at 18.00
opening of the exhibition
Cover Art
covers for Wanted in Rome in memory of Edith Schloss
Jacopo Benci | Giancarlino Benedetti Corcos | Antonio Capaccio | Oreste Casalini | Bruno Ceccobelli | Primarosa Cesarini Sforza | Elvio Chiricozzi | Enzo Cucchi | Enrico Gallian | Paola Gandolfi | Alessandra Giacinti | Paul Klerr | Giancarlo Limoni | Enrico Luzzi | Sabina Mirri | Elisa Montessori | Luigi Ontani | Salvatore Pupillo | Ruggero Savinio | Edith Schloss | Gina Spengler | Silvia Stucky | Simona Weller
curated by Wanted in Rome, with a text by Antonio Capaccio, organization Silvia Stucky
This exhibition of works created for the covers of the magazine Wanted in Rome is a tribute to American artist and critic Edith Schloss (1919-2011), on the first anniversary of her death.
Besides her work as a painter in New York, and in Rome from the 1960s onwards, Edith was a contributor to Art News and the International Herald Tribune. In the 1980s she began to write for Wanted in Rome, the English language magazine of Rome.
In 1990, Edith started creating covers for Wanted in Rome, and in 2010 she agreed with the magazine's editor Mary Wilsey to invite other artists to contribute covers inspired by the theme of Rome. The idea was to offer artists of different generations and working in diverse media, an alternative space – the cover of a magazine – to display their work. The covers chosen ranged from drawing and painting to photography and sculpture, and in most cases were expressly made for Wanted in Rome. The success of the initiative convinced Mary Wilsey to ask Edith to curate a second series in 2011.
The exhibition Cover Art at TRAleVOLTE presents the covers of 23 artists published from 2010-2011 and the original works from which they were taken. The show includes the covers Edith realized for the magazine between 1990 and 2011 (and their alternative versions), as well as two albums of her sketches.
Curated by Wanted in Rome, the exhibition is accompanied by an introductory text by the artist Antonio Capaccio, and is organized by Silvia Stucky.
until Wednesday 19 December 2012 | Monday-Friday, 17.00-20.00
TRAleVOLTE | Piazza di Porta San Giovanni, 10 | 00185 Roma
tel. 06 70491663 | tel. & fax 06 77207956 | tralevolte@yahoo.it | www.tralevolte.org
.-.-.-.
Associazione Culturale TRAleVOLTE
mercoledì 28 novembre 2012 alle ore 18
inaugurazione della mostra
Cover Art
covers for Wanted in Rome in memory of Edith Schloss
Jacopo Benci | Giancarlino Benedetti Corcos | Antonio Capaccio | Oreste Casalini | Bruno Ceccobelli | Primarosa Cesarini Sforza | Elvio Chiricozzi | Enzo Cucchi | Enrico Gallian | Paola Gandolfi | Alessandra Giacinti | Paul Klerr | Giancarlo Limoni | Enrico Luzzi | Sabina Mirri | Elisa Montessori | Luigi Ontani | Salvatore Pupillo | Ruggero Savinio | Edith Schloss | Gina Spengler | Silvia Stucky | Simona Weller
a cura di Wanted in Rome, con un testo di Antonio Capaccio, organizzazione Silvia Stucky
Questa mostra delle opere create per le copertine di Wanted in Rome è un omaggio all'artista e critica americana Edith Schloss, nel primo anniversario della sua scomparsa.
Attiva a New York e dagli anni Sessanta a Roma, dopo aver scritto per Art News e International Herald Tribune, Edith Schloss iniziò negli anni Ottanta a collaborare con Wanted in Rome, la rivista in lingua inglese di Roma.
Dal 1990 Edith iniziò a realizzare delle 'copertine d'artista' per Wanted in Rome, e nel 2010 concordò con la direttrice della rivista Mary Wilsey di invitare altri artisti a creare per Wanted in Rome delle copertine ispirate al tema di Roma. L'idea era quella di offrire ad artisti di varie generazioni e operanti in differenti modi uno spazio alternativo – le copertine di una rivista – per mostrare il loro lavoro. Le opere scelte spaziavano fra disegno, pittura, fotografia e scultura, e nella maggior parte dei casi vennero realizzate appositamente.
Il successo dell'iniziativa convinse Mary Wilsey a chiedere a Edith di curare una seconda serie di copertine nel 2011.
La mostra Cover Art all'Associazione Culturale TRAleVOLTE presenta le 23 copertine d'artista del 2010- 2011 e le opere originali da cui sono state tratte, insieme alle copertine che Edith realizzò fra il 1990 e il 2011 e a due album con bozzetti e versioni alternative.
Curata da Wanted in Rome, la mostra è accompagnata da un testo dell'artista Antonio Capaccio, e organizzata da Silvia Stucky.
fino a mercoledì 19 dicembre 2012 | da lunedì a venerdì dalle 17 alle 20
TRAleVOLTE | Piazza di Porta San Giovanni, 10 | 00185 Roma
tel. 06 70491663 | tel. e fax. 06 77207956 | tralevolte@yahoo.it | www.tralevolte.org