YEAR ONE, PARADISE ON EARTH – MICHELANGELO PISTOLETTO – LOUVRE – PARIS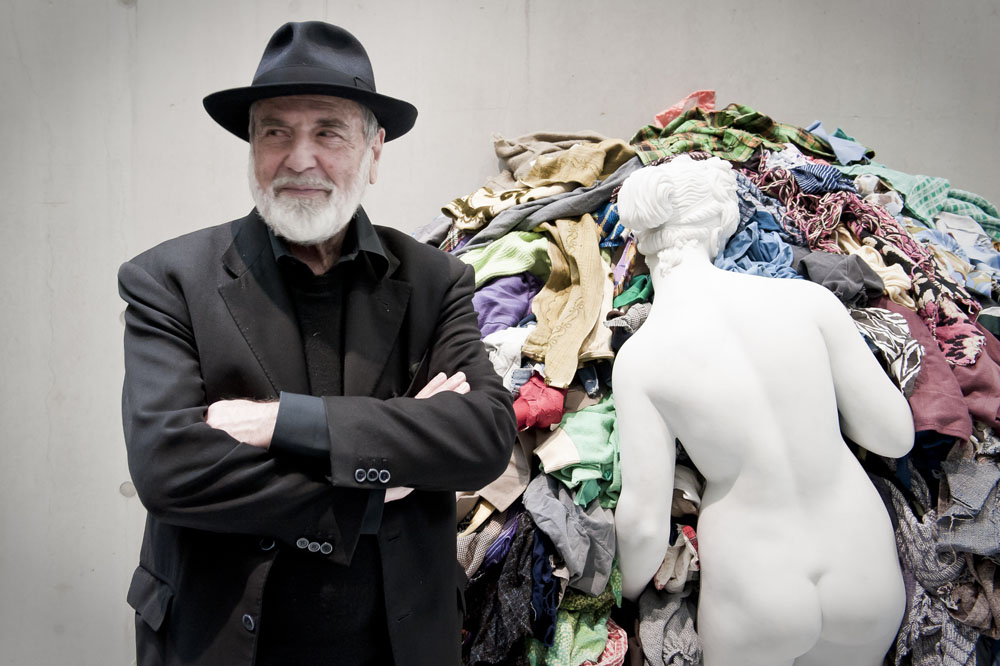 Year One, Paradise on Earth
Michelangelo Pistoletto
April 25–September 2, 2013
Department of Paintings
Department of Greek, Etruscan and Roman Antiquities
Medieval Louvre
www.louvre.fr
Exhibition curators: Marie-Laure Bernadac, Marcella Lista assisted by Pauline Guélaud
Publication: Michelangelo Pistoletto – Année 1, le Paradis sur Terre, with texts by Henri Loyrette, Bernard Blistène, Marie-Laure Bernadac, Marcella Lista, Paolo Naldini and Nicola Setari. Co-published by Musée du Louvre Editions and Actes Sud, 208 pages, 200 illustrations, €39
By extending an invitation to Michelangelo Pistoletto, the Louvre opens a new series of exhibitions by contemporary artists. The aim of this new series is not only to present works offering a fresh perspective on the museum's permanent collections, which has been the founding principle of the "Counterpoint" exhibitions, but also to take advantage of the artist's presence to organize a program of fruitful encounters in collaboration with the museum's educational and cultural staff, as well as discussions and performances in the auditorium and in the Tuileries gardens.
Of all the contemporary artists selected so far to be given carte blanche during a residency at the Louvre, the choice of Pistoletto, one of the leading figures of the Italian Arte Povera movement, undoubtedly underscores the multidimensionality of space and time more than ever before: the past embodied by the museum's own holdings, the present of visitors captured in its mirrors, and the future heralded by the Third Paradise symbol, displayed on the facade of the pyramid, a work created by the artist especially for this exhibition.
Taking as its title "Year One, Paradise on Earth," the exhibition marks the transition to a new era, one of human, social, cultural and political transformation, celebrated around the world on December 21, 2012 through various installations and performances at a number of high-profile venues, including the Louvre's Cour Napoléon.
By intervening within several departments at the museum (Paintings, Sculptures, Medieval Louvre), through his works Pistoletto instills a dialogue with the history of art, from antiquity to present times, and embodies the meeting of disparate civilizations. This intervention thus echoes the essential elements of what constitutes a museum in the twenty-first century. From his first mirror paintings, which prompted a reconsideration of the purpose of art and challenged the very notion of perspective, to his most recent works, such as The Mirror of Judgment or Il Tempo del Giudizio, Pistoletto integrates the viewer into the composition, bringing us face to face with our own responsibility in the world's evolution. The founding of Cittadellarte in the artist's hometown of Biella (Italy) in 1996 stands as the most evident manifestation of his transition from individual creation, with his early investigations of self-portraiture, to collective and international creation, joining participants from several different disciplines and fields of study.
"Love differences!" This brief exhortation in neon tubing, rendered in several languages and blazoned on the walls of the oldest section of the Louvre palace, reflects the artist's fascination with the multiple identities created by globalization, particularly in the Mediterranean region.
From the Department of Greek, Etruscan and Roman Antiquities to the Department of Paintings, taking in the Cour Marly and the Charles VI walls along the way, the Louvre is thus criss-crossed and activated by the presence of Pistoletto's works, impregnated with the vision of this singular artist, whose Third Paradise symbol greets and piques the imagination of each and every visitor to the museum. For Pistoletto, this symbol announces the reconciliation of nature and artifice, of feminine and masculine, a new conceptual matrix to reflect upon all sorts of relations between mankind and society, to devise an entirely new economy of the world.
Communications: Anne-Laure Béatrix
Press relations: Laurence Roussel – laurence.roussel@louvre.fr +33 (0)1 40 20 84 98 / 54 52 (fax)
Programming
Face to Face
Friday, May 17 at 6:30 p.m. Free admission.
The "Third Paradise": Vision and anticipation
Michelangelo Pistoletto in conversation with the art critic Nicola Setari.
The concept of the "Third Paradise"—drawing on the original lay meaning of the Old Persian pairi-daeza, or "walled garden"—the unification of technology with nature so that both can coexist in harmony, has been one of the guiding themes of Pistoletto's work in recent years. Drawing on this concept, he has launched a global artistic project exploring the universal problem of humanity's survival, organizing the first worldwide "Rebirth Day" on December 21, 2012 to usher in this new beginning. This conversation with Pistoletto will range from the principle of participation, a key element of his work since the 1960s, to the "artist's unlimited responsibility," which he fully assumes today through a broad-based activist approach, and will feature a number of rare or previously unreleased archival documents.
Wednesday, May 22 at 6:30 p.m. Free admission.
Place, space and displacement: Modification of the spectator
Michelangelo Pistoletto in conversation with the writer Michel Butor. Discussion moderated by the art critic Jean-Max Colard.
In his 1957 novel La Modification (published in English as Second Thoughts), Michel Butor tells his story entirely in the second person. This same author's novelistic reportage Mobile, published in 1962, completes his movement away from the individual to the collective, leaving behind the typical structure of the novel, delivering instead a vast collage of found texts. Butor's experimentations resonate strongly with Pistoletto's quadri specchianti (mirror paintings), which the artist also began working on in the early 1960s, thus offering the inspiration for this encounter.
Thursday, May 30 at 2:30 p.m. Adults: €6; Reduced fee: €5
Perspectives on a changing world
Michelangelo Pistoletto in conversation with the astrophysicist, CNRS research director and philosopher Aurélien Barrau.


Performance
Saturday, May 18 at 8 p.m.
Scultura da passeggio (Walking Sculpture)
A performance piece involving the rolling of a small sphere made up of newspapers through public spaces.


Theater piece
Saturday, June 1 at 8 p.m. Adults: €10; Reduced fee: €8
Anno Uno
(1981–2013)
French premiere. With the members of Cittadellarte and villagers from Corniglia (Italy). Performed in Italian with French supertitles.
The genesis of the theme selected for the Louvre exhibition, the theater piece Anno Uno, first presented at the Teatro Quirino in Rome in 1981, is the result of an unprecedented collaborative experiment, led by Michelangelo Pistoletto together with 21 inhabitants of a Ligurian village. The text, written by the artist in rhythmic cadences, as if in the space of a dream, delivers a meditation on the state of society and its possible future developments.
Just for kids
Thursday, June 13 at 7 p.m.
Come read at the Louvre: A better world
Signing of the exhibition catalogue
Wednesday, May 22 at 5:30 p.m.
Under the pyramid at the RMN bookstore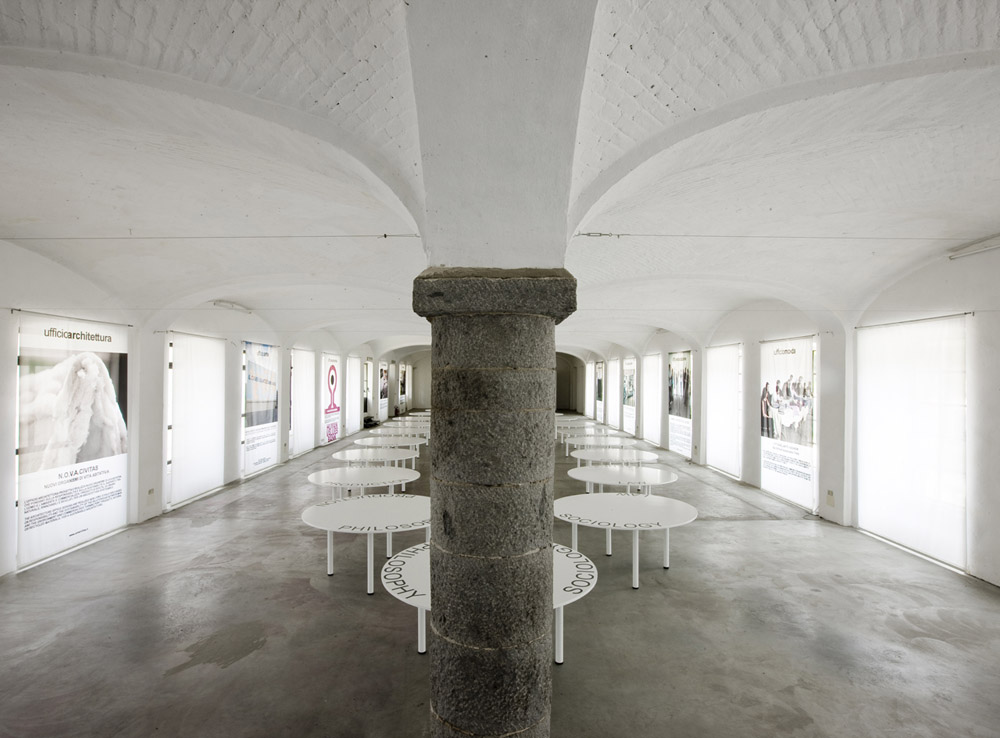 Année 1, le Paradis sur Terre
Michelangelo Pistoletto
Avec la carte blanche à Michelangelo Pistoletto, le musée du Louvre inaugure un nouveau cycle d'expositions d'art contemporain. Il ne s'agit plus uniquement de présenter des oeuvres en dialogue avec les collections, principe fondateur des Contrepoints, mais aussi de profiter de la présence de l'artiste pour organiser un programme de rencontres fructueuses avec les divers services éducatifs et culturels, ainsi que des débats et performances à l'auditorium, et dans le jardin des Tuileries.
De toutes les invitations à des artistes contemporains au Louvre, celle faite à Michelangelo Pistoletto, artiste italien cofondateur de l'Arte Povera, est sans doute celle qui interroge de plus près les différentes temporalités : le passé incarné par le patrimoine muséal, le présent des visiteurs captés dans les miroirs, et le futur symbolisé par le signe du Troisième Paradis qui s'inscrit sur la façade de la pyramide.
L'exposition intitulée « Année 1, le Paradis sur Terre » marque en effet le passage dans une nouvelle ère, celle d'une transformation humaine, sociale, culturelle, politique, célébrée dans le monde entier le 21 décembre 2012 à travers diverses installations et performances, notamment dans la Cour Napoléon du Louvre.
L'inscription des oeuvres de Michelangelo Pistoletto dans plusieurs départements (Peintures, Sculptures, Louvre médiéval, Antiquités grecques et romaines) permet un dialogue avec l'histoire de l'art, de l'antiquité à nos jours, et évoque la rencontre de diverses civilisations ; elle fait donc écho à ce qui constitue l'essentiel de la vocation du musée. De ses premiers tableauxmiroirs, qui nous invitent à une réflexion sur la fonction du tableau et la perspective, jusqu'à ses dernières oeuvres comme The Mirror of Judgment ou Il Tempo del Giudizio, l'artiste nous confronte, en nous intégrant dans l'oeuvre, à notre propre responsabilité dans l'évolution du monde. La fondation Cittadellarte, à Bielle (Italie) est la manifestation la plus visible du passage de la création individuelle, amorcée avec l'autoportrait, à la création collective et internationale de l'oeuvre de Michelangelo Pistoletto, qui regroupe divers domaines des
sciences humaines.
« Aimez les différences » ! Ces phrases lumineuses en plusieurs langues, accrochées sur les remparts de l'ancien Louvre, sont le reflet des préoccupations de l'artiste sur les identités multiples issues de la mondialisation, et particulièrement du bassin méditerranéen.
Des Antiquités grecques et romaines au département des Peintures, en passant par la Cour Marly et les remparts de Charles V, le Louvre est ainsi traversé, activé par la présence des oeuvres de Michelangelo Pistoletto, et imprégné de la vision de l'artiste qui place chaque visiteur face au signe du Troisième Paradis. Ce signe représente pour lui le dépassement de la polarité nature et artifice, féminin et masculin, une nouvelle matrice de pensée pour imaginer d'autres relations entre l'homme et la société, ainsi qu'une autre économie du monde.
Michelangelo Pistoletto est né le 25 juin 1933 à Biella. Dès l'âge de quatorze ans, il travaille dans l'atelier de restauration de son père, peintre, et dessine son premier autoportrait. Michelangelo Pistoletto commence à montrer son travail en 1955 puis poursuit sa recherche artistique en se concentrant de plus en plus sur l'autoportrait. Sa première exposition personnelle a lieu en mars 1960 à la Galerie Galatea à Turin. La période 1961-62 est marquée par de nombreuses expérimentations qui le conduiront aux fameux tableaux-miroirs. A partir de ce moment-là, l'artiste est reconnu sur la scène internationale. Michelangelo Pistoletto est considéré comme l'un des fondateurs de l'Arte Povera avec des oeuvres emblématiques telles que les Oggetti in meno (Objets en moins), 1965-66, ou bien La Venere degli stracci (La Vénus aux chiffons), 1967. En 1998, il inaugure Cittadellarte – Fondazione Pistoletto. Nouvelle forme d'institution artistique et culturelle, elle a pour vocation de faire interagir l'art avec différents secteurs de la société. En 2003, Pistoletto reçoit un lion d'Or de la Biennale de Venise qui célèbre l'ensemble de sa carrière.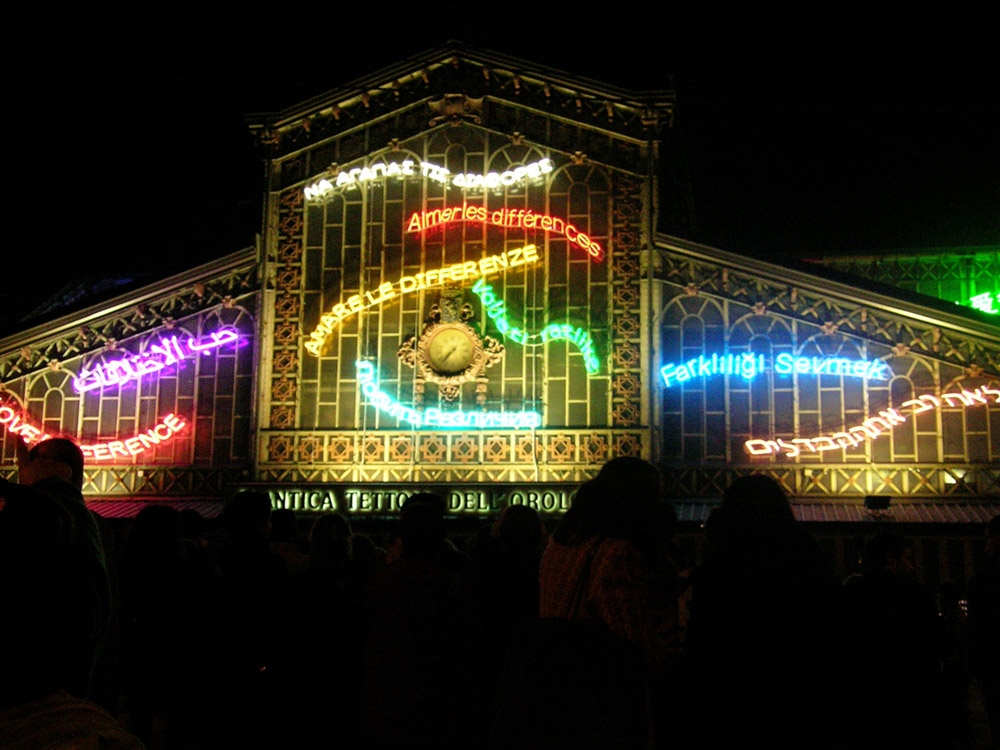 MICHELANGELO PISTOLETTO
"Année1 – Le Paradis sur Terre"
Il Louvre inaugura con Michelangelo Pistoletto un nuovo ciclo di mostre di artisti contemporanei. Non si tratta più di presentare solamente alcune opere in dialogo con le collezioni, principio fondamentale dei Contrepoints, ma anche di approfittare della presenza dell'artista per organizzare un programma di incontri fruttuosi con i diversi servizi educativi e culturali, oltre a dibattiti e performances presso l'auditorium, e nel giardino delle Tuileries.
Di tutti gli inviti fatti ad artisti contemporanei al Louvre, quello a Michelangelo Pistoletto è senza dubbio quello che interroga più da vicino i differenti momenti temporali: il passato retrospettivo rappresentato dal patrimonio museale stesso, il presente dei visitatori catturato negli specchi, ed il futuro simbolizzato dal simbolo del Terzo Paradiso, attraverso un'opera monumentale creata appositamente per il Louvre.
La mostra intitolata "Anno 1, il paradiso sulla terra", segna in effetti il passaggio ad una nuova era, quella di una trasformazione umana, sociale, culturale, politica, celebrata nel mondo intero il 21 dicembre 2012 per mezzo di diverse installazioni e performances, tra cui quella nella Cour Napoleon del Louvre.
L'inserimento di opere di Michelangelo Pistoletto in molteplici dipartimenti del Louvre permette un dialogo con la storia dell'arte, dall'antichità ai giorni nostri, ed incarna l'incontro di diverse civiltà: fa dunque da cassa di risonanza a tutto ciò che rappresenta la vocazione fondamentale del museo del XXI secolo.
Dai suoi primi Quadri specchianti, che ci invitano ad una riflessione sulla funzione del quadro e ad una messa in dubbio della prospettiva, fino alle sue ultime opere come The Mirror of Judgement o Il tempo del Giudizio, l'artista ci fa confrontare, integrandoci nell'opera, con la nostra responsabilità all'interno dell'evoluzione del mondo.
A Cittadellarte – Fondazione Pistoletto è dedicata un'installazione interattiva ideata e realizzata da Cittadellarte stessa, in collaborazione con Studio Azzurro di Milano, che immerge il visitatore del Musée negli spazi e nel contesto di questo laboratorio di arte e vita. L'installazione è esposta presso gli spazi del Louvre Medieval. La fondazione di Cittadellarte, a Biella, è la dimostrazione più visibile del passaggio dalla creazione individuale, iniziata con l' autoritratto, alla creazione collettiva ed internazionale, che raggruppa diversi campi delle scienze umane.
"Amate le differenze!" (Love difference). Queste frasi in differenti lingue, luminose ed appese sulle mura del vecchio Louvre medioevale, sono il riflesso delle preoccupazioni dell'artista riguardo alle identità multiple emerse con la globalizzazione, in particolare nel Bacino del Mediterraneo.
Dalle antichità greche e romane al dipartimento di pittura, passando per la Corte Marly e le mura di Carlo VI, il Louvre è così attraversato, attivato dalla presenza delle opere di Michelangelo Pistoletto, ed impregnato dalla visione dell'artista che pone ogni visitatore di fronte al simbolo del Terzo Paradiso. Questo simbolo rappresenta per lui il passaggio dal binomio natura ed artificio, femminile e maschile, una nuova matrice di pensiero per immaginare altre relazioni tra l'uomo e la società, così come un'altra economia del mondo.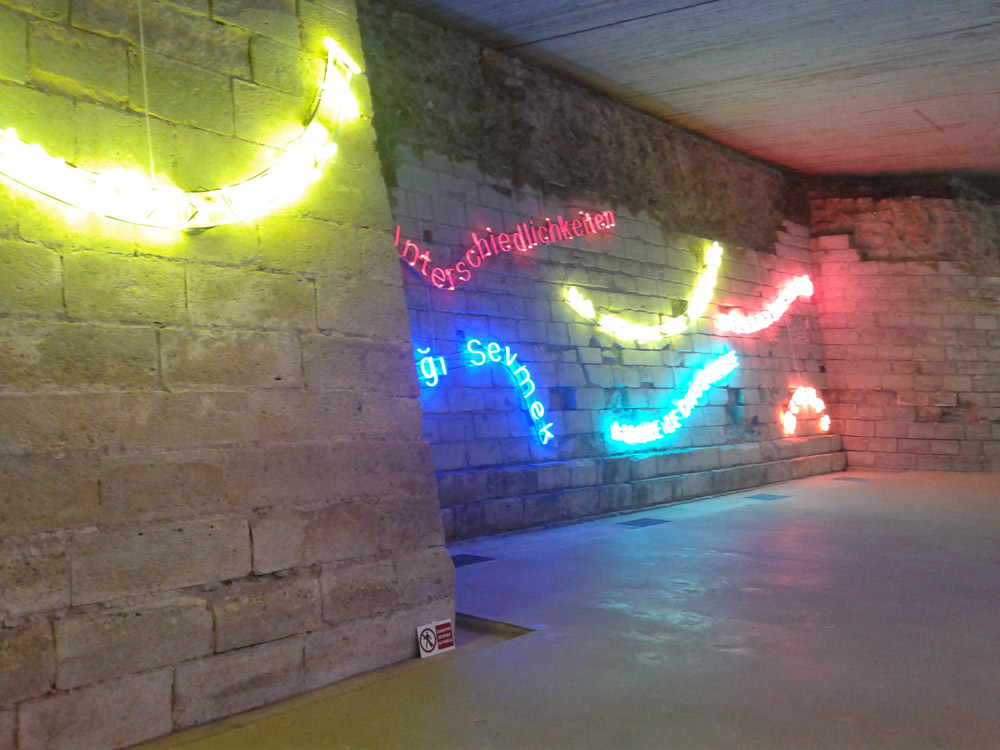 Rispecchiare passato e futuro
Il titolo stesso della mia personale al Louvre è emblematico, "Année Un – Le Paradis sur Terre" (Anno Uno – Il Paradiso in Terra). Significa fare il punto sul passato per dare inizio a una visione volta al futuro.
É allo stesso tempo una mostra retrospettiva e prospettiva.
Anno Uno é il 2013 e significa il tempo presente nel quale la storia conclude un arco, che va dai primordi a oggi, e ne apre uno proteso verso il tempo a venire.
I miei lavori sono collocati in diversi settori del museo e interagiscono con le opere conservate in ciascuno di essi. Il Louvre é di per se stesso un'ampia retrospettiva della società umana esibita attraverso la storia dell'arte e dei miti. La parte retrospettiva della mia mostra rispecchia direttamente le opere della collezione che a loro volta sono lo specchio del passato. I Quadri Specchianti non solo riflettono l'arte antica ma anche le persone viventi che si aggirano nelle sale del Louvre. Dunque, sia il passato che il presente sono contemporaneamente protagonisti nel riflesso di questi miei lavori. Ed é nell'oggi che avviene il passaggio verso un futuro che si chiama: Terzo Paradiso. Il primo paradiso è quello naturale in cui gli esseri umani erano totalmente integrati nella natura, il secondo paradiso é quello artificiale che viviamo oggi, spinto fino al limite della sua estensione e crescita. Nel Terzo Paradiso, di cui al Louvre celebriamo la nascita, si uniscono e si integrano i due precedenti.
L'Anno Uno é il primo, della terza fase della storia umana.
L'arte, la cultura, la scienza, la tecnologia, l'economia e la politica assumono una nuova responsabilità dando speranza di sopravvivenza all'umanità.
Il 21 – 12 – 2012, in risposta a ogni previsione di fine del mondo, si è celebrato il Rebirth-day e il 2013 é il primo anno della rinascita.
Il simbolo del Terzo Paradiso é costituito dal nuovo segno d'infinito, che aggiunge, al centro del segno matematico a forma di otto, un terzo cerchio che rappresenta il ventre procreativo della nuova umanità.
Questo simbolo attraversa l'intero percorso espositivo e assume dimensione monumentale all'inizio  e alla fine della mostra : nella connessione con la Piramide e nell'opera Obelisco e Terzo Paradiso realizzata per l'installazione al Louvre.
In nessun altro luogo del mondo il simultaneo rispecchiamento del passato e del futuro avrebbe potuto avere il senso che assume nella mostra al Louvre.
Michelangelo Pistoletto
Biella 28 marzo 2013