ART PARIS – GRAND PALAIS – 22ÈME ÉDITION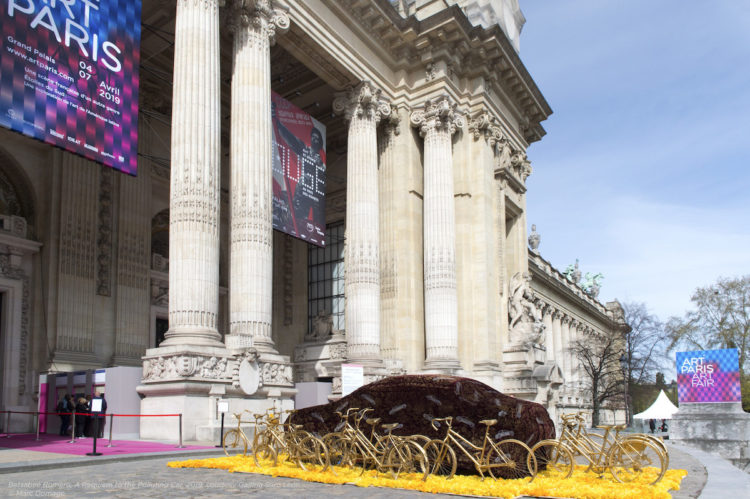 ART PARIS
Grand Palais
22ème édition
NEW DATES 
28th > 31st May 2020 
As many countries globally, France is currently affected by the spread of the coronavirus, which has given rise to conditions that will make it extremely complicated to hold an event as important as Art Paris at the beginning of April.
As organisers, we are taking this situation very seriously and our main responsibility is to guarantee your safety. Above all, we aim to provide you with the best possible conditions for visiting the fair.
In light of the evolution of the current situation, we have decided to postpone the fair. The new dates are 28th – 31st May 2020.
We would like to apologise for any inconvenience caused by this postponement, but we firmly believe these new dates will offer all of us much more favourable conditions.
The entire Art Paris team is rallying round to ensure the success of the 22nd edition of the fair and is at your disposal to answer any questions and help with any actions related to this matter.
.-.-.-.-.-.-.
Le grand rendez-vous du printemps pour l'art moderne et contemporain célèbre la scène française et invite à la découverte des effervescentes métropoles Barcelone, Lisbonne, Madrid et Porto.
Devenu incontournable en plus de 20 ans d'existence, Art Paris est le rendez-vous du printemps pour l'art moderne et contemporain à Paris, rassemblant cette année encore plus de 150 galeries venues de plus de 20 pays pour près de 1000 artistes représentés.
Mêlant grandes figures artistiques et puissantes découvertes venues des quatre coins d'Europe, ainsi qu'un regard cosmopolite sur la création d'Afrique, d'Asie, d'Amérique latine ou du Moyen-Orient de l'après-guerre à nos jours, Art Paris, sous l'impulsion de Guillaume Piens, son Commissaire Général, cultive la passion de l'art sous toutes ses formes. Art Paris s'attache à une ligne éditoriale forte : une foire de passion plutôt qu'une foire de spéculation, qui ose le défrichage et reste à taille humaine dans le magnifique écrin du Grand Palais.
Après les femmes artistes et l'Amérique latine en 2019, Art Paris met à l'honneur en 2020 la richesse et le dynamisme de la scène artistique française sous le regard de Gaël Charbau, et invite à la découverte de la grande vivacité créative des métropoles du sud de l'Europe (Barcelone, Lisbonne, Madrid et Porto).
Art Paris se tiendra une nouvelle fois au Grand Palais en 2020, avant d'être la première manifestation artistique à intégrer le Grand Palais éphémère sur le Champ de Mars en 2021 le temps de la rénovation du monument historique parisien.
Un regard sur la scène française: histoires communes et peu communes
Art Paris soutient la scène artistique française avec un parcours curatorial imaginé par Gaël Charbau, commissaire et critique d'art indépendant sur le thème Histoires communes et peu communes. Gaël Charbau pose son regard subjectif, historique et critique sur les galeries participantes et pilote ainsi une sélection de projets spécifiques de 20 artistes français dont les œuvres mettent en avant les notions de récit, d'histoire singulière et universelle.
Commissaire invité: Gaël Charbau, commissaire et critique d'art indépendant
Fondateur en 2003 du journal Particules, il est commissaire du programme Audi Talent et directeur de la Bourse Révélations Emerige, destinée à soutenir les artistes émergents travaillant en France. Il organise régulièrement des expositions en Europe et en Asie et collabore avec différentes institutions, programmes et mécènes. Conseiller artistique pour Universcience (Palais de la découverte et Cité des sciences), il a été nommé Directeur artistique de Nuit Blanche 2018.
— Étoiles du Sud: Barcelone, Lisbonne, Madrid et Porto
Après l'Amérique latine, Art Paris se tourne vers la péninsule ibérique. Un véritable printemps de l'art s'éveille sur les villes de Barcelone, Lisbonne, Madrid et Porto. Ce focus, conduit par Carolina Grau, commissaire d'exposition, met l'accent sur l'identité et la diversité de quatre villes en pleine renaissance avec une sélection de galeries et d'artistes et des projets parallèles, avec notamment des programmes vidéo, conférences, installations spécifiques qui témoignent du réveil artistique de l'Espagne et du Portugal.
Commissaire invitée: Carolina Grau, commissaire d'exposition indépendante
Carolina Grau a travaillé au cours des deux dernières décennies en tant que commissaire indépendante spécialisée dans l'art contemporain. Elle a réalisé de nombreuses expositions d'artistes établis et émergents dans des institutions privées et publiques au Royaume-Uni, aux États-Unis, en France, au Portugal, au Brésil, en Italie et en Espagne. Elle a été cofondatrice et co-curatrice de la Biennale de Jafre (2003-2015). En 2017, elle a été conservatrice associée du Centre de recherches contemporaines Arquipélago (îles des Açores). En 2019, elle a organisé la rétrospective de l'artiste espagnole Angela de la Cruz au CGAC Saint-Jacques de Compostelle et travaille actuellement sur l'exposition individuelle de l'artiste portugais Vasco Barata pour le MAAT (Lisbonne).
« Solo Show »: privilégier les expositions monographiques
L'exposition monographique est un moment privilégié dans le parcours d'un artiste, favorisant la meilleure connaissance de son travail et par-delà, sa reconnaissance. Le secteur « Solo Show » encourage, grâce à un tarif sponsorisé, la présentation d'une quarantaine d'expositions monographiques disséminées au sein de la foire.
« Promesses »: un soutien aux jeunes galeries et aux artistes émergents
Situé au centre du Grand Palais, le secteur « Promesses » invitent quatorze galeries de moins de six ans d'existence à présenter un à trois artistes émergents. Art Paris joue ainsi un rôle de catalyseur et propose à la jeune création française et internationale ainsi qu'aux galeries émergentes une visibilité sans précédent dans un événement artistique international.
Le parcours VIP Art Paris: Paris capitale mondiale de l'art
Ouverture de fondations privées, nouvelles architectures audacieuses, dynamisme des institutions et du marché de l'art, Paris est plus que jamais l'une des capitales mondiales de l'art. Le parcours VIP « À Paris au printemps » révèle l'effervescence actuelle de la scène artistique parisienne, dont la saison 2019-2020 sera particulièrement riche avec la réouverture du Palais Galliera, l'ouverture des nouveaux espaces de la Fondation Fiminco à Romainville, le lancement de la collection Pinault/Bourse du commerce… Autant de lieux incontournables auxquels auront accès les collectionneurs d'Art Paris.
Comité de sélection 2020
• Thomas Bernard, Galerie Thomas Bernard – Cortex Athletico (Paris)• Carina Andres Thalmann, Galerie Andres Thalmann (Zurich)
• Alain Chiglien, Galerie Nec Nilsson et Chiglien (Paris)
• Romain Degoul, Galerie Paris-Beijing (Paris)
• Dominique Fiat, Galerie Dominique Fiat (Paris)
• Diane Lahumière, Galerie Lahumière (Paris)
• Marie-Ange Moulonguet, collectionneuse et consultante
@ArtParisArtFair  –   #ArtParis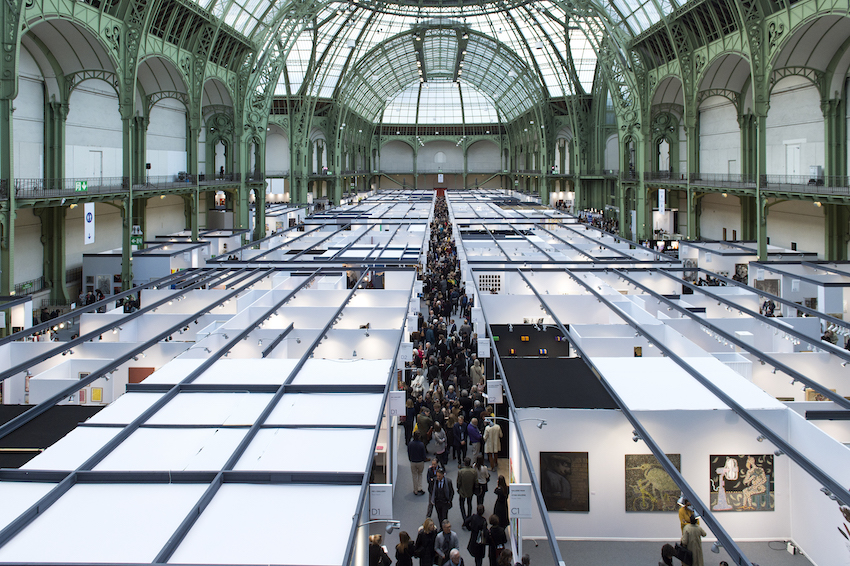 ART PARIS
Grand Palais
2-5 April 2020
22nd edition
Art Paris, the leading spring event for modern and contemporary art, celebrates the French art scene and invites visitors to discover four dynamic cities: Barcelona, Lisbon, Madrid and Porto.
In the 20 years since its first edition, Art Paris has become Paris's must-see spring fair for modern and contemporary art, once again bringing together more than 150 galleries from over 20 different countries with a total of almost 1,000 artists.
Combining leading names in the art world and astounding discoveries from all over Europe, not forgetting a cosmopolitan approach to African, Asian, Latin American and Middle Eastern art from the post-war period to the present day, Art Paris demonstrates a passion for art in all its forms, encouraged in this by fair director Guillaume Piens. In addition, Art Paris boasts a strong editorial line that asserts the fair's identity as one that favours passion for art over speculation and which dares to tread new paths. Not only is Art Paris neither too big, nor too small, it is hosted in a magnificent setting, the Grand Palais.
After women artists and Latin America in 2019, this year Art Paris pays tribute to the rich and dynamic French art scene in a focus curated by Gaël Charbau and invites you to discover the buzzing art scenes of Southern Europe's major cities (Barcelona, Lisbon, Madrid and Porto).
Art Paris will be held once again at the Grand Palais in 2020, before becoming the first art event to move into the ephemeral Grand Palais that will be installed on the Champ de Mars in 2021, while renovation work is carried out on the historic Parisian monument.
An overview of the French Art Scene: Common and Uncommon Stories
Art Paris supports the French scene by associating an exhibition curator's subjective, historical and critical point of view with a selection of specific projects by French artists presented by participating galleries. For Common and Uncommon Stories, independent curator and art critic Gaël Charbau will select twenty artists whose works highlight narrative notions and tell unique and universal stories.
Guest curator: Gaël Charbau, independent curator and art critic
In 2003, Gaël Charbau founded the contemporary art journal Particules. He curates the Audi Talents awards and is the director of the Bourse Révélations Emerige, which supports emerging artists working in France. He regularly organises exhibitions in Europe and Asia and works with various institutions, programmes and patrons. He is the artistic advisor for Universcience (Palais de la Découverte and Cité des Sciences) and was the artistic director for Nuit Blanche 2018.
Southern Stars: Barcelona, Lisbon, Madrid and Porto
After Latin America, the 2020 edition of Art Paris is looking towards the Iberian Peninsula and the remarkable revival of the Barcelona, Lisbon, Madrid and Porto art scenes. The focus, led by independent curator Carolina Grau, will showcase the specific personality of each of these flourishing cities with a selection of galleries, artists and additional projects, such as a video programme, conferences and installations, which will combine to illustrate the artistic awakening of Spain and Portugal.
Guest curator: Carolina Grau, independent exhibition curator
Carolina Grau has been working as an independent curator specialising in contemporary art for the last two decades. She has produced exhibitions for a wide range of institutions in the public and private sector in the United Kingdom, the USA, France, Portugal, Brazil, Italy and Spain, working both with established and upcoming artists. Grau was co-founder and co-curator of the Biennale of Jafre (2003 to 2015) and associate curator at the Arquipélago Centro de Artes Contemporaneas (Azores) in 2017. In 2019, she curated the mid-career retrospective of Spanish artist Angela de la Cruz at CGAC Santiago de Compostela and she is currently working on the solo exhibition of Portuguese artist Vasco Barata for the MAAT (Lisbon).
Solo Show: encouraging monographic exhibitions
Monographic exhibitions are a special moment in an artist's career. They help develop a better understanding of their work and, in so doing, add to their reputation. Ever since 2015 and thanks to a subsidised tariff, the "Solo Show" sector has been encouraging the presentation of some forty monographic exhibitions spread throughout the fair.
Promises: supporting young galleries and emerging artists
The "Promises" sector is located in the central part of the Grand Palais. It showcases 14 galleries with less than six years of existence, each of which will be presenting between one and three emerging artists. In this way, Art Paris acts as a catalyst for young French and international artists, offering them and emerging galleries an unprecedentedly high level of visibility in an international art event.
Paris, the world art capital
With the opening of private foundations, bold new architecture, dynamic institutions and an active art market, Paris is more than ever a World art capital. The fair's special VIP programme, "Springtime in Paris", illustrates the effervescence of the Parisian art scene this spring.
Selection committee
• Thomas Bernard, Galerie Thomas Bernard – Cortex Athletico (Paris)• Carina Andres Thalmann, Galerie Andres Thalmann (Zurich)
• Alain Chiglien, Galerie Nec Nilsson et Chiglien (Paris)
• Romain Degoul, Galerie Paris-Beijing (Paris)
• Dominique Fiat, Galerie Dominique Fiat (Paris)
• Diane Lahumière, Galerie Lahumière (Paris)
• Marie-Ange Moulonguet, collector and consultant
@ArtParisArtFair  –   #ArtParis