ALAN CHARLTON, ULRICH RÜCKRIEM, NIELE TORONI – A ARTE STUDIO INVERNIZZI – MILAN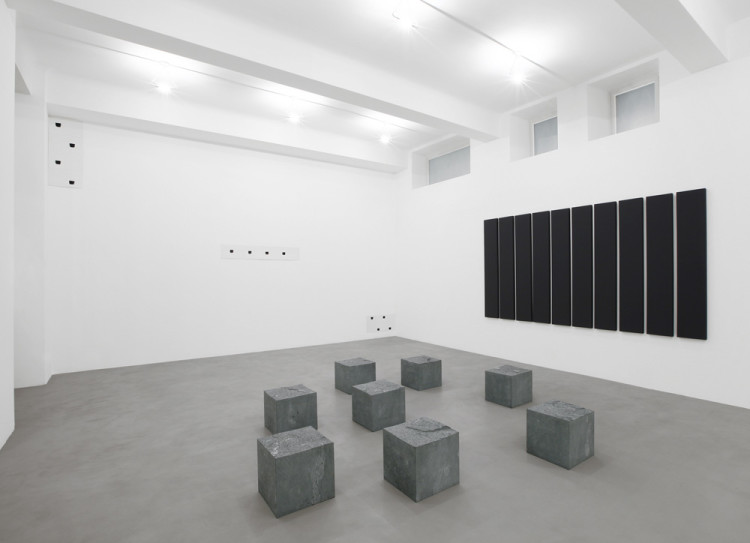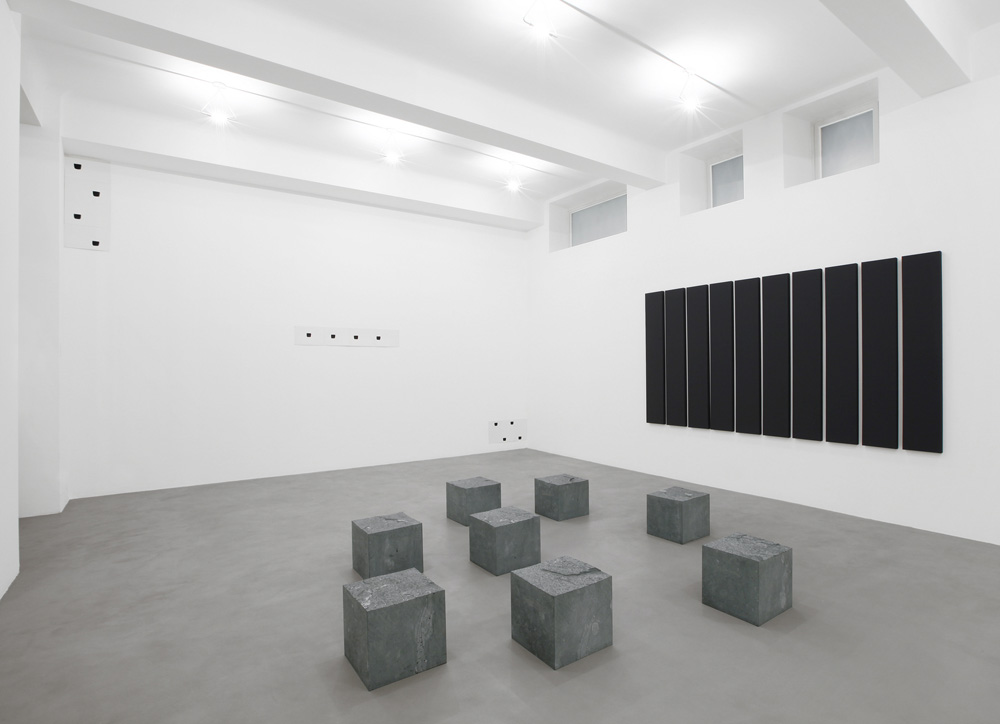 EXHIBITION: Alan Charlton  Ulrich Rückriem  Niele Toroni
TITLE: The Trajectories of Equilibrium
CATALOGUE WITH AN ESSAY BY: Francesca Pola
OPENING:  Tuesday 13 December 2011  at 6.30 pm
EXHIBITION DATES: 13 December 2011 – 22 February 2012
OPENING HOURS: Monday to Friday, 10 am – 1 pm, 3 pm – 7 pm. Saturday by appointment
On Tuesday 13 December 2011 at 6.30 pm a new exhibition will be opening at A arte Studio Invernizzi. Created specifically for the premises, works by Alan Charlton, Ulrich Rückriem and Niele Toroni will interact in a close creative dialogue.
Each with their own very personal identity, the three artists have interpreted the architecture and the disposition of masses in the gallery, not by taking one room each, but by interacting in the various spaces, thus creating a unique itinerary of analogy and diversity.
Charlton, Rückriem and Toroni are leading exponents of a contemporary creative current that, ever since the late 1960s, has focused on the idea of a significant reduction in visual language.
In an essential creative process, their works form unique new "trajectories of equilibrium", combining the formative intentionality of the work with the dynamic, active dimension of its spatial relationships.
Even though they are all highly individual, their expressive formulas reveal some fundamental parallels, which form the hub around which this exhibition revolves. In their transformation of a profoundly radical poetic vision, these artists share a need for essentiality and for an elementary artistic action that emerges through minimal gestures: grey painting in the case Charlton, stone sculpture as the ordering of matter for Rückriem, and the impression left by the brush for Toroni. This appears in their work in the form of a rarefaction of expression that strives to achieve the greatest density and concentration of meaning by adopting mechanisms that gradually involve the space around them. Their works form a fundamental bond with the spatial realm in which they find themselves: a relationship which is made explicit also by the artists' choice of a modular approach, which is constantly adopted and contradicted in their works, as a hypothesis for a possible direction that is always highly original.
Three different visual languages come together in each room of the exhibition, not just in the creative autonomy of their own constantly innovative identities, but especially in the intentional interaction of their artistic output. At least two are shown together in each room, adopting a conceptual principle that starts out from a direct, responsive relationship with the dynamic shape of the space.
On the occasion of the exhibition a bilingual catalogue will be published with an introductory essay by Francesca Pola, a poem by Carlo Invernizzi, reproductions of the works on show in the gallery and up-to-date biographical notes.
Press contact: Alessandra Valsecchi – +39 340 3405184 – ale.valsecchi@gmail.com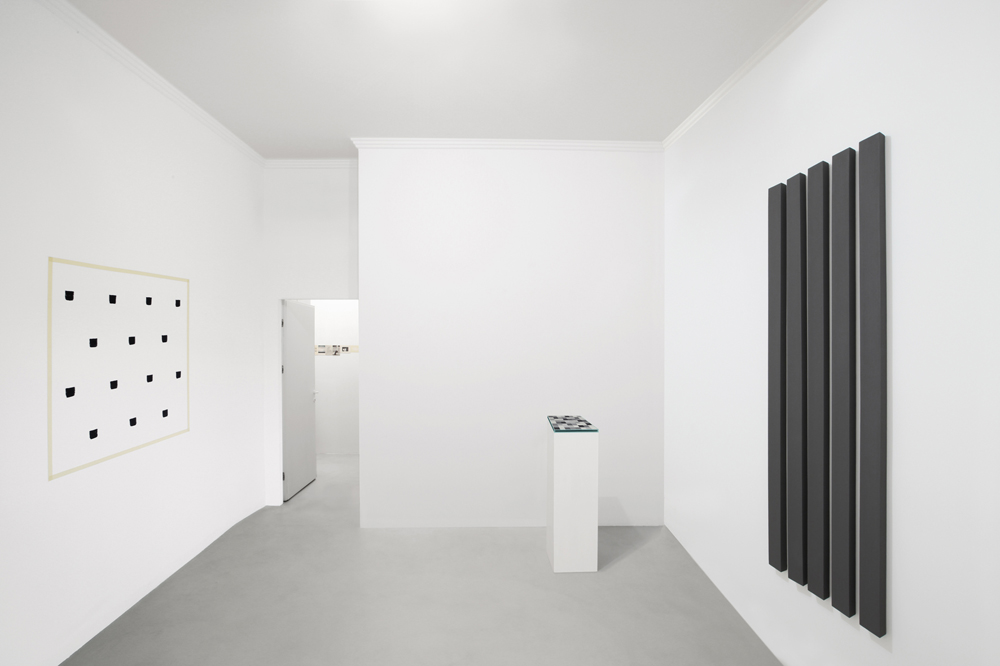 MOSTRA:  Alan Charlton  Ulrich Rückriem  Niele Toroni
TITOLO: Traiettorie dell'equilibrio
CATALOGO CON SAGGIO DI: Francesca Pola
INAUGURAZIONE:  martedì 13 dicembre 2011  ore 18.3=
PERIODO ESPOSITIVO: 13 dicembre 2011 – 22 febbraio 2012
ORARI: da lunedì a venerdì 10-13  15-19, sabato su appuntamento
La galleria A arte Studio Invernizzi inaugura martedì 13 dicembre 2011 alle ore 18.30 una nuova mostra, concepita appositamente per i suoi spazi, che in un serrato confronto creativo intreccia opere di Alan Charlton, Ulrich Rückriem e Niele Toroni.
I tre artisti hanno interpretato, ciascuno secondo la propria identità, volumetrie e architetture della galleria: non adottandone ciascuno una sala, ma interagendo attraverso i suoi spazi, e dando così vita ad un inedito percorso fatto di analogie e diversità.
Charlton, Rückriem e Toroni sono da annoverare tra i principali esponenti di una linea creativa contemporanea che ha privilegiato, a partire dalla fine degli anni Sessanta, una idea di riduzione significante del linguaggio visivo.
Secondo un procedere creativo essenziale, il loro lavoro crea inedite "traiettorie dell'equilibrio" che coniugano l'intenzionalità formante e ordinatrice dell'opera con la dimensione dinamica e attiva delle sue relazioni spaziali.
Tra i loro codici espressivi, ciascuno fortemente caratterizzato in senso individuale, è possibile  individuare alcuni parallelismi fondanti, che costituiscono il fulcro attorno cui ruota questa occasione espositiva. Nella loro trasformazione di una poetica profondamente radicale, questi artisti condividono la necessità di un'essenzialità operativa, di un'azione artistica basilare, che si traduce attraverso gesti minimi: il dipinto grigio per Charlton, la scultura in pietra come ordine della materia per Rückriem, l'impronta di pennello per Toroni. Questa esigenza si traduce nel loro lavoro in una rarefazione espressiva tesa a raggiungere il massimo di densità e concentrazione di significati, che procede secondo dinamiche di progressivo coinvolgimento dello spazio. La loro opera si declina infatti in una relazione fondamentale con le spazialità che si trova ad abitare: un rapporto reso esplicito anche dalla scelta di una modularità che nelle loro opere viene costantemente adottata e contraddetta, quale ipotesi di un percorso possibile sempre inedito.
Tre linguaggi diversi che nell'intreccio di questa mostra, sala dopo sala, emergono non solo nell'autonomia creativa delle loro identità costantemente innovative, ma soprattutto nella intenzionale interferenza delle loro risultanti creative: ogni stanza vede la compresenza di almeno due di loro, secondo una modalità ideativa che si sviluppa a partire da una relazione diretta e sensibile con il corpo attivo di questo spazio.
In occasione della mostra verrà pubblicato un catalogo bilingue contenente un saggio introduttivo di Francesca Pola, una poesia di Carlo Invernizzi, la riproduzione delle opere esposte in galleria e un apparato biografico.
Info stampa Alessandra Valsecchi – +39 340 3405184 – ale.valsecchi@gmail.com