THE PLEASURE OF LIGHT: GYORGY KEPES AND FRANK J. MALINA, LUDWIG MUSEUM | BUDAPEST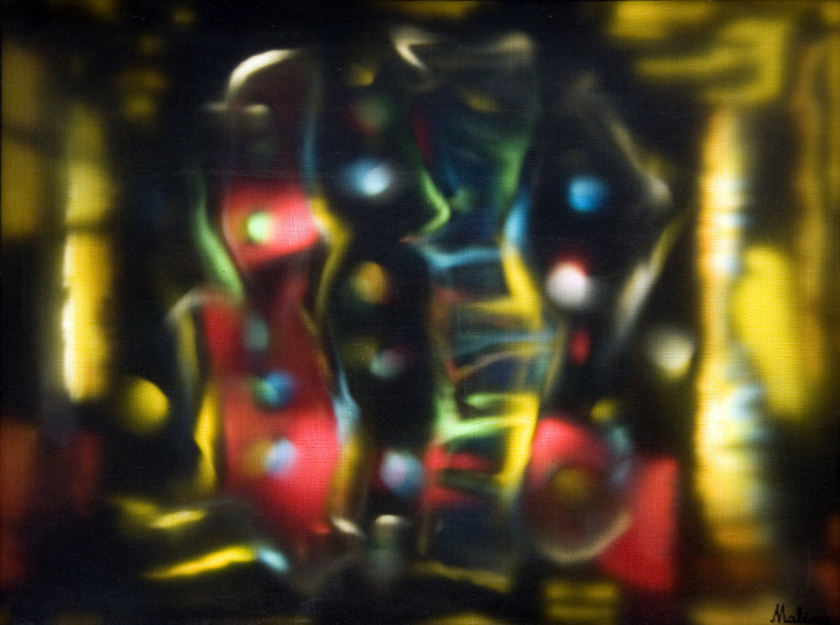 The Pleasure of Light: György Kepes and Frank J. Malina
At the Intersection of Art and Science
Ludwig Museum – Museum of Contemporary Art
September 3, 2010. – November 21, 2010.
Curators: Nina Czeglédy and Róna Kopeczky.
The Pleasure of Light exhibition at the Ludwig Museum aims to reveal the parallel interdisciplinary concepts, initiatives and results of György Kepes (1906-2001) and Frank J. Malina (1912-1981) whose work remained relatively unknown in the dominant streams of the traditional art world. The simultaneous goal of the exhibition is to chart the intersection of art, science and technology.
Both Kepes and Malina came from an East European origin and modernist art perceptions had a primary influence on their concepts. Kepes, a Hungarian-born painter, designer, educator and art theorist, was stimulated early on by the experimental Kassák circle and subsequently collaborated on many projects with László Moholy-Nagy first in Berlin and later in the US, continuing the New Bauhaus' theory and practice. From an early age Malina of Czech parentage was deeply interested in art, however he trained in engineering and became involved early on in rocket science research and practical innovations. At the California Institute of Technology he worked closely together with and was influenced by Theodore von Kármán, the eminent aeronautics theoretician.
During World War II, both Kepes and Malina contributed to the US military with their innovations. Kepes developed his camouflage theory into practice for the military while Malina was working on rocket projects providing fundamental patents of American rocketry including the construction of the U.S.'s first successful high-altitude sounding rocket. On October 11, 1945, Malina led the team that launched the WAC Corporal to an altitude of 43.5 miles, setting a new world record. This rocket was the first-man made object to escape the Earth's atmosphere. After the end of the War, Malina became disillusioned with space research, moved to Paris where he joined the newly founded UNESCO as the Deputy Science Director.
Malina and Kepes bridged the divide between the humanities and the techno sciences by a deep involvement in education and dissemination of art & science and technology information with an enduring effect on successive generations.
Kepes was a prolific author of textbooks, his publications (for example The Language of Vision, 1944) were translated in more than a dozen languages, and they are still used as textbooks at universities worldwide. In 1967, he founded the Center for Advanced Visual Studies at the Massachusetts Institute of Technology dedicated to advance new technologies and creative collaboration between scientists and artists. At about the same time (1968) Malina established Leonardo, the leading international journal currently published by MIT, dedicated to "documenting work at the intersection of the arts, sciences, and technology".
The exhibition is less a chronological summary of the oeuvre of György Kepes and Frank J. Malina, than a manifestation of the interdisciplinary concepts, production of the two artists and their enduring influence.
From Kepes' works the photograms, paintings and drawings are presented in the exhibit. His kinetic installations such as the "Garden of Flames" (1971) and "Glow Column" (1973) draw a parallel with Malina's kinetic works. These works by Kepes as well as his anthologies are closely linked with concepts of optic and kinetic art, sensory perception and psychology. From Malina we exhibit his kinetic works, illustrating the "lumidyne", "polardyne" and "reflectodyne" technique as well as examples of his wire-mesh and grillage pictures – and a few early drawings. We also show rocket drawings, diagrams, films, photos and evidence of the Malina FBI files. We intend to emphasize his correspondence with contemporaries and exhibit selected copies of the Leonardo journal, which remains unique to this day.
The creative use of light – light as a dynamic medium – preoccupied Kepes and Malina throughout their artistic career. It is a common element in their art work and forms a bridging concept for The Pleasure of Light project.
Information on the adjunct The Pleasure of Light conference on September 3rd is available at:
www.ludwigmuseum.hu
Address:
Ludwig Museum – Museum of Contemporary Art – Palace of Arts
Komor Marcell u. 1, Budapest, H-1095
Phone: +36 1 555 3444 │ Fax: +36 1 555 3458
Opening hours:
Tuesday-Sunday: 10 am – 8 pm  – Closed on Mondays