ART PARIS 2022 – ART & ENVIRONMENT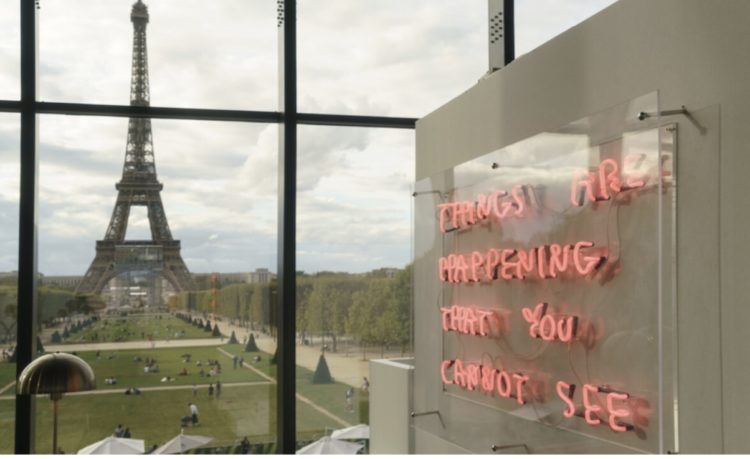 Art Paris 2022
ART & ENVIRONMENT
Guest Curator: Alice Audouin
"Art and Environment": if these two adjoining words haven't yet merged, it's because there is still no commonly accepted term to describe this movement that is undeniably present in contemporary art today. It is embodied by a new generation of artists, whose work addresses environmental themes and issues such as global warming, the loss of biodiversity and more generally how humanity impacts the earth and our relationship with the living world. Environmental art? Ecological art? Anthropocene Art? The artist duo Lucy + Jorge Orta prefers to use the term Impact Art, which is also the name I have chosen for my blog and newsletter "Impact Art News."
But for how long has this connection between art and the environment existed? When considering this, you need to be careful not to confuse 'environment' and 'nature'. As it is used in this context, the former includes the notion of protecting nature, a concept that emerged in the 19th century. In my opinion, this marriage that has become an irreversible part of the history of art actually occurred at the beginning of the 2000s. At that time, contemporary art, in its contextual and conceptual dimensions, was confronted with global warming, which had become particularly alarming and the subject of intense media attention.
Global warming has existed ever since the 18th century when fossil fuel use increased. Its existence was scientifically proven at the end of the 19th century by Svante Arrhenius, however this knowledge was only popularised in the 1990s with the publication of the first reports of the Intergovernmental Panel on Climate Change (IPCC).
If the Pre-Raphaelites can already be considered whistle-blowers in that they drew attention to the consequences of a form of capitalism driven by fossil fuels and if Butoh expressed the reaction of dancers to the major human tragedy and environmental disaster that was the nuclear bomb, I personally defend the idea that this encounter is a more recent one. I believe it came about as a result of increasing awareness of global warming and decreasing biodiversity, which became widespread in the 2000s.
What other generation of artists has already experienced the advent and installation of a new geological epoch, i.e., the Anthropocene? Artists are Artists are "embarked" by their era to quote Albert Camus. They are exposed to the environmental crisis that is a new and key aspect of the times they are living in. Capucine Vever was not an environmentalist when she graduated from the École Nationale Supérieure d'arts de Paris-Cergy, but she became one as she discovered new environmental problems while researching parts of the world that had changed radically because of global warming, intensive farming, pesticides and loss of biodiversity.
For this new generation of artists, the environment is not simply a theme they address in their work, but the definition of their relationship with the world. They are reinventing a sense of community and collective values. From ecofeminism and post-anthropocentrism to interspecies relations, they are playing their role as members of the avant-garde to the full, optimistically paving the way for a future where cooperation will triumph over competition. A notable illustration is the reaction of the 21 prize-winners who received an award from my association Art of Change 21 (with the sponsorship of Maison Ruinart). On receiving their prize, they complimented us on our decision to share the 42,000 euros prize money amongst the 21 winners rather than giving it to one person saying: "Stop making us compete against each other, we want to be united".
Above and beyond the environmental issues they tackle, these artists bring a new energy and suggest different, more convivial ways of thinking and being that are light years from the clichés of punitive environmental policies. They resynchronise our relationship with time by linking human and geological time (Noémie Goudal, Douglas Mandry), rethink our habitat by considering mankind as one species amongst many (Vincent Laval, Elsa Guillaume, Lou Ros, Lionel Sabatté, Tadashi Kawamata), combat patriarchal and extractive strategies by seeking to replace them with a more ethical, holistic and shared approach to the world (Suzanne Husky, Romuald Hazoumé, Pia Rönicke, Pascale Marthine Tayou), teach us how to take collective action (Michelangelo Pistoletto, Sarah Trouche, Lucy + Jorge Orta), create and safeguard resilient places (Fabrice Hyber), foil political and economic policies that pay scant attention to their consequences (Capucine Vever, Recycle Group) and give us back control in a globalised world by making us stakeholders in charge of the common good.
There is an ever-increasing number of contemporary artists whose work addresses environmental issues. From the hundred or so I identified at my debut in 2004, my observatory now lists more than 2,500. And this number increases considerably if we widen the scope to include artists who, independently of the content of their works, are concerned about the environmental impact of their production. Some have already committed to a post-carbon climate-conscious future by adding their names to the list on the Artists Commit website and publishing Climate Impact reports. In this respect, Olafur Eliasson has been leading the way for a long time, paying attention to his carbon footprint and holding 'no flight' exhibitions amongst other initiatives. He is also an ambassador for the United Nations Development Programme (UNPD) and the co-founder of Little Sun. In short, his field of action goes way beyond the boundaries of art, in the same way as other major socially engage artists like Yinka Shonibare and Otobong Nkanga.
It's not just the artists, the art sector is changing too as industry professionals become more aware of the globalised nature of their activity and its reliance on air transport. In addition, certain key locations (in coastal or vulnerable areas such as New York or Hong Kong) threatened by rising sea levels and extreme weather. There is a groundswell of support with initiatives by galleries (Gallery Climate, Coalition, Galleries Commit etc) and events programmes focusing on the environment both at biennials (Taipei, Helsinki, Korat, Kochi etc) and museums (Garage, ARoS, Royal Academy of Arts, Gropius Bau etc). Art Paris is a pioneer in that it is the first fair to carry out a life cycle analysis and implement measures to reduce its environmental impact, a dynamic to which I am proud to have contributed.
So far, we've mentioned artists, museums, galleries, curators and art fairs, but what about collectors? Although they are lacking in guidelines, information and advice from specialists, of which there are still too few in this field, collectors' natural curiosity encourages them to discover this new and deeply original generation of artists. As for younger collectors, they were born with this new movement, which is something I have observed in my role as an art adviser.
My action for art and the environment began in 2004 with the creation of an international symposium at UNESCO "The Artist as a Stakeholder". Today I am delighted to see Art Paris adopt art and the environment as one of the themes of its 2022 edition. Back in 2019, at the initiative of my association Art of Change 21, Art Basel had already hosted a performance on the climate with students from the École des Arts de la Sorbonne. It is time to rejoice, because the Novacene is nigh! The latter, an epoch founded on a harmonious relationship between humans and nature that will follow on from the Anthropocene, was theorised in 2019 by the famous English scientist and environmentalist James Lovelock. It is the subject of an exhibition of the same name at the new edition of lille3000, "Utopia".
Alice Audouin
Alice Audouin has been committed to sustainable development for more than 20 years and has spent 17 years considering the relationship between contemporary art and the environment. She is the president and founder of Art of Change 21 (whose patron is Olafur Eliasson), which is a non-profit organisation that works around the world organising art prizes, exhibitions and conferences, etc. In addition, Art of Change 21 has invited artists to every COP climate change conference since 2015. John Gerrard and Lucy Orta were invited to COP26. Together with consultants Karbone Prod and Solinnen, Alice Audouin is contributing to a sustainable approach to art fair organisation for Art Paris 2022. As an exhibition curator, she has organised a large number of climate and biodiversity-themed exhibitions such as Warmingland (2018), Post-carbon (2015) and Biocenosis21 (2021). In 2022, she will co-curate with Jean-Max Colard Novacène at the Gare Saint Sauveur in Lille (part of the Utopia season focusing on the environment).