ART PARIS 2020 – RETURNS TO THE GRAND PALAIS IN SEPTEMBER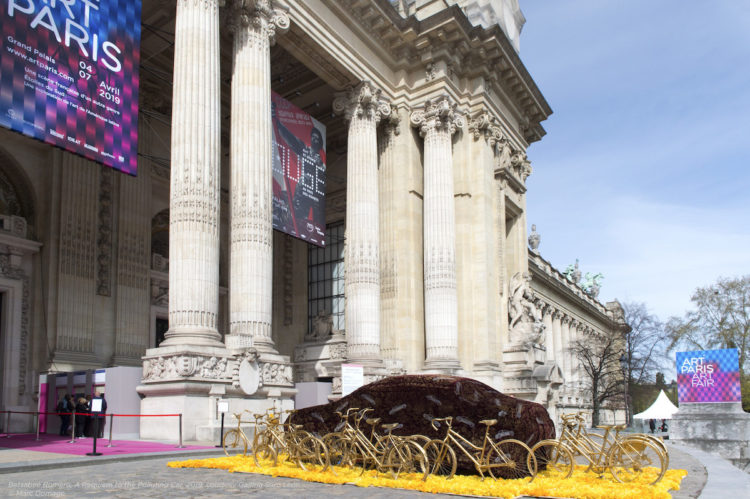 The fair and its galleries are rallying up to organise Paris's 1st cultural event after the summer period
Thanks to the support of the majority of its galleries and the Grand Palais – and in a favourable context now that lockdown has come to an end and the health situation in France and across Europe is improving – Art Paris 2020, the spring art fair that was postponed and reinvented as a virtual online art fair, will be returning to the Grand Palais from the 10th – 13th September.
This decision was not taken lightly and only after speaking with the 147 exhibiting galleries and an extensive number of collectors to get their opinion. A survey was carried out on June 15th, contacting 5,000 in total: 95% of respondents confirmed they would be present in September. The green light was also given by the authorities (both the government and scientists) to go ahead with organising the fair in September, as did the other major events at the Grand Palais. Special health measures will be implemented and the maximum number of visitors will be limited to around 3,000 (based on the information currently available). Although The Grand Palais is a majestuous space with its glass roof standing at 45-metres high, the layout of the fair will be modified with wider aisles and less exhibitors (around 100 instead of 147). Thermal cameras will be installed at the entrances if necessary, opening times will be adjusted, the number of visitors at the preview will be limited and the fair will be open exclusively to professionals and collectors every day from 10 till 12 pm.
This edition of the fair, which can be qualified as an act of resistance, reflects the desire to support the galleries and showcase their work, at a time when they and the artists they represent are in particular need of help.
ART PARIS
GRAND PALAIS
10 – 13 September 2020
www.artparis.com
@ArtParisArtFair #ArtParis
Trade only preview:
9th September from 11 am to 8 pm. VIP and Prestige cardholders only.
Trade only early opening:
for Daily Preview, VIP and Prestige cardholders only. 10th-13th September from 10 am-12 pm.
Public opening hours:
Thursday 10 September: 12 pm-8 pm Friday 11 September: 12 pm-9 pm Saturday 12 September: 12 pm-8 pm Sunday 13 September: 12 pm-8 pm
Admission: 28 € / 14 € (students and groups).
All amounts already paid by galleries will be carried over to the September 2020 edition.
Payment of the remaining balance will not be requested before the fair and exhibitors may even choose to pay in several instalments, up until the end of the year if necessary.
An additional 15% "solidarity" discount will be applied to fees paid by exhibitors at the September 2020 edition, a substantial effort that represents 100% of the company's profit margin.
Art Paris will create a support fund to which it undertakes to give all the proceeds of ticket sales. The fund will provide concrete help to young galleries exhibiting at the fair that are in difficulty because of the crisis.
If the fair cannot take place in September, either because the health situation is not under control, or the ban on large gatherings remains in force, Art Paris will offer participants a more generous refund in the order of 70% spread across several editions.More than 80 French and international galleries have already confirmed with enthusiasm that they will be taking part in September (34 have turned down the offer and some 30 are still thinking about it). In addition, a number of new galleries that were denied the chance of exhibiting at fairs this spring would also like to apply. One of the advantages of Art Paris is that, in addition to its international scope, it is also a local and regional fair. It is a reassuring fact that 80% of visitors either come from the Paris region (Île de France) or other areas of France. According to the owners of Art Paris, Julien and Valentine Lecêtre: "A large majority of galleries that we have talked to believe that September will be a period of intense activity and the ideal time to restart business. We are ready to take up this challenge with our galleries and we will put all our energy into making sure that Art Paris gets the autumn cultural events programme at the Grand Palais off to the best start possible this September. Paris is a major world capital that continues to attract a lot of visitors. Not only does it boast a large number of cultural institutions, its collectors are particularly active."
@ArtParisArtFair   #ArtParis
ART PARIS 2020
revient au Grand Palais en septembre
et se mobilise avec ses galeries pour organiser
le 1er rendez-vous culturel de la rentrée parisienne
Forte de l'appui d'une majorité de ses galeries, de la collaboration du Grand Palais et dans un contexte favorable lié à la fin du confinement et à l'amélioration de la situation sanitaire en France et en Europe, Art Paris 2020, la foire de printemps, reportée, puis réinventée en ligne de manière virtuelle, renaît au Grand Palais dans une version physique du 10 au 13 septembre prochain.
Cette décision a fait l'objet de nombreux sondages auprès des 147 galeries exposantes et des collectionneurs (sondage du 15 juin auprès de 5 000 collectionneurs avec 95% de répondants qui confirment leur présence en septembre). Le feu vert a été également obtenu des autorités gouvernementales et scientifiques sur la possibilité d'organiser la foire à la rentrée, au même titre que les autres grands évènements du Grand Palais, dans des conditions sanitaires renforcées et avec une jauge resserrée d'environ 3 000 visiteurs à l'instant T. Le Grand Palais, dont la verrière s'élève à 45 mètres de hauteur, offre des volumes exceptionnels et le plan de la foire sera revu avec des allées plus larges, moins d'exposants (une centaine au lieu de 147), des caméras thermiques aux entrées si nécessaire, un aménagement des horaires avec une limitation du nombre de visiteurs au vernissage et des ouvertures uniquement réservées aux professionnels et collectionneurs tous les jours de 10h à 12h.
Cette édition de la résistance s'inscrit dans une volonté de soutenir et de valoriser le travail des galeries qui suivent Art Paris à un moment où celles-ci ont particulièrement besoin de soutien ainsi que les artistes qu'elles représentent. En conséquence, des conditions très favorables leurs ont été accordées par la société France Conventions, organisatrice d'Art Paris, dirigée par Julien et Valentine Lecêtre.
ART PARIS
GRAND PALAIS
10 – 13 septembre 2020
www.artparis.com
@ArtParisArtFair #ArtParis
òVernissage professionnel
le 9 septembre de 11h à 20h, réservé uniquement aux détenteurs de la carte VIP et Prestige.
Pré-ouverture professionnelle
du 10 au 13 septembre de 10h à 12h, réservée aux porteurs de la carte Daily Preview, VIP et Prestige.
Ouverture au public
Jeudi 10 septembre : 12h-20h Vendredi 11 septembre : 12h – 21h Samedi 12 septembre : 12h – 20h Dimanche 13 septembre : 12h – 20h
Prix d'entrée : 28 € /
14 € pour les étudiants et groupes
L'intégralité des sommes déjà versées seront reportées sur l'édition de septembre 2020.
Le solde de la participation ne sera pas demandé avant la foire et pourra être échelonné jusqu'à la fin de l'année si besoin.
Une remise de « solidarité » de 15% sera appliquée pour les exposants 2020 participant à l'édition de septembre (effort qui représente 100% de la marge bénéficiaire de la société).
Art Paris créera un fonds de solidarité et s'engage à reverser l'intégralité des recettes de sa billetterie pour aider concrètement les jeunes galeries qui souffrent de la crise et qui participent à la foire.
Si en septembre, les conditions sanitaires n'étaient pas réunies ou si l'interdiction administrative de rassemblement n'était pas levée et que la foire ne pouvait pas avoir lieu, Art Paris proposera un remboursement plus avantageux de l'ordre de 70% réparti sur plusieurs éditions.
Plus de 80 galeries dont des enseignes étrangères ont d'ores et déjà confirmé avec enthousiasme leur participation à l'édition de septembre (36 ont décliné, une trentaine sont en cours de réflexion, et de nouvelles galeries privées de foires au printemps souhaitent postuler). L'atout principal et rassurant d'Art Paris est celui d'être une foire locale et régionale, dont le public est à 80% en provenance de l'île de France et des régions de l'Hexagone. Selon Julien et Valentine Lecêtre, propriétaires d'Art Paris « La grande majorité des galeries que nous avons interrogées, pensent que la rentrée sera une période intense, propice au redémarrage de l'activité. Nous sommes prêts à relever ce défi avec nos galeries et nous mettrons toute notre énergie pour qu'Art Paris ouvre avec succès dès septembre, le bal des événements culturels de l'automne à Paris, une capitale mondiale qui continue d'exercer un pouvoir d'attraction important et possède un riche écosystème d'institutions et de collectionneurs particulièrement actifs ».