ART FAIR PARIS 2017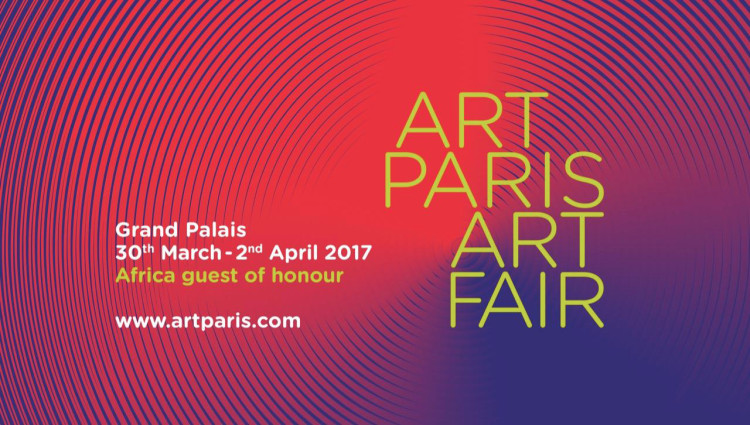 Grand Palais
30.03 > 2.04.2017
Africa guest of honor
www.artparis.com
Modern + Contemporary Art + Design
The 2017 selection: increased international standing and a stronger contingent of modern art galleries.
The 2017 selection bears witness to the fair's increased international standing with 29 countries represented (compared to 22 in 2016) and 52% non-domestic exhibitors. Exploring the regions of Europe constitutes one of the fair's main areas of work, with this year the participation of galleries from Barcelona (ADN Galería), Madrid (Galeria Alvaro Alcazar), Rome (Montoro 12), Knokke-Heist (Guy Pieters Gallery) and Amsterdam (Flatland Gallery). Newcomers from Paris include Philippe Gravier (with Sou Fujimoto's spectacular solo show), Sobering, Perpitch & Bringand and In camera, which join the contemporary galleries that are regulars at the fair such as Galerie Lahumière, Nathalie Obadia, Daniel Templon, Paris-Beijing and Rabouan Moussion. There is also a stronger contingent of modern art galleries with, for the first time, the participation of Frans Jacob (Amsterdam), Michel Descours (Lyon), Martin du Louvre (Paris), Galerie Bert (Paris), as well as the return of Die Galerie (Frankfurt).
Promises: a new prize to support emerging creative talents
The Promises section showcases twelve promising galleries established less than six years ago. The 2017 selection is entirely international with galleries from Abidjan, Amsterdam, Bogota, Bratislava, Geneva, Lagos, London, Luanda and Rome.
New for 2017, Art Paris Art Fair, in partnership with The Fine Art Collective, is launching the L'art est vivant prize that will honour an artist whose work is presented at Promises.
The 2017 selection includes: 50 Golborne (London), Anna Marra Contemporanea (Rome), Art Twenty One (Lagos), La Balsa Arte (Bogota), Rutger Brandt Gallery (Amsterdam), Galerie Cécile Fakhoury (Abidjan), ELA – Espaco Arte Luanda (Luanda), Espace L (Geneva), The Ravestijn Gallery (Amsterdam), Soda Gallery (Bratislava), Tiwani Contemporary (London) and Tyburn Gallery (London).
Solo Show: monographic exhibitions by contemporary and up-and-coming artists.
Some twenty solo shows dotted around the fair will allow visitors to discover or rediscover in detail the work of contemporary and up-and-coming artists: Eduardo Arroyo (Galeria Alvaro Alcazar, Madrid) – Hicham Benohoud (Loft Art Gallery, Casablanca)* – Marcel Berlanger (Galerie Nicolas Silin, Paris) – Marion Boehm (ARTCO Gallery, Aachen)* – Sou Fujimoto (Galerie Philippe Gravier, Paris) – Kendell Geers (ADN Galeria, Barcelona)* – Thomas Henriot (Galerie Christophe Tailleur, Strasbourg) – Richard Hunt (Martin du Louvre, Paris) – Hoon Kwak (Phosphorus & Carbon, Daegu, Ulleung-gun) – Mohamed Lekleti (Dupré & Dupré Gallery, Béziers)* – Mario Macilau (Ed Cross Fine Art, London)* – Tsuyoshi Maekawa (Artisyou, Paris) – Ramuntcho Matta (Salamatina Gallery, New York) – Najia Mehadji (Galerie Claude Lemand, Paris)* – Julian Mereuta (Allegra Nomad Gallery, Bucarest) – Mohau Modisakeng (Whatiftheworld, Cape Town / Johannesburg)* – Ugo Schildge (Perpitch & Bringand, Paris) – Edouard Wolton (Galerie Les Filles du Calvaire, Paris) – Gao Xingjian (Galerie Claude Bernard, Paris) – Billie Zangewa (Afronova Gallery, Johannesburg).
Guest of honour: Africa – an exceptional in-depth focus.
Since 2012, Art Paris Art Fair has forged its reputation by exploring foreign art scenes that have never, or are only rarely presented in France. In 2017, after Russia, China, South-East Asia and South Korea, Art Paris Art Fair puts the spotlight on Africa.
Under the leadership of cultural consultant and independent exhibition curator, Marie-Ann Yemsi, the invitation of Africa as guest of honour highlights a previously-unseen perspective of contemporary African artistic horizons, as well as other visions of purely African or wider-ranging influences.
Spread across the different sections of the fair, around twenty galleries from South Africa, Angola, Cameroon, the Ivory Coast, Morocco, Nigeria, Uganda, Senegal, Tunisia and Europe showcase the talented emerging generation of artists from both the African continent itself and its diaspora.
In addition to monographic exhibitions featuring Mohau Modisakeng, who will represent South Africa at the next Venice Biennale (Whatiftheworld Gallery), Billie Zangewa (Afronova Gallery) and Mario Macilau (Ed Cross Fine Art), visitors will have another chance to see the large works on paper by Zimbabwe's representative at the 56th Venice Biennale, Gareth Nyandoro, (Tiwani Contemporary), repurposed objects by Romuald Hazoumé (October Gallery) and the poetic installations of the Cameroonian artist Bili Bidjocka on the stand of Afriart Gallery / l'Agence à Paris.
On top of the galleries that are part of the focus, around ten western galleries have chosen to show the work of their African artists, in particular the Senegalese artist Omar Ba (Galerie Daniel Templon), South African Kendell Geers (ADN Galeria), and the artists represented by Magnin-A (Chéri Samba and Bodys Isek Kingelez…). In total, almost 70 artists will be presented by the participating galleries.
A very complete events programme will accompany our exploration of this continent in a state of artistic effervescence: A selection of videos entitled Les territoires du corps will be screened at the Grand Palais. These films explore the work of artists for whom the body is both the subject of their questioning and the means of expression of their art.
La Colonie is "a new space designed to encourage free and independent thinking" created by the artist Kader Attia. It will host a day of conferences and meetings that will bring together key cultural figures who are committed to the promotion of artists from Africa and members of the African diaspora.
The VIP programme A Paris au printemps invites professionals and guest collectors to make the most of an 'African spring' in the museums of Paris. As part of its festival 100% Afriques, La Villette will showcase every aspect of contemporary African creation and put on an exhibition, Afriques Capitales, curated by Simon Njami. In collaboration with Hans Lemmen, an exhibition at the Musée de la Chasse et de la Nature will feature South African artist Roger Ballen, whereas the Musée du Quai Branly-Jacques Chirac will be exploring L'Afrique des routes. The Musée Dapper has lent its walls to the Senegalese artist Soly Cissé, whereas the Galerie des Galeries hosts Le jour qui vient, an exhibition curated by Marie-Ann Yemsi, which promises an encounter with a whole new generation of African artists and echoes the fair's special focus.
Press release, June 22th 2016
A springtime fair focusing on discovery
Held from 30th March to 2nd April 2017, Art Paris Art fair is the leading springtime event for modern and contemporary art in Paris. Cosmopolitan and local, regional and international, the fair brings together close to 140 galleries from some 20 countries at the Grand Palais, exploring European art from the post-war period to the present day as well as emerging talents from around the world.
Africa Guest of Honour
Since 2012, the fair has built a reputation for its exploration of international art scenes. After Asia, Art Paris Art Fair continues to shed light on new scenes by inviting Africa as guest of honour in 2017. The guest curator for this project is independent cultural consultant and curator Marie-Ann Yemsi whose mission is to promote the wealth and rich diversity of contemporary African creativity in all its variety and openness to the world. This will be done through a selection of galleries and artists from the both African continent itself and its far-reaching diaspora. A symposium, a programme of video projections and several special projects will broaden this exploration and offer an in-depth vision of the creative fertility and energy of the African continent.
Marie-Ann Yemsi, Cultural Consultant and Independant Curator
Born in Germany to German and Cameroonian parents, Marie-Ann Yemsi is a graduate of the University of Political Sciences (Sciences Po) and holds a Master's Degree in International relations from University Paris I La Sorbonne. In 2005, she founded her own agency, Agent Créatif(s), which has developed a renowned expertise in cultural production and art consulting with a focus on emerging artists and artistic scenes in Africa and its Diasporas. 'African Odysseys', her last exhibition presented at the Brass Culturel Center in Brussels (April-May 2015) drawn on history and aimed to explore its impact on contemporary life through the works of 17 artists originating from south-eastern Africa, works which had hardly ever or never been exhibited in Europe before.
Solo Show: discovering or re-discovering historic, contemporary or emerging talents
Art Paris Art Fair had worked to encourage personal exhibitions. Disseminated throughout the fair, they allow visitors to discover or rediscover of the work of a particular modern, contemporary or emerging artist. Special sponsored rates apply to "Solo Show" and a significant media campaign is designed to promote it.
Promises: supporting young galleries
The "Promises" section is dedicated to young galleries that are under six years old. It is located in the centre of the Grand Palais and is made up of 12 promising galleries that may present up to three artists maximum. Part of their costs is covered by the fair
Monumental digital art on the façade of the Grand Palais
In cooperation with a number of participating galleries, Art Paris Art Fair offers a unique programme of spectacular projections of digital art on the façade of the Grand Palais every evening for the duration of the fair.
Paris capital of the arts
The City of Lights is experiencing an exceptional artistic and architectural regeneration with the opening in 2017 of several new institutions and foundations. The "Springtime in Paris" VIP programme offers collectors and art professionals access to the best of what is on in Paris, with a special focus on Africa in 2017.
Practical information
Preview (by invitation only): Wednesday 29 March 2017 from 6pm to 10pm
Hours:
Thursday and Saturday 11:30am–8pm
Friday 11:30am–9pm
Sunday 11:30am–7pm
Art Paris Art Fair Managing Team
CEO: Julien & Valentine Lecêtre
Fair Director: Guillaume Piens
Director of Communications and Partnerships: Catherine Vauselle
Selection Committee
Carina Andres Thalmann, Galerie Andres Thalmann (Zürich)
Alain Chiglien, Galerie Nec Nilsson et Chiglien (Paris)
Ernst Hilger, Galerie Ernst Hilger (Vienne)
Jean-François Keller, collectionneur
Diane Lahumière, Galerie Lahumière (Paris)
Marie-Ange Moulonguet, collectionneur
Press agency
Heymann, Renoult Associées | Sarah Heymann
Eléonore Grau, e.grau@heymann-renoult.com
Italian press: Eleonora Alzetta, e.alzetta@heymann-renoult.com
English and Spanish press: Julie Oviedo, j.oviedo@heymann-renoult.com
German press: Bettina Bauerfeind, b.bauerfeind@heymann-renoult.com
+33 1 44 61 76 76 | www.heymann-renoult.com