LOST IN TNGRI (LOST IN HEAVEN) – THE NATIONAL PAVILLON OF MONGOLIA AT LA BIENNALE DI VENEZIA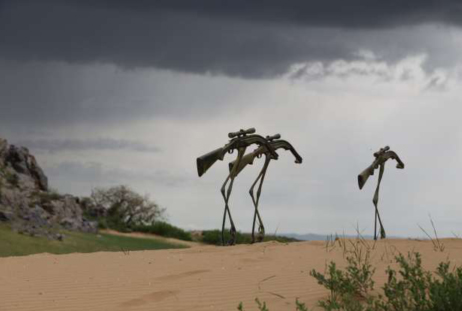 LOST IN TNGRI (LOST IN HEAVEN)
Lost in Tngri brings together 5 artists who explore the urgencies of Mongolian contemporary society. The country is at a crossroads between its identity as a nomadic nation with a history of Shamanism and Buddhism, and a new economic reality of globalization where the use of natural resources threatens its very existence.
Traditions of herding across vast and beautiful terrains with a life connected to nature, ancestry and the spiritual world is seen as heaven by many. A door to another type of heaven is the creation of wealth that exploits the same land for mining, goat breeding for cashmere construction and trading. But is the country disappearing between these two biospheres? The artists, who are from across the generations, question Mongolia's future.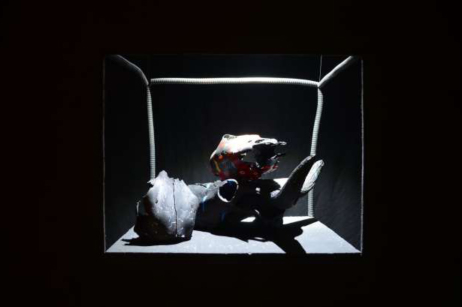 Chimeddorj grew up at a time when Mongolia was a Soviet satellite. Educated and practicing during the socialist period that ended in 1990, Chimeddorj has lived through not only a period of imposed cultural control, but the transition to a peaceful democracy, with the introduction of a multi-party system and a market economy. As a state laureate artist, he has continued to experiment and work in new ways, participating in the Beijing Biennale 2008 and the Shanghai Biennale 2012. In I'm Bird, he questions where modern goals lead us, and to what extent the restless quest for new worlds destroys the old worlds.
Enkhtaivan's artistic career developed during a period of change and the arrival of greater artistic freedom. Utilizing a wider range of media, not only painting and sculpture, his filmic installations force the viewer to question their own actions and consequences in relation to environment.

Munkhbolor, Bolortuvshin and Davaajargal represent a younger generation, who grew up during a harsh transition period of chaotic shifts in the society. Munkhbolor's work for this exhibition focuses on damage to Mongolian eco system, a creeping desertification caused by overbreeding of goats for cashmere business. In 2010, exceptionally cold winters combined with droughts killed millions of animals in Mongolia. His use of skulls of animals, the victims of brutal natural disaster, not only juxtaposes the worlds of shamanistic ritual and commercial gain but reminds us that exploitation and over consumption drive the cycles of destruction and disaster.
Bolortuvshin recently went on a journey across a remote part of Mongolia and discovered the devastation left by unregulated mining and widespread environmental pollution. She uses her lens to express deep anger and outrage. Davaajargal offers a series of haunting sound installations that bring together noises from nature as well as traditional and electronic music.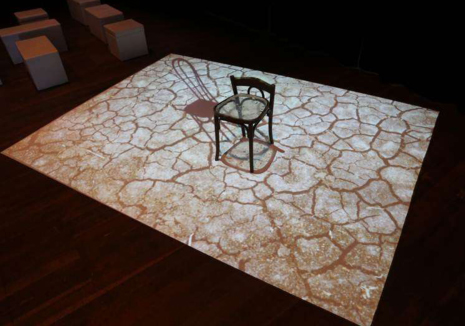 Lost in Tngri alludes to the frailty of human nature and its effect upon society and the environment. While the context is uniquely Mongolian, the impacts are global and universal.
Participants: Chimeddorj Shagdarjav, Munkhbolor Ganbold, Enkhtaivan Ochirbat, Bolortuvshin Jargalsaikhan, Davaajargal Tsaschikher
Commissioner: Munkh-Orgil Tsend, the Minister of Foreign Affairs
Curator: Dalkh-Ochir Yondonjunai
Organizer: Mongolian Contemporary Art Support Association
Project Director: Gantuya Badamgarav
Artistic Advisor: Tessa Jackson, OBE
Supporters: Ministry of Foreign Affairs of Mongolia, Ulaanbaatar City Government, Embassy of Mongolia in Berlin and Rome
Supporters in Venice: Valorizzazioni Culturali and Arte Communications
Sponsors: MIAT – Mongolian Airlines, Xac Bank, Erel Group, Monnis Group, Max Group, Shangri-La Ulaanbaatar LLC, Monre Insurance, Mahoney Liotta, Bats Urguu and other private entities and individuals
Inauguration – official opening: 10.00 am, 11 May 2017
Location: Istituto Santa Maria della Pietà, Castello
Opening days: from May 13th to November 26th 2017, closed on Mondays (except May 15th, August 14th, September 4th, October 30th, and November 20th 2017)