DAVID HOCKNEY. A BIGGER PICTURE – LUDWIG MUSEUM – COLOGNE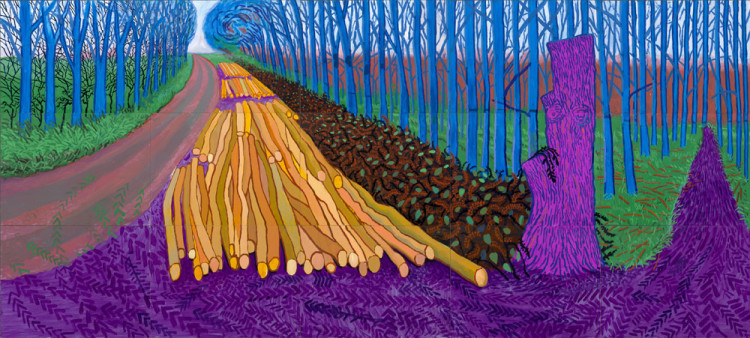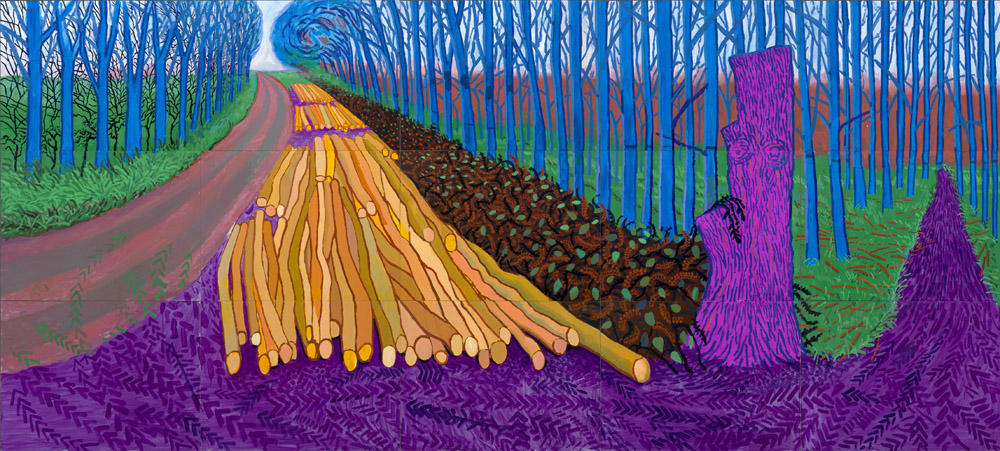 David Hockney. A Bigger Picture
Press reception: Thursday, October 25, 12 a.m.; preview begins at 11 a.m.
October 27, 2012 until February 3, 2013
David Hockney's swimming pool paintings are among the most popular images of the 1960s. He attained world fame as a flamboyant figure of "swinging London" and as a chronicler of the cool California way of life. His oeuvre also encompasses perceptive portraits, virtuoso still lifes, and landscapes, as well as photo collages, stage sets, and the smart handling of art-historical phenomena. Over the decades, all this has earned him a place among the world's leading contemporary artists.
Hockney's multifaceted work always remains fresh and never ceases to surprise. While working in California, Hockney began to concentrate on the perception of space and the vastness of the landscape, absorbing the latter into panoramic images of the Grand Canyon. In recent years, he has focused his creative attention on landscape painting. As early as 1997 he began contemplating leaving Los Angeles and returning home to rural East Yorkshire. In 2005, Hockney relocated permanently to the UK, settling down in the coastal town of Bridlington, surrounded by plentiful woodland and a predominantly agricultural hinterland. This is where he created a variety of wonderful landscape paintings. Mostly painted directly from nature, these works enable the viewer to approach them immediately at the same time that they retain a high degree of painterly sophistication.
Simultaneous with his traditional painting, some time ago Hockney began experimenting with touchscreen drawings. With the aid of the iPad Brushes app, he recently started to design images on his iPad; their incredible liveliness is fascinating. Some of these pieces will be presented for the first time in Cologne. Distinguished by their special luminosity, they will be shown directly on touchscreens and as large print-outs, constituting a considerable portion of the exhibition. Additionally, Hockney has recently turned his fascination with landscape to the production of impressive multi-focus films. The special recording technique that he developed projects onto eighteen interconnected monitors, resulting in a uniquely intense viewing experience. The complexity of the exhibition reveals an artist who lends totally new impulses to the classical theme of landscape painting. The combination of Hockney's extraordinary competence and the new stimulus he brings to these works reveals his deep devotion to the visible world and to beautiful things.
This show is based on an exhibition entitled David Hockney: A Bigger Picture, originally curated by Marco Livingstone and Edith Devaney for London's Royal Academy. Over 150 works will be on view at the Museum Ludwig. Stephan Diederich is the responsible curator here, working closely with the artist himself.
650,000 visitors came to see the David Hockney exhibition at the Royal Academy in London, which ended there on April 9. From October 27, 2012 until February 3, 2013 the slightly altered show will be on view at the Museum Ludwig in Cologne.
Tickets for this venue are now on sale online: www.koelnticket.de, www.museum-ludwig.de, or by phone: +49-221-221-2801
The exhibition is supported by Rolex.
Position the cursor on the images to view captions, click on images to enlarge them. 

Posizionare il cursore sulle immagini per leggere le didascalie; cliccare sulle immagini per ingrandirle.