EXCENTRIQUE(S) – DANIEL BUREN – GRAND PALAIS – PARIS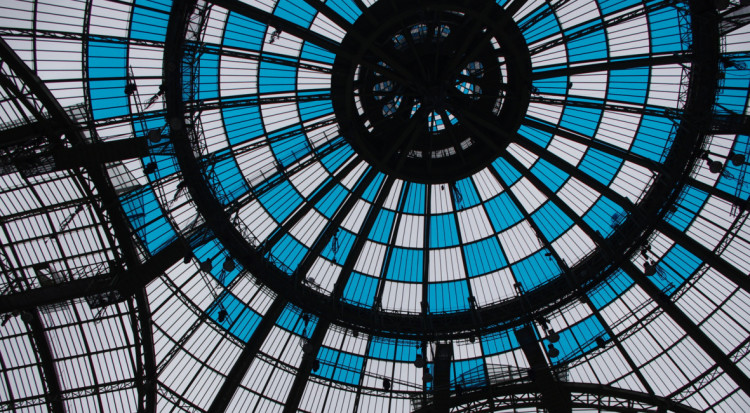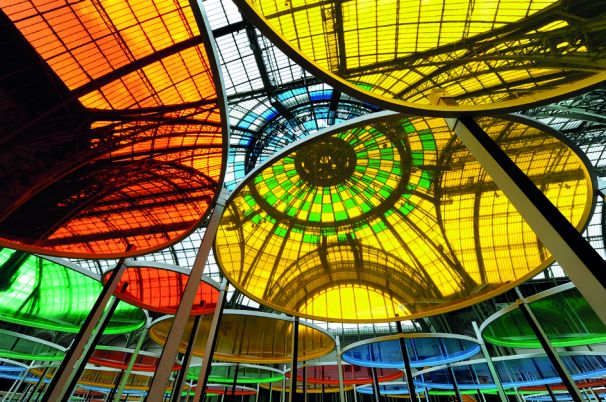 Text by Vittoria Biasi – English by esserre
EXCENTRIQUE(S) – DANIEL BUREN – GRAND PALAIS – PARIS
The architecture of the aisle inside the Grand Palais at Paris inspires the specific site work of Daniel Buren through the project Monumenta, occurrence proposed every year.
During 2007 it was Kiefer, during 2008 it was Richard Serra, Christian  Boltanski in 2010, Anish Kapoor in 2011, during 2012 it will be Daniel Buren to tackle the 13.500 square metres of nave for a project of involving light work.
From his appearing into artistic scene, Buren has developed a relational art, of research about the connection between the cultural and social function of the site and the architectural composition where the man is the centrality and a scale of reference.
The linguistic feature of Buren has been connoted by an expression constituted of vertical stripes whose colour purity focuses the space around a very important reading for the artist. In such a sense it is marvellous his work Les Deux Plateaux within the Cour d'honneur  at the Palais-Royal in Paris  during 1986.
The Grand Palais thought for the World Fair during 1900, is one of the most worthy account of Art Nouveau. The building has an aisle two hundred metres long, forty five metres high and covered by a full-length window, supported by a strong iron structure. In such a cathedral of light, Buren conceives a work inspired by the ceiling roses in churches where the polychrome glasses diffuse lights filtered into colours changing from yellow to bleu and green, that for the artist they get rich also of orange-colour.
When interviewed by Marc Sanchez (Daniel Buren, Monumenta 2012, Excentrique[s], Grand Palais, Réunion des Musées Nationaux Grand Palais, 2012) Buren depicts his project, his connection with the light:
"My first aspiration, when the invitation came, was the work with the extraordinary light in this site.
But also to work with the fact that, more than an exhibition venue, it is a huge public place where you can hear the rain hammering on the roof, or see clouds sailing past and where the sun and the colour of the sky are very present."
The artist shifts the centrality of the man as spectator, traveller through the installation Excentrique(s) for Monumenta 2012. The connection with the cultural and architectural fact of the place holds talks with the innermost being, with spirituality and the aerial dimension of mind.
Down on the floor of the aisle, in a central zone corresponding to the glass dome whose roundness is enhanced by the blue coated glasses, the artist has placed some round mirrors which capture the light of the glass window.
Taking a walk into the work we tackle the mathematical construction, the geometrical reference, the thought, personal and collective history. Going up the mirror the perception of one's own physicalness and thought is upset. The dome being mirrored  in the reflecting floor disorients the self spatial perception, leads into an other dimension.
In such a sense Excentrique(s) is a work beyond the representation, it involves deep sensory and acoustic impressions. In the rooms a magnetic stripe whispers a numerical and chromatic tempo as in a singsong or a refrain.
Among other scheduled events which were planned following a project of affinity rings, concentric or eccentric, I like to underline the reading in Latin, by Pierre Guyotat, of De Rerum Natura by Lucrezio.
Vittoria Biasi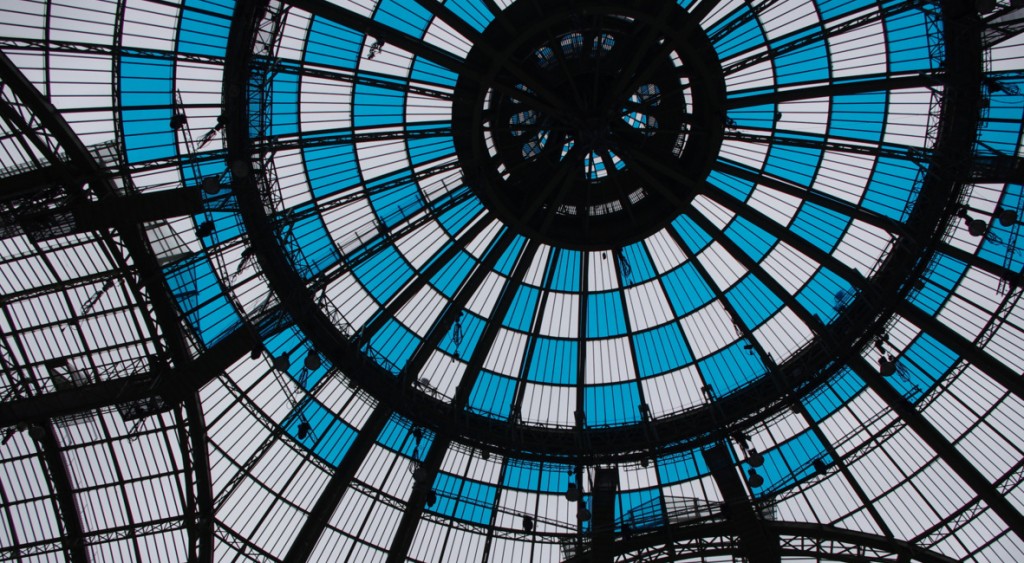 Testo di Vittoria Biasi
L'architettura della navata del Grand Palais di Parigi ispira l'opera specific site di Daniel Buren per l'appuntamento proposto, ogni anno, con il progetto Monumenta.
Dopo Kiefer nel 2007, Richard Serra nel 2008, Christian Boltanski nel 2010, Anish Kapoor nel 2011, quest'anno è Daniel Buren a confrontarsi con i 13.500 mq della navata progettando un'opera di luce coinvolgente.
Fin dal suo apparire sulla scena artistica, Buren ha sviluppato un'arte relazionale, indagando sul rapporto tra la funzione sociale e culturale del luogo e la composizione architettonica, in cui l'uomo è la scala di riferimento e la centralità.
La cifra linguistica di Buren è stata connotata da un'espressione costituita da bande verticali in cui la purezza del colore focalizza lo spazio intorno ad una lettura importante per l'artista. Meraviglioso in tal senso è l'intervento del 1986 nella Cour d'honneur du Palais-Royal di Parigi con l'opera Les Deux Plateux.
Il Grand Palais, pensato nel 1900 per l'Esposizione Universale, è una delle più nobili testimonianze dell'Art Nouveau. L'edificio ha una navata lunga duecento metri, alta quarantacinque metri e coperta da una da una vetrata, sorretta da una forte struttura in ferro. In questa cattedrale di luce Buren concepisce un'opera ispirata ai rosoni delle cattedrali dove i vetri policromi diffondono luci filtrate nei colori dal giallo al blu, al verde, che per l'artista si arricchiscono anche del colore arancio.
Nell'intervista che Marc Sanchez fa a Buren (Daniel Buren, Monumenta 2012, Réunion des Palais Nationaux, Grand Palais) l'artista descrive il suo progetto, il suo rapporto con la luce dicendo:
"La mia prima aspirazione, immediata, da quando sono stato invitato, è stata di lavorare con la luce notevole e straordinaria di questo luogo, ma anche con la consapevolezza che si tratta, più che di uno spazio di esposizione, di una immensa piazza pubblica in cui si sente battere la pioggia, si vedono passare le nuvole, in cui il sole e il colore del cielo sono molto presenti."
Con l'installazione Excentrique(s), per Monumenta 2012, l'artista sposta la centralità dell'uomo spettatore, viaggiatore. Il rapporto con l'elemento culturale e architetturale del luogo dialoga con lo spazio dell'anima, con la spiritualità, con la dimensione aerea della mente.
Sul pavimento della navata, in un'area centrale in corrispondenza con la cupola in vetro, l'artista ha disposto degli specchi rotondi che catturano la luce della vetrata, dove la rotondità della cupola è sottolineata dal filtro azzurro che riveste i vetri.
Passeggiando nell'opera si entra in confronta con la costruzione matematica, con il richiamo geometrico, con il pensiero, con la storia personale e collettiva. Salendo sullo specchio la percezione della propria fisicità e del pensiero sono scompaginati. Il riflesso della cupola sul suolo specchiante disorienta la percezione spaziale del sé, conduce in un'altra dimensione.
In tal senso Excentrique(s) è un'opera oltre la rappresentazione, coinvolge sensorialità profonde e acustiche. Nell'ambiente una banda sonora mormora come in una musica o una nenia, un ritmo numerico e cromatico.
Tra gli eventi previsti, costruiti secondo un progetto di cerchi di affinità, concentrici o eccentrici, mi piace sottolineare la lettura in latino del De Rerum Natura di Lucrezio da parte di Pierre Guyotat.
Vittoria Biasi
MONUMENTA 2012
Daniel Buren au Grand Palais
EXCENTRIQUE(S), travail in situ
10 mai – 21 juin 2012
Avenue Winston Churchill, 75008 Parigi
www.monumenta.com
Position the cursor on the images to view captions, click on images to enlarge them. 

Posizionare il cursore sulle immagini per leggere le didascalie; cliccare sulle immagini per ingrandirle.