VISION – YANG QI – THE SYNTHESIS OF FREEDOM AT JIA DE UI ART MUSEUM IN SUZHOU CHINA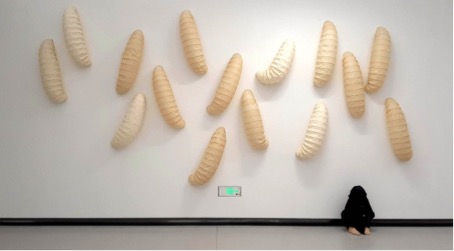 `Vision´ 
Yang Qi Neo-Expressionist art
at Jia' De Ui Art Museum in Suzhou China
Curator: Hao Qingsong
意象 – 楊起 新表现艺术展
01.06 – 31.08.2023
苏州嘉德宥爱美术馆 
Yang Qi 楊起 – The Synthesis of Freedom 自由的综合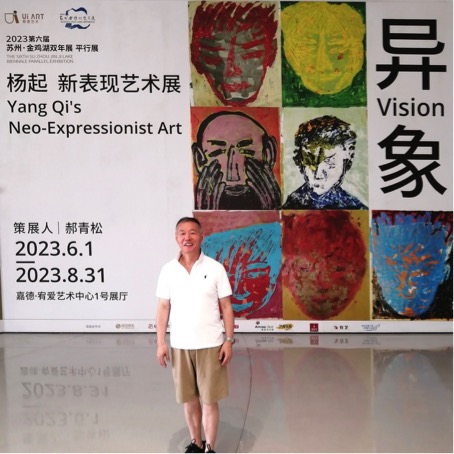 Beate Reifenscheid, German famous contemporary art critic, director of Ludwig Museum
Looking back on the long years of development of Yang Qi's works, viewers will find that one-dimensional cognition or quick understanding is not easy. The forms of expression used by the artist may seem too extraordinary: starting from the classic ink painting usually associated with Chinese painting, a very specific form of expression is stimulated, all the way to his oil paintings. The strong ones, the impastoed ones, and most importantly, the frivolous patterns are discarded in order to give more space to the colors. He is good at highlighting the narrative symbolism of innocence and plot, allowing it to play a central role and making the picture expressive.
Many of Yang Qi's works are unknowingly reminiscent of Jung Wilde, a youthful Fauvism. Of course, the artist's own unique language developed so far is even stronger. Sometimes, Yang Qi's paintings, including ink works, are genres reminiscent of classical allegories, mysterious and unpredictable, and the viewer's appreciation depends on subjective interpretation and vision. Painting is the same here and there. As an artist, Yang Qi always tries to bring out the simple sentiment of life. Usually a pleasant reunion or coexistence that doesn't make too many demands on life. Yang Qi's characters live in plain daily life, full of humor, and live in harmony with nature. His paintings reveal a kind of unrestrained interest in life, carefree and full of happiness all the time. There are only a few people on the screen, and they are all clearly emphasized by color, with few actions and props to set off. Yang Qi is not willing to clearly express the plots handled by the characters in the screen or which scenes contain which statements. Although his color and painting style are deeply influenced by his experience in Western, especially German painting traditions, the narrative is clearly inspired by his Chinese painting tradition, in which genre scenes also play an important role, often showing avant-garde themes, rough, Even tends to be grotesque. They express the mutual correspondence of exquisite forms with man and nature in a noble painting language.
Yang Qi brings this knowledge into play in his own symbiosis with nature, often by bringing together the most unusual materials or by forming surprising pictorial impressions due to their unexpected combinations. When people look at his installations or sculpture groups, it is particularly obvious that these installations or sculpture groups are full of allusions and often mixed with profound humor. His sculptures 'Floating Stones' seem to be about overcoming the climbing of the Great Wall, while his idyllic themes and his flock installations suggest breaking out of all conventional rules and making their own way.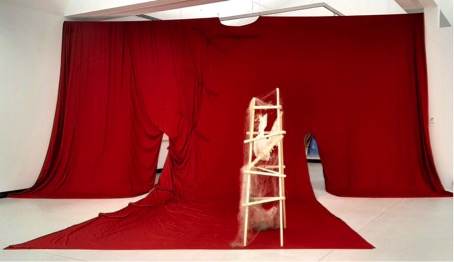 Yang Qi found his own visual and formal language based on his in-depth experience of Chinese philosophy, traditional Chinese art and meditation practice on the one hand, and his understanding of Western art trends on the other hand. Yang Qi's art draws inner power from this tense atmosphere, thus revealing the diverse overlapping of different worlds in the artist's creative process. A rather deep and nuanced style of "Abstrakter Expressionismus, Graffiti Tachismus, and Non-Representational Informel" is also seen in the artist's paintings. It is precisely because of Yang Qi's long-term practice in two completely different cultures that he has transcended this symbiotic relationship and created his outstanding art in his new freedom. Yang Qi has undergone countless changes in the past thirty years, but he has not deviated from his original concept of painting or installation stage. It's exciting to watch how he thinks about composition. He contrasts the sometimes open and loose form of the sketch with the condensed graphic structure and emphasizes the color space. The intensity of the colors, even the sometimes exaggerated coloring, is diametrically opposed to the Chinese way of thinking.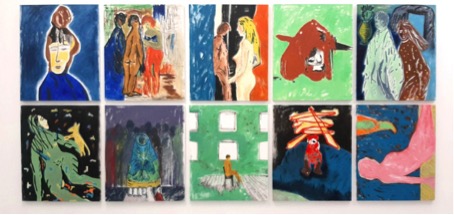 The expression of color dominates
Compared to content described as subject. For more than ten years, Yang Qi has also paid more attention to the issue of sculpture, choosing finer, weirder and more surreal themes of his works. Inconspicuous individual elements in daily life, put together like small objects in his artistic treatment, constitute the world he translates and explains. His installations were especially evident in last year's Venice Biennale display. As always, one can always see this bridge between cultures in it, Yang Qi retains the roots of his cultural identity while incorporating Western concepts. He uses his spatial settings to build narrative tension and painstakingly deduces a context of self-expression stemming from a deeply rooted Chinese culture that comes more from allusion than attempting to describe accurately. Free space – whether on screen or real space – becomes the projection surface for the viewer, who configures and expands the story himself. The stories he tells seem to come from real life and are transnational without even revealing their cultural background. These people live in everyone's empirical world, and some have textual research, but it doesn't matter. In the depths of the heart, this spirit has obtained its own symbolic space through the synthesis of cultural traditions, and the outside world cannot invade at will, but all its strength, vitality and will to survive come from the inner self. This is also an artist He was shaped by the experience of his home country, and he left the country very early to find a new freedom and a special artistic freedom in the West. This obsession with freedom has influenced him both in the past and in the present, and it has also allowed his unruly artistic personality to flourish.