I LIKE TUESDAYS: ETTORE SPALLETTI AND CARLO SINI – DEUTSCHE BANK ART COLLECTION | MILAN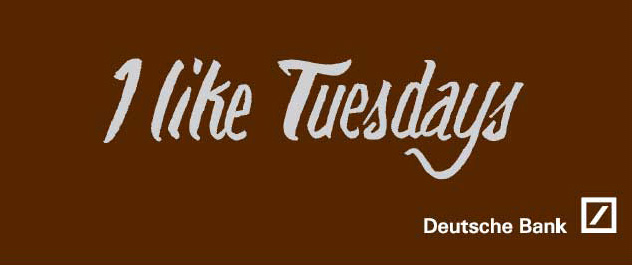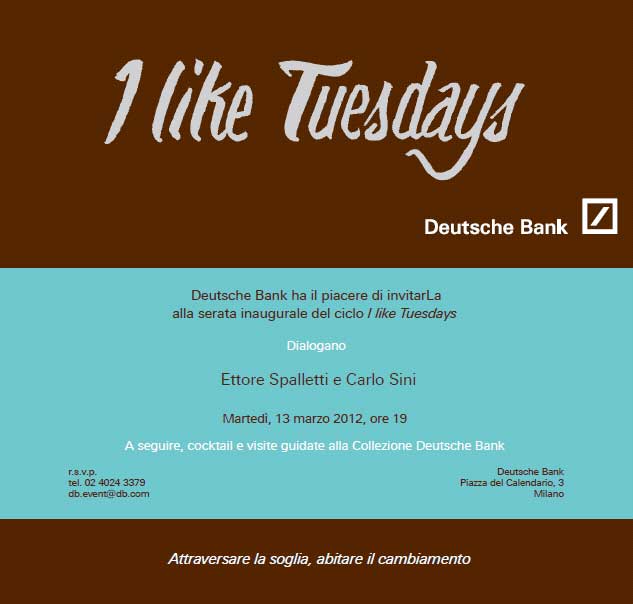 Deutsche Bank
Piazza del Calendario, 3 – Milan
Dialogano
Ettore Spalletti e Carlo Sini
Martedì, 13 marzo 2012, ore 19
I like Tuesdays
The conferences will take place in the Italian DB Headquarters in Milan, from 7 pm.  At the end  the guests could discover the art collection of the bank in Italy trough special guided tours inspired to the theme of the talk. During the event a cocktail will be offered to everyone.
.-.-..-.
Deutsche Bank inaugura il terzo ciclo di incontri dedicati ai temi della contemporaneità. L'attenzione si rivolge in particolare a grandi Maestri dell'arte, italiana e non solo, coinvolti per l'occasione insieme a personalità del mondo della ricerca, della filosofia e delle scienze umane.
Offrire al pubblico inedite letture intorno ad alcune metafore del vivere quotidiano, per leggere con sguardi più aperti e allo stesso tempo più attenti la realtà che ci circonda: con questo intento nascono le serate dell'edizione 2012 di I like Tuesdays, dove ancora una volta sarà l'arte a proporre nuove ispirazioni per allargare i nostri orizzonti.
Attraversare la soglia, abitare il cambiamento
Un dialogo tra due Maestri – uno della parola, l'altro della forma – sul ruolo che l'arte può avere nell'osservare con prospettive sempre nuove la nostra quotidianità.
La soglia rappresenta il luogo simbolo di queste possibili trasformazioni: abitare la soglia significa, infatti, prendere il coraggio di sostare in un territorio che confina con il noto e guarda all'ignoto e al cambiamento, verso nuove forme di comportamento, di linguaggio, di pensiero.
Ettore Spalletti
Artista abruzzese di fama internazionale, vive e lavora a Cappelle sul Tavo. La sua arte è difficilmente definibile e solca i confini della pittura e della scultura. Per sua stessa definizione, il suo lavoro si può chiamare pittura tridimensionale. A partire dal 1975, le sue opere sono state esposte nei principali musei di tutto il mondo.
Carlo Sini
Tra i più noti filosofi italiani, è professore emerito di Filosofia teoretica presso l'Università Statale di Milano. Accademico dei Lincei, collabora con la stampa, la Rai e la radiotelevisione svizzera. Ha tenuto seminari e conferenze negli Stati Uniti, in Argentina, in Canada e in vari paesi europei. È autore di una quarantina di volumi, tradotti in varie lingue.
Modera Valeria Cantoni, docente universitaria e cofondatrice di Trivioquadrivio.