NEW MUSEO CASA ENZO FERRARI – MODENA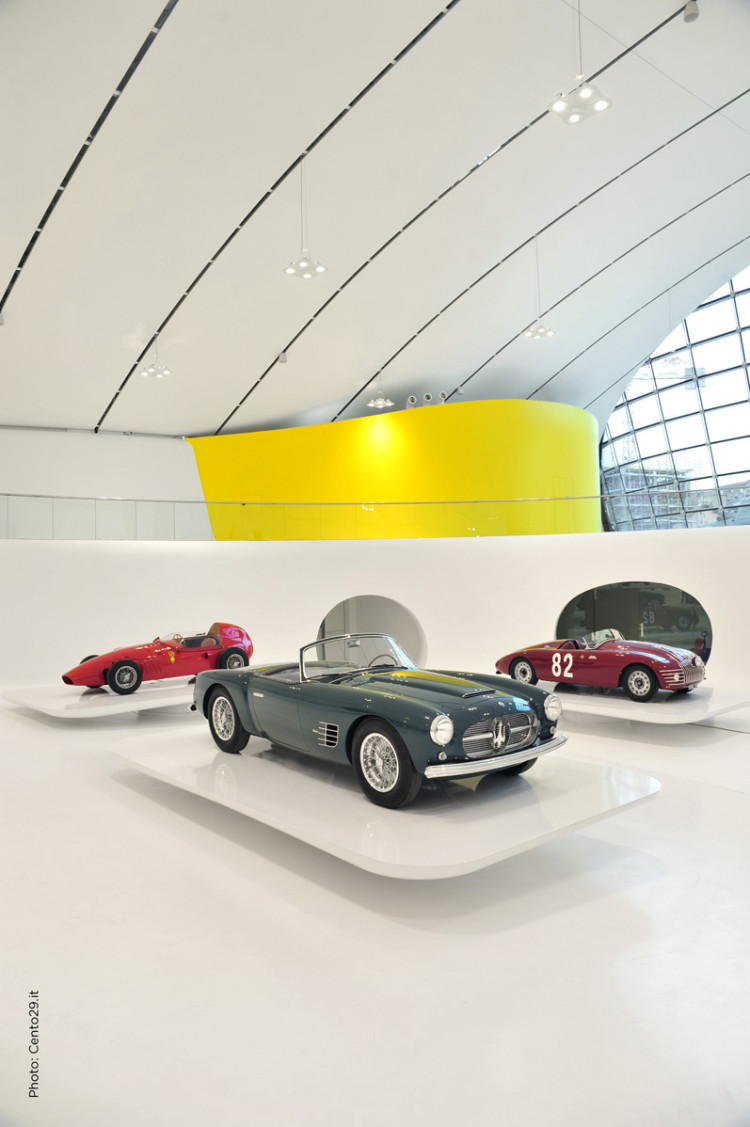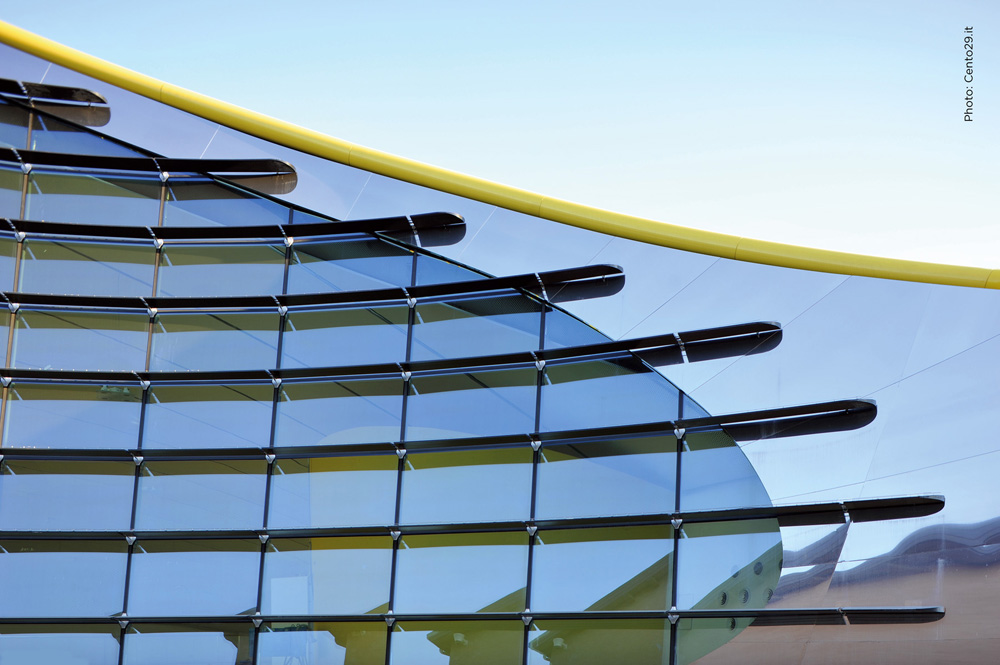 The new Museo Casa Enzo Ferrari opens to the public on 10 March 2012
The story of a legend, the life of a great man
Modena, 9 March 2012. Modena's new Museo Casa Enzo Ferrari opens to the public on 10 March. It is a museum dedicated to one of Italy's most celebrated legends, unquestionably one of the leading lights of the Twentieth Century, Enzo Ferrari, man, driver and carmaker: the history of car racing.
After the opening ceremony on Saturday 10 March at 11 am in the presence of personalities and authorities, in the afternoon the museum will open its doors to the city from 5 pm to 11.30 pm, admission free.
"If you can dream it, you can do it" is one of Enzo Ferrari's best known sayings and certainly the one that best represents his philosophy, a life marked by passion and creativity, research and innovation, courage and challenge. A legend that has made Modena and Maranello the capitals of a dream come true.
"Le origini del Mito" covers the story and development of a quite unique area which gave birth to inspired technical ideas of universal importance through symbolic personalities, places and races (from the Modena Circuit to the Aerautodromo and the Mille Miglia; from Scaglietti, Fantuzzi, and Stanguellini to Maserati and Pagani, from De Tomaso to Alfa Romeo).
The new museum, built with an investment of some 18 million euros, stands on the ruins of the old house where Enzo Ferrari was born in 1898. The original dwelling has been preserved together with the workshop and it has been merged with the futuristic new gallery: a "bonnet" in yellow aluminium, the colour of the city of Modena, the colour chosen by Enzo Ferrari as the background for the Prancing Horse, the trademark of the company that bears his name.
The logo identifying the Museum combines in a single graphic sign the characteristic penstroke of Enzo Ferrari's signature and the profile of the new Gallery whose design is inspired by the most classical of past racing cars. It goes without saying that the yellow of the pictogram is the same as the aluminium roof of the new building.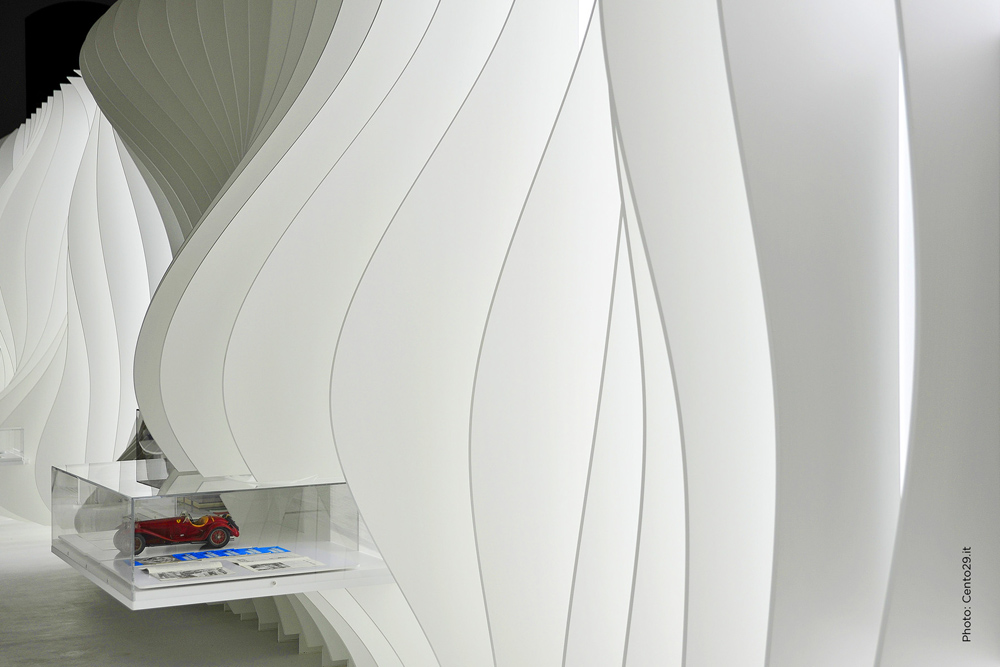 The competition for the design of the Museum began on 8 July 2004 and was contested by the most important international architecture studios. The "Open Hand" project, so called because like an open hand, the bonnet-shaped futuristic Gallery embraces the birthplace in a perfect union of tradition and modernity, was won by the Future Systems studio of London. The work to prepare the area involved in the project began in November 2007, the first stone, a sculpture by architect Jan Kaplicky, was laid on 20 April 2009.
The new Gallery combines the historical context with the most recent energy-saving technologies and the view recalls the aesthetic language and shapes of racing cars. The restoration and transformation of the birthplace into a Museum completes the cultural offering of the adjacent Gallery. The contemporary architecture which characterises the Museum carries the signature of architect Jan Kaplicky up to 2009. The interior design and artistic direction were the work of architect Andrea Morgante of Shiro Studio, co-designer of the Museum itself. Engineering, project management and works management were handled by Società Politecnica.
In the birthplace a permanent, high impact multimedia path covers the most significant events in Ferrari's life, in the words of Leo Turrini who wrote the texts.
In the new Gallery, the protagonists of "Le origini del mito", staged by Giovanni Perfetti, are the cars which are exhibited like works of art. The cars are all products of the great Italian brands and held in international collections and museums of great prestige, some of them symbols of the life of Enzo Ferrari: the Alfa Romeo 40-60 of 1914, the Alfa Romeo RL Super Sport Mille Miglia of 1927 and the Alfa Romeo Bimotore of 1935. The history and glorious achievements of Modena carmaking are celebrated in historical documents and objects selected by Adolfo Orsi, complete with previously unpublished audiovisuals.
Heading up the Museum are Honorary President Piero Ferrari, President Mauro Tedeschini and the Director Adriana Zini.
"This tribute to my father, who loved Modena profoundly, gives me immense pleasure", Piero Ferrari says. "It provides an opportunity for anyone who wants to find out more about the man, his story and the link between the city and the world of engines. This new structure is perfectly complementary to the Ferrari Museum at Maranello, the other fundamental location in the life of my father".
"The Museum is dedicated to the life of a character who contributed to making Italian culture famous all over the world, a path that tells the story of sports car racing through symbolic individuals, places and races", says Mauro Tedeschini. "It is an important investment for the city of Modena and for Emilia too, confirmed once again as the focal point of the life and passion of Italian motoring. With the Museo Casa Enzo Ferrari we try to portray the imaginary bridge existing between past and future". Tedeschini concludes: "The past as told by the old house where Enzo Ferrari was born in 1898, restored and preserved in its original structure, the future represented by the innovative architecture of the yellow aluminium "bonnet", the city's new emblem".
"The Museum has all it takes to become a dynamic cultural container able to arouse interest not only among engine enthusiasts but more generally among the younger generations", Adriana Zini points out. "Our hope is that it will become a new symbol of Modenese modernity and identity in Italy and the world, capable of becoming a centre of tourist attraction at international level. "
The total surface area of the Museum of about 5000 sq.m., comprises, in addition to the exhibition area, a lecture room with a digital documentation centre, a conference room, a film projection room, a store and a cafeteria. The museum will stay open 363 days a year. The documentation centre is named after Sergio Scaglietti, Enzo Ferrari's coachbuilder, one of the characters whose creative flair contributed to the development of some of the most beautiful and world famous Ferraris. He passed away a few months ago.
The Founder Members and financial backers of the Fondazione Casa di Enzo Ferrari are the Municipality of Modena, the Province of Modena, the Modena Chamber of Commerce, Ferrari S.p.A. and the Automobile Club d'Italia.
Partners and supporters are the Ministry for the Cultural Heritage and Cultural Activities, the Fondazione Cassa di Risparmio di Modena, the Regione Emilia Romagna, the European Union (POR FESR 2007 -2013 of Regione Emilia- Romagna) in addition to the Banco S. Geminiano e S. Prospero, UniCredit Banca, Banca Popolare dell'Emilia Romagna. Martini Illuminazione and Mapei are respectively sponsors of the light engineering and the resin flooring of the museum complex.
Free entrance for the under-5s and the disabled.
From 11 March the Museum will be open every day of the year from 9.30 am to 7 pm except for Christmas and New Year's days.
For information please contact: Ticket office: 0594397979 – Foundataion: 059239268
The museum is in via Paolo Ferrari, 85 www.museocasaenzoferrari.it
Active Facebook account: Museo Enzo Ferrari.
For info: Mailander per Museo Casa Enzo Ferrari
Marcella Laterza, T +39 0115527322, M +39 3357559154, @ m.laterza@mailander.it
Stella Casazza, T +39 0115527327, M +39 3454732391, @ s.casazza@mailander.it
Francesca Iraldi, T +39 0115527306, M +39 3281614989, @ f.iraldi@mailander.it
For further information: Fondazione Casa Natale di Enzo Ferrari
via Galaverna, 8 41123 Modena, www.fondazionecasanataleenzoferrari.it
Maja Argenziano, T 0592033942, Fax 0592033959, M 335 1807957, @ m.argenziano@fondazionecasanataleenzoferrari.it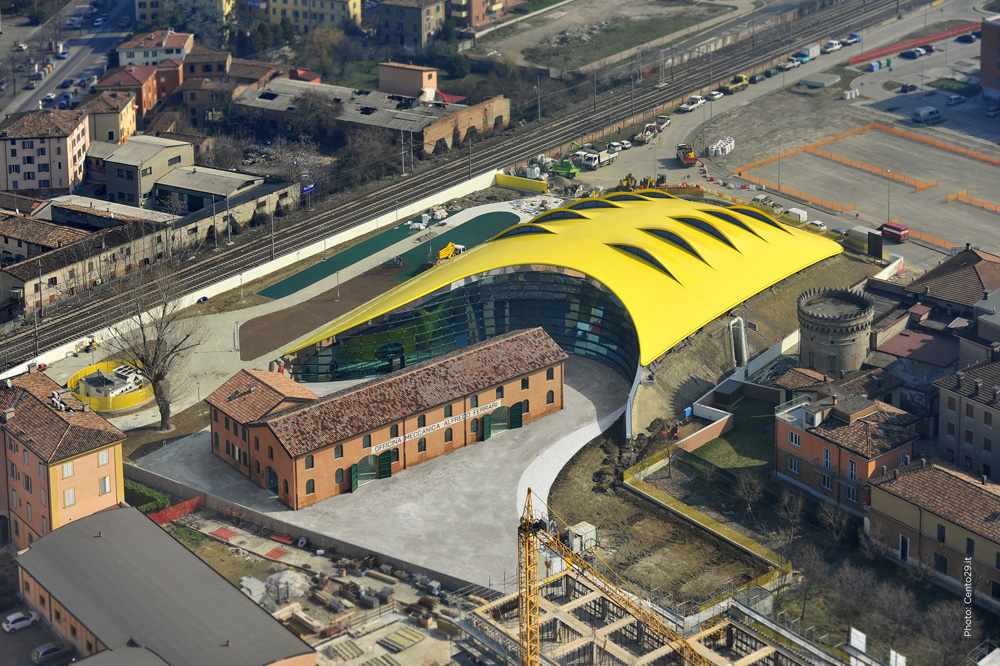 Il 10 marzo 2012 apre al pubblico il nuovo Museo Casa Enzo Ferrari
La storia di un mito, la vita di un grande uomo
Modena, 9 marzo 2012. Dal 10 marzo prossimo apre al pubblico il nuovo Museo Casa Enzo Ferrari di Modena. Un museo dedicato a uno dei miti italiani più famosi nel mondo, indiscusso protagonista del '900, Enzo Ferrari uomo, pilota e costruttore: la storia dell'automobilismo sportivo. Dopo la cerimonia di inaugurazione delle 11 con personalità e rappresentanti istituzionali, il pomeriggio di sabato 10 marzo il museo aprirà le porte alla città dalle 17 fino alle 23.30 con ingresso libero.
"Se lo puoi sognare, lo puoi fare" è una delle frasi più conosciute di Enzo Ferrari, sicuramente quella che rappresenta meglio la sua filosofia, una vita segnata da passione e creatività, ricerca e innovazione, coraggio e sfida. Un mito che ha reso Modena e Maranello capitali di un sogno realizzato.
"Le origini del Mito" ripercorre la storia e l'evoluzione di un territorio unico, che ha dato vita ad intuizioni tecniche di portata universale attraverso personaggi, luoghi e competizioni simbolo (dal Circuito di Modena all'Aerautodromo e alla Mille Miglia; da Scaglietti, Fantuzzi, Stanguellini a Maserati, Pagani, De Tomasofino all'Alfa Romeo).
Il nuovo complesso museale, realizzato con un investimento di circa 18 milioni di euro, sorge sull'antica casa in cui nacque Enzo Ferrari nel 1898. Il corpo abitativo originale è stato conservato insieme all'officina e si è fuso con la nuova galleria dal design avveniristico: un "cofano" in alluminio giallo, il colore della città di Modena, il colore scelto da Enzo Ferrari come sfondo del Cavallino, il marchio dell'azienda che porta il suo nome.
Anche Il logo che rappresenta l'identità del Museo è stato concepito unendo in un solo segno grafico il tratto caratteristico della firma di Enzo Ferrari e il profilo della nuova galleria espositiva, che ha un design ispirato alle più classiche vetture da corsa del passato. Il colore giallo del pittogramma naturalmente è lo stesso della copertura in alluminio del nuovo edificio.
Il concorso per la progettazione dell'opera è partito l'8 luglio 2004 e ha visto sfidarsi i più importanti studi di architettura internazionali. Il progetto "Open Hand" così chiamato perchè, proprio come una mano aperta, la moderna e futuristica Galleria a forma di cofano d'auto, abbraccia la Casa Natale, in un perfetto connubio tra tradizione e modernità, è stato vinto dallo studio Future Systems di Londra. I lavori di preparazione dell'area di interesse progettuale sono partiti nel novembre 2007, la posa della prima pietra, che è una scultura disegnata dall'architetto Jan Kaplicky, è avvenuta il 20 Aprile 2009.
La nuova Galleria coniuga il contesto storico con le più recenti tecnologie di risparmio energetico e alla vista ricorda il linguaggio estetico e le forme delle vetture da competizione. Il restauro e la conversione a Museo della Casa Natale, completa l'offerta culturale della Galleria adiacente.L'architettura contemporanea che caratterizza il Museo porta la firma dell'architetto Jan Kaplicky fino al 2009. L'interior design e la direzione artistica sono stati curati dall'architetto Andrea Morgante di Shiro Studio, co-progettista anche dell'opera. Ingegneria, project management e direzione lavori sono stati seguiti dalla Società Politecnica.
Nella Casa Natale un percorso multimediale permanente e di forte impatto ripercorre gli eventi più significativi della vita del Drake, raccontata dai testi di Leo Turrini. Nella nuova Galleria, le protagoniste de "Le origini del mito", l'allestimento a cura di Giovanni Perfetti, sono le automobili esposte come opere d'arte. Le automobili sono espressione dei grandi marchi italiani e patrimonio di collezioni e musei internazionali di grande prestigio, alcune delle quali simbolo della vita di Enzo Ferrari: l'Alfa Romeo 40-60 del 1914, l'Alfa Romeo RL Super Sport Mille Miglia del 1927 e l'Alfa Romeo Bimotore del 1935. La storia e le glorie dell'automobilismo modenese sono celebrate attraverso documenti storici e oggetti selezionati da Adolfo Orsi e Raffaele Gazzi (Historica Selecta) corredati da contributi audio-video inediti.
Al vertice del Museo il Presidente Onorario Piero Ferrari, il Presidente Mauro Tedeschinie il Direttore Adriana Zini.
"Mi fa molto piacere questo tributo a mio padre che amava profondamente Modena – dichiara Piero Ferrari – è un'opportunità per chi vuole conoscere meglio l'uomo, la sua storia e il legame tra la città e il mondo dei motori. Questa nuova struttura è perfettamente complementare con il Museo della Ferrari a Maranello, l'altro luogo fondamentale nella vita di mio padre" .
"Il Museo è dedicato alla vita di un personaggio che ha contribuito a rendere la cultura italiana famosa in tutto il mondo, un percorso per raccontare l'automobilismo sportivo attraverso personaggi, luoghi e competizioni simbolo – racconta Mauro Tedeschini – un investimento importante per la città di Modena e per il territorio emiliano, confermato ancora una volta come centro della vita e della passione motoristica italiana. Con il Museo Casa Enzo Ferrari vogliamo provare a tracciare il ponte immaginario che esiste tra passato e futuro. – Concude Tedeschini – Il passato raccontato dall'antica casa dove nacque Enzo Ferrari nel 1898, restaurata e conservata nella sua struttura originaria, il futuro rappresentato dall'innovativa struttura architettonica costituita dal "cofano" in alluminio giallo, il nuovo tratto distintivo della città."
"Il Museo ha le caratteristiche per diventare un dinamico contenitore culturale in grado di suscitare interesse non soltanto tra gli appassionati di motori ma più in generale tra le giovani generazioni – sottolinea Adriana Zini – vorremmo che diventasse un nuovo simbolo della modernità e dell'identità modenese in Italia e nel mondo, capace di divenire un polo di attrazione turistica di livello internazionale."
La superficie complessiva del Museo di circa 5000 mq, comprende, oltre alla parte espositiva, un'aula per la didattica con centro di documentazione digitale, una conference-room, una saletta per proiezioni cinematografiche, uno store e una caffetteria. Il Museo rimarrà aperto 363 giorni all'anno. Il centro documentazione è intitolato a Sergio Scaglietti, il carrozziere di fiducia di Enzo Ferrari, uno dei personaggi che con la sua inventiva ha contribuito a realizzare alcune tra le Ferrari più belle e famose al mondo, scomparso pochi mesi fa.
I soci della Fondazione Casa di Enzo Ferrari – Museo sono il Comune di Modena, la Provincia di Modena, la Camera di Commercio di Modena, la Ferrari S.p.A. e l'Automobile Club d'Italia. Partners e sostenitori nella realizzazione sono il Ministero per i Beni e le Attività Culturali, la Fondazione Cassa di Risparmio di Modena, la Regione Emilia Romagna, l'Unione europea (POR FESR 2007 -2013 della Regione Emilia- Romagna) oltre a Banco S. Geminiano e S. Prospero, UniCredit, Banca Popolare dell'Emilia Romagna. Martini Illuminazione e Mapeisono rispettivamente sponsor per l'illuminotecnica e per la pavimentazione in resina del complesso museale.
Gratuito per i bambini fino ai 5 anni e per i disabili.
Dall'11 marzo il Museo sarà aperto tutti i giorni ad esclusione di Natale e Capodanno, dalle 9.30 alle 19.00.
Per informazioni è possibile contattare: Biglietteria:+ 39 0594397979 – Fondazione:+ 39. 059239268
Il Museo è in via Paolo Ferrari, 85
www.museocasaenzoferrari.it
E' attivo un account anche su Facebook come Museo Enzo Ferrari.
Position the cursor on the images to view captions, click on images to enlarge them. 

Posizionare il cursore sulle immagini per leggere le didascalie; cliccare sulle immagini per ingrandirle.
Per info: Mailander per Museo Casa Enzo Ferrari
Marcella Laterza, T +39 0115527322, M +39 3357559154, @ m.laterza@mailander.it
Stella Casazza, T +39 0115527327, M +39 3454732391, @ s.casazza@mailander.it
Francesca Iraldi, T +39 0115527306, M +39 3281614989, @ f.iraldi@mailander.it
Per altre informazioni: Fondazione Casa Natale di Enzo Ferrari
via Galaverna, 8 41123 Modena, www.fondazionecasanataleenzoferrari.it
Maja Argenziano, T 0592033942, Fax 0592033959, M 335 1807957, @ m.argenziano@fondazionecasanataleenzoferrari.it
Museo Casa Enzo Ferrari, da sogno a realtà
di Zoomin_Italia