CRISTIANO PINTALDI LUCID DREAMS – VENICE BIENNALE – 54TH INTERNATIONAL ART EXHIBITION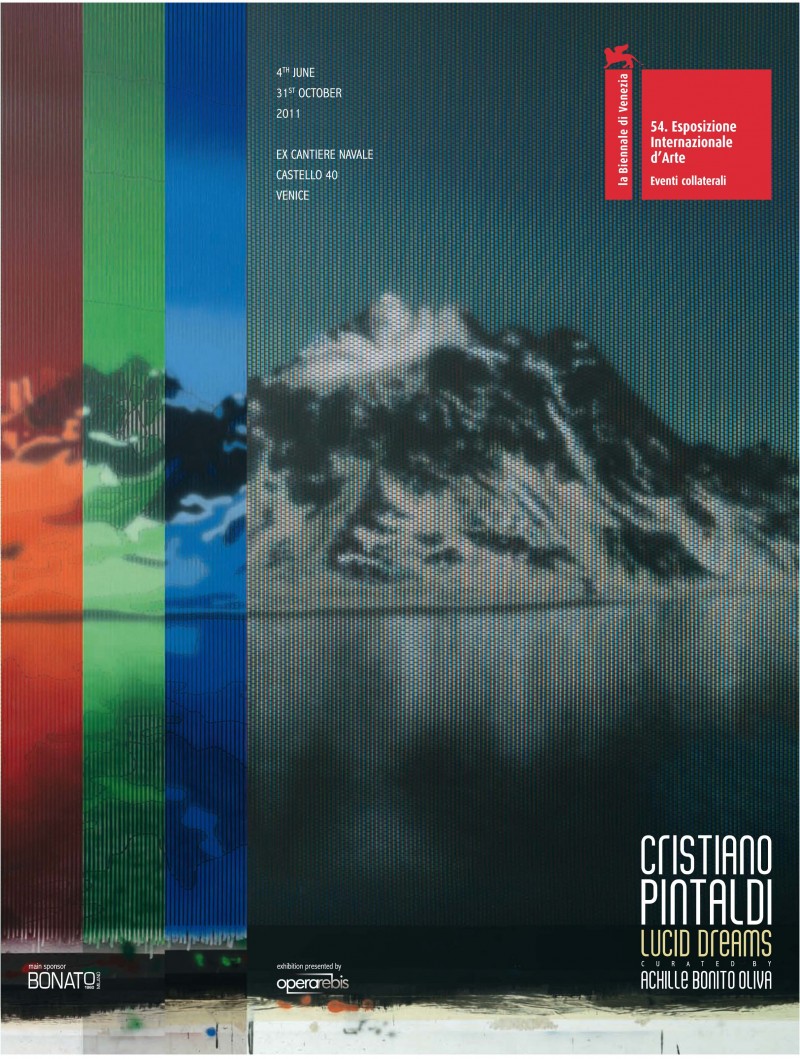 Cristiano Pintaldi: Lucid Dreams
Curated by Achille Bonito Oliva
Venice, at Ex Cantiere Navale (Former Shipyard)
Castello, 40 – Arsenal area – San Pietro di Castello
4th June – 31st October 2011
Collateral Event of the 54th International Art Exhibition – La Biennale di Venezia
From 4th June to 31st October 2011 Cristiano Pintaldi will be featured in a solo exhibition entitled Lucid Dreams curated by Achille Bonito Oliva and organised by the Rome-based non-profit association Opera Rebis. Lucid Dreams, as part of the official program of collateral events in the 54th International Art Exhibition, La Biennale di Venezia, will be presented in the striking old industrial premises of the former shipbuilding yard at San Pietro di Castello, hosting for the first time a contemporary art exhibition.
Based on a selection of large size-paintings, to a large extend displayed for the first time, Cristiano Pintaldi will be presenting a highly elaborate study of our ability to define and perceive reality. The very name of the exhibition, Lucid Dreams, refers to the artist's belief that the reality we belong to is a dream in which each individual is simultaneously the director and actor of his/her own film, creatively responsible for his/her own vision. In this respect, the tangible side of the world we live in is the result of approximately six billion different realities, equivalent to the number of viewpoints of the world's inhabitants.
But these viewpoints are actually mediated through some shared reality: we all, in fact, acknowledge as real the univocal perspective created by the media, which generates a vision of reality filtered through a framework and re-proposed on a screen. In this way, each of us becomes aware of the existence of a twin level of perception, the level of individual reality generated by our own point of view and the level of shared reality, identical for everybody, proof  that comes from media imagery itself.
This twin level of interpretation is the focal point of Pintaldi's research: on one hand, the choice of subjects in his paintings, images playing a significant part in shaping our collective psyche forged by the new global media from the 1950s to the present day, and, on the other, painting made of pixels, thus translating images into the distinctive perceptual code of video broadcasts.
The pictorial breakdown of subjects into uniform points, red-green-blue, allows us to simultaneously perceive both the form of the image-reality in its own proper colours and its inherent structure, in other words, a carefully balanced combination of RGB pixels. This double nature of vision is, therefore, generated by the work through colour as an anomalous experience of reality, arousing a form of perception in the onlooker which is constantly oscillating between the various levels of reality.
Lucid Dreams is the first major review of Cristiano Pintaldi's work to be held in Venice, installed at the crossroads between the Arsenale and the Biennale Giardini in a striking old industrial setting used for the first time ever to host a contemporary art exhibition.
The exhibition is being organised by Opera Rebis Cultural Association, a Rome-based non-profit organisation that supports and promotes contemporary art projects in unconventional spaces focusing on an ethical approach to art, and is being realized thanks to the financial support of BONATO Milano 1960.
Lucid Dreams is accompanied by the publication of a monograph on Cristiano Pintaldi's work published by Silvana Editoriale.
For further information:
Alice Panti – Press Office +39 3201116583 – info@operarebis.com
..)(..
Cristiano Pintaldi: Lucid Dreams
a cura di Achille Bonito Oliva
Venezia, Ex Cantiere Navale
Castello, 40 – zona Arsenale – San Pietro di Castello
4 giugno – 31 ottobre 2011
Evento collaterale della 54. Esposizione Internazionale d'Arte – La Biennale di Venezia
Dal 4 giugno al 31 ottobre 2011 Cristiano Pintaldi è protagonista di Lucid Dreams, mostra personale a cura di Achille Bonito Oliva organizzata dall'associazione non profit romana Opera Rebis. Allestita all'interno dei suggestivi spazi di archeologia industriale dell'Ex Cantiere Navale di Castello, per la prima volta utilizzati per una mostra d'arte contemporanea, Lucid Dreams è inserita nel programma ufficiale degli eventi collaterali della 54. Esposizione Internazionale d'Arte, La Biennale di Venezia.
Attraverso una selezione di lavori pittorici di grande formato, per lo più inediti, Cristiano Pintaldi presenta un'articolata riflessione sulla nostra capacità di definire e percepire la realtà.
Il titolo stesso della mostra, Lucid Dreams – sogni lucidi -, esplicita il pensiero dell'artista secondo il quale la realtà di cui facciamo parte sia un sogno in cui ciascun individuo è simultaneamente regista e attore del proprio film, creatore responsabile della propria visione. In questo senso l'aspetto tangibile dell'universo in cui viviamo è il risultato di circa sei miliardi di realtà, tanti quanti sono i punti di vista delle persone nel mondo.
Ma esiste una mediazione, la realtà condivisa: tutti, infatti, riconosciamo come reale il punto di vista univoco creato dai media, che restituiscono la visione di una realtà filtrata da un'inquadratura e riproposta attraverso un monitor. In questo modo ognuno di noi diventa consapevole dell'esistenza di un doppio livello di percezione, quello di una realtà individuale, generata dal proprio punto di vista e quello della realtà condivisa, uguale per tutti, di cui l'immagine mediatica è la prova.
Questo doppio livello di lettura è il punto focale della ricerca di Pintaldi: da un lato la scelta dei soggetti dei suoi quadri, immagini significative nella formazione dell'immaginario collettivo forgiato dai nuovi media globali dagli anni '50 a oggi, e dall'altro una pittura fatta di pixel, che traduce le immagini nel codice percettivo proprio delle trasmissioni video.
La scomposizione pittorica dei soggetti in punti uniformi, rossi-verdi-blu, permette di percepire contemporaneamente sia la forma dell'immagine-realtà con i suoi colori corretti, sia la struttura di cui è composta, ossia i pixel RGB in equilibrio tra loro. La doppia natura della visione è così rappresentata attraverso il colore come un'esperienza anomala del reale, suscitando nello spettatore una percezione che oscilla continuamente fra i diversi piani di realtà che essa stessa ha creato.
Lucid Dreams è la prima grande personale di Cristiano Pintaldi a Venezia, allestita al crocevia tra l'Arsenale e i Giardini della Biennale, in uno storico e suggestivo spazio di archeologia industriale utilizzato per la prima volta per una mostra d'arte contemporanea.
La mostra è organizzata dall'associazione culturale Opera Rebis, organizzazione non-profit romana che sostiene e promuove progetti artistici contemporanei in spazi non convenzionali privilegiando un approccio etico all'arte, ed è realizzata grazie al sostegno di BONATO Milano 1960.
Lucid Dreams è accompagnata da una pubblicazione monografica sull'opera di Cristiano Pintaldi edita da Silvana Editoriale.
Per ulteriori informazioni:
Alice Panti – Ufficio stampa – mob +39 320 1116583 – info@operarebis.com