GLASSTRESS 2011 | COLLATERAL EVENT OF THE 54TH INTERNATIONAL ART EXHIBITION OF THE VENICE BIENNALE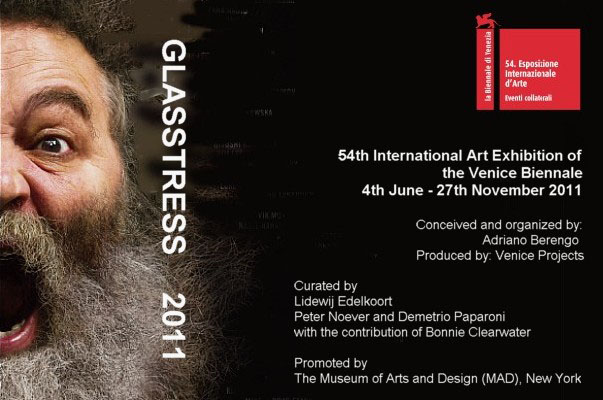 GLASSTRESS 2011
Collateral event of the 54th International Art Exhibition of the Venice Biennale
Venice, 4th June – 27th November, 2011
Press preview, 1st and 2nd of June
Istituto Veneto di Scienze, Lettere ed Arti – Palazzo Cavalli Franchetti, Venice
Berengo Centre for Contemporary Art and Glass, Murano
Special Project at Wake Forest University, Casa Artom, Venice
Glasstress 2011 asks the question "Does glass have a place in contemporary art and design?"
The answer is in the works of over 50 internationally acclaimed sculptors, painters,   installation artists and designers who test and stretch the boundaries of glass and the way we look at contemporary art and design. The featured artists are Anthon Beeke, Pieke Bergmans, Domenico Bianchi, Ernst Billgren, Joost van Bleiswijk, Barbara Bloom, Monica Bonvicini, 5.5 Designers, Kiki van Eijk, Jan Fabre, Kendell Geers, Charlotte Gyllenhammar, Zaha Hadid, Paula Hayes, Jaime Hayon, Yuichi Higashionna, Magdalena Jetelova, Liu Jianhua, Michael Joo, Marya Kazoun, Konstantin Khudyakov, Michael Kienzer, Marta Klonowska, Nawa Kohei, Oleg Kulik, Hitoshi Kuriyama, Hye Rim Lee, Tomáš Libertiny, Atelier Van Lieshout, Luke Jerram, Massimo Lunardon, Urs Luthi, Vik Muniz, Nabil Nahas, Atelier Ted Noten, Tony Oursler, Anne Peabody, Javier Pérez, Jaume Plensa, Recycle Group, Antje Rieck, Antonio Riello, Bernardì Roig, Maria Roosen, Ursula von Rydingsvard, Andrea Salvador, Judith Schaechter, Thomas Schütte, Anatoly Shuravlev, Kiki Smith, Mike + Doug Starn, Tanja Sæter, Patricia Urquiola, Pharrell Williams, Koen Vanmechelen, Fred Wilson, Erwin Wurm, Shi Yong, Tokujin Yoshioka, Yutaka Sone, and Zhang Huan.
Promoted by The Museum of Arts and Design (MAD) of New York.
Produced by Venice Projects.
Conceived and organized by Adriano Berengo.
Curated by an international cadre of renowned curators:
Lidewij Edelkoort of Holland.
Peter Noever of Austria.
Demetrio Paparoni of Italy.
Bonnie Clearwater of the United States.
First presented to critical acclaim in the Venice Biennale of 2009, this year's Glasstress continues the artists' exploration of glass, its possibilities and their visions and examines the complex relationship that ties art, design and architecture together.
Glasstress 2011 will be held at three sites:
Palazzo Cavalli Franchetti, a magnificent Palazzo in the heart of Venice on the Grand Canal and one of the most prestigious cultural centres in Venice;
Berengo Centre for Contemporary Art and Glass on Murano, housed in a century old furnace that is a realization of the dream to create a space and a place to continue the dialogue of the past and future of glass; and
Wake Forest University, Casa Artom, where identical twins, Mike and Doug Starn, are constructing a monumental jungle of bamboo which will tower over Venice's rooftops in a work in part sculpture and in part performance.
The exhibition, stretching the boundaries between artistic endeavours,  will present a sound project created specifically for Glasstress 2011 by Max Casacci, musician, producer and founder of Subsonica, and Vaghe Stelle, an electronic music producer and composer.
Their work, between abstraction and harmonic construction, is inspired by the sounds of glass and the furnace.
Visit us on Glasstress website www.glasstress.org for videos and behind the scene stories
Place:
Istituto Veneto di Scienze Lettere ed Arti, Palazzo Cavalli Franchetti, Campo Santo Stefano 2945, Venezia
Berengo Centre for Contemporary Art and Glass, Campiello della Pescheria, Murano-Venezia
Wake Forest University, Casa Artom, Dorsoduro 699, San Gregorio 30123, Venezia
Dates and Times:
Press Days: 1st and 2nd of June – free entrance for press, from 10 AM to 6 PM
The registration and the press preview starting point is at Istituto Veneto di Scienze
Lettere ed Arti, Palazzo Cavalli Franchetti, Campo Santo Stefano 2945, Venezia
Double Vernissage: 3rd June – by invitation only
Berengo Centre for Contemporary Art and Glass from 11 AM to 1PM
Istituto Veneto di Scienze Lettere ed Arti, Palazzo Cavalli Franchetti from 6 PM to 8 PM
General Opening Hours:
4th of June – 27th of November
Monday to Sunday from 10 AM to 6 PM
Venice Projects
Dorsoduro 868
30123 Venice
Italy
tel.  +39.041.739453
fax. +39.041.5276588