CIRIACO CAMPUS – REPAIR LAB/LABORATORIO DA CAMPO AT THE 54TH VENICE BIENNALE | ITALIAN PAVILION, TESE DELLE VERGINI ALL'ARSENALE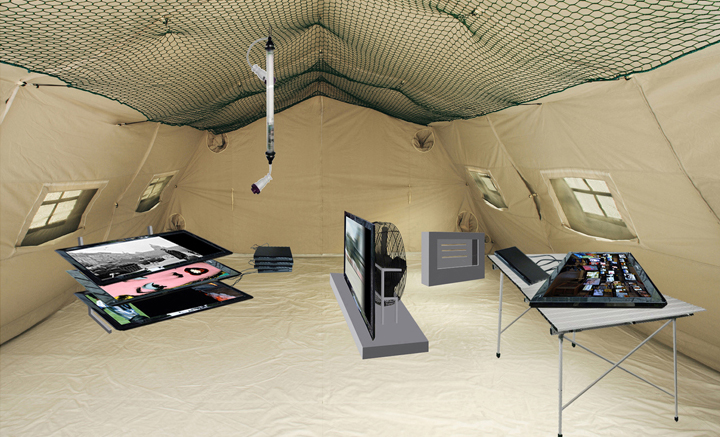 Ciriaco Campus has been invited by Alberto Abruzzese to join the artists of the Italian Pavilion at the 54° Biennale of Venice. For the occasion he presents a video installation entitled Repair Lab/Laboratorio da Campo.
The video installation Repair Lab/Laboratorio da Campo is placed in a tent, a familiar environment by now, used in emergency situations of which we are witnesses more and more frequently every day. A lab has been set up inside the ten so to repair the instruments that contain humanity's mediatic memory. There are three screens, placed on a metallic support, which are being repaired. Images are silently unfolding with black spaces at each interval, psychic-technologic vitality is absent, the line is flat, the three screens have different memories. A fourth screen is placed on a table, where images unfold in an uneven pattern instead, as they vibrate and come forward with a start, the screen isn't covered with it's metallic casing, which is leaning on the floor. A mechanic press is crushing images in a fifth screen with an earsplitting industrial background sound. Behind it there's a big fan that causes a continuous vortex of air inside the tent. 1500 of the most representative pictures of political, social and cultural history retrace the memory of humanity's last 50 years as they flash by in the screens.
Repair Lab / Laboratorio da Campo:
Video installation: 5 flat television screens / helicoidal electric fan / metal supports / audio system.
Tecnical sponsor: Ferrino & C. S.p.A.
Suspended military camp tent, aluminium camp table / fluorescent light system, offered by Ferrino & C. S.p.A.
Size m 6,80 x 6,95.
www.ciriacocampus.it –  email:  ciriacocampus@gmail.com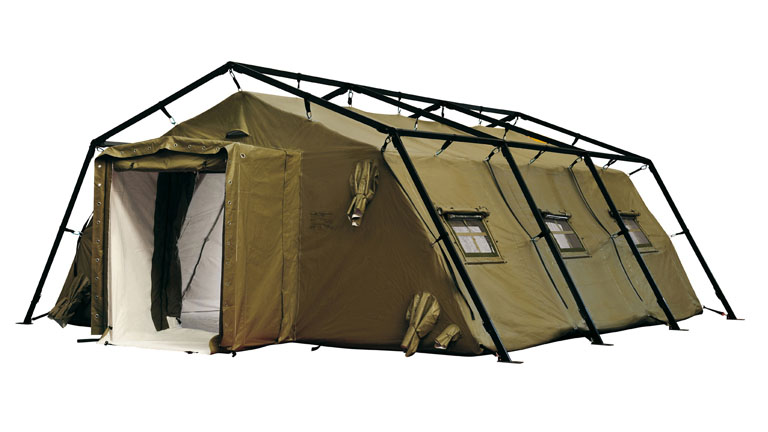 Ciriaco Campus, scelto da Alberto Abruzzese a far parte degli artisti presenti nel Padiglione Italia alla 54° Biennale di Venezia, realizza per l'occasione una videoinstallazione dal titolo Repair Lab/Laboratorio da Campo.
La videoinstallazione Repair Lab/Laboratorio da Campo è collocata in una tenda, ambiente oramai familiare, proprio delle situazioni d'emergenza a cui assistiamo sempre più frequentemente. All'interno è allestito un laboratorio da campo per la riparazione degli strumenti che contengono la memoria mediatica dell'umanità. Su una struttura in metallo sono adagiati tre schermi in riparazione. Le immagini scorrono silenziose, intervallate da uno spazio nero, la vitalità psichico-tecnologica è assente, la linea è piatta, le memorie dei tre schermi sono tra loro diverse. Un altro schermo è su un tavolo, su questo si susseguono invece le immagini in modo aritmico, vibrate da un movimento andante/sussultorio, lo schermo è privo del suo involucro di metallo, appoggiato a terra. In un quinto schermo una pressa meccanica schiaccia le immagini con un forte rumore di fabbrica di sottofondo. Sul suo retro è posto un grosso ventilatore che crea, all'interno della tenda, un vortice di aria continuo. Le immagini contenute nei vari schermi ripercorrono la memoria dell'umanità attraverso 1500 foto tra le più rappresentative della storia politica, sociale e culturale degli ultimi 50 anni.
Repair  Lab/ Laboratorio da Campo:
Videoinstallazione: 5 schermi piatti/elettroventilatore elicoidale/ strutture in metallo/ impianto audio.
Sponsor tecnico: Ferrino & C. S.p.A.
Tenda da campo sospesa, tavolo in alluminio da campo/ impianto luce fluorescente, forniti dalla Ferrino & C.  S.p.A. dimensioni m 6,80 x 6,95.