NEWS FOR THE 54TH INTERNATIONAL ART EXHIBITION: THREE TINTORETTO PAINTINGS TO BE PART OF THE EXHIBITION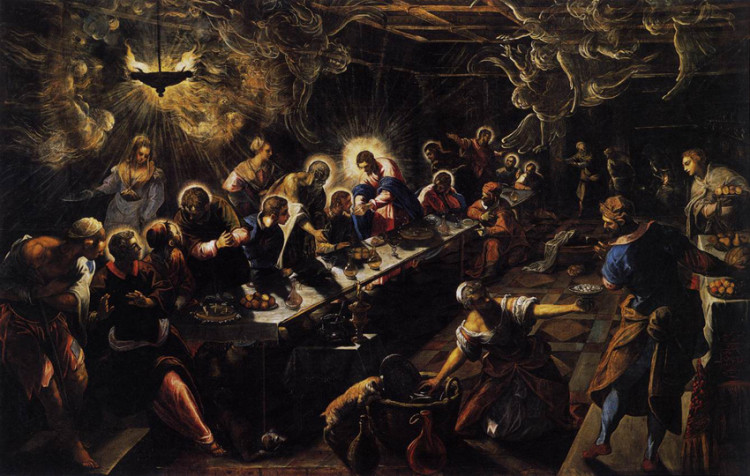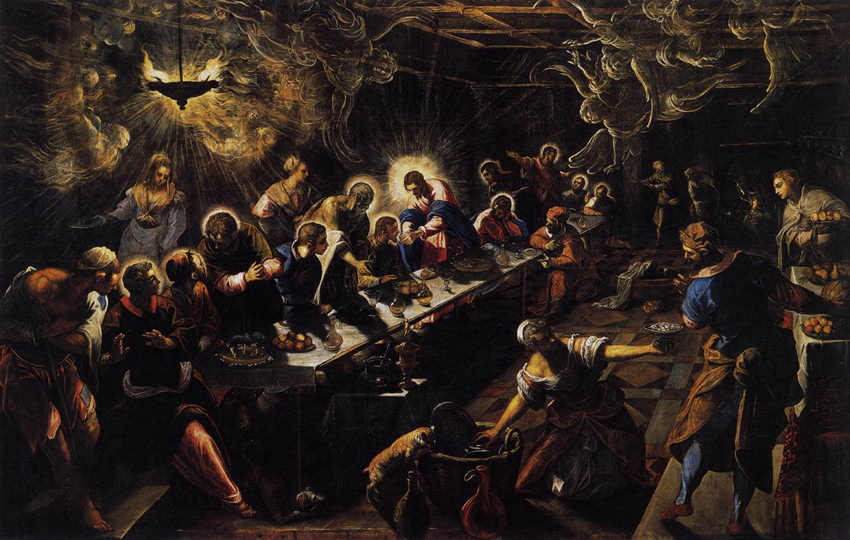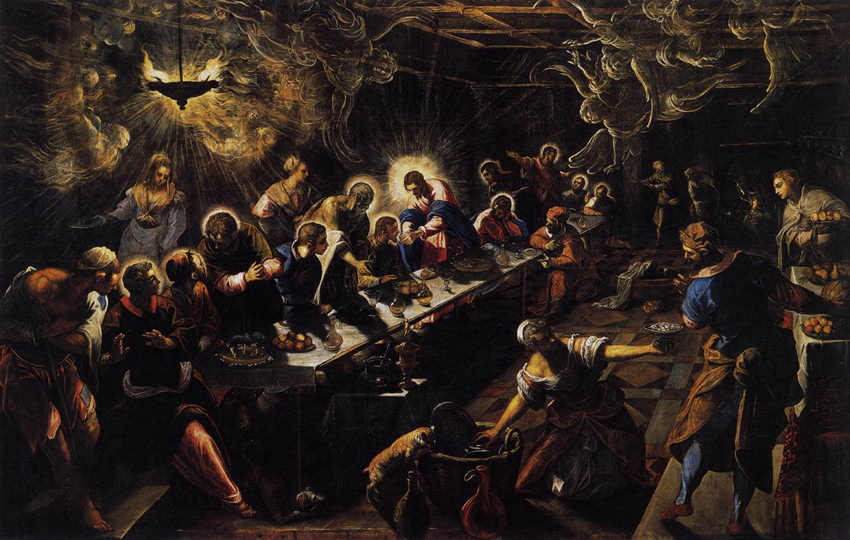 News for the 54th International Art Exhibition
three Tintoretto paintings to be part of the Exhibition
04 | 27 | 2011
ILLUMInations
La Biennale di Venezia, chaired by Paolo Baratta, discloses the three works by Venetian painter Jacopo Robusti also knows as Tintoretto (1518–1594) which will be part of the 54th International Art Exhibition – ILLUMInations, directed by Bice Curiger (Venice, Arsenale and Giardini, June 4th – November 27th, 2011).
The three large canvases, which the board of Venetian Museums lent la Biennale di Venezia, will be exhibited at the Central Pavilion in the Giardini.
They are:
· the Last Supper (from San Giorgio Maggiore Basilica)
· the Stealing of the Dead Body of St. Mark and the Creation of the Animals (both housed in the Gallerie dell'Accademia).
Tintoretto painted the Stealing of the Dead Body of St. Mark for the chapter house of the Scuola Grande di San Marco between 1562 and 1566. The Creation of the Animals was painted between 1551 e and 1552 for the Albergo of the Scuola della Trinità as part of a cycle portraying stories from the book of Genesis. Lastly, the large canvas depicting the Last Supper was painted for San Giorgio Maggiore Basilica: it is one of the later and most significant works by Tintoretto.
Bice Curiger stated: "These paintings by Tintoretto, one of the most experimental artists in the history of Italian art, exert a special appeal today with their almost febrile, ecstatic lighting and a near reckless approach to composition that overturns the well-defined, classical order of the Renaissance. The works will play a prominent role in establishing an artistic, historical and emotional relationship to the local context."
President Paolo Baratta would like to thank the Board of Venetian Museums and show the greatest respect to abbot Norberto Villa, Benedictine father of San Giorgio Maggiore Basilica: "I recall the extraordinary meeting when I introduced myself to ask for permission to obtain the Last Supper for the ILLUMInations Exhibition. He let me speak for fifteen minutes and then said: "Enough, I understand very well. Illumination is what we are looking for everyday."
"The presence of this Tintoretto at the entrance of the Exhibition – Baratta cautions – is not at all obvious. His works will be there as a warning to living artists to not indulge in conventions!"
The Biennale will take charge of the extraordinary preservation of the paintings, as will be the case for the other three canvases portraying the Stories of St. Mark, housed at the Gallerie dell'Accademia and which will not be borrowed. The preservation will allow the works' full appreciation, once the cycle will be reassembled at the end of the Exhibition, and it will contribute to a better presentation of the Stories for the opening of the renovated Gallerie dell'Accademia.
The International Jury of the 54th International Art Exhibition has also been appointed. The members are:
Hassan Khan (Egypt), president of the jury, visual artist and experimental musician, lives and works in Cairo.
Carol Yinghua Lu (China), independent curator and art critic, contributes to several international magazines such as Frieze, Contemporary and Today Art.
Letizia Ragaglia (Italy), specialized in museology and contemporary art, director of the Museion, Museo of modern and contemporary art Bolzano.
Christine Macel (France), writer, art critic, has been curator at Centre Pompidou, Paris since 2000.
John Waters (USA), filmmaker, actor, writer, artist and art collector, teaches "Film and subculture" at the European Graduate School, Switzerland.
President Baratta and the Biennale board congratulated Bice Curiger on her choice of jury members, with manifold and articulate backgrounds, skills and areas of expertise.
The jury will award the following official prizes: Golden Lion for the best National Participation; Golden Lion for the best artist at the ILLUMInations Exhibition; Silver Lion for a promising young artist at the ILLUMInations Exhibition.
There will be 37 Collateral Events organized by international institutions that will be setting up their exhibitions and projects in several venues around the city in conjunction with the Biennale. The Collateral Events offer a wide range of contributions and participations, originally and significantly enriching the schedule of the 54th Exhibition.
The award ceremony, which will also comprise the opening ceremony, will take place on Saturday, June 4th, 2011 at noon in the Giardini della Biennale. The opening to the public on the same day at 10 AM is also confirmed. President Paolo Baratta observes: "We thought that an exclusive opening ceremony only for the attendants of the preview, behind closed doors, was a little outdated."
..)(..
la Biennale di Venezia
54. Esposizione Internazionale d'Arte
ILLUMInazioni – ILLUMInations
Le tre opere del Tintoretto
La Giuria internazionale
Cerimonia di premiazione sabato 4 giugno 2011
Venezia, 27 aprile 2011 – La Biennale di Venezia presieduta da Paolo Baratta rende note le tre opere del pittore veneziano Jacopo Robusti detto Tintoretto (1518–1594) che faranno parte della 54. Esposizione Internazionale d'Arte – ILLUMInazioni, diretta da Bice Curiger (Venezia, Arsenale e Giardini, 4 giugno – 27 novembre 2011).
Le tre grandi tele, concesse in prestito alla Biennale di Venezia dalla Soprintendenza per il Polo Museale Veneziano, saranno esposte nel Padiglione Centrale ai Giardini.
Si tratta di:
l'Ultima Cena (proveniente dalla Basilica di San Giorgio Maggiore),
il Trafugamento del corpo di San Marco e la Creazione degli Animali (entrambe conservate presso le Gallerie dell'Accademia).
Tintoretto ha dipinto il Trafugamento del corpo di San Marco per la Sala Capitolare della Scuola Grande di San Marco tra il 1562 e il '66. La Creazione degli animali è stata realizzata tra il 1551 e il '52 per l'Albergo della Scuola della Trinità come parte di un ciclo ispirato alle storie della Genesi. Infine, la grande tela raffigurante l'Ultima Cena è stata dipinta per la Basilica di San Giorgio Maggiore, ed è una delle ultime e più significative opere del Tintoretto.
Ha dichiarato Bice Curiger: "Questi dipinti di Tintoretto, uno degli artisti più sperimentali nella storia dell'arte italiana, esercitano un fascino particolare per la loro luce estatica, quasi febbrile, e per il loro approccio temerario alla composizione che capovolge l'ordine classico e definito del Rinascimento. Le opere giocheranno un ruolo di primo piano nella mostra, instaurando un rapporto artistico, storico ed emozionale con il contesto locale".
Il Presidente Paolo Baratta – oltre a ringraziare vivamente la Soprintendenza – vuole esprimere un pensiero deferente nei confronti dell'Abate P. Dom Norberto Villa dei Padri Benedettini della Basilica di San Giorgio Maggiore: "Ricordo lo straordinario incontro nel quale mi presentai per chiedere la possibilità di avere l'Ultima Cena per la Mostra ILLUMInazioni. Mi lasciò parlare per un quarto d'ora e poi disse: «Basta così, capisco bene. L'illuminazione è quella che cerchiamo tutti i giorni».
"Quel Tintoretto all'ingresso della Mostra – avverte Baratta – è una presenza tutt'altro che ovvia. Saranno lì, le sue opere, come un monito agli artisti viventi a non indulgere nelle convenzioni!".
La Biennale effettuerà un intervento di manutenzione straordinaria sui dipinti e si farà carico di un'operazione analoga anche sugli altri tre teleri con le Storie di San Marco conservati presso le Gallerie dell'Accademia e non richiesti in prestito. Questi interventi consentiranno una fruizione omogenea delle opere, una volta ricomposto il ciclo al termine della Mostra, e contribuiranno alla migliore presentazione delle Storie, in vista della riapertura delle Gallerie dell'Accademia.
È stata inoltre nominata la Giuria internazionale della 54. Esposizione Internazionale di Arte che risulta così composta:
Hassan Khan (Egitto) – Presidente della Giuria, artista visivo e musicista sperimentale, vive e lavora a Il Cairo.
Carol Yinghua Lu (Cina), curatrice indipendente e critica d'arte, collabora con diverse testate internazionali come Frieze, Contemporary e Today Art.
Letizia Ragaglia (Italia), curatrice e specializzata in museologia e arte contemporanea, dirige il Museion, Museo d'Arte Contemporanea di Bolzano.
Christine Macel (Francia), scrittrice, critica d'arte, dal 2000 è curatrice capo presso il Centre Pompidou di Parigi.
John Waters (Stati Uniti d'America), cineasta, attore, scrittore, artista e collezionista d'arte, è docente di "Cinema e sottoculture" presso la European Graduate School in Svizzera.
Il Presidente Baratta e il Cda della Biennale si sono felicitati con Bice Curiger per la scelta della giuria, particolarmente varia e  articolata nei suoi componenti per discipline, competenze e provenienze.
La Giuria assegnerà i seguenti premi ufficiali: Leone d'oro per la migliore Partecipazione nazionale; Leone d'oro per il miglior artista della Mostra ILLUMInazioni; Leone d'argento per un promettente giovane artista della Mostra ILLUMInazioni.
Saranno 37 gli Eventi collaterali proposti da enti e istituzioni internazionali che allestiranno le loro mostre e le loro iniziative in vari luoghi della città in concomitanza con la Biennale.
Gli Eventi collaterali propongono un'ampia offerta di contributi e partecipazioni che arricchiscono in modo originale e significativo il programma della 54. Esposizione.
La cerimonia di premiazione, che riassumerà in sé quella di inaugurazione, avrà luogo sabato 4 giugno 2011 alle ore 12 ai Giardini della Biennale. Si conferma l'apertura al pubblico nello stesso giorno alle ore 10. Il Presidente Paolo Baratta commenta: "Abbiamo pensato che fosse un po' superata una cerimonia di apertura in esclusiva per i soli partecipanti al vernissage e a mostra chiusa".
Per ulteriori informazioni
Ufficio Stampa Arti visive
la Biennale di Venezia
Tel. +39 041  5218 – 849/846/716
infoartivisive@labiennale.org
www.labiennale.org
www.labiennalechannel.org
Facebook: La Biennale di Venezia
Twitter: la_Biennale