KARLA BLACK – SCOTLAND + VENICE AT THE 54TH INTERNATIONAL ART EXHIBITION OF THE VENICE BIENNALE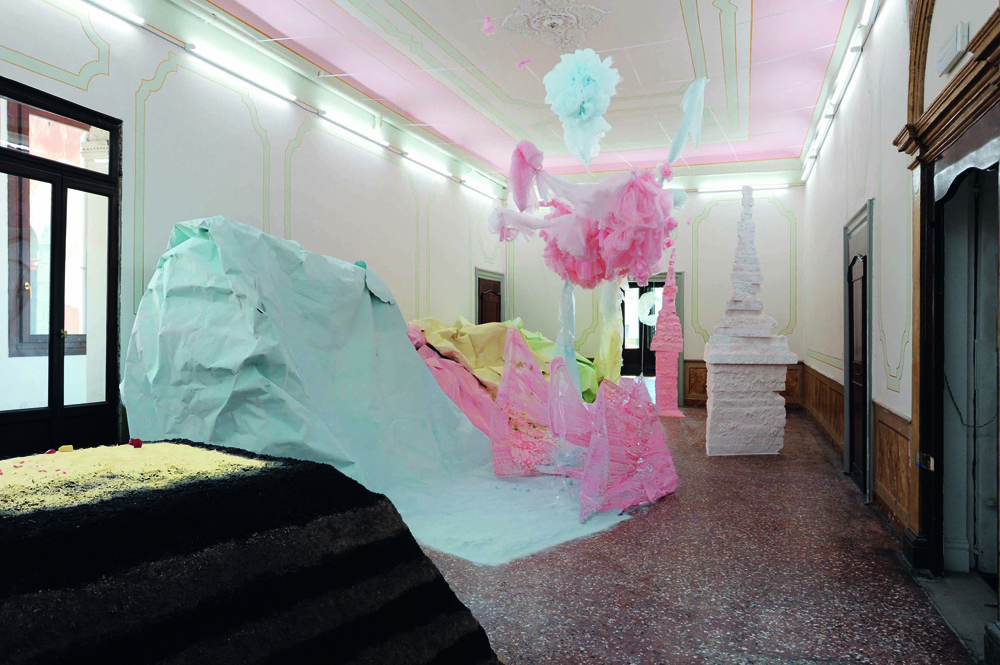 Artist: Karla Black
At the 54th International Art Exhibition of the Venice Biennale
Commissioner: Scotland +  Venice
Curator: The Frutimarket Gallery
Palazzo Pisani (S.Marina), Calle delle Erbe 6103,
Cannareggio (off Campo Santa Maria)
4 June – 27 November 2011
www.scotlandandvenice.com
Scotland + Venice is delighted to announce further details of Karla Black's presentation at the 54th International Art Exhibition at the Venice Biennale, the world's largest and most prestigious showcase for contemporary visual arts. The exhibition will be curated by The Fruitmarket Gallery and will, as in 2009, be presented at Palazzo Pisani (S. Marina).
Karla Black will present a solo exhibition of new abstract sculptures that hover between energy and mass – pulverised, atomised, piled, layered, supported, suspended and spilling out onto the floor. This mass of colour and material will fill the 15th century Venetian Palazzo Pisani. These 'almost objects' will be intimately and painstakingly worked in situ by the artist into exquisitely detailed aesthetic forms.
Karla Black prioritises material experience over language as a way to learn about and understand the world. She works most frequently with powders, pastes, oils, creams and gels, her sculptures offering a sense of visceral absorption in the material world. In Venice she will use Vaseline and marble dust, sugar paper and eye shadow, soil, powder paint and plaster, polythene, cellophane and soap in a sequence of new sculptures which she describes as being "caught between thoughtless gestures and seriously obsessive attempts at beauty".
This will be the fifth presentation from Scotland + Venice, a partnership between Creative Scotland, British Council Scotland and the National Galleries of Scotland. It builds on the critical success of previous projects which have featured artists including Turner Prize winner Simon Starling and Turner Prize nominees Cathy Wilkes, Jim Lambie and Lucy Skaer, and last year presented the first solo exhibition for Scotland at the Venice Biennale with the work of Martin Boyce.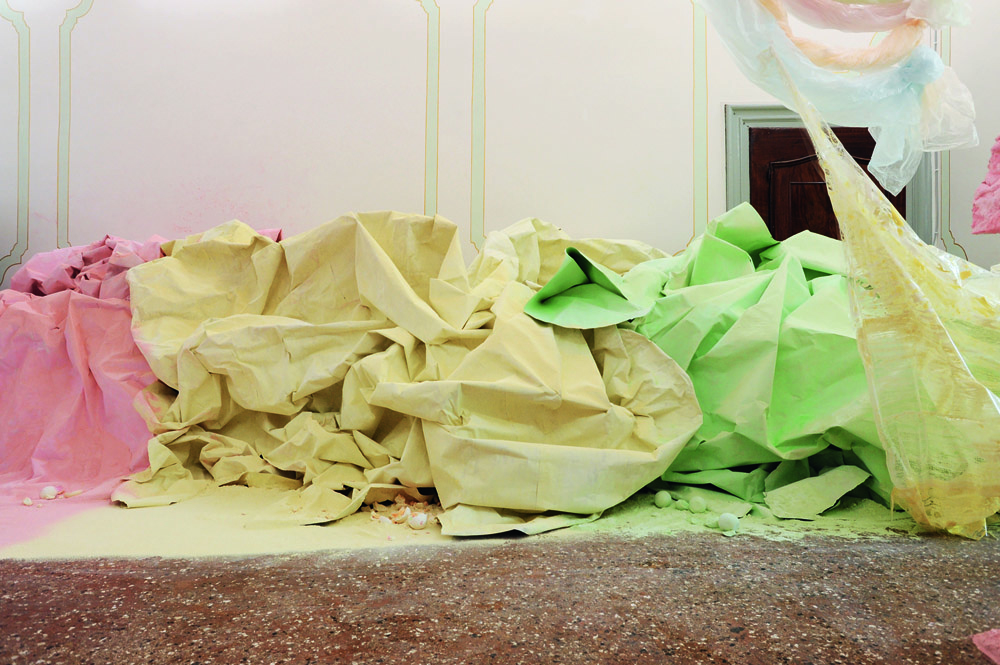 On 29 March exhibition curator Fiona Bradley will give a free lunchtime talk at the National Galleries of Scotland (Weston Link) about the artist's work in the context of Scotland + Venice.
Andrew Dixon, Chief Executive, Creative Scotland said:
"The Scotland + Venice partners look forward to presenting the work of Karla Black, one of Scotland's most remarkable artists. Drawing on the curatorial expertise of The Fruitmarket Gallery we aim to build on Scotland's growing reputation as a centre of excellence in the visual arts."
Fiona Bradley, Director, The Fruitmarket Gallery said:
"The Fruitmarket Gallery is delighted to have been selected to curate Scotland + Venice 2011, and to be working with Karla Black. Karla is one of Scotland's most interesting artists, whose beautiful, thoughtful and visceral sculpture has already made an impact internationally and in Scotland. This solo presentation of her work at the Venice Biennale underlines The Fruitmarket Gallery's commitment to presenting the work of Scottish artists on an international stage, both in Edinburgh and abroad."
Karla Black (b. 1972) lives and works in Glasgow, Scotland. Her work has been shown in major museum and commercial gallery exhibitions in the UK and abroad. She is represented by Galerie Gisela Capitain, Cologne and her work is held in museum collections including Tate, London; migros museum für gegenwartskunst Zürich; Scottish National Gallery of Modern Art, Edinburgh; Hammer Museum, Los Angeles and Arts Council Collection, England.
Black's recent solo exhibitions include: Karla Black, Capitain Petzel, Berlin; Ten Sculptures, Kunsthalle Nürnberg (both 2010); Karla Black: Sculptures with paintings by Bet Low, Inverleith House, Edinburgh; Modern Art Oxford; Migros Museum, Zurich; Kunstverein Hamburg (with Kostis Velonis & Karen Sargsyan) (all 2009).
Current and forthcoming group exhibitions include: British Art Show 7, Hayward Gallery, London (until 17 April), then touring to various venues, Glasgow (27 May – 21 August 2011); Watercolour, Tate Britain, London (until 21 August); Structure & Material, Longside Gallery, Yorkshire Sculpture Park (31 March – 26 June); and Essential Art, Collezione Maramotti, Reggio Emilia, Italy (opens May 2011).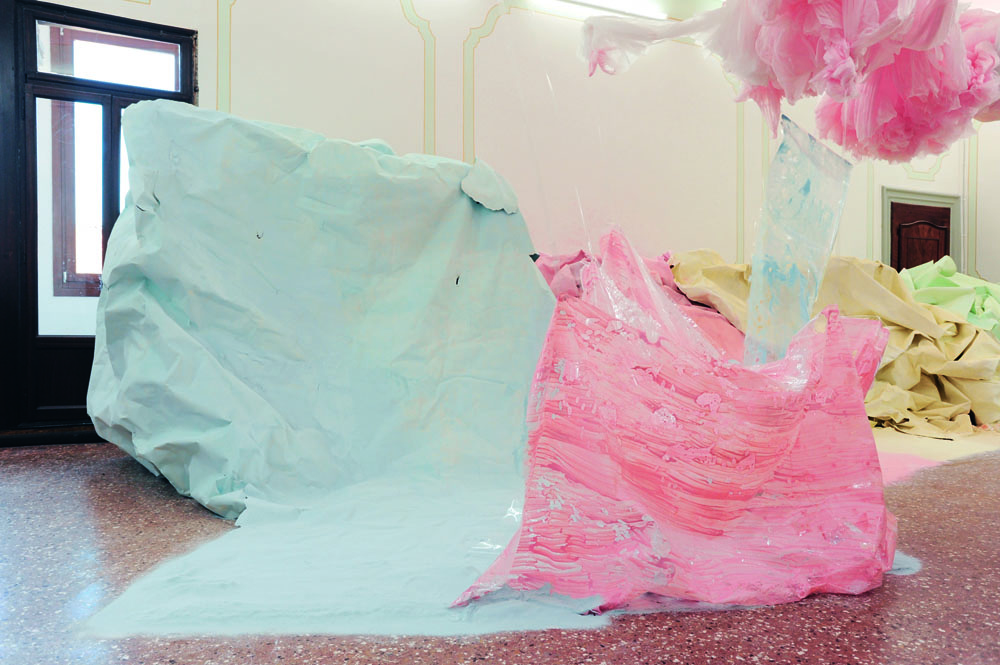 Notes to Editors
1. Scotland + Venice will present the work of Karla Black at the Palazzo Pisani (S.Marina), Calle de le Erbe, 6103 Cannaregio, Venice.
2. Karla Black's presentation is curated by The Fruitmarket Gallery, which aims to make contemporary art accessible, without compromising art or underestimating audiences.
The Gallery presents world-class, thought-provoking and challenging art made by both Scottish and international artists in an environment that is welcoming, engaging, informative and always free. The Gallery aims to give audiences the confidence to enjoy contemporary art and to understand the importance of art, artists, culture and creativity and their impact on individual and collective lives.
3. The Venice Biennale has, for over a century, been one of the most prestigious cultural institutions in the world. Ever since its foundation in 1895, it has been in the avant-garde, promoting new artistic trends and organising international events in contemporary arts.
4. Scotland + Venice is a partnership between Creative Scotland, National Galleries of Scotland and British Council Scotland: www.scotlandandvenice.com
Position the cursor on the images to view captions, click on images to enlarge them.
Posizionare il cursore sulle immagini per leggere le didascalie; cliccare sulle immagini per ingrandirle