NOTES ABOUT THE INADEGUATE – SPANISH PAVILION AT THE 54TH INTERNATIONAL ART EXHIBITION | LA BIENNALE DI VENEZIA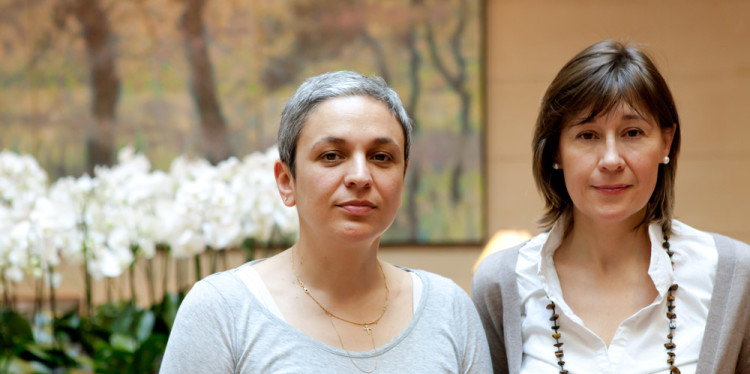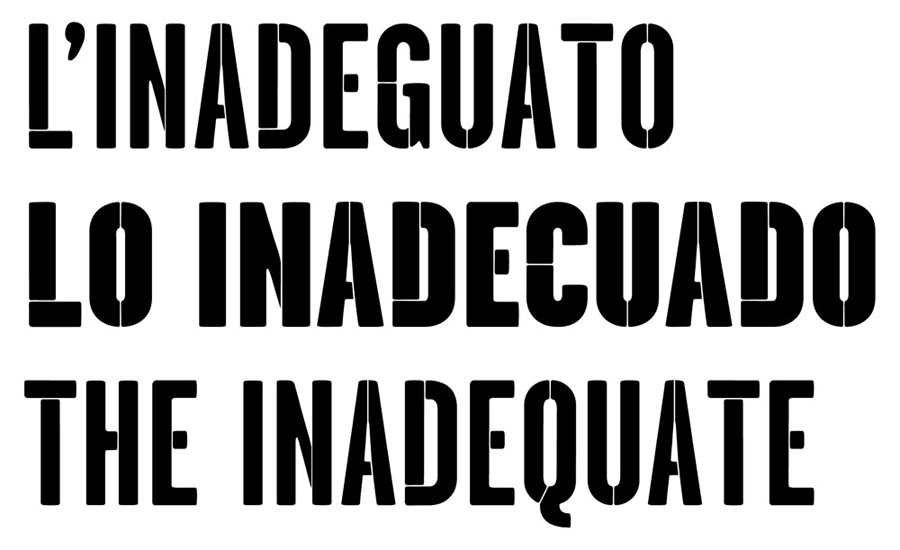 Spanish Pavilion at the 54th International Art Exhibition – la Biennale di Venezia
theinadequate.net
notes about the inadequate

The future must be dangerous. (1)
Dora Garcia (Valladolid 1965) conducts incisive experiments with the exhibition format that set out to question the power relations between the visitor, the artwork and the space of their encounter. Her work posits simple scenarios that catalyze kaleidoscopic reflections. Whilst the parameters of her oeuvres are rigorously elaborated, they remain an 'open form' whose objective is never simply to exert control, but to provoke us into unearthing and questioning the dichotomies that she inserts, like Cold War sleepers, into each situation.
Anything can happen.
Her practice is influenced by Conceptual artists such as Dan Graham and Isidoro Valcárcel Medina, as well as the deviant thinking of Antonin Artaud and the derisive humour of Jack Smith. García often uses texts, stories and narrative installations to direct performative scenarios at times inflected with the artist's characteristic dark comic sense. These situations incite, but do not predetermine a complex reflection upon, amongst other notions, the time of an art work; behaviour within a quotidian and artistic context; the notion of counterculture; and the fine line between reality and representation.
The problem of dreams coming true is that you never really believe them.
In the Spanish Pavilion García proposes the project 'L'Inadeguato, Lo Inadecuado, The Inadequate' , which literally refers to the sense of inadequacy felt by the artist with regards to her role within the weighted realm of the Biennale and the Spanish Pavilion in which she was invited to participate. In this respect García recalls sociologist Erving Goffman's premise that "to be awkward or unkempt, to talk or move wrongly, is to be a dangerous giant, a destroyer of worlds.
As every psychotic and comic ought to know, any accurately improper move can poke through the thin sleeve of immediate reality". To this effect, the project consists of a single work: an 'extended performance' lasting throughout the duration of the Venice Biennale which, as she explains, highlights the "violent fragility of everything we consider adequate. It is a form of dissidence, to evade the centre. The inadequate responds to the need to leave expectations unfulfilled, not to be what is expected of us".
We are aliens.
If for the artist the concept of inadequacy extends beyond the artistic terrain and into the field of the social taboo, 'The Inadequate' pursues an understanding of marginality as a conceptual approach to creativity, with not only social ramifications but also political and economic ones.
Here marginality is considered as a political stance within artistic practice, and inadequacy as the necessity to remain at a distance from the mainstream of cultural discourse.
The difference between ordinary and extraordinary lies in that little something extra.
This line of investigation was initiated by García in the ongoing project 'Mad Marginal'. Started in 2009 through an invitation of the Fondazione Galleria Civica -Centro di Ricerca sulla Contemporaneità di Trento, this tripartite investigation approached marginality through its incarnations in radical politics, radical psychiatry and radical art. Moreover it was developed within the optics of the so-called "anti-psychiatry" (name that was dismissed by each and every of its representatives) namely through the writings of the Italian Franco Basaglia. Basaglia, who worked in Trieste from 1971 to 1979, pushed through a groundbreaking law which positioned his country as one of the first in the world to abolish mental hospitals, and to pursue the integration of 'madness' into society, as a form of social laboratory and alternative for comprehending the malady of social difference. The continuation of 'Mad Marginal' took place within the framework of García's participation in the Saõ Paulo Biennial (2010) tracing the journey and impact of Basaglia's ideas between Italy and Brazil. Following this first phase, 'The Inadequate' constitutes the second part of the 'Mad Marginal' investigation; the end of the trilogy is already in preparation and will be presented in 2012.
A broken mirror reflects a thousand worlds.
Whilst initiated by García, 'The Inadequate' is a choral project with no dominant voice, whose real authors are mostly, but not exhaustively, connected to a certain counter-cultural dialogue within Italy, and include to this date: Dora García, Katya García-Antón, Alex Gifreu, Eva Fabbris, Anna Daneri, Barbara Casavecchia, Vincenzo de Bellis, Bruno Roccasalva, Marco Baravalle, Cesare Pietroiusti, Stefano Graziani, François Piron, Nicola Valentino, Pierre Bal-Blanc, Olga Subirós, Nanni Balestrini, Gianfranco Baruchello, Bobi Bazlen, Bernhard Echte, Maurizio Lazzarato, Fabio Mauri… and many others. Together they have constructed a discursive performance broaching the notions of deviation, radicalism, outsider, exclusion, language, censorship, Basaglia, and notes in the margin. Such questions are explored through conversations among artists, economists, comedians, philosophers, historians, actors, poets, writers, psychiatrists and publishers.
Reality is a very persistent illusion.
'The Inadequate' seeks to develop an exhibition format which is, as the artist explains "in a permanent state of precariousness, a-institutionalized and in transit". The presentation consists of a central stage, occupying the central space of the Spanish Pavilion, and a backstage distributed along its five lateral spaces. The backstage is inhabited by a mass of props, contained in vitrines and tables, to be used in the performance, but also to be read as the constituent elements of an exhibition. A number of pertinent historical referents to the dialogue between deviancy and creativity inhabit this theatrical space, including documentation and memorabilia from writers James Joyce, Italo Svevo and Robert Walser, as well as from pedagogist Fernand Deligny. The multi-authorial nature of this project enables the exploration of inadequacy through a number of fronts. On the one hand, it substitutes the idea of the exhibition with the idea of occupation and the artist's monolithic presentation for a theatre of exhibitions.
On the other hand it replaces the notion of a single, national pavilion for that of a deterritorialized and collective one.
Art is for everyone but only the elite know it.
Whilst the project is open and free to all, it is not made for the public specifically; and runs counter to the notion of the audience as a participative element of the work. Indeed 'The Inadequate' follows its own logic, taking place with or without the presence of the public, who can in any case never apprehend its entirety. Within this dynamic, the spectator is not an essential part of the work, but simply encounters an instant within it. The performance is not recorded or translated, and there is no defined place for the spectator to view the work. Within the context of the Venice Biennial, 'The Inadequate' operates as a processual moment, proposing a sense of discursive introspection and spatial complexification counter to the conventions of spectacle that traditionally rule this event.
si/yes/oui
no/no/non (2)
Katya García-Antón, April 2011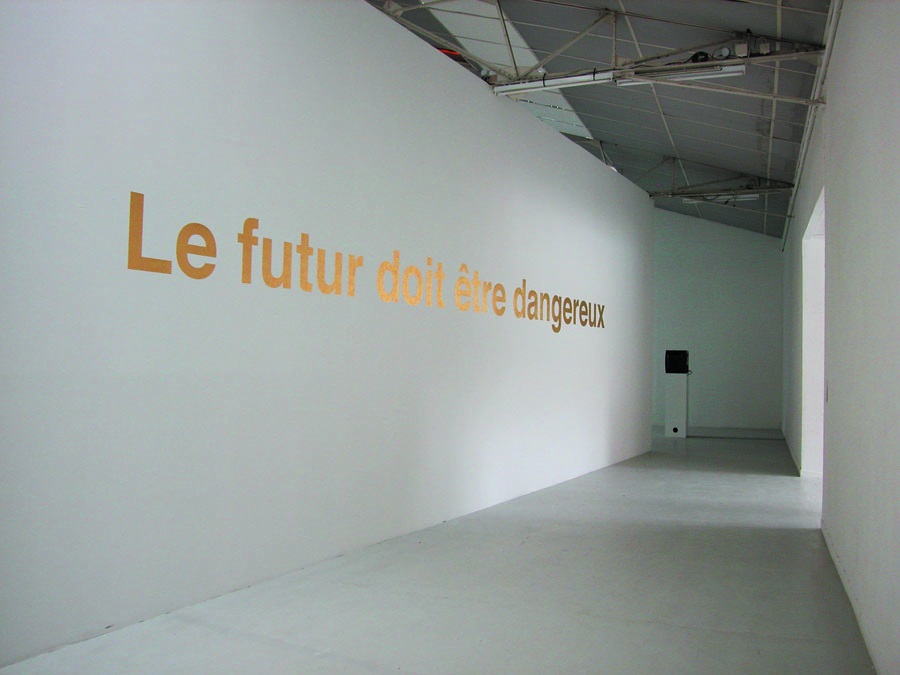 notas sobre lo inadecuado
El futuro debe ser peligroso. (1)
Dora Garcia (Valladolid 1965) lleva a cabo incisivos experimentos con el formato de exposición que se interrogan sobre las relaciones de poder entre el visitante, la obra de arte y el lugar de su encuentro. Su trabajo propone sencillos guiones que catalizan reflejos caleidoscópicos. Mientras los parámetros de sus obras son elaborados de modo riguroso, permanecen como una "forma abierta" cuyo objetivo nunca es simplemente ejercer control, sino provocarnos el descubrimiento y el cuestionamiento de las dicotomías que ella introduce, como si fueran agentes durmientes, en cada situación.
Puede ocurrir cualquier cosa.
Su práctica está influida por la de artistas conceptuales como Dan Graham e Isidoro Valcárcel Medina, así como por el pensamiento desviado de Antonin Artaud y el humor burlón de Jack Smith. García utiliza a menudo textos, relatos e instalaciones narrativas para dirigir guiones performativos a veces llenos de su característico humor negro. Estas situaciones incitan a, pero no predeterminan, una reflexión compleja sobre, entre otras nociones, el tiempo de una obra de arte, el comportamiento en un contexto cotidiano y artístico, la noción de contracultura, y la fina línea entre realidad y representación.
El problema de los sueños hechos realidad es que nunca terminas de creértelos.
En el Pabellón Español, García propone el proyecto L'Inadeguato, Lo Inadecuado, The Inadequate, que se refiere literalmente al sentimiento de inadecuación que sintió la artista en relación a su papel en el connotado ambiente de la Bienal, y el Pabellón español, en los que había sido invitada a participar. Respecto a esto, García se remite a la premisa del sociólogo Erving Goffman de que "El ser torpe o desarreglado, el hablar o moverse de modo equivocado, es ser un gigante peligroso, un destructor de mundos. Como todo psicótico o todo cómico ya sabe, un movimiento impropio pero preciso puede agujerear la delgada tela de la realidad inmediata". Para este efecto, el proyecto consiste en una única obra: una 'performance extendida' que dura toda la Bienal de Venecia que, como ella misma explica, subraya la "violenta fragilidad de todo aquello que consideramos adecuado. Es una forma de disidencia, de evadirse del centro. Lo Inadecuado responde a la necesidad de no cumplir la expectativas, de no ser lo que se espera de uno".
Somos extraterrestres.
Si para la artista el concepto de inadecuación se extiende más allá del terreno artístico y entra en el campo del tabú social, Lo Inadecuado persigue una comprensión de la marginalidad como una aproximación conceptual a la creatividad, no solo con ramificaciones sociales sino también políticas y económicas. Aquí la marginalidad se considera como una posición política dentro de la práctica artística, y la inadecuación como la necesidad de permanecer distante de lo dominante en el discurso cultural.
La diferencia entre ordinario y extraordinario está en esa cosita extra.
Esta línea de investigación fue iniciada por García con el proyecto todavía no concluido Mad Marginal. Comenzada en 2009 a partir de una invitación de la Fondazione Galleria Civica – Centro di Ricerca sulla Contemporaneità di Trento, esta investigación en tres partes se aproxima a la marginalidad a través de sus encarnaciones en la política radical, la psiquiatría radical y el arte radical. Además se desarrolló desde el punto de vista de la llamada "anti-psiquiatría" (nombre que fue rechazado por todos y cada uno de sus representantes) concretamente a través de los escritos del italiano Franco Basaglia. Basaglia, que trabajó en Triestre entre 1971 y 1979, hizo que se aprobara una innovadora ley que situó a su país como uno de los primeros del mundo en abolir los hospitales mentales, y en reivindicar la integración de la 'locura' en la sociedad, como una forma de laboratorio social y una alternativa para la comprensión de la enfermedad de la diferencia social. La continuación de Mad Marginal tuvo lugar en el marco de la participación de García en la Bienal de Saõ Paulo (2010) investigando el viaje y el impacto de las ideas de Basaglia entre Italia y Brasil. Continuando esta primera fase, Lo Inadecuado constituye la segunda parte de la investigación de Mad Marginal; el final de la trilogía se está preparando ya y se presentará en 2012.
Un espejo roto refleja mil mundos.
Aunque iniciado por García, Lo Inadecuado es un proyecto coral en el que no hay una voz dominante. Sus autores están en su mayor parte, aunque no en su totalidad, conectados con la idea de disidencia, arte independiente, outsider art, contracultura, resistencia y marginalidad en la escena cultural italiana, e incluyen hasta la fecha a la propia Dora García, Katya García-Antón, Alex Gifreu, Eva Fabbris, Anna Daneri, Barbara Casavecchia, Vincenzo de Bellis, Bruno Roccasalva, Marco Baravalle, Cesare Pietroiusti, Stefano Graziani, François Piron, Nicola Valentino, Pierre Bal-Blanc, Olga Subirós, Fabio Mauri, Diego Perrone, Nanni Balestrini, Franco Rotelli, Bobi Bazlen, Maurizio Lazzarato, Andrea Lanini … y muchos otros. Juntos han creado una performance discursiva que abarca las nociones de desviación, radicalismo, outsider, exclusión, lenguaje, censura, Basaglia, y notas al margen.
La realidad es una ilusión muy persistente.
Lo Inadecuado busca desarrollar un formato de exposición que, como explica la artista, está "en un permanente estado de precariedad, a-institucionalizado y en tránsito". La presentación consiste en un escenario, que ocupa el centro del espacio del Pabellón Español, y unas bambalinas, que están distribuidas en los cinco espacios laterales. Las bambalinas están habitadas por una serie extensa de objetos de performance, contenidos en vitrinas y sobre mesas, pero que también pueden leerse como elementos constituyentes de una exposición en estado de reserva. Numerosos referentes, incluyendo documentación y memorabilia de los escritores James Joyce, Italo Svevo y Robert Walser, así como del pedagogo Fernand Deligny. La naturaleza múltiple de la autoría del proyecto permite la exploración de la inadecuación desde diversos frentes. Por un lado, sustituye la idea de exposición por la de ocupación y la presentación monolítica del artista por la presentación de un teatro de exposiciones. Por otro, reemplaza la noción de una pabellón nacional único por la de uno desterritorializado y colectivo.
El arte es para todos pero solo una élite lo sabe.
Aunque el proyecto está abierto a todos, no está hecho específicamente para el público; y funcionan al margen de la noción de la audiencia como un elemento participativo de la obra. De hecho, Lo Inadecuado sigue su propia lógica y tiene lugar con o sin la presencia del público, que en ningún caso puede aprehenderlo completamente. En esta dinámica, el espectador no es una parte esencial de la obra, sino que simplemente encuentra un instante de ella. La performance ni es registrada ni traducida, y no hay ningún lugar definido para que el espectador la vea. Dentro del contexto de la Bienal de Venecia, Lo Inadecuado opera como un momento procesual que propone un sentido de introspección discursiva y complejidad espacial que se desarrolla más allá de las convenciones del espectáculo que dominan tradicionalmente este evento.
si/yes/oui
no/no/non (2)
Katya García-Antón, abril de 2011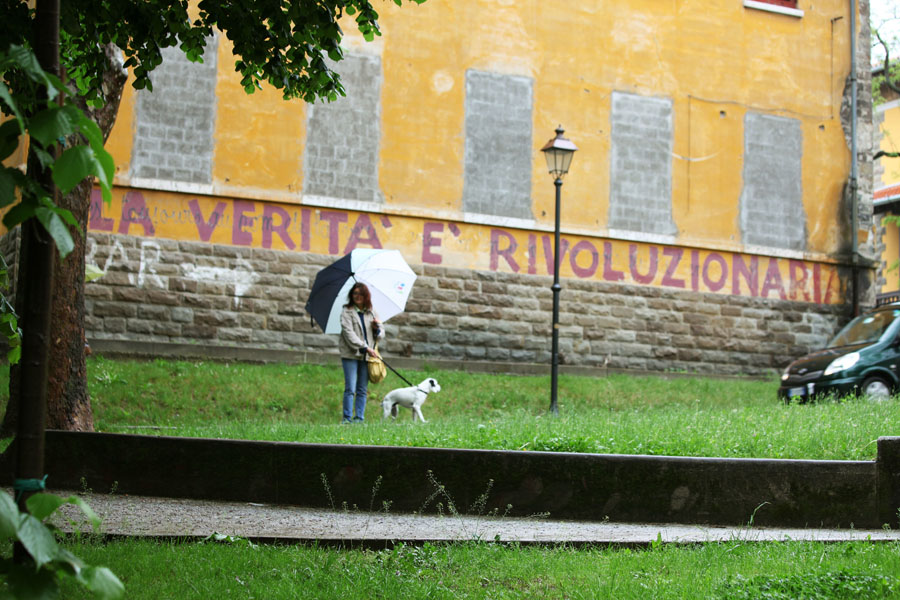 note su l'inadeguato
Il futuro dev'essere pericoloso. (1)
Dora Garcia (Valladolid 1965) conduce esperimenti incisivi sul formato della mostra, che intendono mettere in discussione le relazioni di potere tra il visitatore, l'opera d'arte e lo spazio del loro incontro. Il suo lavoro propone scenari semplici che catalizzano riflessioni caleidoscopiche. Pur con dei parametri elaborati rigorosamente, le sue opere restano una "forma aperta", il cui obiettivo non è mai semplicemente l'esercizio del controllo, ma provocare in noi il desiderio di svelare e mettere in questione le dicotomie che lei, come una spia della Guerra Fredda, inserisce in ogni situazione.
Tutto può succedere.
Il lavoro di García è influenzato da artisti concettuali come Dan Graham e Isidoro Valcárcel Medina, così come dal pensiero deviante di Antonin Artaud e dall'umorismo derisorio di Jack Smith. Fa spesso uso di testi, storie e installazioni narrative per realizzare scenari performativi, che talvolta risentono della caratteristica comicità nera dell'artista. Queste situazioni incoraggiano, seppur in modo non determinante, una complessa riflessione su temi come il tempo di un'opera d'arte, il comportamento entro un contesto quotidiano e artistico, la nozione di controcultura, o la sottile linea tra realtà e rappresentazione.
Il problema dei sogni che si avverano è che non ci credi mai veramente.
Nel Padiglione Spagnolo García propone il progetto "L"Inadeguato, Lo Inadecuado, The Inadequate", che si riferisce letteralmente al senso di inadeguatezza provato dall'artista verso il suo ruolo all'interno della ponderata realtà della Biennale e del padiglione a cui è stata invitata a partecipare. Da questo punto di vista García rimanda alle parole del sociologo Erving Goffman secondo cui "essere imbarazzante e trasandato, parlare o muoversi nella maniera sbagliata significa essere un gigante pericoloso, un distruttore di mondi. Come qualunque psicotico o comico dovrebbe sapere, un movimento accuratamente inappropriato può penetrare oltre la sottile veste della realtà immediata". Pertanto il progetto consiste di una singola opera: una "performance estesa", che proseguirà per tutta la durata della Biennale e che, come spiega l'artista, sottolinea la "violenta fragilità di tutto ciò che consideriamo adeguato. È una forma di dissidenza, di fuga dal centro. L'Inadeguato scaturisce dal bisogno di non soddisfare le aspettative, di evitare di essere ciò che gli altri si aspettano".
Noi siamo alieni.
Se per l'artista il concetto di inadeguatezza si estende oltre l'ambito artistico, nel campo dei tabù sociali, "L'Inadeguato" cerca una comprensione della marginalità come approccio concettuale alla creatività, con ramificazioni non solo sociali ma anche politiche ed economiche. Qui la marginalità è considerata come istanza politica entro la pratica artistica, e l'inadeguatezza come la necessità di tenersi distanti dal discorso culturale dominante.
Uno specchio rotto riflette migliaia di mondi.
Anche se avviato da García, "L'Inadeguato" è un progetto corale senza una voce dominante, i cui veri autori sono principalmente, ma non soltanto, connessi a un determinato dialogo di contro-cultura all'interno dell'Italia, e comprendono per ora: Dora García, Katya García-Antón, Alex Gifreu, Eva Fabbris, Anna Daneri, Barbara Casavecchia, Vincenzo de Bellis, Bruno Roccasalva, Marco Baravalle, Cesare Pietroiusti, Stefano Graziani, François Piron, Nicola Valentino, Pierre Bal-Blanc, Olga Subirós, Nanni Balestrini, Gianfranco Baruchello, Bobi Bazlen, Bernhard Echte, Maurizzio Lazzarato, Fabio Mauri… e molti altri. Insieme hanno costruito una performance discorsiva che tocca le nozioni di devianza, radicalismo, estraneità, esclusione, linguaggio, censura, Basaglia, e altri argomenti correlati. Tali questioni vengono analizzate attraverso conversazioni tra artisti, economisti, comici, filosofi, storici, attori, poeti, scrittori, psichiatri ed editori.
La realtà è un'illusione molto persistente.
"L'Inadeguato" cerca di sviluppare una forma di mostra che sia, come spiega l'artista, "in un permanente stato di precarietà, de-istituzionalizzata e in transito". La presentazione consiste in un palco centrale, al centro del Padiglione Spagnolo, e di una quinta distribuita nei cinque spazi laterali. Nella quinta trovano spazio una quantità di arredi scenici, contenuti in vetrine e tavole, da usarsi durante lo spettacolo ma anche da leggere come elementi costitutivi della mostra. Popolano questo spazio teatrale alcuni riferimenti storici pertinenti il dialogo tra devianza e creatività, tra cui documenti e reperti di scrittori quali James Joyce, Italo Svevo e Robert Walser, così come del pedagogista Fernand Deligny. La natura multi autoriale del progetto permette l'esplorazione dell'inadeguatezza attraverso numerosi punti di vista. Da una parte, sostituisce l'idea della mostra con l'idea dell'occupazione e la presenza monolitica dell'artista con un teatro di esibizioni; d'altra parte rimpiazza la nozione del singolo padiglione nazionale con quella di uno de-territorializzato e collettivo.
L'arte è per tutti ma solo l'élite lo sa.
Anche se il progetto è aperto liberamente a tutti, non è fatto specificatamente per il pubblico, e va contro la nozione di spettatore come elemento che partecipa all'opera. Infatti "L'Inadeguato" segue una propria logica, accade con o senza la presenza del pubblico, che in ogni caso non potrà mai percepirne l'interezza. Lo spettacolo non viene registrato né tradotto, e non esiste un posto prestabilito da cui lo spettatore debba assistere all'opera. Nel contesto della Biennale di Venezia, "L'Inadeguato" opera come momento processuale, proponendo un senso di introspezione discorsiva e complicazione spaziale contrario alle convenzioni di spettacolo che tradizionalmente regolano questi eventi.
si/yes/oui
no/no/non (2)
Katya García-Antón, aprile 2011
Position the cursor on the images to view captions, click on images to enlarge them.
Posizionare il cursore sulle immagini per leggere le didascalie; cliccare sulle immagini per ingrandirle