EUROPEAN ART 1949-1979 l PEGGY GUGGENHEIM COLLECTION – VENICE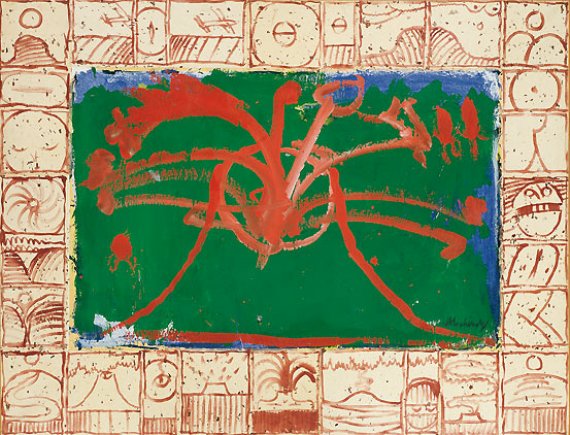 European Art: 1949-1979
Marion R. Taylor: Paintings, 1966-2001
curated Philip Rylands
February 29 – May 6, 2012
Peggy Guggenheim Collection
From February 29 through May 6, 2012 the Peggy Guggenheim Collection presents European Art, 1949-1979: a selection of works from the museum's holdings of postwar European painting and sculpture, largely from the period 1949-79, will be installed in the museum's temporary exhibition galleries. This exhibition documents how Peggy Guggenheim continued to collect even after her withdrawal from New York, center of the artistic avant-garde, in 1947, the year she closed her museum-gallery Art of This Century. This exhibition is therefore a celebration of Peggy Guggenheim's Venetian life and her residence in Palazzo Venier dei Leoni.
It is also however an opportunity to exhibit donations, works that have entered the Venetian Foundation since Peggy Guggenheim's death in 1979. Several sculptures regularly on view in the museum's Nasher Sculpture Garden belong in this category: by Germaine Richier, Tony Caro, Bryan Hunt, Jenny Holzer, Mirko, and Barry Flanagan. European Art, 1949-1979 will include many other donations: a Letter to Palladio by Giuseppe Santomaso, early and late paintings by Armando Pizzinato, decoupages by Mimmo Rotella, two paintings by Lucio Fontana including a 1955 example of 'holes' bequeathed in 2011, a major painting by Pierre Alechinsky, an aluminum relief by Heinz Mack, prints by Eduardo Chillida, a Homage to the Square by Josef Albers, an 'extroflexed' canvas by Agostino Bonalumi, an entire room of sculptures by Mirko as well as his iconic tempera study for the Gates of the Fosse Ardeatine, a late monotype by Emilio Vedova, works by Bice Lazzari, Gastone Novelli and Toti Scialoja, and two paintings by Carla Accardi, including the magnificent Concentric Blue of 1956.
Opening with a sculpture and a painting by Alberto Giacometti and Marino Marini respectively, the first three galleries will focus on Venetian and Italian art, with particular emphasis on Peggy Guggenheim's circle in the 1950s—Edmondo Bacci, Pizzinato, Santomaso, Tancredi, and Vedova. To these are added paintings by Accardi, Afro, Enrico Baj, Piero Dorazio and William Congdon. Rooms 4 to 6 are predominantly non-Italian, with a room dedicated to British masters in the 1950s (Kenneth Armitage, Francis Bacon, Alan Davie, Ben Nicholson, Graham Sutherland), and another dedicated to the CoBrA movement in Copenhagen, Brussels and Amsterdam, with paintings by Alechinsky, Karel Appel and Asger Jorn, as well as Jean Dubuffet. Informel works by Lazzari and Scialoja are joined by rarely seen sculptures by Arman, Alberto Guzman, and Zoltan Kemeny, as well as decoupages by Gwyther Irwin and Rotella. Room 7 focuses on 'visual research' (with optical works by Franco Costalonga, Victor Vasarely, Manfredo Massironi, Martha Boto, Lazzari and Francesco Sobrino). Room 8 closes the presentation with monochromes by Albers, Fontana and Bonalumi, wall sculptures by Mack and Gunther Uecker, a Sphere by Arnaldo Pomodoro, embossed prints by Eduardo Chillida, and a major 1960 painting by Novelli, recently donated by the Fondazione Araldi Guinetti.
The exhibition closes with a tribute to Marion Richardson Taylor (d. 2010), a versatile American artist. Her eclectic path encompassed abstract expressionist murals, Cubist still lives, non-figurative portraits and intimately sized drawings. Constantly in search of a new vocabulary to represent the people and the places that impressed her, Taylor  had the courage to rethink her art continually. Places as different as Barcelona, Egypt, Japan, and Saint-Rémy in Provence all had a strong impact on her. The Peggy Guggenheim Collection dedicates to the artist her first solo-exhibition, with works donated in 1998 to the Solomon R. Guggenheim Foundation.