MAURO STACCIOLI – FORME PERDUTE – A ARTE STUDIO INVERNIZZI MILAN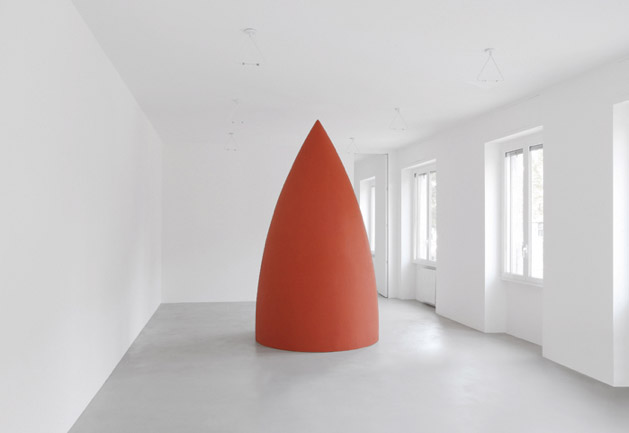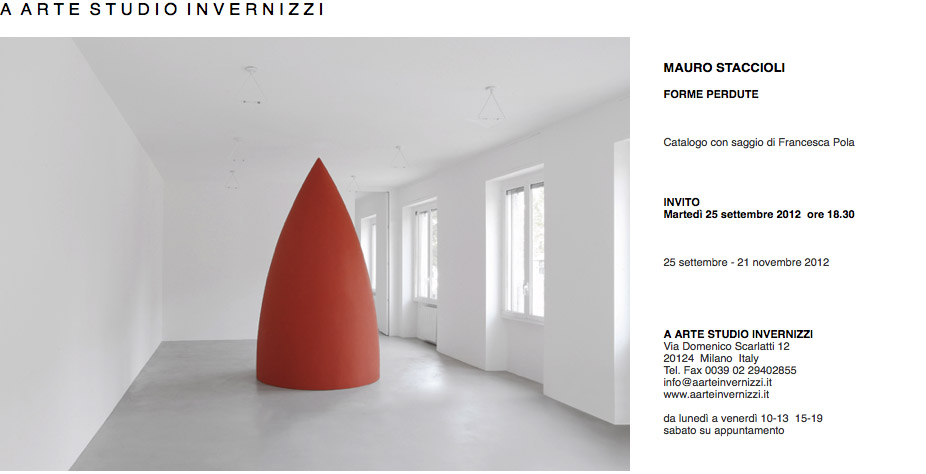 MAURO STACCIOLI
Forme Perdute
Catalogo con saggio di Francesca Pola
September 25 – November 21, 2012
AA STUDIO INVERNIZZI
Via Domenico Scarlatti, 12 – 20124 Milano – www.aarteinvernizzi.it

A arte Studio Invernizzi gallery will be opening a solo exhibition devoted to the artist Mauro Staccioli at 6.30 p.m. on Tuesday 25 September 2012.
After the exhibitions of 1995, for which "the artist emphasised the progression of the lower space with a series of vertical plinths of various colours", and of 2000 for which he created "a large diagonal element that sliced across the entire length of the lower room", the sculptor on this occasion has also "created a particular route that aims to accentuate the continuity and traversing of this exhibition space".
The two floors will be closely correlated with each other from the "first intervention-sculpture one encounters on entering, a large walk-through arch made of iron rods, which connects one of the upper corners of the entrance area to the base of the staircase that leads down to the lower floor. A second, similar arch appears on the upper floor, where it crosses the last exhibition room diagonally.
Accompanying these two interacting works, which are designed to give greater awareness to transit in the upper and lower rooms, Staccioli has created some forms with circular bases with bodies formed out of the intertwining of pointed arches, the respective heights of which are inversely proportional to the sizes of the rooms they are in.
On the upper floor, where the ceiling is lower and the space more intimate, there is only one, more slender shape, emphasising the immediate, organic impact of the spatial experience. On the lower floor, however, where the space is greater in all directions, the shapes are lower and arranged in a way that emphasises the diagonal of the crossing".
With the works for this exhibition is brought to light a "component, which we might say is more directly autobiographical and that has led Staccioli to create his intervention-sculptures (…) as 'lost forms'. The arch and the 'haystack' (as he himself has at times referred to these shapes with circular bases) are distilled memories of origin, a sort of verification of his own language in relation to his dimension of genesis".
On the occasion of the exhibition a bilingual catalogue will be published with reproductions of the works on show, an introductory essay by Francesca Pola, a poem by Carlo Invernizzi, and an up-to-date biographical and bibliographical notes.
Press Office
Alessandra Valsecchi  Cell. 340 3405184  – ale.valsecchi@gmail.com
.-.-.-.
La galleria A arte Studio Invernizzi inaugura martedì 25 settembre 2012 alle ore 18.30 una mostra personale di Mauro Staccioli.
Dopo le precedenti mostre tenutesi nel 1995, in occasione della quale "l'artista aveva sottolineato la progressione dello spazio inferiore con una serie di plinti verticali di diversi colori", e nel 2000 con la realizzazione di "un grande elemento diagonale che fendeva l'intera lunghezza del vano inferiore", anche in questa occasione "lo scultore ha specificamente ideato un percorso che tende a sottolineare la continuità e l'attraversamento dello spazio espositivo".
I due piani saranno strettamente messi in relazione tra loro dalla "prima scultura intervento che s'incontra entrando, un grande arco percorribile realizzato in tondino di ferro, che connette uno degli angoli superiori della zona di accesso al piede della scalinata al piano inferiore. Un secondo arco analogo si trova al piano superiore, dove attraversa diagonalmente la sala espositiva finale.
Ad accompagnare questi due interventi dialoganti, collocate a sensibilizzare il transito nelle sale superiore e inferiore, Staccioli ha concepito alcune forme a base circolare e corpo dato dall'intreccio di archi a sesto acuto, le cui reciproche altezze sono inversamente proporzionali alle dimensioni delle stanze in cui sono realizzate.
Al piano superiore, dove il soffitto è più basso e lo spazio più raccolto, la forma è unica e più slanciata, a sottolineare l'impatto immediato e unitario dell'esperienza spaziale; al piano inferiore invece, dove l'ampiezza dello spazio è maggiore in tutte le direzioni, le forme sono più ribassate e disposte a sottolineare la diagonale di attraversamento".
Con le opere realizzate per questa esposizione viene messa in luce una "componente, diciamo più direttamente autobiografica, che ha portato Staccioli all'elaborazione delle sculture intervento (…) come 'forme perdute'. L'arco e il 'covone' (come egli stesso ha occasionalmente definito queste forme a base circolare) sono la memoria distillata di un'origine, una specie di verifica del proprio linguaggio in relazione alla propria dimensione di genesi".
In occasione della mostra verrà pubblicato un catalogo bilingue con la riproduzione delle opere esposte, un saggio introduttivo di Francesca Pola, una poesia di Carlo Invernizzi e un aggiornato apparato bio-bibliografico.