VISIONS OF FLOWERS – PARK OF APPIA ANTICA – ROME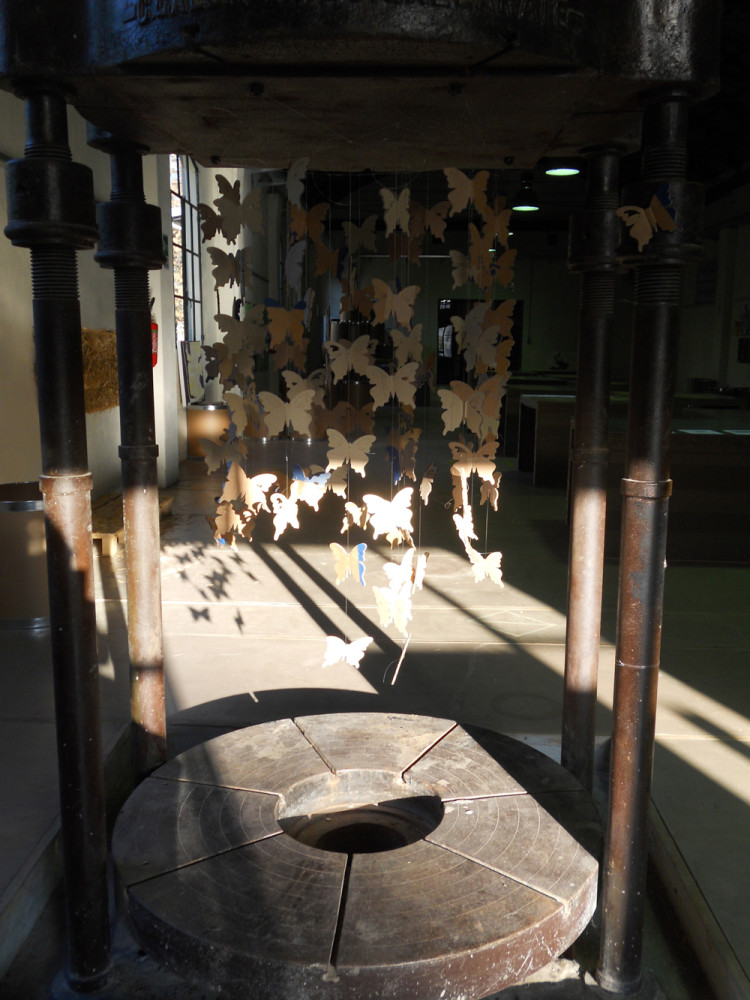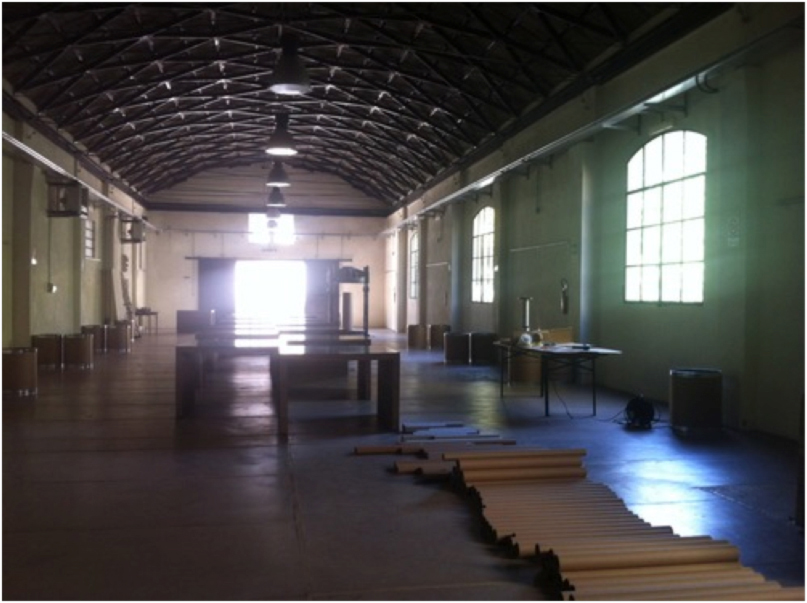 Exhibition "VISIONS OF FLOWERS" – PARK OF APPIA ANTICA – ROME
Sala Nagasawa
October – December 2012
Text written by Silvia Brandizzi
Translated by Patricia Lauer
The former Paper Mill, inactive since 1960, on Via Appia Antica is the headquarters of the large National Park "Ente Parco Appia Antica". The mill itself has been transformed into a studio for artshows and temporary exhibition amongst old paper presses, turning lathes, and other old machinery used for the production of paper. (Figure 1). After a workshop held in the conference room of the headquarters, thanks to the enthusiasm of several park employees, the idea to organize an artshow was formed and centered on the idea of nature, ecology, and the 'art of recyling'.
Chiara L. Casco, artist and architect, and curator of the show, has prepared Sala Nagasawa of the ex Paper Mill, exhibiting her own work and those of emerging artists of Rome. Brown cardboard becomes a central theme for the material of the show, thus maintaining the idea of the vocational purpose of this location, the Paper mill, situated near the Almone River, a sacred river of ancient Romans.
The architectural thesis of Chiara L. Casco is the central theme of the show and initiated the idea of this exhibition. The thesis was planned exactly for the environment of the area of the headquarters.
"Becoming a Museum. Temporary Structure in Cardboard", the title of the thesis, is a temporary structure using cardboard, designed to be located amongst the meandering bicycle paths. The "becoming of a museum" has three fundamental concepts: the first being of temporary character in a physical place, the second consisting of its flexibility in creating space in the surrounding ambient, and ultimately giving the possibility of a direct interaction of artists with the museum space. (Figure: 4-5-6)
The museum space will have two interelated phases, each distinct. The first is that the museum will be the place of creation of art, where artists for a period of time will live and have a workshop in the space so they can interact with each other and the space. In the second phase the structure will become a museum, exhibiting the workshops along with the artists' creations, allowing more interaction with their public.
After the exposition the "Becoming a Museum" can be relocated, dismantled and change location for another phase of artistic production with other artists. Its own temporary character permits the museum to be reconstructed in a naturalistic environment like a park.
It is flexible and can be easily modified for each space and the natural elements used adapt to exsisting elements like trees or structures that already are used for cultural exhibitions.
It is a temporary architectural space that articulates its flexible mood, looking for a dialogue with its surroundings and searching for interaction.
The foundations of the museum space consist of a grid of tree trunks that lead to a minimum environmental impact with the surrounding land. From here is developed a platform of wood that becomes the base to launch the ateiler workshop. The material of the ateiler workshop will be cardboard, glass, and aluminum. The structure of the walls are formed from recycled cardboard, that are cut in strips and saturated with glue and enveloped around a cylinder of steel. The tubes could vary in diameter, thickness, and length, maintaining their natural brown color, and not leaving any waste product. They can easily be dismantled and transported, making them flexibile and nomadic.
The arcitectual drawings of this project are printed on recycled brown paper and displayed on tables of cardboard, given as a gift from the MAXXI NATIONAL MUSEUM of the 21st century in Rome. These tables are made of layers of cardboard, produced by Comieco for the exhibit "Re-cycle" in December 2011. On one of these tables the cardboard butterflies pose like leaves around a plaster fossil made from computer parts, typical waste of our generation (Figure 2 -11-15).
Along the walls the paintings by Chiara Casco (Figure 7), search natural and cybernetic combinations, where tartaric acid fluorescent green colors evolve into geometric forms. They represent the nature of the future, when also junk (technological circuits in this case) would become an integral part of itself. The brillant colors almost saturate the sinuous, winding and disunited forms where technology reworks in a positive but harmless way.
One section of the show is dedicated to photographs of nature presented by Luca Battaglia, a passioniate and expert photographer and guardian of the park, and, not least, an author. His photos, with rich blending of naure's colors, give us a "real" image of what to look for. There is a rich blending of colors that highlight numerous minute particulars, microscopic details that are realized in archeological scenes immersed in nature. Chiara Casco, with her watercolors, has reinterpreted some of these "infinite" forms with the fresh colors of this medium. Chiara has observed these prints of the ecosystem of the Appia Antica Park and painted their forms with a new freshness. (Figures: 19-18)
Other installations:
Vite3 presents its installation Videostrawbale a story of a straw theatre projected on a bail of straw. A narration told by Emiliano Campagnola, actor and experimenter of new technologies in the theater scene.
E. Campagnola curated the project for the realization of an eco-village for artistic residences in Rome.
La Giostra9 is centred on the value of straw that unveils the potential of the material to build and to cultivate, a monument to straw, in its form of a bale. The word-play (this is not a bale/bullshit) is simple and for this reason the piece of art refers to another piece of Art. (Figure 8-9)
La "Trahison des Images" ("The Betrayal of Image") is a painting of the surrealistic artist from Belgium, Renè Magritte, that imprints the image of a pipe followed by the writing " Ceci n'est pas une pipe" ("This is not a pipe"). More than a painting this is rebus, or a philosophical dictation or a reflection that plays very seriously with the meanderings of languages.
It's a symbolic masterpiece of Magritte, very appreciated by Foucault, who dedicated an essay to the painting. So the pipe, which is not a pipe, challenges the common way of looking at reality.
It might anticipate as well some requisitions of Conceptual Art. "The ambiguity is driven by the convention that ties together every object with a name… constituting a communicating paradox like those considered from the theory of the 'double bond', elaborated to comprehend the causes of communicating pathologies.
An Ancient example of these paradoxes, but only a verbal one: 'forbidding forbidden" or 'I always tell lies' (paradox of the liar from Crete). The message that this painting transmits us is the philosophical type and invites us to reflect on the complexity of human communication and its codes, verbal and non-verbal.
The other installation present concentrates on the reuse of cardboard: Globster_A , an emerging group of artists, reinterpreted cardboard tubes that were remainders from photocopy shops. The tubes ("plotters"), being very flexible, were built with connecting plastic string and modulated rythmatically into an object of design. At one moment it becomes a chaise-lounge and later becomes a a vertical divider in a room (Figure 10 ).
"Plotter Bones" are the bones used by the "Plotter" for a changeable carpet. Rolls and rolls of cardboard, at one time a forest, are frenetically consumed. The role of the plotter is to transform this waste to an "open" form. These "Bones" give substantial shape and its natural brown paper color being very aesthetic, allows an infinity of ideas. Plotter Bones can be presented like a carpet, extended for 8 meters. Folding and refolding the form, it becomes diverse chairs or modes for laying down. Overturn the structure 90° from the floor, it becomes a sort of wall, moveable to various shapes to lightlly confine the space.
(Figure 10 – 17). Plotter Bones are thought to be plasmatic, moulded in new spatial interpretations, used for moments of rest like an antidote to the stress of the press!!!
The last installation of G-team, which is near the entrance of the Sala Nagasawa is composed of hundreds of cardboard butterflies that invaded and gave new use to an ancient mill from the beginning of the1900s (Figure 9), suspended in a vacant spot, creating reflexes of light and shadows while recuperating a sense of lightness and a lost game (Figure 3-13-16).
The sitting tubes are made of tubes produced by Kraft S.r.l. and reused as a modular element, and design object (Figure 14).
Various workshops were offered during the show. At one time the youngsters from ages 4 to 65 took photographs with the park's cameras and the pictures were projected five at a time on the wall of cardboard boxes. Concentrated, the young artists created paintings from their idea, working with care for a long time using tempera paints. All enjoyed the experience directed by Chiara and Emiliano.
BIO
CHIARA CASCO was born in Rome, Italy in 1979. Before and during her architectural studies at the University of Sapienza in Rome, she dedicated herself to her passion of painting. She took numerous supplementary courses in Italy with well known artists like Alberto Parres and Alberto Gasparri and also in England and the United States learning pictorial techniques that gave nourishment for her artistic portfolio. In the past few years she has participated with her work in various shows with success. She also cooperates with other artists , experimenting in the field of visual space of scenographic design, and also arriving at live visual performances.
SILVIA BRANDIZZI was born in Rome in 1980. After her classical studies she recieved her diploma in arcitecture at the University of Sapienza in Rome. She then worked as an architect in the environment of a large sports center in Rome; from here she enlarged her experience also in the sector of private homes. She has always had a passion for art and has collaborated with emerging artists, in the realizing of ideas and preparing shows.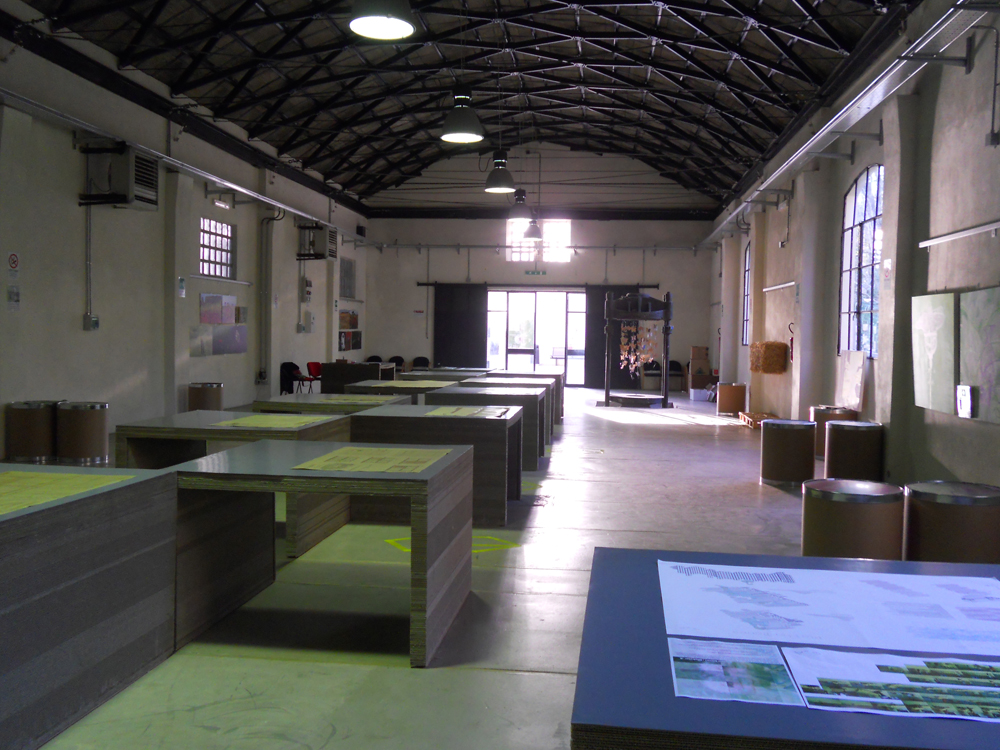 Esposizione "Visioni di fiori" –  Park of Appia Antica
Sala Nagasawa
Ottobre – Dicembre 2012
Testo di Silvia Brandizzi
La ristrutturazione dell'Ex–Cartiera in Via Appia Antica trasforma il luogo, inattivo dal 1960, nella sede dell'Ente Parco dell'Appia Antica, in un luogo per mostre ed esposizioni temporanee tra presse, torni e vecchi macchinari per la produzione di carta (Figura 1).
Dopo un workshop sul Parco dell'Appia Antica, tenuto nella sala conferenza della sua sede, è nata, grazie all'entusiasmo di alcuni operatori del Parco, l'idea di organizzare una mostra incentrata sui temi della natura, l'ecologia e "l'arte del riciclo".
Chiara L. Casco, artista e architetto curatrice della mostra, ha potuto cosi allestire una delle sale dell'ex-Cartiera, sala Nagasawa, ed esporre le proprie opere insieme a quelle di altri artisti emergenti, che vivono a Roma.
Il cartone diventa il tema trainante della mostra, mantenendo cosi anche la vocazione iniziale di questo luogo, ex-Cartiera latina, posta vicino al fiume Almone, fiume sacro all'antica Roma.
La tesi di Chiara L. Casco è al centro della mostra ed è il punto da cui è partita l'idea della mostra. La tesi è ambientata utopicamente nei pressi della sede di Via Appia Antica, intitolata "Museo in divenire. Struttura temporanea in cartone". Il museo si pone all'interno del Parco dell'Appia Antica come nuova centralità temporanea inserita in una rete di piste ciclabili del parco stesso. Il museo in divenire ha come fondamenta tre concetti primari: il primo è il suo carattere temporaneo in un luogo fisico, il secondo consiste nella sua flessibilità di creazione spaziale con l'ambiente circostante, e l'ultimo è la possibilità di un'interazione diretta dell'artista con lo spazio museale.
Lo spazio museale avrà due fasi interrelate tra loro, ma ben distinte.
Nella prima fase, il museo sarà inteso come luogo di creazione stessa dell'arte, dove artisti per un breve periodo potranno vivere nei tre atelier/residenze, avendo la possibilità di interagire tra di loro dal punto di vista creativo.
Nella seconda fase, quella espositiva, il museo sarà aperto al pubblico permettendo allo spettatore una visione completa sia dell'opera d'arte che dell'atelier. L'arte non più intesa come un patrimonio da preservare e musealizzare, ma da vivere nel luogo stesso di produzione dell'artista.
Una volta conclusa la parte espositiva, il 'Museo in divenire' potrà essere smontato e cambiare luogo per una nuova fase di produzione artistica e nuovi artisti. Il suo carattere temporaneo permette al museo di poter essere anche montato in luoghi naturalistici come i parchi. Il suo carattere flessibile permette una potenziale modificazione compositiva dello spazio, che si adegua ad elementi naturali esistenti, come alberi o a strutture costruite precedentemente come i musei o spazi culturali.
Uno spazio architettonico temporaneo, che si articola in modo flessibile cercando di creare un dialogo con l'ambiente circostante col quale si trova a interagire.
Le fondazioni dello spazio museale saranno costituite da una griglia di tronchi d'albero che consentono un minimo impatto ambientale con il terreno circostante. Da qui partirà una piattaforma di tavolati che sarà la base di lancio per gli atelier.
I materiali dell'atelier saranno cartone, vetro e alluminio.
La struttura dell'edificio è formata da tubi di cartone prodotti con carta riciclata, che viene tagliata a strisce, saturata con colla e avviluppata intorno a un elemento cilindrico in acciaio.
I tubi possono variare di diametro, spessore e lunghezza a seconda dell'uso e possono essere riciclati dopo averli utilizzati. I tubi sono economici, low tech, mantengono il loro colore naturale e non producono virtualmente alcun rifiuto. Possono essere facilmente smontati e trasportati, dando la possibilità di progettare spazialità flessibili e nomadi (…).
Le tavole architettoniche di questo progetto, sono state stampate rigorosamente su carta riciclata e disposte al centro della sala su tavoli di cartone regalati per l'occasione al Parco dell'Appia Antica dal MAXXI, Museo nazionale delle arti del XXI secolo.
Questi tavoli di cartone sono composti dalla stratificazione stessa del materiale e sono stati prodotti dalla Comieco in occasione della mostra Re-Cycle tenutosi a Roma il Dicembre 2011. Su uno dei tavoli di cartone, le farfalle di cartone si posano come foglie intorno a un nuovo tipo di reperto fossile fatto di gesso e pezzi di computer ormai scarti della nostra generazione (Figura 5).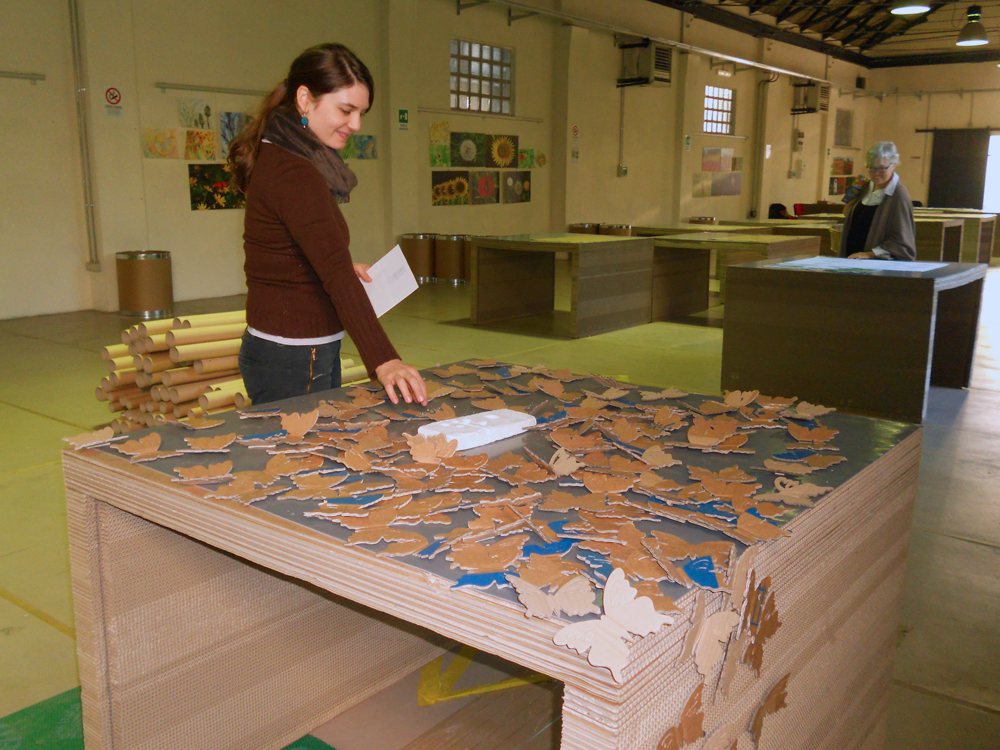 Sulle pareti i quadri di Chiara Casco (Figura 4), cercano visioni naturali eco- cibernetiche, dove le acidità nei colori  scoprono nature geometrizzate ma non inermi. Rappresentano una visione della natura nel futuro, quando anche i rifiuti (circuiti tecnologici in questo caso) diverranno parte integrante di essa. I colori brillanti quasi saturi delle forme sinuose si uniscono con le parti tecnologiche in un pensiero quasi onirico dove tutto ha una rielaborazione positiva ed innocua.
Una sezione della mostra è dedicata alla fotografia della Natura. Luca Battaglia, fotografo esperto e guardiaparco appassionato, ne è l'autore. Con le sue fotografie è riuscito a restituire a tutti noi un'immagine reale della natura, ricca dei suoi numerosissimi particolari e sfumature di colori. Oltre alle foto di dettaglio, macroscopiche, egli realizza anche foto di paesaggi archeologici, immersi nella natura.  Queste fotografie sono state d'ispirazione a Chiara Casco per i suoi acquarelli, che ne reinterpretano i colori e alcune delle sue "infinite" forme con una leggerezza e freschezza tutta nuova. (Figura 10–11).
Gli acquerelli di Chiara Casco osservano con leggerezza queste impronte (Figura 10-11), accarezzano le foto interpretando i colori e le forme dell'ecosistema del parco dell'Appia Antica.
Vite3 presenta la propria installazione Video balla, la storia di un teatro di paglia proiettato su una balla di Emiliano Campagnola, attore e sperimentatore di nuove tecnologie applicate al teatro. E. Campagnola cura il progetto per la realizzazione di un ecovillaggio per residenze artistiche a Roma.
La Giostra vite9 è il valore della paglia per costruire e per coltivare, un monumento alla paglia, nella sua forma di balla. Il gioco con il linguaggio è semplice e per questo quest'opera parla di un'altra opera (Figura 6-7).
La Trahison des images (il tradimento delle immagini) è un quadro del pittore surrealista belga René Magritte, che raffigura l'immagine di una pipa seguita dalla dicitura "Ceci n'est pas une pipe" (Questa non è una pipa).
Più che un quadro un rebus, o un trattato filosofico, o una riflessione che gioca molto seriamente con i meandri del linguaggio. È l'opera simbolo di Magritte, che piacque tanto a Foucault da dedicargli un saggio. Così la pipa, che non è una pipa, sfida il modo comune di guardare la realtà. E magari anticipa pure certe istanze dell'Arte Concettuale…
"L'equivoco è dovuto alla convenzione che lega a ogni oggetto un nome. … costituendo un paradosso comunicativo che rientra tra quelli considerati dalla teoria del "doppio vincolo", elaborata per comprendere le cause delle patologie comunicative. Esempio antico di tali paradossi, ma solo verbali: "vietato vietare", oppure "io mento sempre" (paradosso del "mentitore cretese"). Il messaggio che il dipinto ci trasmette è di tipo filosofico e invita alla riflessione sulla complessità della comunicazione umana e dei suoi codici, verbali e non verbali.
Le altre installazioni presenti nella mostra sono incentrate nel riutilizzo del materiale cartone.
La prima, realizzata da  Globster_A che reinterpreta i tubi di cartone, residui dei rulli di carta dei plotter e costruisce, modulando ritmicamente l'oggetto di scarto, un oggetto di design, modificabile e flessibile. Un elemento che può essere usato come chaise-longue oppure come elemento verticale divisorio (Figura 8).
Plotter Bones sono ossa di plotter per tappeti mutanti. Rotoli e rotoli di carta si consumano nella frenetica produzione di stampe all'interno di concitate foto-copisterie ed uffici. Ciò che ne avanza sono tubi di cartone pressato, anime cartacee, un tempo foreste e dopo strutture per rotoli di carta da plotter. Il progetto 'PlotterBones', propone di recuperare questi avanzi per continuare il processo di trasformazione nel design di una forma "aperta". I tubi sono affiancati parallelamente e ricuciti con un filo di nylon per raggiungere una configurazione che consente ulteriori e molteplici mutazioni. Il concetto di processualità, che caratterizza la produzione della carta, dà sostanza alla forma progettata: in uno stadio iniziale, PlotterBones si può presentare come un tappeto, esteso per circa 8m. Ripiegando la forma su sé stessa si possono ottenere diverse sedute e diversi modi di "sostare". Ribaltando la struttura di 90° rispetto al suolo, la forma assume l'aspetto di una parete, un segno flessibile e mistilineo, che traccia un confine leggero nello spazio.
PlotterBones è pensata per essere plasmata da nuove interpretazioni spaziali, momenti di sosta come antidoto allo stress di stampa!!!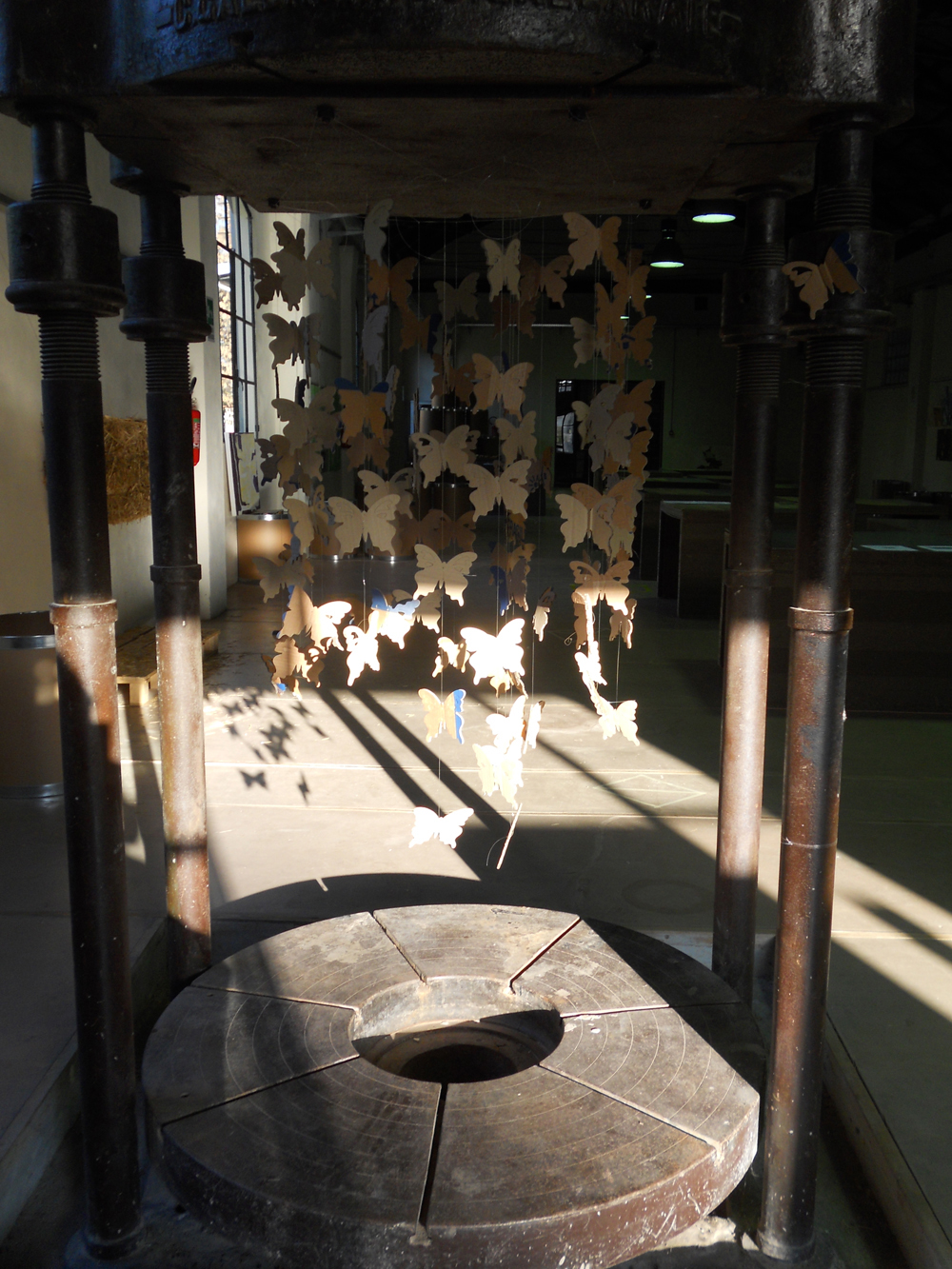 L'installazione finale di G -Team, che si trova poi all'ingresso della sala Nagasawa è costituita da centinaia di farfalle di cartone che hanno invaso e valorizzato un vecchio tornio di inizio 1900 (Figura 9), "volando" nel suo spazio vuoto, creando riflessi di luci e ombre e recuperando un senso di leggerezza e di gioco perduto.
Silvia Brandizzi
Position the cursor on the images to view captions, click on images to enlarge them. 

Posizionare il cursore sulle immagini per leggere le didascalie; cliccare sulle immagini per ingrandirle.