DAVID MEDALLA AT THE ATENEO ART GALLERY – MANILA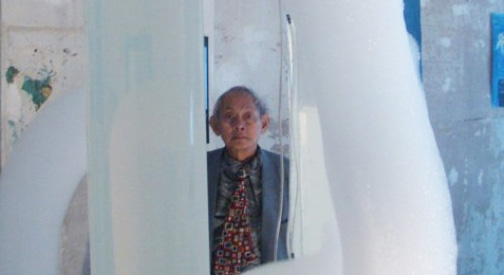 The legend is home at last: David Medalla at the Ateneo Art Gallery
Capping off the year-long celebration of its 50th anniversary, the Ateneo Art Gallery (AAG), the first museum of modern and contemporary art in the Philippines, has the distinction of bringing back to the country – after a three decade long absence – arguably the most significant Filipino visual artist on the international stage, David Medalla.
The London-based art vanguard, who is currently artist-in-residence at the AAG, will deliver a lecture titled "Tuloy Po Kayo," as part of the museum's long-running ArtSpeak series. It will be held at 4pm on Wednesday, 23 November 2011, Ateneo Art Gallery, Level 2 Rizal Library Special Collections Building (RLSC), Ateneo de Manila University, Loyola Heights, Quezon City. In honor of Medalla's homecoming, the AAG is likewise exhibiting its entire collection of the artist's works – the largest held by any public institution in the Asia-Pacific region.
"Tuloy Po Kayo" will reflect upon Medalla's transnational, multi-disciplinary practice, and will revolve around the different foreign personalities that have shaped Philippine culture through art, music, science, sport and philanthropy.  The lecture resonates with the theme of a show that the artist will be part of – "Migrations," a survey of 500 years of British art history, which will attempt to tell the story of how migrants shaped the country's art.  This landmark exhibition will be held at Tate Britain from 31 January – 12 August 2012 and will feature Medalla alongside old masters such as Hans Holbein and Anthony van Dyck, as well as pioneering modernist and contemporary works by the likes of Piet Mondrian and Jacob Epstein.
Admission to ArtSepak with David Medalla: "Tuloy Po Kayo" is free and open to the public. Advance bookings, however, are strongly recommended, as seats are limited. For inquiries, please contact Ian Jaucian or Thea Garing at 4266488 or email ijaucian@ateneo.edu / dgaring@ateneo.edu.
—-
About the artist
David Cortez Medalla (b.1938) is a London-based Filipino visual artist, and a pioneer of kinetic art, earth art, performance art, participation art and conceptual art.  At the age of 12, he had already lectured at the University of the Philippines, and by 14 he was admitted to Columbia University in New York to study philosophy and Greek drama.  In the mid 1950s, he returned to the Philippines and met Fernando Zóbel, the artist, educator and philanthropist, who later on became one of his earliest patrons.   Medalla then moved to Europe, where he has based himself since while traversing the globe with his multi-disciplinary art practice. He has exhibited in numerous  international art exhibitions and festivals including Documenta 5, the 16th Biennale of Sydney, and is the director and founder of the London Biennale.  Medalla is represented in museum collections including the Ateneo Art Gallery, the FRAC – Pays de la Loire in France and Tate Britain in the UK. In May 2011, the artist unveiled one of his iconic bubble machines "Cloud Canyons No. 14" at New York's New Museum. Described as the first work of auto-creative art, it was selected by exhibitions director Massimiliano Gioni as an iconic modern work of art.