PAVEL LEMBERSKY – NEARING VICTORY – CURATED BY IRINA DANILOVA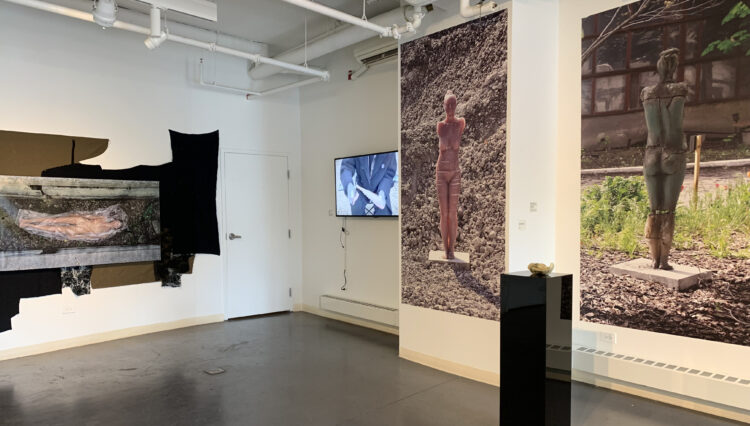 PEREMOHA/victory/ukr. — a group exhibition featuring five Ukrainian women artists in the Bronx River Art Center, deftly сurated by Ukrainian-born New York artist and curator Irina Danilova, aims to foster a deeper connection between the struggles of Ukrainians during a tragic calamity and American audiences. Through the artists' works the exhibition examines life-affirming themes of Courage, Love for the Land, Friendship, Strength, Freedom and Democracy and honors the Ukrainian/American mutual effort in the fight against Russia's unprovoked invasion of Ukraine.
All the PEREMOHA artists came of age in the independent Ukraine that emerged following the collapse of the Soviet Union. They were just entering adulthood during the Russian occupation of Crimea and its military incursion into/ the Donbass. They have become known in Ukraine and are now gaining recognition throughout Europe for their strength in confronting oppression and the horrors of war.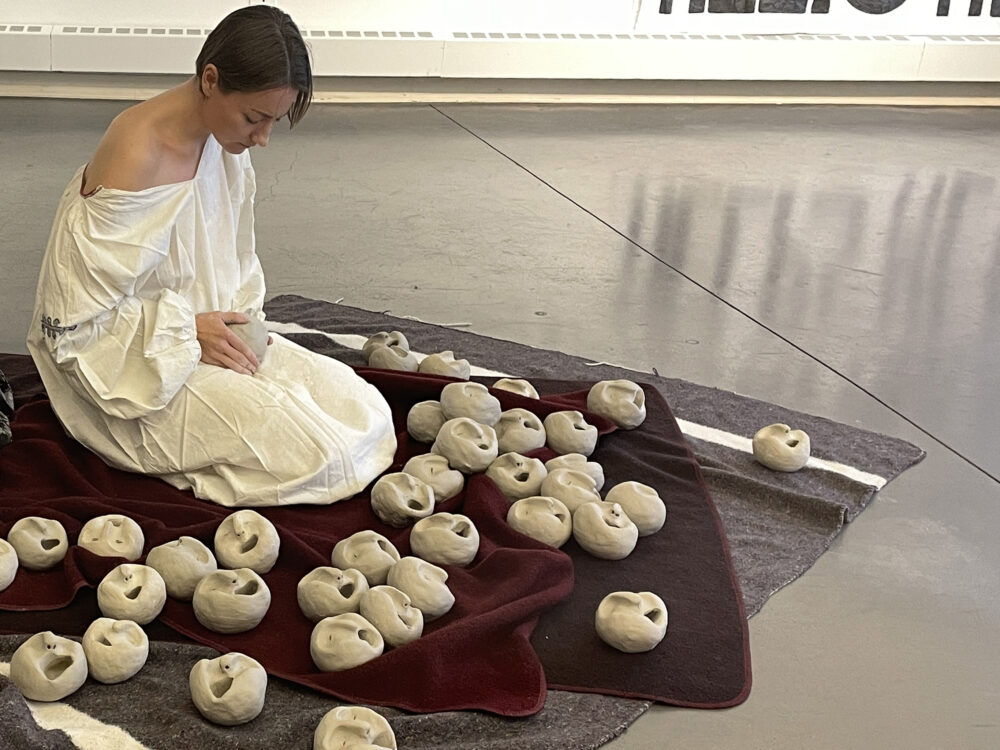 The live performance Lullaby by Daria Koltsova (b. 1987, Kharkiv) during the opening in BRAC, acquired the gravity of a profound grief for the children killed in the war. Barefoot and dressed in a traditional white embroidered shirt "vyshivanka", Daria sat on the floor quietly molding stylized clay babies' heads, their tiny mouths agape in silent agony, accompanied by the sound of a lullaby.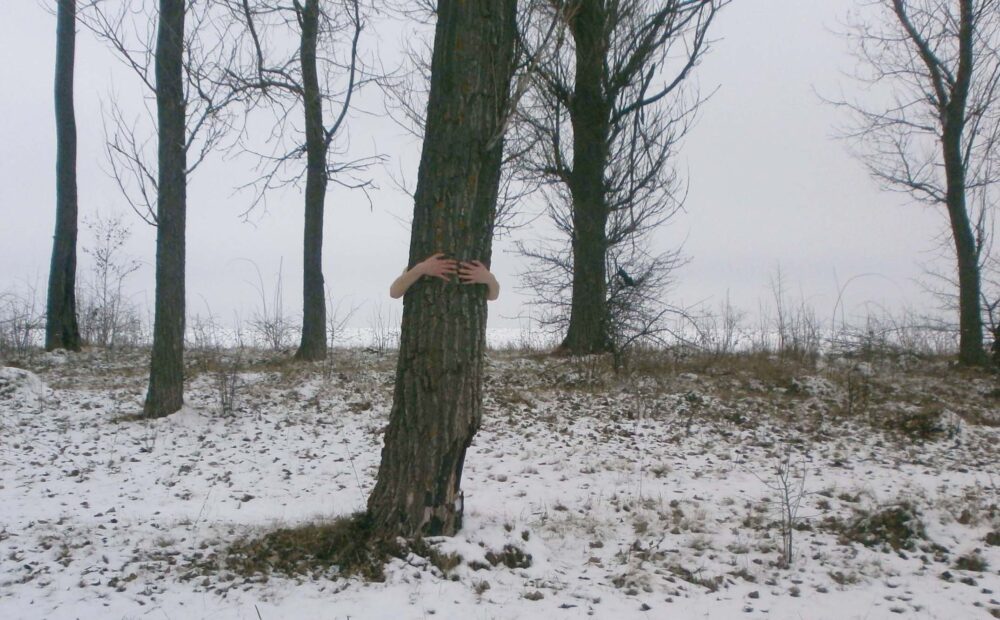 Natalia Lisova (b. 1980, Vynnitsa) addresses the wartime traumas of children by working with them in art camps. According to Ms. Lisova, children face the greatest challenges in coping with the tragedy of human loss. They struggle the most to adapt to new living conditions. Ms. Lisova confronts childhood traumas with art therapy workshops all around Ukraine. Presented at the show photo documentation depicts teenage Ukrainians engaged in a variety of art activities in Ukrainian forests and fields, working with leaves, branches, stones and flowers. Ms. Lisova's artworks are drawn from her pre-war ecological performances. Arbor Amor (2015), a digital photo that features the artist hugging a tree, fully obscured behind the trunk. Alpha-Omega (2016), a digital photo, capturing a nude artist caught in repose between two boulders as if cradled in the Mother Earth. It brings to mind a statement made by PEREMOHA's curator Ms. Danilova, that "war is an inherently masculine conflict. While combat, both literally and symbolically, pertains to men, women by default belong to the anti-war movement."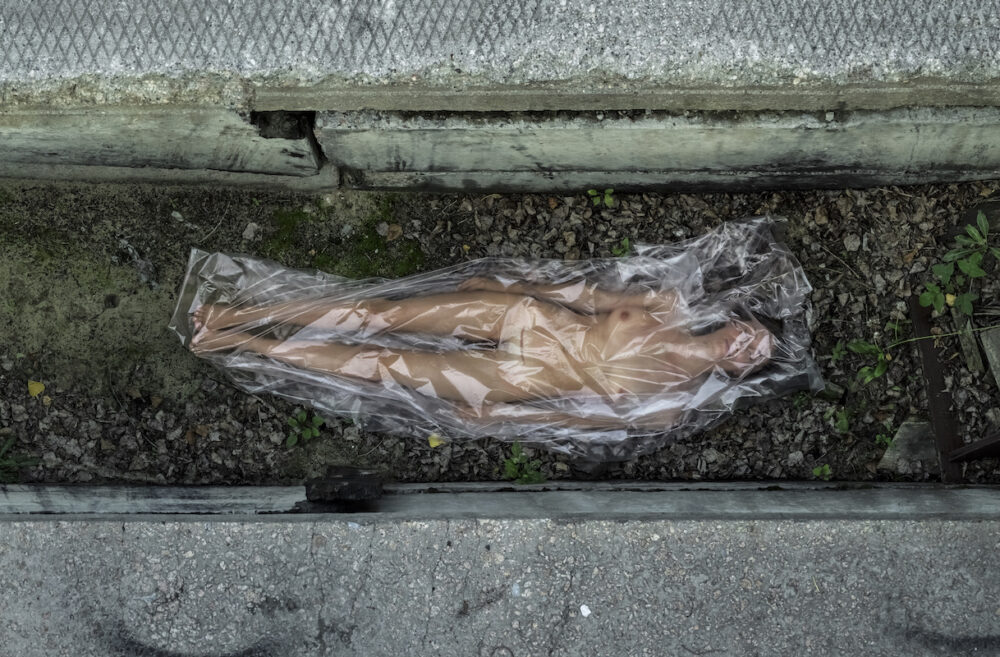 Maria Proshkowska's (b. 1986, Kyiv) life-size photograph made in 2017, features the nude artist lying supine inside of a transparent bag that has been abandoned in a ditch. While the artist's effort was to "build a barrier between herself and the world around her," this artwork is recontextualized by the war into a post-mortem body bag.
Ms. Proshkowska's video documentation of the performance titled Macogon (February 2022) shows the artist situated near Kyiv, just sixty-two hours before the Russian invasion, meticulously sharpening old coins embedded in a mortar thereby repurposing a kitchen utensil for possible use in hand-to-hand combat. Ms. Proshkowska comments on this transformation from the domestic space to warfare, stating: "I could not have known what terrible events would unfold in Ukraine, but I felt anger, destruction, and uncertainty."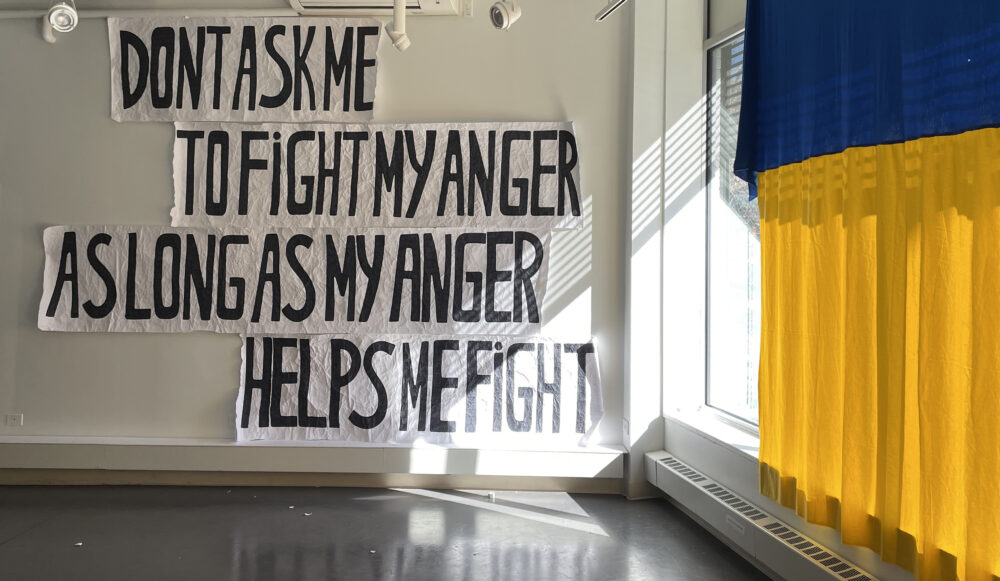 The youngest artist featured in the exhibition, Olia Fedorova (b. 1994, Kharkiv), is presented by a text artwork from Anger Exercises series, a loud cry for resistance written in all caps on four wide parallel strips: "Don't Ask Me to Fight My Anger As Long As My Anger Helps Me Fight." Reduced to living and working in a Kharkiv bomb shelter, the artists started Anger Exercises with materials at hand: crumpled paper and bedsheets.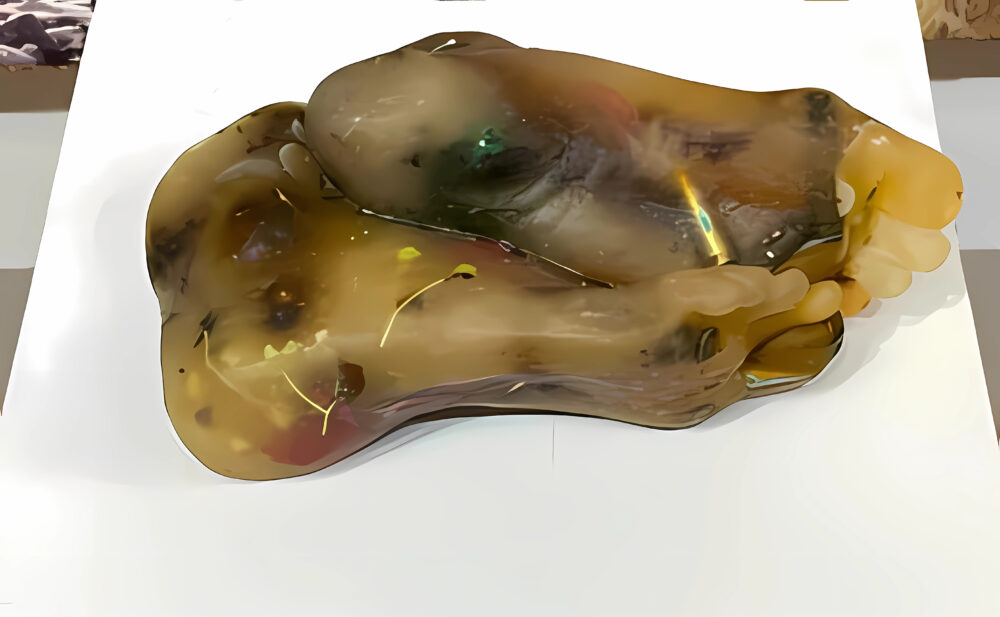 Maria Kulikovska (b. 1988, Kerch, Crimea) is a multimedia artist, who works with the themes of femininity, forced migration, exile and war, examining the boundaries of the tolerable. Large photos of sculptures made from ballistic soap was originally exhibited at Izolyatsia Art Center in Donetsk. When that venue was captured and looted, a group of Russian terrorists used Ms. Kulikovska's soap sculptures of armless females for target practice. These acts of violence turned her latter-day Venuses into objects of cancel culture, a dreary case of a most destructive and barbaric collaboration: hand and foot sculptures with visible bullets stuck inside. Ms. Kulikovska's dinner set of plates with printed images of brutally disfigured female body parts all done in red, titled A Dinner Set for Those Who Are Watching Bloody News While Having Dinner, brings the war in Ukraine home to the American audiences.
Wartime art of five young Ukrainian women artists is making direct and profound life-and-death statements in a manner that is both loud and clear.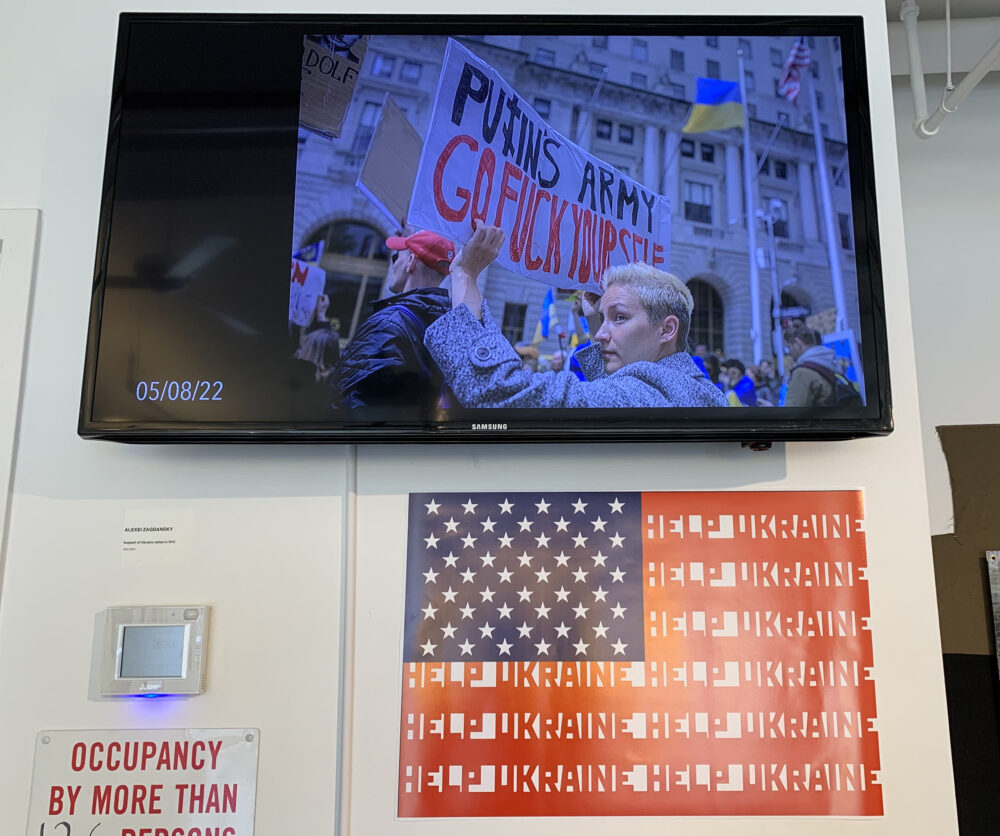 Ukrainian-born, New York street photographer Alexei Zagdansky (b. 1982, Kyiv) captures the American perspective on the conflict through his lens reflecting both his cultural background and his experiences in the United States. Since the first day of war Mr. Zagdansky has been photographing multiple NYC rallies and demonstrations in support of Ukraine. Mr. Zagdansky has created a video slide show comprised of 170 photographs selected from the many hundreds that he has taken around the city beginning on the first day of the war on February 24, 2022 and continuing to the present date. It was a particularly stirring experience to recognize familiar streets, squares, and parks revitalized and transformed by multitudes carrying the Ukrainian national blue and yellow flags and banners of various shapes and sizes, interspersed with a few star-spangled patches, all serving one unambiguous purpose: to help stop Russian aggression in Ukraine.
A lady with a blue-and-yellow wreath on her head dressed from head to toe in black, pressing a red broken heart to her chest in front of the New York Russian Consulate – one of the image captured by Mr. Zagdansky, along with a variety of public text art: "Stop Putin!"… "Stop the Genocide!"… "Ukraine Needs Your Support"…  "Russian Soldiers Rape Children"… "Putin, Hands Off Ukraine"… "Stand with Ukraine!"… "No War"…  "Love Wins, Ukraine Prevails"… "Thank You USA"… "Glory to Ukraine! Glory to the Heroes!" The long-standing battle cry of the Armed Forces of Ukraine resonates on both sides of the Atlantic.  
©  2023
The exhibition is open till April 29
at the Bronx River Art Center, NYC
1087 East Tremont Ave. Bronx, NY