CARMEN HERRERA – WORKS ON PAPER 2010-2012 – LISSON GALLERY – MILAN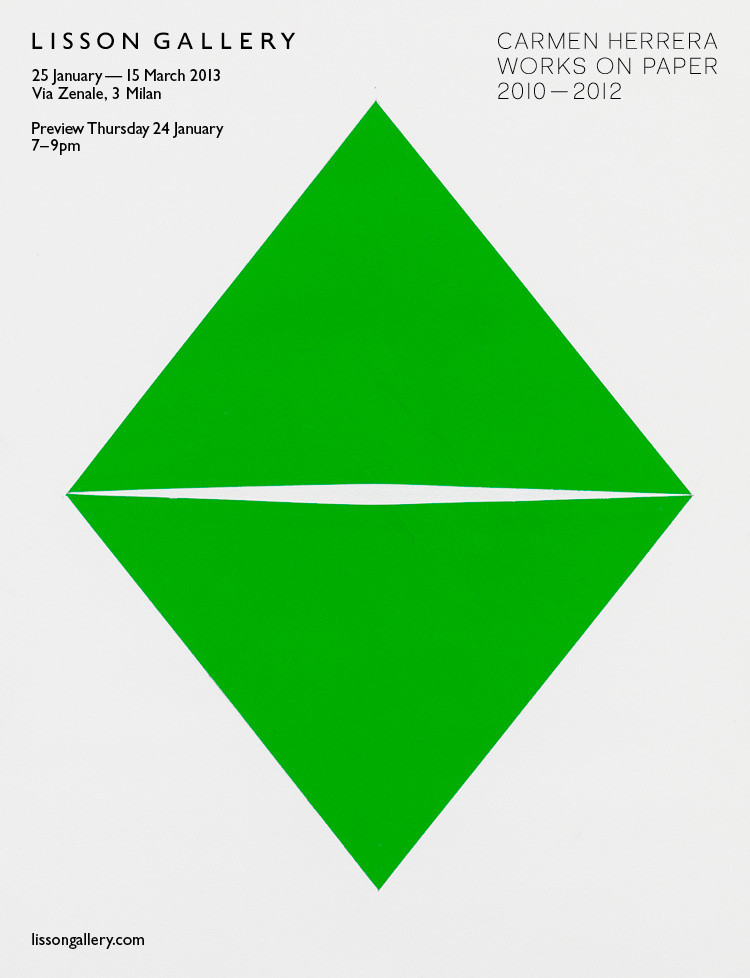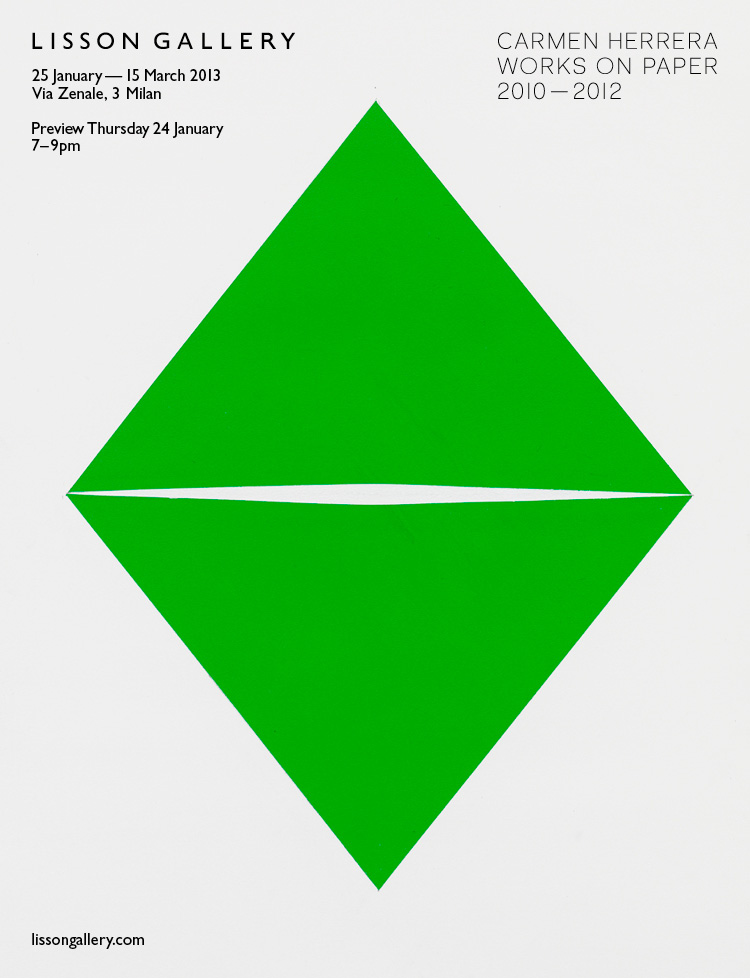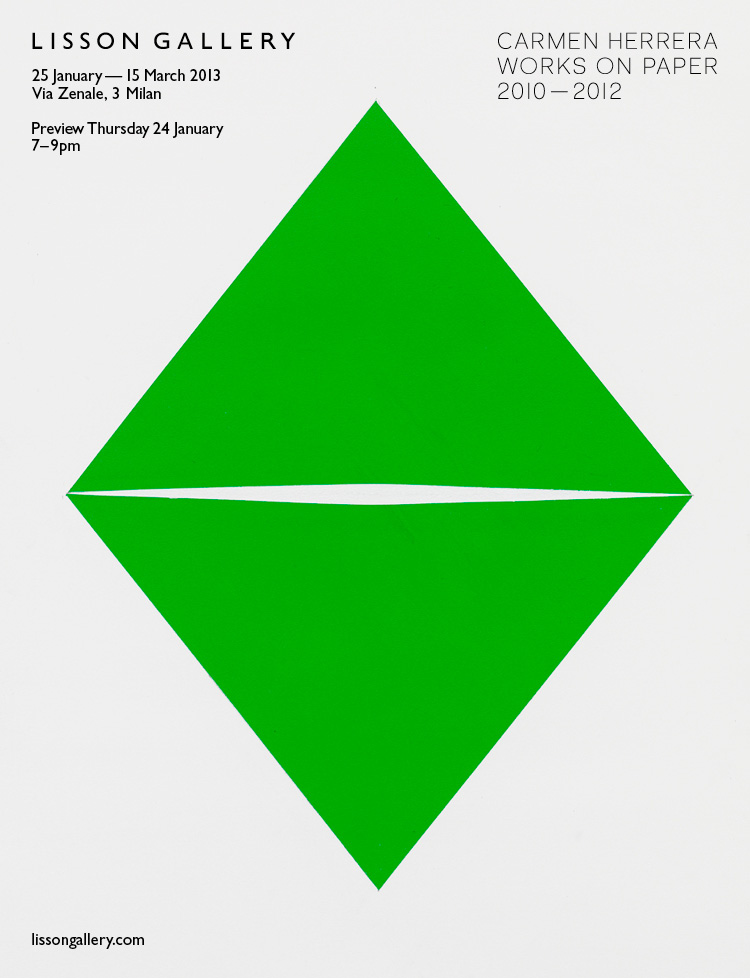 Carmen Herrera
Works on Paper 2010 – 2012
25 January – 15 March 2013
Via Zenale 3, Milan
Lisson Gallery Milan presents an exhibition of new works on paper by Carmen Herrera. Herrera produced a number of paintings on paper throughout the 1960s, but subsequently focused on canvas until revisiting the medium in 2010.
This new body of work showcases not only her revised treatment of the medium but also a new dimension to her work. There will be a catalogue of 42 works to accompany this exhibition with an essay written by Estrellita B. Brodsky.
Preparatory drawing lies at the core of Herrera's practice and is the starting point for all her work. Herrera begins the process of making these paintings (comprising pencil and acrylic on paper) with mathematical drawings on tracing paper that are governed by lines, numbers and disciplined decisions. It is here that the compositional rationale and choice of colour are formulated. As the works shown here demonstrate, once translated onto larger paper, of two different sizes carrying the same proportions, her mathematical precision and clarity of vision are expressed through a variety of shapes, structures and spatial relationships.
Composed of reductive geometric forms, floating yet grounded on their white backgrounds, these works engage with a similar pictorial vocabulary to Herrera's paintings on canvas. Here however, the arrangements are defined and contained within a frame inside the paper's edge: the structures and blocks of colour are delineated and reined in by these parameters. Form defined by colour and its purification has been a central characteristic of Herrera's work since she exhibited at the Salon des Réalités Nouvelles between1949 and 1953.
Untitled (2012) (figure 1.) demonstrates Herrera's mirroring and reversal that suggests an invisible line bisecting the work with perfect symmetry. Untitled (2012) appears as a solid white space fractured by a black void, or negative space, rendered in matt black gesso suggestive of a third dimension. As in much of Herrera's work, this void, a space in which and over which the form lies, can be attributed to her architectural studies in Havana during 1937 – 1938.
In Untitled (2012) (figure 2.) two shapes shift along the diagonal bisection of the paper, resulting in opposing green trapezoids expanding and diverging to the extremities of the pencil frame. The forms coalesce at the central point of the paper, held in tension and unexpected asymmetry.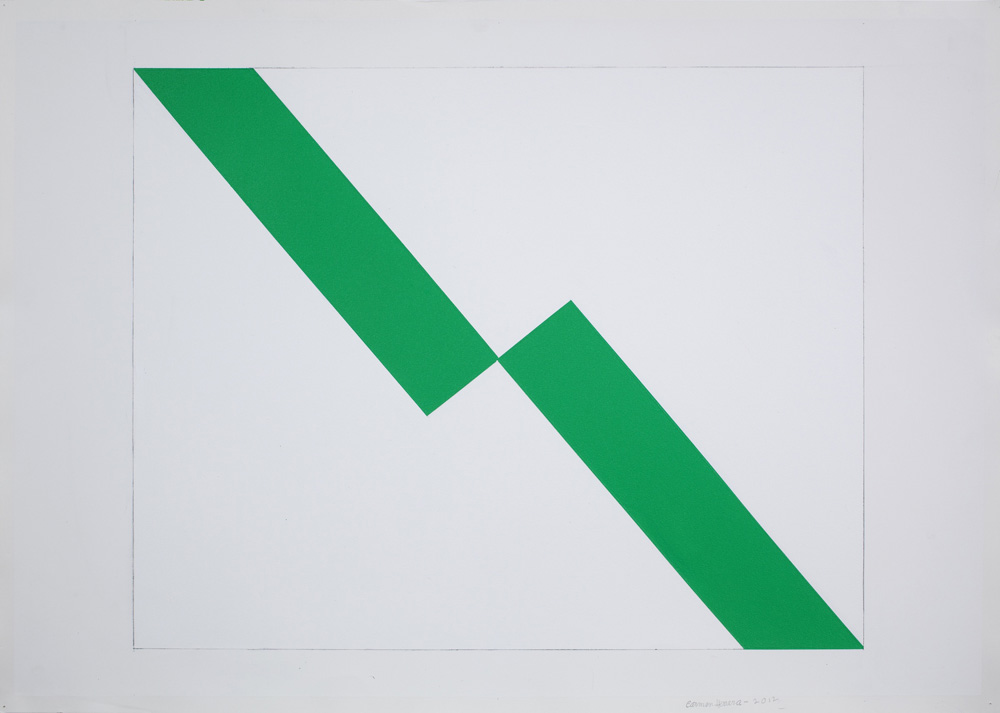 About the artist
Carmen Herrera (B.1915 Havana, Cuba) lives and works in New York City.
Previous solo exhibitions include Lisson Gallery, London (2012); Museum Pfalzgalerie, Kaiserslautern (2010); Ikon Gallery, Birmingham (2009); Miami Art Central (2005); Museo del Barrio, New York (1998); The Alternative Museum, New York (1984); Group exhibitions include Sheldon Museum of Art, Nebraska (2012); Deutsche Bank, New York (2010); Museum of Modern Art,  New York (2007); Discovery Museum, Bridgeport (1997).
Exhibit ion Facts
Opening Hours: Monday – Friday, 9.30am – 1pm and 3pm- 6pm. Saturday – by appointment only
Location: Via Zenale, 3, Milan – Tel: +39 02 89050608
For Lisson Gallery exhibition press information and images please contact:
Toby Kidd at Pelham Communications
Tel: +44 (0)20 8969 3959 – Email: toby@pelhamcommunications.com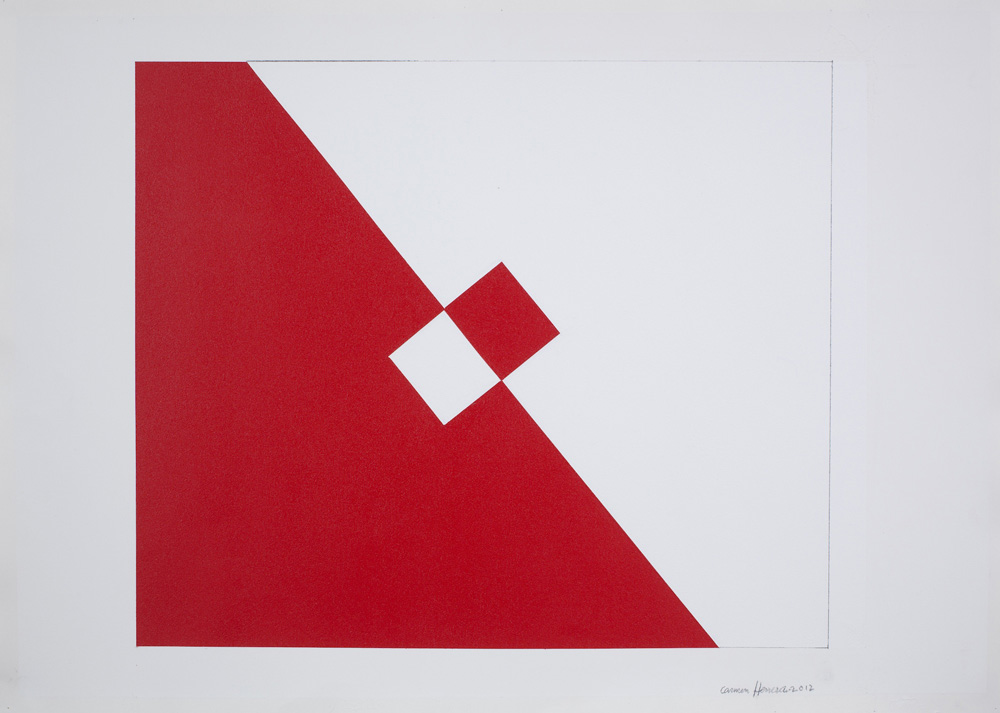 Carmen Herrera
Works on paper 2010 – 2012
25 gennaio  – 15 marzo 2013
Lisson Gallery Milan – Via Zenale 3
Inaugurazione: giovedì 24 gennaio 2013, ore 19 – 21
Lisson Gallery Milan è lieta di presentare una mostra personale di Carmen Herrera, interamente dedicata alle sue nuove opere su carta.
Nel corso degli anni Sessanta, l'artista, nata a Cuba nel 1915, ha principalmente lavorato su questo materiale, per poi in seguito concentrarsi sulla tela, sino a quando nel 2010 è di nuovo tornata alla carta, rivisitandone le possibilità espressive. Questo nuovo corpus di lavori mette in luce non solo il diverso modo che l'artista ha di trattare il mezzo, ma anche la nuova dimensione che il suo lavoro artistico ha assunto.
Il disegno preparatorio si colloca al centro della pratica artistica di Herrera ed è il punto di partenza per tutto il suo lavoro. Herrera dà inizio al processo creativo di questi dipinti (che comprende l'uso di matita e acrilico su carta) con disegni matematici su carta da lucido, nei quali sono combinati nsieme linee, numeri e decisioni rigorose. È qui che la logica compositiva e la scelta dei colori vengono formulate. Le opere in mostra dimostrano che –  una volta trasferiti su carta di grande formato i due disegni basati sulle stesse proporzioni – la precisione matematica dell'artista e la sua chiarezza di visione danno luogo a una varietà di forme, strutture e relazioni spaziali.
Composte da forme geometriche essenziali che galleggiano su sfondo bianco, queste opere si misurano con un vocabolario visivo che ricorda i dipinti su tela di Herrera. La somiglianza è innegabile. Qui però, i contorni rimangono definiti all'interno di una cornice disegnata sulla carta: la struttura e i campi di colore sono delineati e racchiusi entro precisi parametri. La forma definita dal colore, con la sua conseguente purificazione, è una caratteristica centrale nel lavoro di Herrera sin da quando ha esposto al Salon des Réalités Nouvelles tra il 1949 e il 1953.
Untitled (2012) (fig.1) mostra la dimensione di specularità e di inversione suggerita da una bisettrice invisibile che crea una perfetta simmetria. Untitled (2012) appare come uno spazio solido bianco, fratturato da un vuoto nero, o spazio negativo, realizzato in gesso nero opaco a suggerire la possibilità di una terza dimensione. Come nella maggior parte del lavoro Herrera, questo vuoto, ovvero lo spazio in cui e su cui la forma si viene a trovare, può essere ricondotto agli studi di architettura fatti dall'artista a L'Avana durante il 1937-1938.