JASON MARTIN PAINTINGS AS SCULPTURE – LISSON GALLERY – MILAN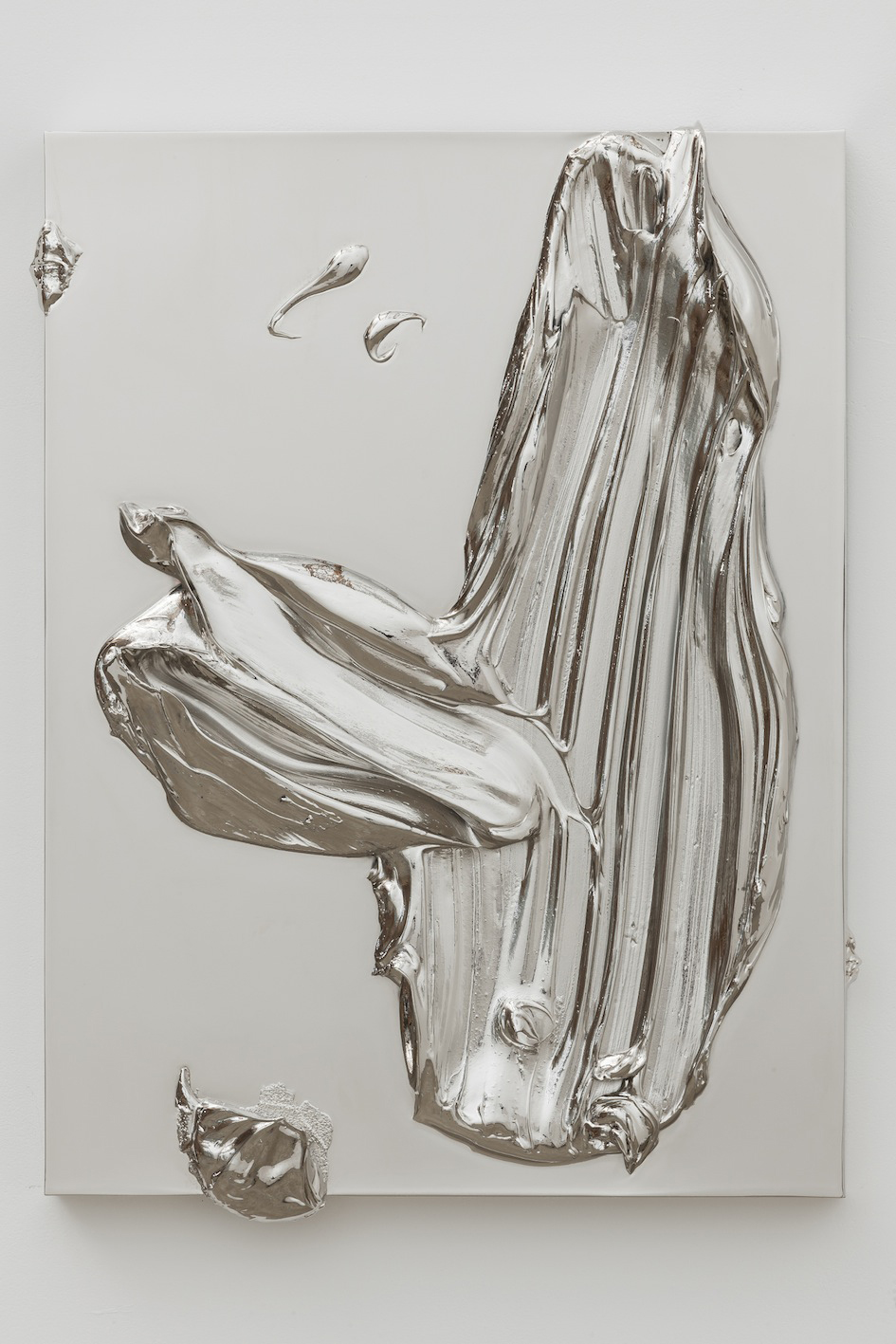 Jason Martin
Painting as Sculpture
21 November 2013 – 10 January 2014
Via Zenale 3, Milan
For his sixth solo show with Lisson Gallery, British artist Jason Martin presents a new series of cast copper and nickel works. Trained as a painter in oil and acrylic, Martin began manipulating his chosen material in the early 1990s, dragging, scraping, combing, raking and squeegeeing paint across the surfaces of his canvases and aluminium panels until their edges bled colour and the surfaces picked up textures, gestures and happenstance along the way. This performative process has been complicated in this latest set of cast works, available exclusively through Lisson Gallery, in which thick impasto marks made from brusque, almost baroque sweeps of hand-sculpted material have been solidified into metal in the manner of traditional bronze sculptures or statues.
This jewel-like series of eight panel reliefs hovers between dual registers: between painting and sculpture, between the singular and the serial, between movement and stasis and even between abstraction and figuration, as each viewer is mirrored in the smooth, unpainted sections of the supports. Bravura swirls and snaking rivulets of painterly gesture form endlessly perusable eddies of incident and yet the metallic sheen refutes and repels easy interpretation, making these simultaneously seductive and unyielding, adamantine objects.
Martin has further explored the boundary between painting and sculpture in a new floor-bound sculptural work, which resembles a giant, alien seedpod or a chromed meteorite crashed in the gallery courtyard. Also cast in electro-polished steel, this composite object is based on chunks of virgin cork bark found near his studio in Portugal. Its knotty, abstract exterior adding a further remove from the notion of handmade artistic expression normally ascribed to painting.
About the artist
Jason Martin effects oscillations between sculpture and painting, with the vigour of action painting but a controlled hand. He is perhaps best known for his monochromatic paintings, where layers of oil or acrylic gel are dragged across hard surfaces such as aluminium, stainless steel or Plexiglas with a fine, comb-like piece of metal or board in one movement, often repeated many times. Striations catch the light, their rhythmic textures suggestive of the ridges in a vinyl record, strands of wet hair, the grain of a feather – and whose titles flirt with association (Comrade, Amphibian, Corinthian). Martin does away with paint altogether in his wall-mounted casts of copper, bronze and nickel, whose surfaces are unctuous but frozen. In pure pigment works, vivid colour is applied to moulded panels, whose baroque contortions appear like an extreme close-up of a painter's palette. These raw, worked surfaces find their equal and opposite in the recent sculpture Behemoth (2012), where the object (a huge cubic pile of cork on the floor) is impregnated with black pigment, rendering it a mass of surface.
Born in Jersey in 1970, Jason Martin lives and works in London and Portugal. He has a BA from Goldsmiths, London (1993). Solo exhibitions include Le Consortium, Dijon, France (2012), Peggy Guggenheim collection, Venice, Italy (2009), Es Baluard Museu d'Art Modern i Contemporani de Palma, Majorca (2008), Kunstverein Kreis Gŭtersloh, Germany (2007), Centro de Arte Contemporáneo de Málaga, Spain (2005). He was a prizewinner in John Moores 21, Liverpool Biennial of Contemporary Art, UK (1999) and of the Golfo della Spezia, European Biennial of the Visual Arts, La Spezia, Italy (2000). His work is held in numerous international public collections including the Government Art Collection, UK; Denver Art Museum, USA; Hirshhorn Museum, Washington DC, USA; Städtische Galerie, Germany and the Centro Arte Moderna e Contemporanea della Spezia, Italy.
About Lisson Gallery
Lisson Gallery is one of the most influential and longest-running international contemporary art galleries in the world. Established in 1967 by Nicholas Logsdail, it pioneered the early careers of important Minimal and Conceptual artists, such as Sol LeWitt and Richard Long, as well as those of significant British sculptors from Anish Kapoor and Tony Cragg to a younger generation, including Ryan Gander and Haroon Mirza. Lisson Gallery represents 44 of the most exciting artists working today, including Marina Abramović, Allora and Calzadilla, Ai Weiwei, Gerard Byrne, Nathalie Djurberg & Hans Berg, Liu Xiaodong, Tatsuo Miyajima, Pedro Reyes and Santiago Sierra. With two exhibition spaces in London, one in Milan and an office in New York, the gallery supports and develops these artists globally, while the Lisson Presents programme also extends a legacy of curatorial innovation beyond the gallery spaces, working with institutions and artists to present new initiatives around the world.
Exhibition Facts
Opening Hours: Monday-Friday 10am-6pm
Location: Via Zenale 3, 20123 Milan
Tel: +39 02 8905 0608
Website: www.lissongallery.com
For press information and images please contact:
Paola C Manfredi Studio (Italy) – Tel: +39 02 87 23 80 – Email: press@paolamanfredi.com
Amy Sutcliffe and Victoria Wedderburn at Pelham Communications
Tel: +44 20 8969 3959 – Email: amys@pelhamcommunications.com or victoria@pelhamcommunications.com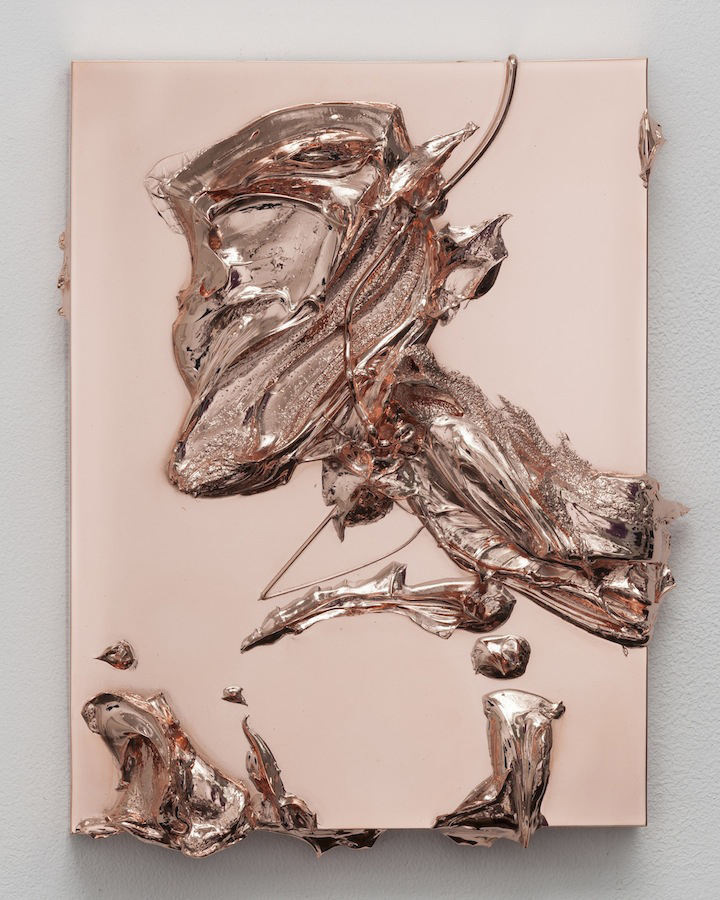 LISSON GALLERY MILAN
Jason Martin | Painting as Sculpture
21 novembre 2013 – 10 gennaio 2014
Lisson Gallery Milan – Via Zenale 3
Inaugurazione: giovedì 21 novembre 2013, ore 19 – 21
Per la sua sesta personale in collaborazione con Lisson Gallery, la prima realizzata negli spazi di via Zenale 3 a Milano, l'artista britannico Jason Martin presenta una nuova serie di opere in rame e nichel.
Con una formazione artistica in pittura a olio e acrilici, Jason Martin inizia a utilizzare nei primi anni '90 quelli che diverranno i suoi materiali d'elezione, trascinando, grattando, pettinando, rastrellando, spazzolando via il colore sulla superficie di tele e pannelli di alluminio, fino a far colare il colore dai bordi, e a dare consistenza e movimento alle superfici. Questo processo performativo alla base delle sue creazioni diventa più complesso nelle ultime serie di opere in metallo fuso, disponibili solamente attraverso Lisson Gallery. Gli spessi segni dell'impasto di pittura sono stati solidificati in metallo alla maniera delle tradizionali sculture o statue di bronzo, e realizzati con bruschi, quasi barocchi, colpi di materiale scolpito a mano.
Questa serie di otto bassorilievi simili a gioielli oscillano tra dualità di registri: pittura e scultura, singolare e seriale, movimento e stasi, e persino tra astrazione e figurazione, come se ogni spettatore si rispecchiasse nelle levigate sezioni non dipinte dei supporti. I vortici e i rivoletti serpeggianti ottenuti tramite il gesto pittorico formano mulinelli senza fine che si scontrano. E tuttavia la lucentezza metallica rifiuta e respinge l'interpretazione facile, rendendo questi oggetti adamantini e al tempo stesso seduttivi e impenetrabili.
Per la realizzazione dell'opera esposta all'esterno, Jason Martin si è spinto ancora più in là nell'esplorazione del legame tra pittura e scultura, con una nuova opera scultorea fissata al suolo:  una sorta di gigantesco baccello di origine aliena o un meteorite cromato, schiantatosi nel cortile della galleria. Anch'essa fatta di acciaio lucidato con la tecnica dell'elettrolucidatura, quest'opera composita è realizzata con pezzi di corteccia di sughero vergine che Martin ha trovato nei dintorni del suo studio in Portogallo. La sua astratta e nodosa superficie esterna conduce a un'ulteriore rimozione dalla nozione di espressione artistica del "fatto a mano" che normalmente è ascritto alla pittura.
L'artista
Jason Martin mette in atto oscillazioni tra scultura e pittura, con il vigore dell'action painting ma con mano controllata. È probabilmente noto soprattutto per i suoi monocromi, dove strati di pittura a olio o gel acrilico sono trascinati su superfici dure come alluminio, acciaio inossidabile o plexiglas con un pezzo di metallo a forma di pettine o una tavola in un unico movimento, spesso ripetuto molte volte. Le striature catturano la luce, le loro consistenze ritmiche suggeriscono i rilievi su un disco vinile, ciocche di capelli bagnati, le venature di una piuma – e i titoli flirtano con le associazioni (Comrade, Amphibian, Corinthian). Martin si sbarazza completamente dei colori nelle sue opere di rame, bronzo e nichel appese al muro, le cui superfici sono oleose ma congelate. Nelle sue opere di puro pigmento, il colore vivido è applicato ai pannelli modellati, le cui contorsioni barocche appaiono come un estremo primo piano della palette del pittore. Queste superfici crude ma allo stesso tempo elaborate trovano il loro uguale e opposto nella recente scultura Behemoth (2012), dove l'oggetto (un'enorme pila cubica di sughero sul pavimento), è impregnata di pigmento nero, che lo rende una massa di superficie.
Nato sull'isola di Jersey nel 1970, Jason Martin vive e lavora tra Londra e il Portogallo. Ottiene una laurea in discipline artistiche alla Goldsmiths, Londra (1993). Le sue esposizioni personali includono Le Consortium, Digione, Francia (2012), Peggy Guggenheim Collection, Venezia, (2009), Es Baluard Museu d'Art Modern i Contemporani de Palma, Maiorca (2008), Kunstverein Kreis Gŭtersloh, Germania (2007), Centro de Arte Contemporáneo de Málaga, Spagna (2005). Ha vinto il premio John Moores 21, Liverpool Biennial of Contemporary Art, Regno Unito (1999) e del Golfo della Spezia, European Biennial of the Visual Arts, La Spezia, Italy (2000). I suoi lavori sono esposti in numerose collezioni pubbliche internazionali tra cui la Government Art Collection, Regno Unito; Denver Art Museum, USA; Hirshhorn Museum, Washington DC, USA; Städtische Galerie, Germania e il Centro Arte Moderna e Contemporanea della Spezia, Italia.
Lisson Gallery
Lisson Gallery è una delle più influenti e longeve gallerie internazionali d'arte contemporanea al mondo. Fondata nel 1967 da Nicholas Logsdail, ha aperto la strada alle carriere giovanili di alcuni importanti artisti minimalisti e concettuali, come Sol LeWitt e Richard Long, così come a quella di rilevanti scultori britannici, da Anish Kapoor a Tony Cragg fino alla generazione più giovane, guidata da Ryan Gander e Haroon Mirza. Lisson Gallery rappresenta 42 tra i più innovativi ed emozionanti artisti contemporanei, inclusi sei vincitori del Turner Prize e molti che hanno ricevuto il Leone d'Argento alla Biennale di Venezia. Con due spazi espositivi a Londra, uno a Milano e un ufficio a New York, la galleria supporta e aiuta a livello globale la crescita degli artisti, tra cui figurano Marina Abramovič, Allora and Calzadilla, Ai Weiwei, Gerard Byrne, Liu Xiaodong, Tatsuo Miyajima, Rashid Rana, Pedro Reyes e Santiago Sierra. Il programma Lisson Presents  estende questo patrimonio di innovazione curatoriale al di là gli spazi della galleria stessa, attraverso un lavoro in collaborazione con le istituzioni e gli artisti per presentare nuove iniziative in tutto il mondo.
Informazioni Pratiche
JASON MARTIN
Paining as Sculpture
21 novembre 2013 – 10 gennaio 2014
Orari di Apertura: da lunedì a venerdì
Sede: via Zenale 3, 20123 Milan30 – 13.00 e 15.00 – 18.00 – Sabato su appuntamento
Tel:  +39 02 89 05 06 08 – Sito web: www.lissongallery.com – e-mail:  milan@lissongallery.com
Contatti per la stampa
PCM Studio: Via Archimede, 6 – 20129 Milano – Tel: +39 393 46 95 107
press@paolamanfredi.com – Facebook  Paola C. Manfredi Studio – Twitter @PCMstudio