LUCIO FONTANA – CATALOGUE RAISONNE' OF THE WORKS ON PAPER – EDITED BY LUCA MASSIMO BARBERO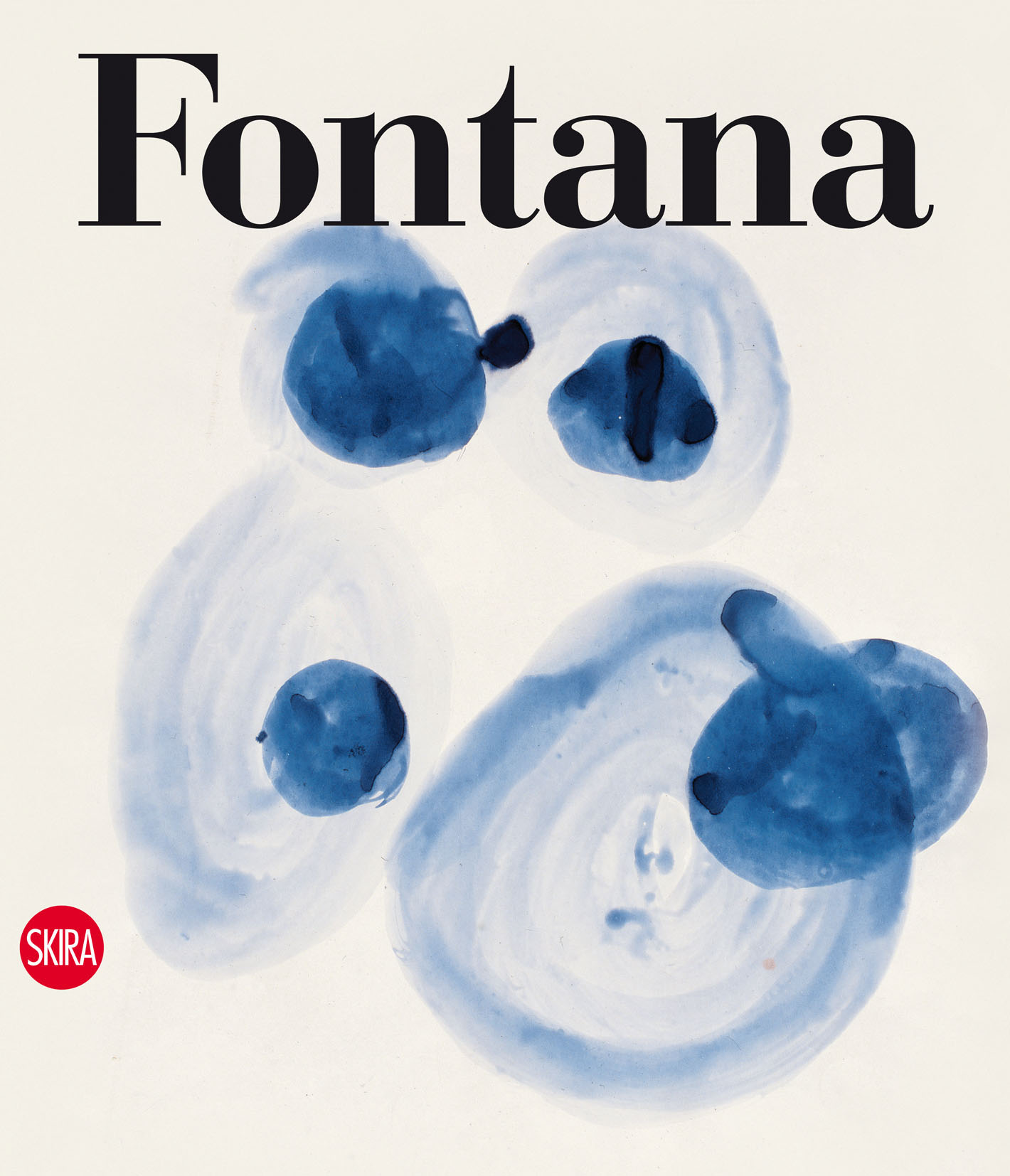 Wednesday, November 20th, at 6pm
Sala Fontana, Museo del Novecento
via Marconi 1 (corner Piazza Duomo), Milan
BOOK LAUNCH
Lucio Fontana
Catalogue raisonné of the works on paper
Edited by Luca Massimo Barbero
in collaboration with Nini Ardemagni Laurini and Silvia Ardemagni
Speakers include:
Bernard Blistène
Director of the Department of Cultural Development,
Centre Pompidou, Paris
Enrico Crispolti
Editor in chief of the catalogues of Lucio Fontana's work
Vittorio Gregotti
Architect
Luca Massimo Barbero
Curator of the Catalogue raisonné
On Wednesday, November 20th, at 6pm, in the Sala Fontana at the Museo del Novecento in Milan, curator Luca Massimo Barbero will present the first Catalogue raisonné of the works on paper by Lucio Fontana (Rosario de Santa Fe, 1899 – Varese, 1968). The Catalogue is published by Skira.
The Catalogue raisonné of the works on paper by Lucio Fontana is one the most complete, cutting edge publications on this fundamental aspect of the work of one of the leading protagonists of artistic development in the twentieth century.
Edited by Luca Massimo Barbero, the catalogue follows a chronological order and is divided into sections devoted to the diverse directions explored by the artist in his wide-ranging creative activities. It offers a new privileged point of view, an original, all-round take on the evolution of Fontana's entire oeuvre.
Experimentation on paper was, in fact, Fontana's chosen means to test the richness and novelty of his inspiration. Through his works on paper he constantly verified his insights,
both in the embryonic and defining stages of his formal and conceptual discoveries.
The result of the monumental work of archival documentation and ascertainment of authenticity carried out by the Fondazione Lucio Fontana, the Catalogue raisonné, produced in collaboration with Nini Ardemagni Laurini and Silvia Ardemagni, covers four decades of the artist's creative activity. Divided into three volumes with an introductory preface by Enrico Crispolti, editor in chief of the catalogues of Lucio Fontana's work, it presents an essay by Luca Massimo Barbero constituting an initial scholarly contribution
to the systematic historicization of the work on paper.
Altogether, the catalogue is comprised by 1200 pages, divided in three volumes and includes around 6000 works produced between 1928 and 1968, complete with descriptions including bibliography and exhibitions.
From the surprising corpus of figurative drawings produced parallel to the abstract work as from the 1930s, we arrive at the original invention of Spatial Art and the birth of the series of Buchi (Holes), Ambienti Spaziali (Spatial Environments) and Tagli (Cuts).
The study also presents the first-ever extensive documentation of the artist's dialogue with architecture and decoration to the point of experimentation of unusual materials and techniques, thus offering scholars, collectors, gallery owners and museum curators an essential and up-to-date tool of knowledge for Fontana's work.
For further information
Studio Luca Massimo Barbero: e-mail: studio@lucamassimobarbero.com – mob.: +39 3479502563Studio LMB · Via Pila della Pila, 40 · Venezia, VE 30124 · Italy
.-.-.-.
Mercoledì 20 novembre, ore 18.00
Sala Fontana del Museo del Novecento
via Marconi 1 (angolo Piazza Duomo), Milano
PRESENTAZIONE
Lucio Fontana
Catalogo ragionato delle opere su carta
a cura di Luca Massimo Barbero
con la collaborazione di Nini Ardemagni Laurini e Silvia Ardemagni
Intervengono:
Bernard Blistène
direttore del Dipartimento per lo sviluppo culturale
al Centre Pompidou di Parigi
Enrico Crispolti
curatore dei Cataloghi ragionati
delle opere di Lucio Fontana
Vittorio Gregotti
architetto
Luca Massimo Barbero
curatore della pubblicazione
Mercoledì 20 novembre alle ore 18.00, presso la Sala Fontana Museo del Novecento di Milano, Luca Massimo Barbero presenta il primo Catalogo ragionato delle opere su carta di Lucio Fontana (Rosario de Santa Fe, 1899 – Varese, 1968), pubblicato dall'editore Skira.
Frutto del monumentale lavoro di archiviazione e di documentazione di autenticità della Fondazione Lucio Fontana, il Catalogo Ragionato, curato da Luca Massimo Barbero e realizzato in collaborazione con Nini Ardemagni Laurini e Silvia Ardemagni, ripercorre quattro decenni di attività creativa dell'artista e rappresenta la più completa e avanzata pubblicazione esistente su questo fondamentale aspetto dell'opera dell'artista, uno dei massimi protagonisti delle vicende artistiche del XX secolo.
Articolato in tre tomi, per un totale di 1200 pagine e circa 6000 schede di opere, il Catalogo ragionato delle opere su carta è introdotto da una prefazione di Enrico Crispolti, curatore di tutti i Cataloghi ragionati dell'opera di Lucio Fontana, e presenta un saggio di Luca Massimo Barbero che costituisce un primo contributo scientifico esteso alla storicizzazione sistematica dell'opera su carta.
Ordinato cronologicamente e suddiviso secondo le diversificate tipologie operative che si riscontrano entro l'amplissima attività creativa dell'artista, questo catalogo costituisce un nuovo punto di vista privilegiato e largamente inedito per percorrere a tutto tondo l'intero sviluppo dell'opera fontaniana.
La sperimentazione su carta è infatti per Fontana il luogo d'elezione in cui si misura la ricchezza e la novità della sua ispirazione. Tramite l'opera su carta l'artista verifica continuamente le sue intuizioni, nella fase germinale e poi risolutiva delle sue scoperte sia formali che concettuali. Questi disegni sono in grandissima parte inediti e rappresentano perciò un corpus eccezionale nell'ambito dell'opera di Lucio Fontana.
Inoltre, in questa occasione viene presentata la prima estesa e inedita documentazione riguardo al dialogo con l'architettura e con la decorazione, sino alla sperimentazione di tecniche e materiali inconsueti, offrendosi quale strumento essenziale e aggiornato di conoscenza dell'opera di Fontana per studiosi, collezionisti, galleristi e operatori museali.
Contatti
Studio Luca Massimo Barbero: e-mail: studio@lucamassimobarbero.com – mob.: +39 3479502563