SLOVENIAN PAVILION – UTTER. THE VIOLENT NECESSITY FOR THE EMBODIED PRESENCE OF HOPE BY JAŠA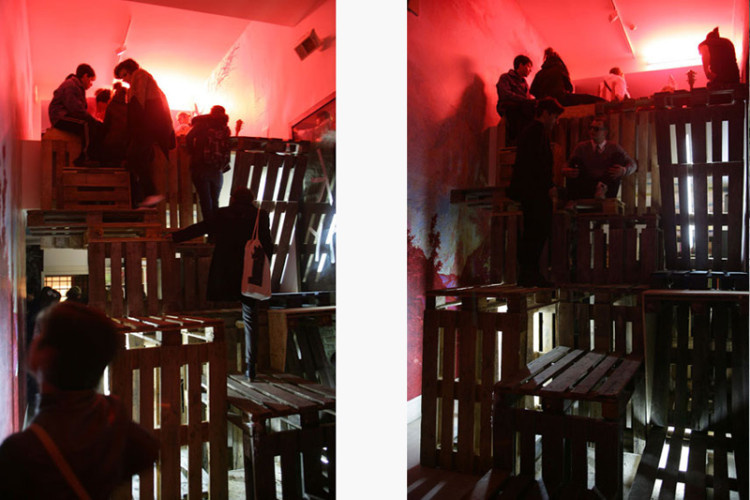 Slovenian pavilion
10.03.2015
UTTER. THE VIOLENT NECESSITY FOR THE EMBODIED PRESENCE OF HOPE BY JAŠA
Venice Biennale Arte
May 9th – November 23th, 2015
Venue: Arsenale
The Slovene pavilion at the 56th Venice Art Biennal will present the project orchestrated by JAŠA:UTTER. The violent necessity for the embodied presence of hope.
JAŠA's impetus is to unite various signifying points of view. He seeks to tie disparate strands of thought to one another, and evolve these modalities on temporal and spatial levels. His installations shape and define the space they create, recognizing it as a malleable and sentient locale. His work in empowered by the integration of media activated by an ongoing dialogue with an audience. The artwork is an open workshop in continuous transformation, both for the performer and the spectator. Similar to the process of El Lissitzky's Abstract Cabinet, where nothing is static and closed, JAŠA translates and transforms the space into a locus of ecstatic, imperative production.
Through the creation of infinite variations of the relation, UTTER performs as a radical structure built among spectators—thus it includes them in a sort of architecture of action. The entire space of the pavilion is used as a concrete space for creative disciplines—literature, photography, architecture, sculpture, painting, lighting, acting, singing, music— and presents these elements as an organic work, with its own structure and integrity. Organized in weekly subdivisions, the piece repeated for the duration of the Biennial. UTTER is a workshop of situations, an area of artistic research that nourishes itself through numerous collaborations. The architectural elements that assemble the structure, in fact, encircle an inner space, a sort of agora—the operational and emotional heart of all the activities. The main interest of the artist is to find the right physical composition based on a perceptual and emotional communion with the spectators. Through moving bodies, clashing objects, intonation of texts and association of sounds, the performance itself becomes music: UTTER is a dynamic orchestration.
The idea conceived by JAŠA the architectural structure and its consequence interaction with the performances and the public are leading us to rethink our private sphere and intimacy as well as our fantasies and feelings, which in the today society are increasingly immediately externalized in the public symbolic space.
And as it has remarked Slavoj Zizek, this externalisation is lacking of authenticity. The consequence is that these actions in the public sphere are more and more staged and more and more under the rule of political correctness. We live in an age of great personal freedom, yet the space where this freedom manifests itself is getting more and more restricted. Like an invisible architecture, economic, political and social barriers limit idiosyncratic behaviour and expression. UTTER, on the contrary, aspires to transport our authentic emotional life into the public sphere. As a contemporary rhapsodic individual, JAŠA uses poetry and art to establish an alchemy of correlations. UTTER has the ambition to embody the violent necessity of hope.
JAŠA (Mrevlje-Pollak) was born in Ljubljana in 1978. He studied at the Accademia di Belle Arti in Venice and has since been a unique presence in Europe's artistic landscape. He is one of Slovenia's most prolific and influential contemporary artists, driven by his distinctive interpretations of situation, narrative, sculpture and performance; an artist who transforms spaces into experiences and propels them toward their poetic potential.
Pushing artistic boundaries through uncompromising vision for almost two decades, JAŠA has created a rich and remarkable body of work that includes multiple critically acclaimed solo shows and projects in Europe and the US. In his two active studios in New York and Ljubljana, Slovenia, JAŠA has created a unique environment, one which allows him to cultivate contextual and visual eventuality that is integral to his work.im to cultivate contextual and visual eventuality that is integral to his work.
CURATORS: Michele Drascek, Aurora Fonda
COMMISSIONER: Simona Vidmar
PRODUCER: UGM | Maribor Art Gallery
SUPPORTED BY: Ministry of Culture Slovenia
IN COLLABORATION WITH: WEARE Production
EXECUTIVE PRODUCER & ART DIRECTOR: Rosa Lux
CHIEF STRATEGIST: Ayal Brenner
EDITOR IN CHIEF: Aimee Walleston
PR & PROJECT ORGANISATION SUPPORT: Jure Kirbiš
ARTISTIC COLLABORATIONS: Junzi (Performance & Sound), Michele Drascek (Performance), Meta Grgurevič (Kinetic Elements And Artistic Overview), Bowrain (Music), Etan Nehcin (Writer), Kuno Mayer (Structural & Architectural collaboration).
CONTACTS: T/F +39 041 2770466 – Cell: 3477122456 – press.sloveniabiennale@yahoo.com