EUGENIO CARMI – ANTONIO BATTAGLIA GALLERY – MILAN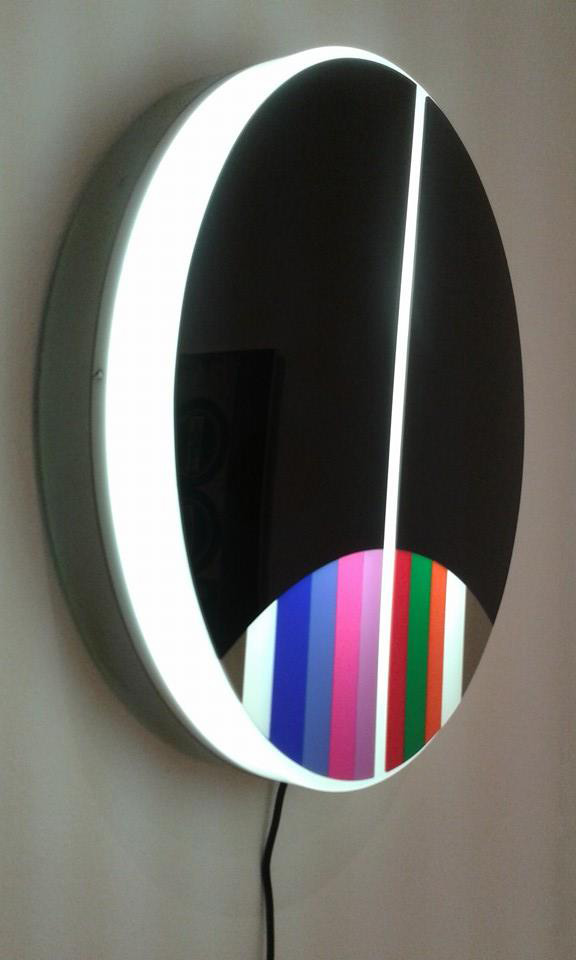 EUGENIO CARMI
The harmony of experimentation
Curated by Claudio Cerritelli
Opening Thursday 28 May 2015, from 6.30 p.m. – Until 27th June
Antonio Battaglia Gallery
Via Ciovasso 5 – 20121 Milano (Italy)
+ 39 0236514048 – www.galleriaantoniobattaglia.com
"Una continua ricerca astratta, sempre contemporanea, di immagini geometriche con infinite varianti strutturali…. Piani simultanei di colore e ritmi sospesi nell'incanto del vuoto, oltre la ricerca del silenzio per sottrarsi al rumore invasivo dei linguaggi di massa… " Claudio Cerritelli
.-.-.-.-.
On the occasion of EXPO 2015, Antonio Battaglia Gallery is pleased to announce the solo exhibition of Eugenio Carmi, after the important retrospective which Palazzo Ducale in Genova has dedicated to him in order to celebrate his long artistic life.
One of the protagonists of concrete abstraction, Eugenio Carmi is presented in this exhibition by the various phases which have signed his career. From art consultant of Italsider, the largest Italian steel firm, to a well-known painter, from the sixties series of litographed sheets of tin plate realized with industrial printed proof to the series of "imaginary electric signs" made of plexiglas and neon lights in the seventies with rigorous geometric forms which characterize his work, up to arrive at juta canvases from eighties to nowadays, where poetic coloured fields prevail.
What affects in this itinerary is the coherence which shows from all the different works: an harmony which is not static and motionless but fluid and dynamic, an harmony which has met different tolls and techniques, using the same attention to details, geometric composition and visual perception.
Art tends to frame the artist's work in movements and tendencies, we can see Eugenio Carmi as an experimenter or, how he describes himself, an "image-maker".
On this occasion, a catalogue with a text-interview by Claudio Cerritelli will be published.
The exhibition will continue until 27th June:
Tuesday – Saturday: 11 – 1.30 p.m. / 3.30 – 7.30 p.m.
.-.-.-.
EUGENIO CARMI
L'armonia della sperimentazione
a cura di Claudio Cerritelli
Inaugurazione giovedì 28 maggio 2015, dalle ore 18,30
Termine della mostra: 27 Giugno 2015

In occasione di EXPO 2015, la Galleria Antonio Battaglia ha il piacere di inaugurare una mostra personale di Eugenio Carmi, dopo l'importante antologica che Palazzo Ducale di Genova gli ha dedicato a riconoscimento della sua lunga attività artistica.
La ricerca artistica di Eugenio Carmi, tra i protagonisti più interessanti nell'ambito dell'astrazione concreta ancora in attività, è qui rappresentata nelle varie tappe che hanno segnato la sua carriera, da art director della rivista aziendale dell'Italsider a pittore a tutto tondo, dai collage realizzati recuperando prove di stampa industriale, le cosiddette "latte litografate" degli anni sessanta, alla serie di "segnali immaginari elettrici" in plexiglass e luce al neon degli anni settanta con le rigorosissime forme geometriche che contraddistinguono il suo lavoro, fino ad arrivare alle tele di juta, che l'artista predilige dagli anni ottanta fino alle opere più recenti, dove predominano poetiche campiture di colore.
Ciò che colpisce in questo percorso è la coerenza che si riscontra sia nei lavori di segnaletica ideata per l'Italsider dei primi anni '60 sia nei quadri degli ultimi anni: un'armonicità non statica e inerte ma dinamica e fluida che si è confrontata di volta in volta con mezzi e strumenti diversi, avendo però alla base la cura del dettaglio, l'attenzione all'armonia della composizione geometrica e alla percezione visiva.
In arte si tende sempre a voler incasellare e inquadrare il lavoro di un artista in correnti e movimenti, nel caso di Eugenio Carmi si parla di uno sperimentatore o, come si definisce lui stesso, "un fabbricante di immagini".
Per l'occasione sarà pubblicato un catalogo con un testo-intervista di Claudio Cerritelli
La mostra proseguirà fino al 27 giugno
Orari: martedì-sabato, 11 – 13.30 / 15.30 – 19.30
GALLERIA ANTONIO BATTAGLIA
Via Ciovasso 5 – 20121 Milano
T/F + 39 0236514048 – info@galleriaantoniobattaglia.com
www.galleriaantoniobattaglia.com
Eugenio Carmi nato a Genova nel 1920. Vive e lavora a Milano.
Negli anni quaranta è a Zurigo, dove si laurea in chimica al Politecnico e dove è in contatto con i fermenti internazionali allora presenti nella città. Inizia a dipingere fin dagli anni del liceo e al suo ritorno in Italia studia a Torino sotto la guida di Felice Casorati. Fin dall'inizio degli anni cinquanta è tra gli esponenti dell'astrattismo italiano, prima con un linguaggio informale per poi giungere alla fine degli anni sessanta al rigore delle forme geometriche – ma sempre asimmetriche e "ribelli" -, forme che svilupperà progressivamente nel corso dei decenni successivi. Fino ad arrivare alle opere attuali che, come dice lui stesso, dialogano costantemente con le leggi della natura e che, attraverso interventi materici, riportano nella geometria un certo spirito delle opere degli anni cinquanta e sessanta. La sua prima mostra personale, curata da Gillo Dorfles, è alla Galleria Numero di Firenze. È stato art director dell'Italsider dal 1958 al 1965, come responsabile dell'immagine.
Nel 1963 fonda la Galleria del Deposito, a Boccadasse, in riva al mare, dove passarono artisti come Lucio Fontana, Agostino Bonalumi, Paolo Scheggi, Achille Perilli, Max Bill, Victor Vasarely e altri esponenti della scena artistica e culturale internazionale di quel periodo.
Nel 1973 per la RAI ha realizzato un programma completamente astratto di 25 minuti per il Servizio Programmi Sperimentali, nello stesso anno ha tenuto seminari di arte visiva al Rhode Island Institute of Design di Providence negli Stati Uniti e negli anni settanta ha insegnato all'Accademia di Macerata e all'Accademia di Ravenna. Ha illustrato tre favole di Umberto Eco (La bomba e il generale, I tre cosmonauti, Gli gnomi di Gnù), pubblicate in Italia da Bompiani e in molti altri Paesi del mondo. E' stato presente a due Biennali di Venezia: nel 1966 con l'opera di arte cinetica SPCE, e nel 2011. Sue opere importanti fanno parte delle collezioni della Camera dei Deputati a Roma, del Ministero degli Esteri a Roma, della Quadriennale di Roma e di vari musei in Italia, Germania, Gran Bretagna, Polonia, Stati Uniti.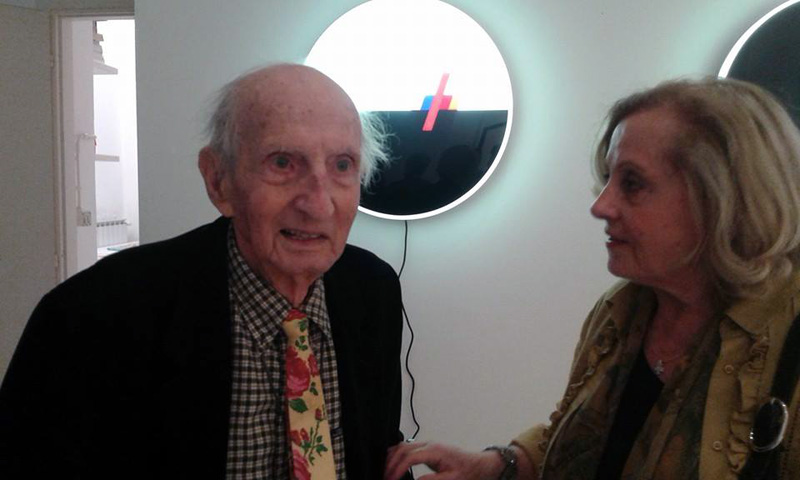 Eugenio Carmi was born in Genoa on 1920. He is based and works in Milan.
In forties he graduated from the Swiss Federal Institute of Technology in chemistry; he was also in contact with international cultural movements attended in the city. He began to paint in the high school and, back in Italy, he studied in Turin following Felice Casorati. From fifties he is part of italian abstract art, with previous informal style and then with rigorous geometric forms, even though asymmetrical and "rebels", which he has developed during his career. The current works, as the artist says, are a dialog with the natural laws and they remind the art of fifties anda sixties with their interventions of different materials.
His first solo exhibition, curated by Gillo Dorfles, was at Galleria Numero in Florence. He worked as art consultant of Italsider from 1958 to 1965.
In 1963 he founded the Galleria del Deposito in Boccadasse, an old fishing village located on the edge of Genoa, where numerous international artists had beed exhibitied – one of the many, Lucio Fontana, Agostino Bonalumi, Paolo Scheggi, Achille Perilli, Max Bill and Victor Vasarely.
In 1973 he realized an italian TV abstract program of 25 minutes and, in the same year, he gave lectures on visual art at the Rhode Island Institute of Design in Providence (USA); in seventies he taught at Accademy of Fine Arts in Macerata and in Ravenna. He illustrated three fairy tales written by Umberto Eco (The bomb and the general, The three astronauts, The gnomes of Gnù), published in Italy and in many other countries. He took part in two Venice Biennale: the first in 1966 with the electronic work SPCE and after in 2011. His important works take part in famous collections, such as Chamber of Deputies in Rome, Ministry of Foreign Affairs
and International Cooperation, The Quadriennale di Roma, and in several museums in Italy, Germany, Great Britain, Poland and United States.
Photogallery – Position the cursor on the images to view captions, click on images to enlarge them.
Posizionare il cursore sulle immagini per leggere le didascalie; cliccare sulle immagini per ingrandirle.