HARMONIC CROSS OVER – SHORT FILM 'FOUR LINES' A KINETIC SCULPTURE BY GEORGE RICKEY – 2016 LONDON BIENNALE AND MANILA POLLINATION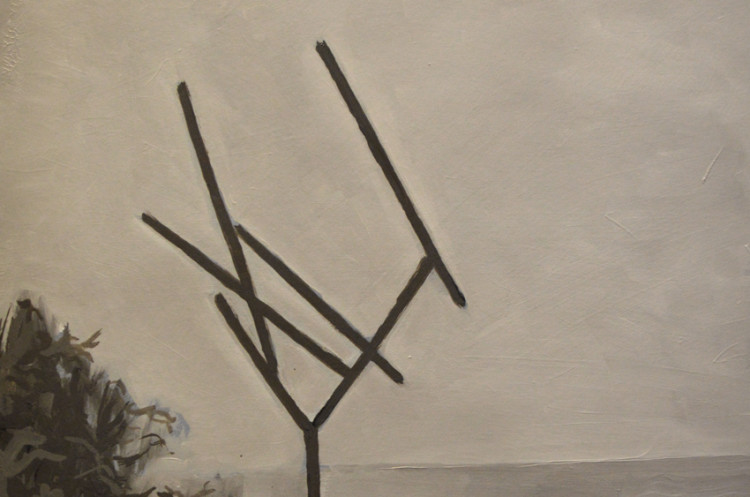 Short film 'FOUR LINES' A KINETIC SCULPTURE BY GEORGE RICKEY
Panel of 12 to 14 small oil paintings 18×14 in by Herve Constant
Harmonic Cross Overs
There exists in nature a harmonic delivering divergent forces of darkness and light into Art and Architecture, propelling us forward to search for its 'raison d'être'.
In my short film, 'SIGNALS', together with an accompanying Panel of small oil paintings, I wanted to express a respect for nature's wisdom, as it relates to Art and Architecture, which holds for us a juxtaposition where we can explore where the lines cross and perhaps acquire a deeper knowledge and understanding of natural sustainability and renewal in whatever urban setting we find ourselves in, where our commonality of interest is universal.
In George Rickey's Kinetic Sculpture "Four Lines" he sets a reminder. or signal. for us to reflect upon a co-existence of architectural structures within a purity of natural design.
Monolithic glass, steel and concrete structures may co-exist and reflect back to us a visible sky, where winds no longer silent can sing within the corridors built on high.
2016 London Biennale and Manila Pollination offers a powerful lens for us to explore the harmonic lines crossing our path carrying with it our collective responsibilities down the line for us to know and understand what we are doing.
Nature expects nothing less from us.
Herve Constant – www.herveconstant.com