MIART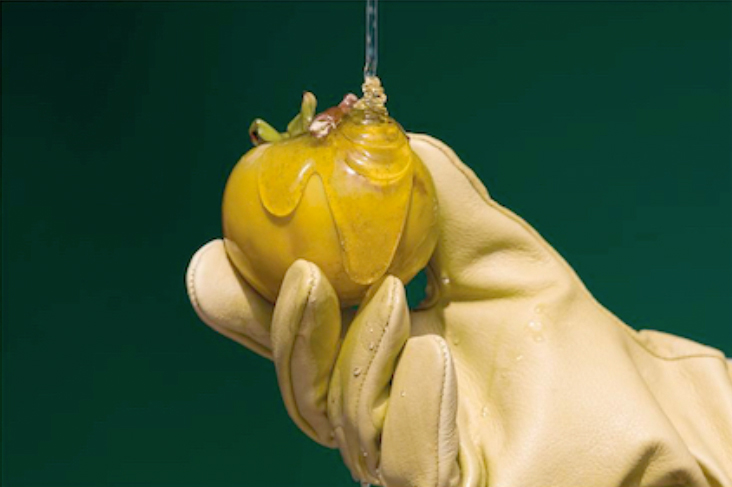 miart 2016
8 – 10 april 2016
preview 7 april 2016
fieramilanocity, pavilion 3, gate 5
Milan
www.miart.it
MIART: LA QUALITA' PROTAGONISTA ASSOLUTA DELL'ART WEEK 2016
Con un incremento del 10% degli ingressi e con un programma di eventi in città che ha registrato ovunque il tutto esaurito, miart chiude con quasi 45.000 visitatori riportando Milano tra le capitali internazionali dell'arte moderna e contemporanea
Milano, 10 aprile 2016 – Si è chiusa stasera alle 19.00 a fieramilanocity miart 2016, la ventunesima edizione della fiera d'arte moderna e contemporanea organizzata da Fiera Milano e diretta da Vincenzo de Bellis, con la vice direzione di Alessandro Rabottini.
Nelle quattro giornate di apertura miart ha superato il tetto dei 45.000 visitatori, con un incremento del 10% di ingressi rispetto all'edizione 2015. Particolarmente significativa la crescita dei collezionisti (+15%) che hanno affollato gli stand del polo fieristico di viale Scarampo, con presenze sempre più numerose di collezionisti provenienti da Svizzera, Gran Bretagna, Francia, Germania, Belgio, Stati Uniti e Canada. Importante anche l'aumento della presenza di giornalisti (+11%) italiani e soprattutto stranieri (10% del totale), con un incremento significativo di inviati da Corea, Hong Kong, Giappone, Dubai, Stati Uniti, Gran Bretagna, Spagna, Germania, Francia e Belgio.
154 le gallerie internazionali – provenienti da 16 paesi (Austria, Belgio, Corea, Danimarca, Francia, Germania, Giappone, Gran Bretagna, Irlanda, Italia, Norvegia, Repubblica Slovacca, Spagna, Stati Uniti, Svizzera, Uruguay) – che hanno partecipato a questa ventunesima edizione della fiera, rappresentando il meglio dell'arte moderna, contemporanea e del design a edizione limitata. Cinque le sezioni: Decades, a cura di Alberto Salvadori, che con le sue 9 gallerie ha proposto un percorso lungo il Ventesimo secolo secondo una scansione per decenni; Established, che ha raccolto 99 espositori – suddivisi nelle sottosezioni Master, per le gallerie che propongono artisti storicizzati, e Contemporary, dedicata alle gallerie specializzate nel contemporaneo; Emergent, a cura di Nikola Dietrich, dedicata a 16 gallerie internazionali focalizzate sulla ricerca delle giovani generazioni, di cui 11 straniere; THENnow, a cura di Jarrett Gregory e Pavel Pyś, che ha presentato 8 coppie di gallerie nelle quali sono stati messi in dialogo un artista storico e uno appartenente a una generazione più recente; e infine Object, a cura di Domitilla Dardi, dedicata a una selezione di 14 gallerie attive nella promozione di oggetti di design contemporaneo concepiti in edizione limitata e fruiti come opere d'arte.
"Gli ottimi risultati di miart – afferma Corrado Peraboni, amministratore delegato di Fiera Milano – sono la conferma di una attenta selezione delle gallerie e di un affinamento del format della manifestazione. I galleristi ci hanno confermato la validità di questa scelta, sottolineando di aver aumentato le vendite e di aver incontrato collezionisti competenti e del giusto profilo. Tutto questo arricchito dalla folta presenza di un pubblico di appassionati d'arte. Concludo con un plauso ai tanti eventi e progetti speciali presentati in città che hanno fatto di questa edizione un happening unico di cultura e intrattenimento per il mondo dell'arte moderna e contemporanea a testimonianza del modello vincente di quanto fatto da Expo, evento che produce ancora benèfici effetti sulla città."
La miartweek 2016 è stata infatti una settimana ricchissima di appuntamenti, grazie alla stretta collaborazione avviata con Istituzioni pubbliche e private, musei, gallerie e tutte le realtà che operano nella promozione e nella conoscenza dell'arte. Per tutta la settimana della fiera un'energia frizzante e positiva ha portato decine di migliaia di persone ad affollare eventi, inaugurazioni e aperture speciali, che hanno riportato in evidenza il dna di Milano come capitale della creatività contemporanea e riaffermato l'energia e la vitalità innescate da Expo 2015.
Grande successo anche per Sarah Lucas – INNAMEMORABILIAMUMBUM, il progetto speciale all'Albergo Diurno Venezia a cura di Massimiliano Gioni e Vincenzo de Bellis, prodotto da Fondazione Nicola Trussardi e miart e realizzato in collaborazione con il FAI – Fondo Ambiente Italiano e il Comune di Milano. Nei tre giorni di apertura sono state più di 6.000 le persone che hanno visitato il Diurno, incontrando le sculture, installazioni, interventi sonori e performativi creati dall'artista inglese appositamente per il gioiello progettato da Pietro Portaluppi negli anni Venti.
miart vi dà appuntamento alla prossima edizione 2017.
.-.-.-.-.
154 INTERNATIONAL GALLERIES FROM 16 COUNTRIES, 60 CURATORS INVOLVED IN THE SECTIONS OF THE FAIR AND THE JURIES, OVER 40 PERSONALITIES FROM AROUND THE WORLD FOR THE TALKS, A WEEK OF ENCOUNTERS, OPENINGS, EXHIBITIONS AND EVENTS ALL OVER THE CITY, INSIDE AND OUTSIDE THE PAVILIONS OF THE MILAN FAIR. ALL ON THEIR WAY FOR A MIARTWEEK THAT'S LIVELIER THAN EVERY BEFORE.
Milan, 26 January 2016 – miart 2016 is on its way, with the 21st edition of the international fair of modern and contemporary art of Milan, organized by Fiera Milano and directed by Vincenzo de Bellis, with vice-director Alessandro Rabottini. This year the event offers many new developments and increasingly prestigious collaborations.
THE GALLERIES
From 7 to 10 April the pavilions of fieramilanocity will welcome 154 international galleries, once again representing the best of modern and contemporary art and limited-edition design, from 16 countries (Austria, Belgium, Denmark, France, Germany, Great Britain, Ireland, Italy, Japan, Korea, Norway, Slovakia, Spain, Switzerland, United States, Uruguay). The galleries have been chosen for the high quality of their exhibition projects, by a selection committee, from over 350 applications.
Many important international galleries are returning after participating in previous years, including Alfonso Artiaco (Naples), Gavin Brown's Enterprise (New York), C L E A R I N G (New York – Brussels), Cardi (London – Milan), Sadie Coles HQ (London), Continua (San Gimignano – Beijing – Les Moulins – Havana), Massimo De Carlo (Milan – London), Dépendance (Brussels), kaufmann repetto (Milan – New York), Johann König (Berlin), Andrew Kreps (New York), Giò Marconi (Milan), Massimo Minini (Brescia), Office Baroque (Brussels), Robilant+Voena (London – Milan), Lia Rumma (Milan – Naples), Christian Stein (Milan – Pero), T293 (Naples – Rome), Tega (Milan), Tornabuoni Arte (Florence – London – Milan – Paris), Michael Werner (New York – London), Zero… (Milan). Among the many galleries participating for the first time, prestigious international names stand out like Blain Southern (London), Campoli Presti (London – Paris), Marc Foxx (Los Angeles), Greene Naftali (New York), Rodolphe Janssen (Brussels), Lelong (Paris – New York), Mai 36 (Zürich), Anthony Reynolds (London), Esther Schipper (Berlin), Galleria dello Scudo (Verona), Sperone Westwater (New York), Wilkinson (London).
The Object section on design this year features the participation of influential galleries, including Luisa delle Piane (Milan), Erastudio Apartment-Gallery (Milan), Galleria O. Roma (Rome), Machado-Muñoz (Madrid), Nilufar (Milan), Secondome (Rome), Antonella Villanova (Florence).
#miartgalleries
THE SECTIONS OF MIART
A new feature of this 21st edition is the Decades section, which with its nine galleries offers an itinerary through the 20th century decade by decade. Decades outlines a narrative that emphasizes the two spirits of miart – modern and contemporary – with particular emphasis on high-quality historic art in a moment of great interest on the international market in the art of the period after World War II, particularly in Italy.
Decades joins the four sections that have been parts of miart since 2013: Established, with 99 exhibitors – subdivided into the subsections Master, for galleries presenting historically acclaimed artists, and Contemporary, for galleries specializing in contemporary work; Emergent, on 16 international galleries concentrating on the research of the younger generations, including 11 foreign galleries; THENnow, which features 8 pairs of galleries that join forces to trigger dialogue between one historic artist and one from a more recent generation; and, finally, Object, with a selection of 14 galleries active in the promotion of contemporary design objects created in limited editions and approached as works of art.
#established #master #contemporary #firststep
#emergent
#THENnow
#decades
#object
MIART: AN EVENT IN THE INTERNATIONAL FOREGROUND
"Miart is a successful project, recognized on an international level, rapidly growing on the worldwide art fair scene – says Corrado Peraboni, CEO of Fiera Milano. – The many prestigious galleries taking part bear witness to the central role played by miart in the art world, together with Milan. Thanks to the renewed collaboration with the City and the Department of Culture, once again miart will provide an important center for cultural exchange. A vision – Peraboni adds – firmly shared by the sponsors as well, the partners of miart and Fondazione Fiera Milano, which this year offers even more support, doubling the contribution of the "Giampiero Cantoni" acquisition fund from 50,000 to 100,000 euros."
#miart2016
MILAN: ITALY'S NEW CULTURAL CAPITAL
"Milan confirms its role as one of the most important international hubs for appreciation of creative thinking, and as an ideal city for the production of contemporary art, which finds fertile ground here to develop future successes and breakthroughs, returning to its status as a hotbed of the avant-garde – says the Alderman of Culture Filippo Del Corno. – The city accompanies miart, a gathering place for the world of contemporary creativity, with a program of events that widen the perspective on the main Milanese cultural initiatives, putting the spotlight on exhibitions currently in progress, special openings and evening events."
#theplacetobe
MIART AND MILAN
Miart 2016 renews and increases the close collaboration launched in the latest editions with the realities operating in the city for the promotion and knowledge of art. Working with the City of Milan, miart leads the way during contemporary art week, which includes a program of events, openings and special visiting hours involving public institutions, foundations and private galleries, starting on 5 April, throughout the period of the fair. Every day there are special visits and openings, starting with the 21st Milan Triennale – "21st Century. Design After Design"
– which will be held in many public and private institutional spaces around the city. There will also be openings at Palazzo Reale of the retrospective on Studio Azzurro and at HangarBicocca for the solo show by Carsten Höller, the opening of the second exhibition at Fondazione Carriero and of the new FM Center for Contemporary Art of Frigoriferi Milanesi, special opening times for the city at Fondazione Prada, special visits to the exhibitions in progress at Palazzo Reale – 2050 and the shows on Umberto Boccioni and Symbolism – the exhibition of the winning artist of the Premio Acacia at Museo del Novecento, special hours with guided visits at PAC, GAM, Palazzo della Ragione and MUDEC, and a thousand other appointments the city is presently preparing, clearly reviving Milan's role as a capital of
contemporary creativity and moving forward with the energy and vitality ignited in the city by Expo 2015.
#miartweek
MIART 2016
"For four years, miart has followed a path towards extreme quality – says Vincenzo de Bellis, Artistic Director of miart since 2013. – The basic ideas behind its new identity, which is a reality by now, have always been dialogue between artists of different generations, internationalism and the internationalization of Italian art, both modern and contemporary.
With the 2016 edition the positioning of miart as an event at the highest level among the cultural offerings of Italy and Europe has been fully achieved. We are proud of the work we are doing, and its quality is proven by the great cooperation with all the cultural partners of the city, public and private, which in these years are making Milan great, and for which the week of miart permits amplification of their impact, not only in the city but also with respect to an international audience that arrives in ever greater numbers."
#miart2016