STATEMENT BY PAOLO BARATTA – PRESIDENT OF LA BIENNALE DI VENEZIA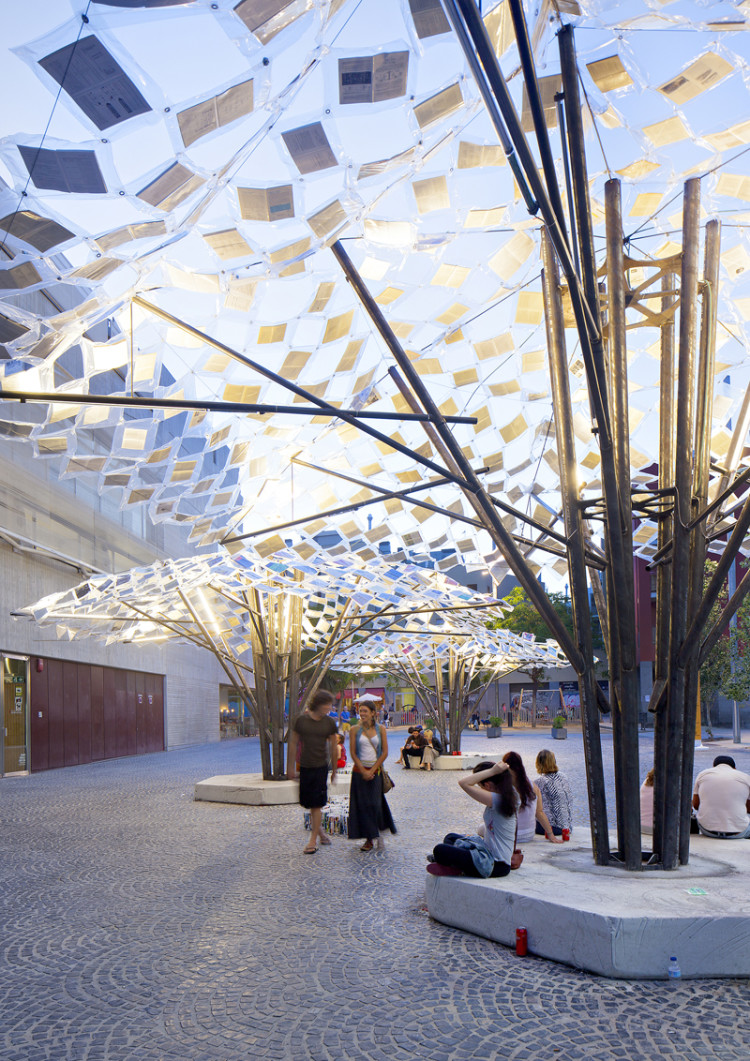 La Biennale di Venezia
15th International Architecture Exhibition
Statement by Paolo Baratta
President of La Biennale di Venezia
The image behind the 15th International Architecture Exhibition, curated by Alejandro Aravena, shows a lady who has climbed the ladder; at the top she can gaze out to a far broader horizon, and thereby conquers her "expanded eye".
We immediately loved this picture. Partly because it represents La Biennale as a whole, with all our attitudes and our goals.
It is also partly a counterpoint to the one chosen for the most recent Art Biennale. The symbol chosen last year by Okwui Enwezor was Paul Klee's very famous "Angelus Novus" as interpreted by Walter Benjamin; the winged angel looking backwards in shock, seeing the past with all its debris and tragedy, but also with insights which could be useful in the future, towards which the occult forces of providence are driving it like wind blowing on its wings.
What does the lady see? I think mainly desolated land comprising immense swathes of human habitation which no human could be proud of; great disappointments representing a sad, infinite number of missed opportunities for humanity's ability to act intelligently. Much of this is tragic, much is banal, and it seems to mark the end of architecture. But she also sees signs of creativity and hope, and she sees them in the here-and-now, not in some uncertain aspirational, ideological future.
Is this a sign of optimism?
Several previous Biennale's Exhibitions have seen us deplore the present, which seemed to be characterised by increasing disconnection between architecture and civil society. Previous Exhibitions have addressed this in different ways. This time, we wish to investigate more explicitly whether and where there are any trends going in the other direction, towards renewal; we are seeking out encouraging messages.
And we are not just interested in exhibiting concrete results for critical appraisal. We also want to see into the phenomenology of how these positive examples came about. In other words: what drives the demand for architecture; how are needs and desires identified and expressed; which logical, institutional, legal, political and administrative processes lead to demand for architecture and how they allow architecture to come up with solutions which go beyond the banal and self-harming?
Because this is clearly a serious impasse; not as much in architecture as a discipline, but in human organisation, in our ability to harness it, be saved by it and enter into dialogue with it.
These complex questions touch on many fields.
They may be easily resolved for architecture which limits itself to creating isolated spectaculars.
But these are more complex questions if looked at from the point of view of land resources as a whole, and the life and working conditions of individuals or entire communities.
We feel the need to show how positive outcomes have been achieved through the evolution of decision chains which link need – awareness – opportunity – choice – execution in a way which brings about a result where "architecture makes the difference", as Aravena puts it.
We are not interested in architecture as the manifestation of a formal style, but rather as an instrument of self-government, of humanist civilisation, and how it demonstrates the ability of humans to become masters of their own destinies.
Architecture in action as an instrument of social and political life, challenges us to assess the public consequences of private actions at a more fundamental level.
We are interested in the recognition that architecture is useful in catalysing the creation of public goods. From a technical point of view it is a public good itself (an asset whose usage by one person does not reduced the availability for others). As with all public goods, it should be the product of a direct public involvement, but it can also come about as a consequence of the higher sensibility of private investors, and while philanthropy is not a prerequisite here, other attitudes are: namely the knowledge of the multiple selves within each of us, and the awareness that the space in which we live is more important than the space we occupy.
Presenting architecture in action is also one of the answers to the permanent question raised by La Biennale. What is an architecture exhibition? And what should an Architecture Biennale be? In the Art Biennale, which is the parent of the Architecture Biennale, the works are in front of the visitors; with an architecture exhibition, the works are elsewhere. What should there be here? And indeed, the search goes on. We have to prevent ourselves from turning into a magazine, congress, critical essay, or a place only for specialists: just for architects. We also need to avoid condescension and falling into the trap whereby architects are tempted to present themselves as artists.
We need to engage with the public and with all possible stakeholders in the decisions and actions whereby our living spaces are created, both as individuals and as communities.
As Architecture is the most political of all the arts, the Architecture Biennale must recognise this.
La Biennale will involve a large number of meetings with architects and leaders in the presented fields; we would like not just to see the fruits of their labours, but also to hear them discuss their commitment.
In parallel with the main Exhibition curated by Aravena there will also be 64 exhibitions in pavilions belonging to the Countries participating, as well as several Collateral Events.
La Biennale di Venezia will also dedicate three pavilions to "Special Projects": the first one is promoted by La Biennale itself, the last two ones are the result of special agreements concluded with other institutions.
In particular, the Forte Marghera Project Reporting from Marghera and Other Waterfronts curated by the architect Stefano Recalcati at Forte Marghera (in Mestre, Venice), will analyse significant industrial port regeneration projects, thereby contributing to the debate on Porto Marghera's changing productive use.
The agreement with London's Victoria and Albert Museum will see the applied arts pavilion at the Sale d'Armi in the Arsenale, with an exhibition curated by Brendan Cormier, A World of Fragile Parts.
Lastly, in view of the United Nations global Habitat III conference, to be held in Quito in Ecuador in October 2016, and in the context of Urban Age program, which is jointly organised by the London School of Economics (LSE) and the Alfred Herrhausen Society, we will create a pavilion dedicated to the themes of urbanization – Report from Cities: Conflicts of an Urban Age – paying particular attention to the relationship between public and private spaces, curated by Ricky Burdett. This year the annual conference organized by Urban Age will take place at the 15th Exhibition.
The Biennale Sessions project is already active: around 58 architecture faculties from all around the world have already signed up.
First of all we would like to thank the Ministero dei Beni e delle Attività Culturali e del Turismo, the regional Institutions which have supported La Biennale, the City of Venice, and the Veneto Region.
We would like to thank our Partner Rolex. Our thanks go to the Sponsors for their assistance and contribution, and Donors, who are so important in the creation of the 15th Exhibition.
Our special thanks to Alejandro Aravena and to all his team.
Lastly, many thanks to all the extremely dedicated professionals of La Biennale who have been working on the creation and management of the Exhibition over its 6 month run.
Paolo Baratta