PADIGLIONE DELLA CINA – 16 MOSTRA INTERNAZIONALE DI ARCHITETTURA – LA BIENNALE DI VENEZIA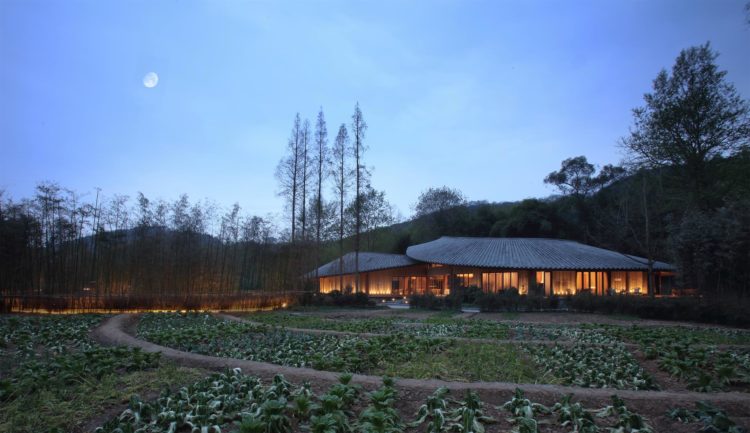 Padiglione della Cina
16. Mostra Internazionale di Architettura
La Biennale di Venezia
26 maggio – 25 novembre 2018
Building a Future Countryside
Preview: 24 e 25 maggio 2018
Arsenale, Venezia
"La motivazione di questa mostra oltrepassa la xiangchou, termine cinese che si riferisce alla nostalgia per i territori rurali. Torniamo ad esplorare la campagna dove è nata la cultura cinese, per riportare alla luce valori dimenticati e possibilità ignorate. Da li costruiremo la campagna futura." – Li Xiangning (Curatore)
Una delle più grandi sfide dei contesti edificati nell'età contemporanea è il futuro dello sviluppo rurale. In Cina, la campagna è diventata un'area di nuove frontiere sperimentali, dove si sta costruendo ad una velocità e su una scala mai viste prima nello scenario occidentale. Guidati dalla promessa di possibilità illimitate, architetti, artisti, imprenditori e flussi di capitali stanno convergendo nelle aree rurali dell'intera nazione.
Il ritorno alla vita pastorale è stato a lungo un ideale della letteratura tradizionale cinese. Nell'epoca odierna, la vita nelle aree rurali implica aspetti politici, economici, infrastrutturali e tecnologici. La modernizzazione e il progresso tecnologico ci promettono condizioni di vita migliori, ma allo stesso tempo e in una certa misura, recidono il legame tra la vita rurale e la tradizione. Di fronte alla costruzione di massa di abitazioni rurali generata dall'urbanizzazione, gli architetti stanno cercando di trovare un compromesso tra tradizione e modernizzazione, sfruttando la tecnologia contemporanea per cercare di creare una connessione locale.
Dalla grande distesa di Loess Plateau alle città d'acqua al sud del Yangtze, dalla vasta e rigogliosa pianura nel nord-est della Cina al verde e meraviglioso terreno coltivato a sud, centinaia e migliaia di villaggi sono diventati luoghi di sviluppo industriale, autocostruzione e creazione culturale. Questi luoghi stanno vivendo opportunità incredibili, grazie a innovazioni tecnologiche tra cui Internet, sistemi logistici e sharing economy.
Lo sviluppo rurale nella Cina attuale è senza precedenti, sia in termini di portata che di approccio. In più, questo sviluppo anticipa una nuova visione nata grazie alle condizioni uniche della Cina.
"Building a Future Countryside" rappresenta le aree rurali della Cina attraverso sei episodi: le abitazioni poetiche, la produzione locale, le pratiche culturali, il turismo agricolo, la ricostruzione della comunità e l'esplorazione futura. La mostra delinea uno spazio libero – freespace – per le opportunità e anticipa lo sviluppo futuro.
PROGETTI PRINCIPALI
All'ingresso del padiglione, seguendo il percorso espositivo, questi sono i principali progetti:
Wood Kiln Bing Ding di Zhang Lei, AZL Architects
Xinzhai Coffee Manor di Hua Li, Trace Architecture Office – TAO
An Old-new House di John Lin+Joshua Bolchover, Rural Urban Framework
Cidi Memo, a Town of Memory di Liu Yuyang, Atelier Liu Yuyang Architects
Mountain Dwelling. Waterside Dwelling. Forest Dwelling di Dong Yugan
In Bamboo di Philip F. Yuan, Archi-Union Architects, co. Ltd
All'esterno del Padiglione Cina, nel giardino:
Cloud Village di Philip F. Yuan, Shanghai Digital Fabrication Engineering Technology Center
LI XIANGNING, CURATORE
Li Xiangning è vicepreside e professore di Storia, teoria e critica all'Università di Tongji, College of Architecture and Urban Planning. E' membro di CICA (Comité International des Critiques d'Architecture) e curatore di diverse mostre, si occupa di numerose pubblicazioni sull'architettura e l'urbanistica cinese. E' caporedattore di Architecture China e presidente di Architecture China Foundation. Inoltre, ha lavorato con istituti e musei internazionali ed è stato membro di giuria di svariati premi e concorsi internazionali.
PADIGLIONE DELLA CINA – 16. MOSTRA INTERNAZIONALE DI ARCHITETTURA LA BIENNALE DI VENEZIA
Commissario: China Arts and Entertainment Group (CAEG)
Organizzazione: Ministero della Cultura e del Turismo della Repubblica Popolare Cinese
Allestimento: China International Exhibition Agency
Vicecommissario: Li Jinsheng, Wang Chen
Assistenti: Huang Xiaogang, Liu Zhenlin, Li Rui, Yang Xin, Xie Yanyi, Li Yunyun, Zhang Ziwei
Collaboratori: Zhu Di, Zheng Hao, Wang Mingxian, Zhu Wenyi, Shi jian, Li Hu
Curatore: Li Xiangning
Assistenti: Yao Weiwei, Mo Wanli, Gao Changjun
Team di ricerca: Zhang Xiaochun, Lin Lin, Deng Yuanye
Display Design: Liu Yuyang, Zhang Ziyue
Graphic Design: Ni Minqing, Li Jixin
Espositori: Dong Yugan, Hua Li, Liu Yuyang, Philip F. Yuan, Rural Urban Framework, Zhang Lei, Atelier Archmixing, Atelier Deshaus, Chen Haoru, China New Rural Planning and Design, Dong Gong, Drawing Architecture Studio, Hsieh Ying-Chun, Jin Jiangbo, Li Yikao, Li Xinggang, Seung H-sang, Nishizawa Ryue, Li Zhenyu, Lyu Pinjing, Naturalbuild, O-office Architects, temp architects, Xu Tiantian, Zhang Li, Zhao Yang, Zhu Jingxiang
UFFICIO STAMPA
Lightbox
Stampa italiana: Elena Pardini – elena@lightboxgroup.net +39 3483399463
Stampa internazionale: Teresa Sartore – teresa@lightboxgroup.net +39 041 2411265