LUCE ED ALTA FORMAZIONE ARTISTICA – QUEL CHE HO VISTO ED UDITO, A TRIBUTE TO INGEBORG BACHMANN IN ROME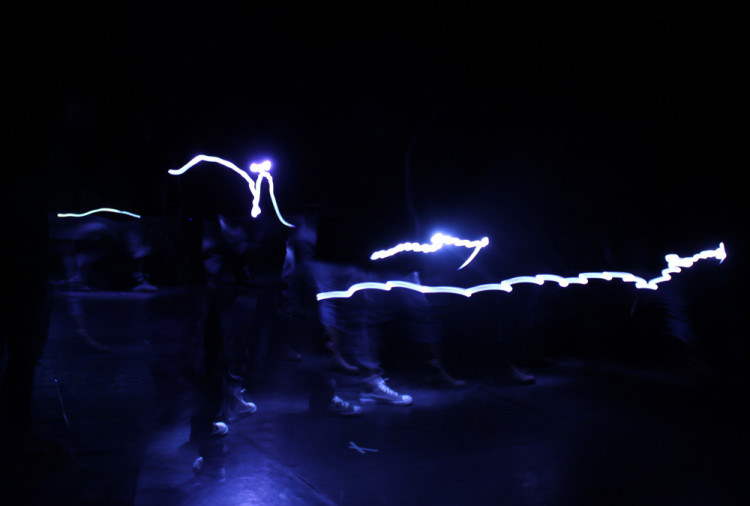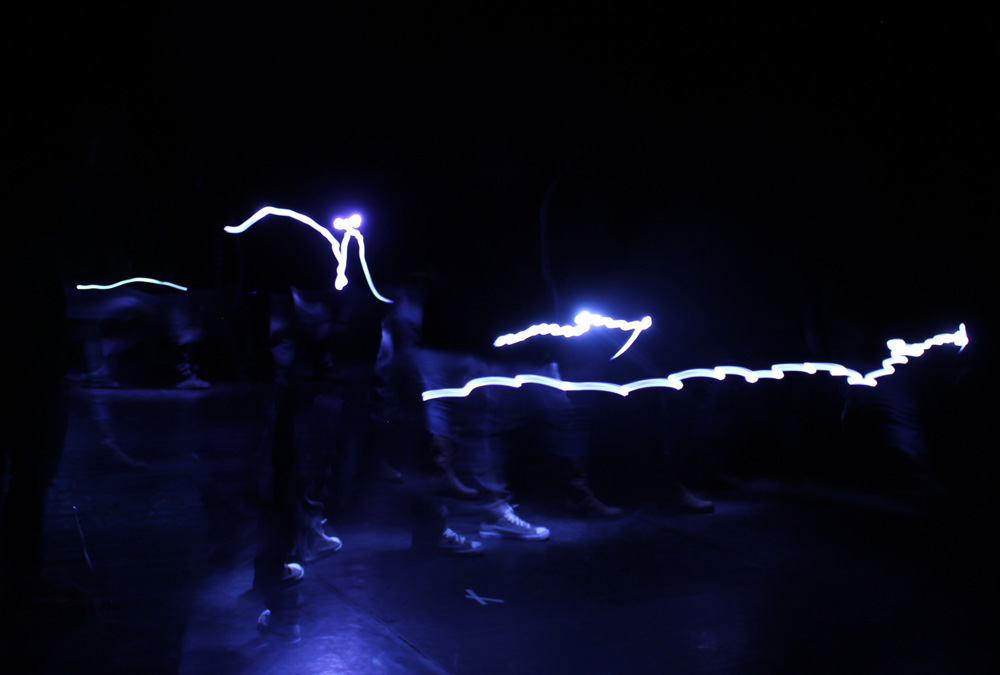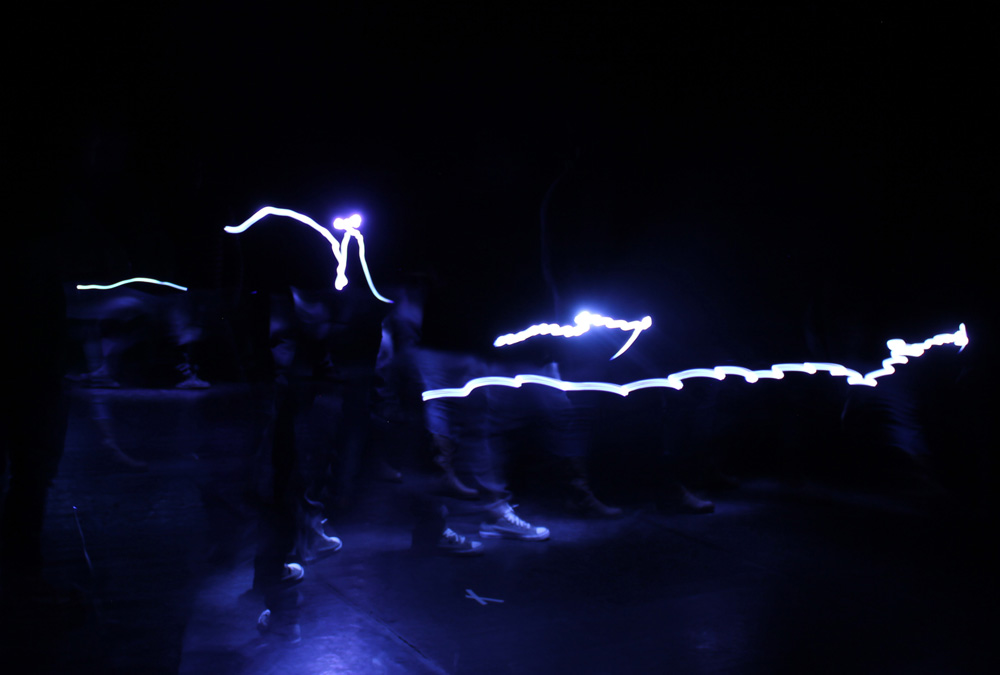 Quel che ho visto e udito: A tribute to Ingeborg Bachmann in Rome
by Stefania Carpiceci
The students of the Academy of Fine Arts of Rome presented, at the Casa dei Teatri, Quel che ho visto e udito, a theatrical tribute to Ingeborg Bachmann, the Austrian poet who died in Rome in 1973. It's a work in which the lighting is used as an art form, completely integrated with the words, sound, space and bodies, and becomes an organic part of a network of linguistic relations.
The performance is the result of a workshop conducted by Fabrizio Crisafulli, an innovative and sophisticated director, who held out to his students the methods he applies to his work. As he has written on several occasions (see among his writings the book Luce attiva, an indispensable reference book for those working in the field of lighting design with a contemporary spirit), he allots the light a prominent position in the creative process, a role 'primary and generative', like that played by the light in reality. The role of 'Bringer of Meaning and Poetry'.
Simona Lisi, actress and dancer, who has previously worked with Crisafulli on a number of occasions, leads the audience into the world of the Austrian poet, moving in space and opening from time to time, with the help of light and sound, different fissures in a continuous variation of the visions. Her dance pieces are very intense, for example, in the finale, there is a fluid and evocative repertoire of real and imaginary animals, in relation to an disturbing text by Bachmann.
A small space, designed for a few spectators and seemingly more suited to exhibitions than theatrical performance, here becomes a vast and constantly changing world. And here we have the experience of the 'theater of places' of Crisafulli, the founder of this type of site-specific approach. There are neither props nor 'imported' images. The space itself, with its wood panelling and metal structures transformed by the light, becomes the 'world'. And there is the experience of lighting as a means of transformation. Sometimes the metamorphosis of space and images takes place through the use of technology, sometimes through simple actions such as the gradual arrangement on a wall, by a group of students, of colored sheets that make up, together with lines drawn in light, a kind of abstract painting, or the gradual formation of a backlight created by five girls who shine flashlights on the wall from which they slowly move away: one of the most beautiful scenes of the whole piece.
It does the heart good to think that a group of students is able to create a work of this kind, truly worthy of the 'higher education' category in which Academies and Conservatories are included as institutions.
Quel che ho visto e udito. Omaggio a Ingeborg Bachmann
texts Ingeborg Bachmann
direction Fabrizio Crisafulli
with Simona Lisi
sound Andrea Salvadori
students: Dominika Blaszczyk, Giulia Carnevali, Alessandra Carrer, Floriana Cirillo, Daria Di Lernia, Laura Ferrante, Giulia Fiorenza, Carlotta Gioia, Saori Kato, Silvia Lucarelli, Flavio Monti, Andrea Parisella, Isidora Spassitch, Vincenzo Tirotta, Giada Urbani, Mahbobeh Vatankhah, Alessandra Villa, MariaElena Zito, Vito Giuseppe Zito.
collaboration: Dario Evola, Ernani Paterra (Accademia di Belle Arti di Roma), Stefano Geraci, Raimondo Guarino (DAMS, Università degli Studi Roma3)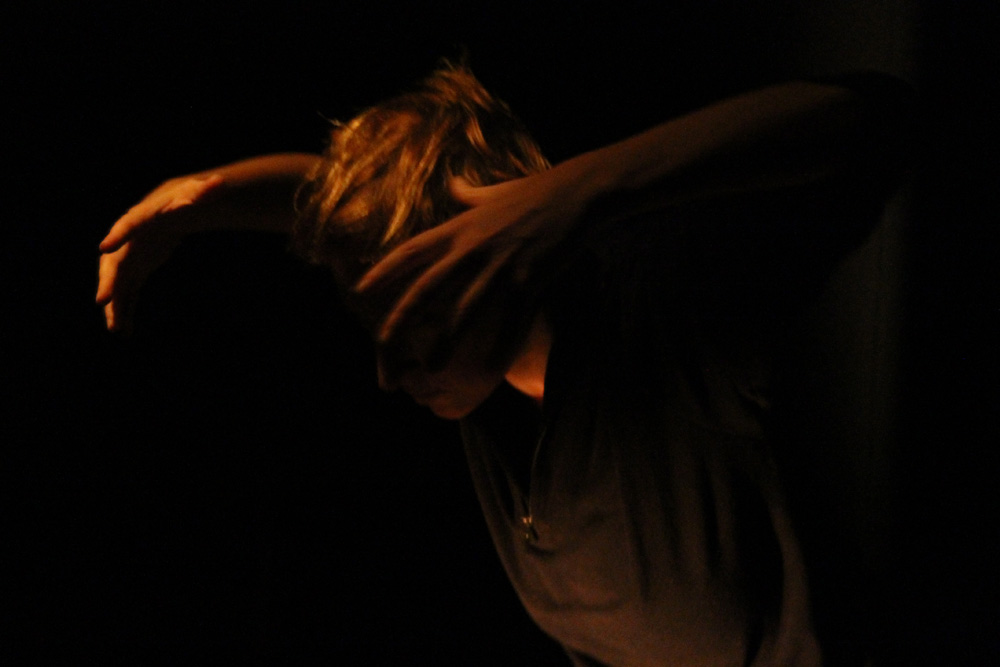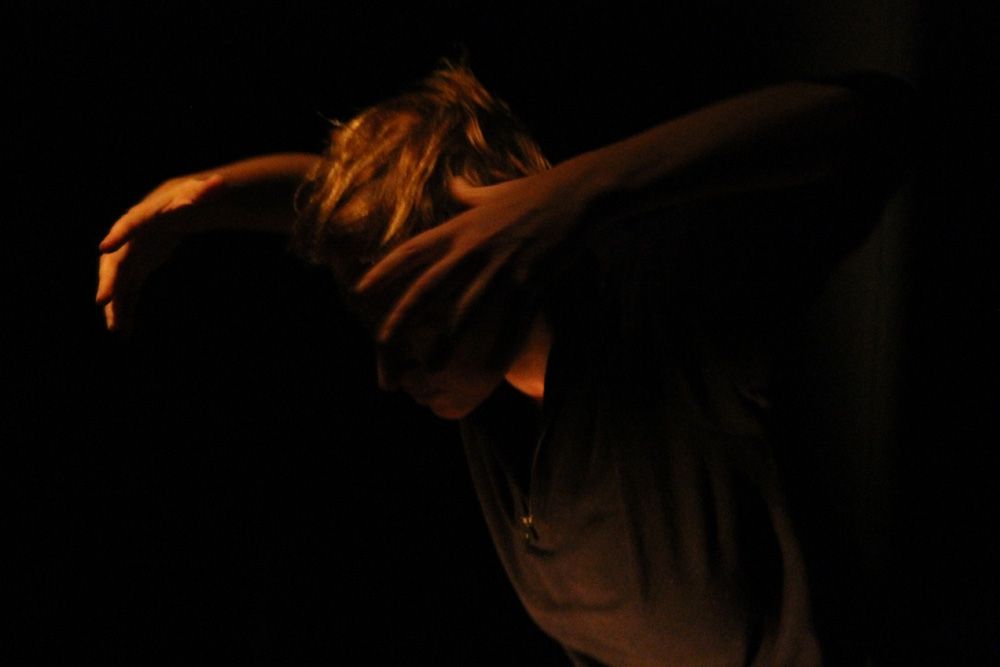 Luce ed alta formazione artistica.
A Roma lo spettacolo Quel che ho visto e udito, dedicato ad Ingeborg Bachmann
di Stefania Carpiceci
L'Accademia di Belle Arti di Roma ha presentato, alle Scuderie della Casa dei Teatri, Quel che ho visto e udito, uno spettacolo-omaggio ad Ingeborg Bachmann, della quale il prossimo anno ricorre il quarantesimo dalla morte, avvenuta a Roma nel '73. Un lavoro nel quale l'illuminotecnica, utilizzata in maniera alta, si integra totalmente con la parola, il suono, lo spazio, il corpo, divenendo parte organica di un intreccio di rapporti linguistici.
Lo spettacolo è frutto del laboratorio "La poesia e la luce", condotto da Fabrizio Crisafulli, che, com'è noto, della luce è artista innovativo e sofisticato, e che ha esteso ai suoi studenti (vi hanno collaborato anche quelli del DAMS di Roma3) il metodo di lavoro che applica alle sue regie. Un metodo che, come ha avuto modo di scrivere in varie occasioni (vedi, tra i suoi scritti, il libro Luce attiva, edito da Titivillus, riferimento indispensabile per chi opera nel campo con spirito contemporaneo), mette la luce teatrale in una posizione di spicco nel procedimento creativo, in un ruolo "primario e generativo" come quello svolto dalla luce nella realtà. Un ruolo "portatore di senso e di poesia".
Simona Lisi, attrice e danzatrice che ha già collaborato con Crisafulli in diverse occasioni, conduce il pubblico nel mondo della poetessa austriaca, muovendosi nello spazio e aprendo di volta in volta, con l'aiuto della luce e del suono, squarci diversi, in un continuo variare delle visioni, come continuo è il variare delle visioni nell'opera della Bachmann. Molto intensi i suoi pezzi di danza, come, nel finale, una sorta di fluido ed evocativo repertorio di animali reali e fantastici, in relazione con un conturbante testo della poetessa austriaca ("adorerò animali la notte, profanerò le immagini più sacre, mi aggrapperò a tutte le menzogne….").
Un piccolo spazio, nel quale entrano pochi spettatori e apparentemente più adatto alle esposizioni che al teatro, in questo caso diviene un mondo "vasto" (si pensi a Bachelard quando nella Poetica dello spazio, scrive del modo nel quale i dettagli possono divenire "vasti") e in trasformazione. E c'è qui tutta l'esperienza del "teatro dei luoghi", altro cavallo di battaglia di Crisafulli, fondatore di questo tipo di approccio. Non vengono utilizzati oggetti posticci, scenografie, immagini "importate". È lo spazio stesso, con i suoi pannelli e i suoi tralicci trasformati dalla luce, a diventare "universo". E c'è l'esperienza della luministica come strumento di metamorfosi. E poco importa se le metamorfosi avvengano attraverso l'uso delle tecnologie, o tramite l'impiego, non meno efficace, di semplici trovate sceniche, come la graduale sistemazione su una parete, da parte degli studenti, di foglietti colorati che compongono, assieme a graffiti di luce, una sorta di quadro astratto, oppure il progressivo formarsi di un controluce con l'ingrandirsi delle aureole di lampadine tascabili azionate da cinque ragazze contro la parete dalla quale si allontanano: una delle scene più belle dello spettacolo.
Fa bene al cuore pensare che un gruppo di studenti sia capace di realizzare un lavoro del genere, veramente in linea con la dicitura "alta formazione" all'interno della quale Accademie e Conservatori sono istituzionalmente classificati.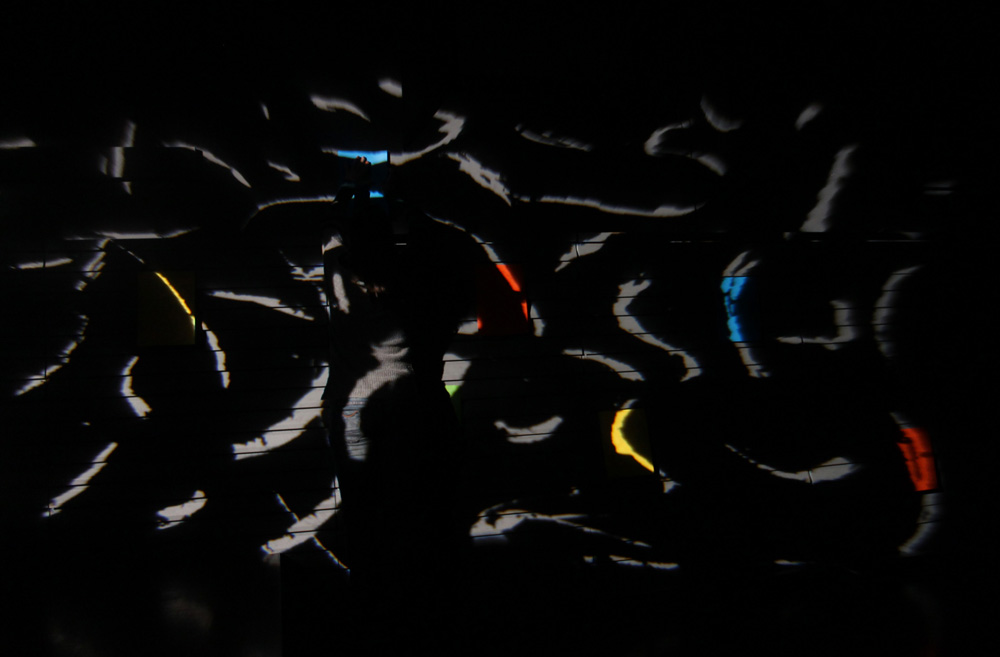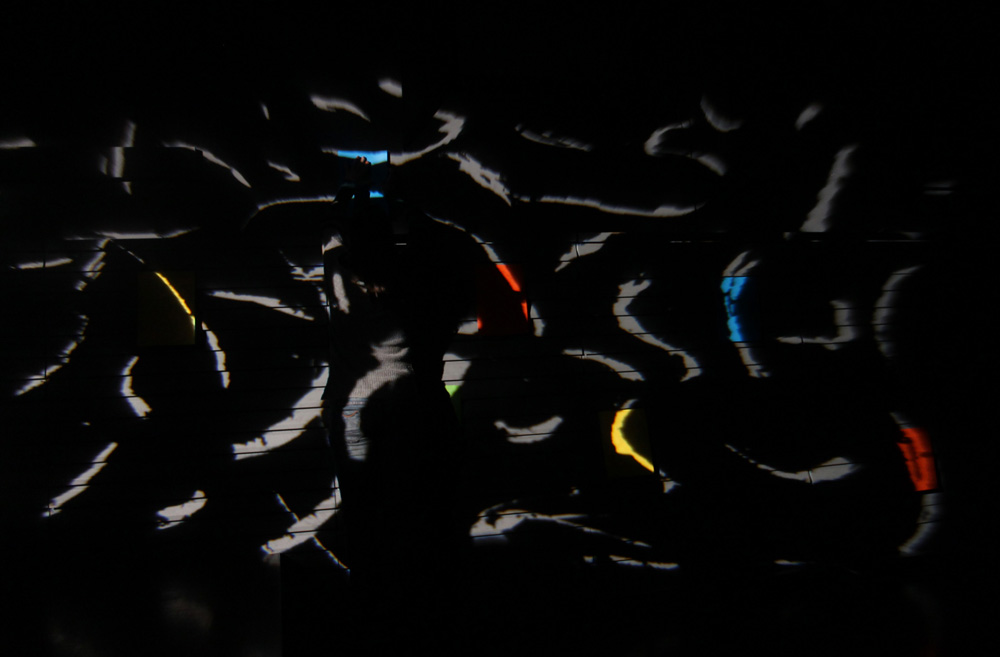 Quel che ho visto e udito. Omaggio a Ingeborg Bachmann
testi Ingeborg Bachmann
regia Fabrizio Crisafulli
son Simona Lisi
suono Andrea Salvadori
realizzato dagli studenti dell'Accademia di Belle Arti di Roma, corso di Illuminotecnica, laboratorio "La poesia e la luce" condotto da Fabrizio Crisafulli, con la collaborazione degli studenti del DAMS Roma3, di Dario Evola ed Ernani Paterra dell'Accademia di Belle Arti, e di Stefano Geraci e Raimondo Guarino dell'Università degli Studi Roma3.
Stefania Carpiceci
Position the cursor on the images to view captions, click on images to enlarge them. 

Posizionare il cursore sulle immagini per leggere le didascalie; cliccare sulle immagini per ingrandirle.