INTERBORO PARTNERS SELECTED AS WINNER OF THE 2011 YOUNG ARCHITECTS PROGRAM AT MoMA PS1 IN NEW YORK – stARTT SELECTED AS WINNER OF THE INAUGURAL YOUNG ARCHITECTS PROGRAM AT THE NATIONAL MUSEUM OF XXI CENTURY ARTS (MAXXI) IN ROME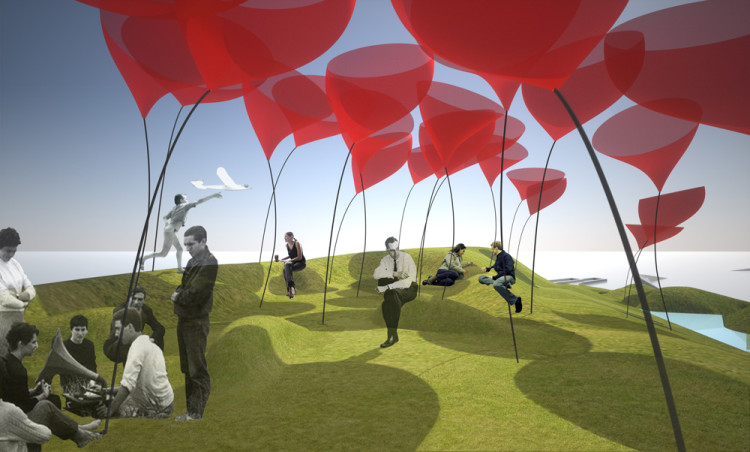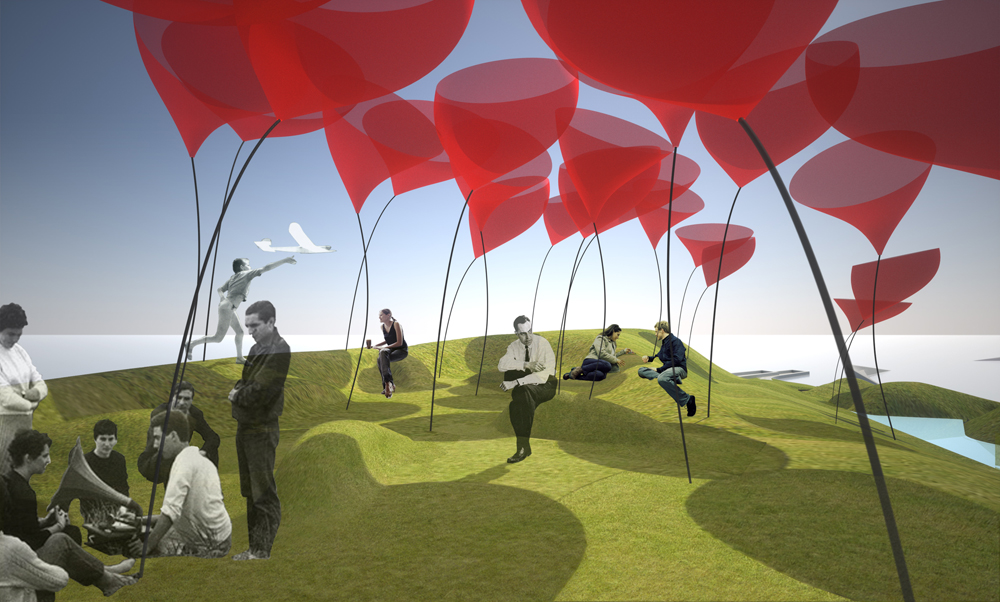 Interboro Partners' Holding Pattern and stARTT's WHATAMI to open in the Courtyards of MoMA PS1 and MAXXI in June
NEW YORK, February 16, 2011—The Museum of Modern Art, MoMA PS1, and the National Museum of XXI Century Arts of Rome announce Interboro Partners (Brooklyn, NY, Tobias Armborst, Daniel D'Oca, and Georgeen Theodore), as the winner of the 12th annual Young Architects Program in New York, and stARTT, (Rome, Italy, Simone Capra and Claudio Castaldo), as the winner of the first annual YAP_MAXXI Young Architects Program in Rome. Now in its 12th edition, the Young Architects Program at MoMA and MoMA PS1 has been committed to offering emerging architectural talent the opportunity to design and present innovative projects, challenging each year's winners to develop highly innovative designs for a temporary, outdoor installation at MoMA PS1 that provides shade, seating, and water. The architects must also work within guidelines that address environmental issues, including sustainability and recycling. For the first time, MoMA and MoMA PS1 are partnering with another institution, MAXXI in Rome, to create the first international edition of the Young Architects Program. Interboro Partners, drawn from among five finalists, will design a temporary urban landscape for the 2011 Warm Up summer music series in MoMA PS1's outdoor courtyard. stARTT has been chosen from among five European finalists to create an innovative event space in the MAXXI piazza. Both installations will open in June.
Interboro Partners' Holding Pattern brings an eclectic collection of objects including benches, mirrors, ping-pong tables, and floodlights, all disposed under a very elegant and taut canopy of rope strung from MoMA PS1's wall to the parapet across the courtyard. Creating an unobstructed space, the design incorporates for the first time the entire space of MoMA PS1's courtyard under a single grand structure, while creating an environment focusing on the audience as much as the Warm Up performance. A key component of the theme is recycling; objects in the space will be donated to the community at the conclusion of the summer. The designers met with local businesses and organizations including a taxi cab company, senior and day care centers, high schools, settlement houses, the local YMCA, library, and a greenmarket to determine what components of their installation could be used by those organizations following the Warm Up summer music series. Incorporating objects that can subsequently be used by these organizations is a means of strengthening MoMA PS1's ties to the local Long Island City community.
The other finalists for this year's MoMA PS1 Young Architects Program were FormlessFinder (New Haven, CT/Brooklyn, NY, Julian Rose and Garrett Ricciardi), MASS Design Group (Boston, MA, Michael Murphy), Matter Architecture Practice (Brooklyn, NY, Sandra Wheeler and Alfred Zollinger), and IJP (London/Cambridge, MA, George L. Legendre). An exhibition of the five finalists' proposed projects as well as YAP_MAXXI's five finalists' proposed projects will be on view at MoMA over the summer. It will be organized by Barry Bergdoll, MoMA Philip Johnson Chief Curator, with Whitney May, Department Assistant, Department of Architecture and Design, The Museum of Modern Art.
Mr. Bergdoll explains, "Simple materials that transform a space to create a kind of public living room and rec room are trademarks of this young Brooklyn firm. Interboro is interested in creating elegant and unpretentious spaces with common materials. Their work has both a modesty and a commitment quite at odds with the luxury and complex computer-generated form that has prevailed in the city in recent years. With a few gestures they transform parts of the city to achieve new temporary atmospheres and attract new participants."
Klaus Biesenbach, MoMA PS1 Director and MoMA Chief Curator at Large, adds, "MoMA PS1 is very excited about the innovative architecture of Interboro, which describes the famous MoMA PS1 courtyard as one architectural volume, especially since the YAP 2011 opening will coincide with the much anticipated opening of the new MoMA PS1 entrance kiosk by Andrew Berman Architects."
WHATAMI by stARTT is based on the manufacturing of an artificial archipelago-hill, generating smaller green areas in the garden and potentially outside the museum. The hill works as a garden, injecting "green" into the concrete plateau of the museum's outdoor space, allowing it to serve as a stage and/or parterre for concerts and other events, or as a space to rest and look at the museum itself. The artificial landscape will be punctuated by large "flowers" providing light, shadow, water, and sound. The materials proposed for the installation involve a two-fold recycling process, the supplying of the materials for the construction (straw, geo-textile, plastic) and the dismantling of the "hill" (turf, lighting).
Opened in May 2010, MAXXI was designed by Zaha Hadid and awarded Royal Institute of British Architect's (RIBA) Stirling Prize for architecture, and has already gained a place among the elite international contemporary art and architecture museums.
The other YAP_MAXXI finalists were Raffaella De Simone/Valentina Mandalari (Palermo); Ghigos Ideas (Lissone/Mi, Davide Crippa, Barbara Di Prete and Francesco Tosi); Asif Khan (London, United Kingdom); and Langarita Navarro Arquitectos (Madrid, Spain, María Langarita and Víctor Navarro).
Pippo Ciorra, Senior Curator of Architecture at MAXXI, explains, "We're very happy with the results of this program for three main reasons. First, the collaboration with MoMA proved as effective and productive as we hoped, finally allowing us a surprising insight into the most recent research in terms of architecture, public space, and landscape. Second, we were able to discover an unexpected positive quality of answers by the Italian and European young (under 35) architects involved in the project, all proposing fascinating, innovative and well developed proposals. Third, we're delighted that we were able to choose a winning proposal which incorporates a MAXXI_specific approach to the issues of ecology, recycle, and public space."
YOUNG ARCHITECTS PROGRAM WEBSITE
A dedicated YAP International website will be launched prior to the June opening. The website will feature the selected proposals and designs from Interboro Partners, winner of YAP in New York, and stARTT, winner of YAP International in Rome. The website will also include an archive of past MoMA/MoMA PS1 finalists' and winners' proposals, interviews with the curators as well as installation videos.
SELECTION PROCESS
For the Young Architects Program 2011 selection process, MoMA and MoMA PS1 invited outside experts in the field of architecture, including architects, curators, scholars, and magazine editors, to nominate the finalists from a pool of approximately 25 candidates that included both recent graduates and established architects experimenting with new styles or techniques. After reviewing the candidates, five finalists were selected to present proposals to a panel composed of Glenn D. Lowry, MoMA Director; Kathy Halbreich, MoMA Associate Director; Peter Reed, MoMA Senior Deputy Director of Curatorial Affairs; Barry Bergdoll, MoMA Philip Johnson Chief Curator, Department of Architecture and Design; Klaus Biesenbach, MoMA PS1 Director and MoMA Chief Curator at Large; Peter Eleey, MoMA PS1 Curator; Antoine Guerrero, MoMA PS1 Director of Operations and Exhibitions; and Pippo Ciorra, Senior Curator, MAXXI Architettura. The five finalists and winner of the YAP_MAXXI program were selected by a panel composed of Pio Bald, President, Fondazione MAXXI; Margherita Guccione, Director, MAXXI Architettura; Anna Mattirolo, Director, MAXXI Arte; Barry Bergdoll, Philip Johnson Chief Curator of Architecture and Design, The Museum of Modern Art; Klaus Biesenbach, Director of MoMA PS1 and Chief Curator at Large, The Museum of Modern Art, Pippo Ciorra, Senior Curator, MAXXI Architettura; and Maristella Casciato, Associate Professor of History of Architecture, University of Bologna.
ABOUT INTERBORO PARTNERS
Formed in 2002 by four graduates of Harvard University's Graduate School of Design, Interboro Partners is a New York City-based office of architects, urban designers, and planners who work together to improve the urban environment with innovative, experimental design ideas. A winner of the AIA New York Chapter's "New Practices Award," the Architectural League's "Young Architects Award," and numerous ideas competitions, Interboro employs unconventional analytical techniques that inform creative, out-of-the-box proposals. At the heart of their philosophy is the idea that architecture's ability to act is tied to its own ability to recognize those that act on it. Their projects thus represent an ever expanding concept of what architecture is, of how it acts on the world, but also how it is acted upon by individuals, institutions, ideas, idealizations, and objects.
Interboro Partners' recent project include the installation of 100+ murals depicting community in America produced for the 2009 International Architecture Biennale as well as the design of a 38,000
SF sculpture park in lower Manhattan. Interboro has received many awards for its innovative projects, including the New Practices Award from the AIA New York Chapter and the Architectural League's Emerging Voices and Young Architects Awards. Interboro's work has been published and exhibited widely.
ABOUT stARTT
stARTT is the brainchild of Simone Capra and Claudio Castaldo and was founded in 2008 to investigate the processes of transformation involving architecture and the territory in general, tackling the reality of the Italian productive fabric. The start projects aim to articulate the relationship between landscape, city, infrastructure, and context.
HISTORY
This year marks the fourteenth summer that MoMA PS1 has hosted a combined architectural installation and music series in its outdoor galleries, though it is only the twelfth year of the Young Architects Program, which began in 2000. The inaugural project was an architecturally based installation in 1998 by an Austrian artist collective, Gelatin. In 1999, Philip Johnson's DJ Pavilion celebrated the historic affiliation of MoMA PS1 and MoMA. The previous winners of the Young Architects Program are SHoP/Sharples Holden Pasquarelli (2000), ROY (2001), William E. Massie (2002), Tom Wiscombe / EMERGENT (2003), nARCHITECTS (2004), Xefirotarch (2005), OBRA (2006), Ball-Nogues (2007), WORKac (2008), MOS (2009), and Solid Objectives – Idenburg Liu (2010).
SPONSORSHIP
The 2011 Young Architects Program is sponsored by Bloomberg.
Additional funding is provided by Bertha and Isaac Liberman Foundation, Jeffrey and Michèle Klein, Agnes Gund, and The Contemporary Arts Council of The Museum of Modern Art.
PUBLIC INFORMATION
MoMA PS1: 22-25 Jackson Ave at the intersection of 46th Avenue in Long Island City, Queens
Hours: Noon–6:00 p.m. Thursday through Monday; closed on Tuesdays and Wednesdays.
Admission: Admission is a $10.00 suggested donation; $5.00 for students and senior citizens; free for MoMA members and MoMA admission ticket holders. The MoMA ticket must be presented at MoMA PS1 within thirty days of date on ticket and is not valid during Warm Up or other MoMA PS1 events or benefits. The public may call 718/784-2084 for additional information.
Position the cursor on the images to view captions, click on images to enlarge them.