SIDEREAL GARDEN BY VINCENZO CECCATO – RO.MI. | ROME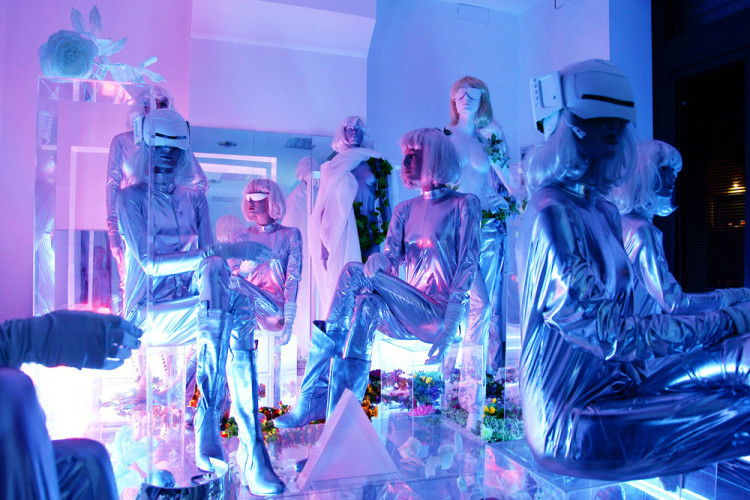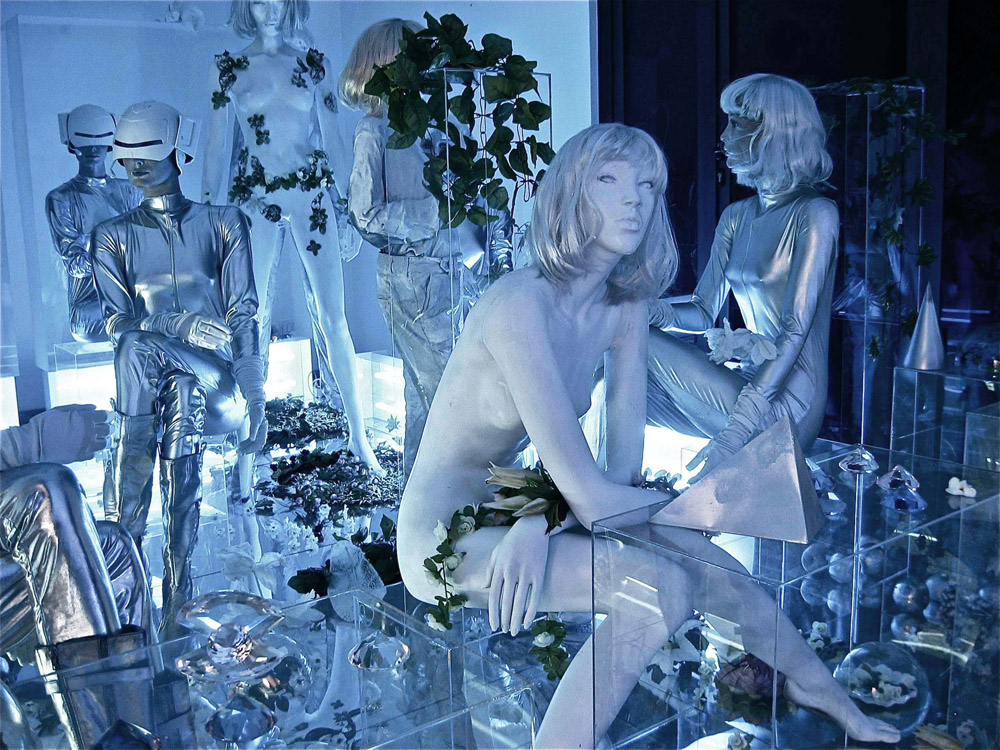 RO.MI. Contemporary art
present
"Sidereal Garden"
by Vincenzo Ceccato
from April 9 to May 7, 2011
romi.art@fastwebnet.it – www.romiart.net
RO.MI. Contemporary Art
Via Vetulonia, 55 – Rome | tel. +39 06.5115425 – +39 338 8097446
Two years after submitting the installation "The Last Supper to 9 billion light years, Vincenzo Ceccato proposed in the vast space of the gallery RO.MI., another great multimedia work entitled"Sidereal garden". In this work, which develops in about 40 sqm., the artist continues his exploration on the relationship between art and science, especially related to the latest theories in physics and cosmology.
The reference is still the universe where the characters are ideally screened-mannequins that inhabit this "garden".
Everything is artificial, starting with the post-human beings, clones, mutants, until the vegetation, the neon light.
It refers, first to distant galaxies in which any civilization much advanced, they have reached a totally artificial mutation, on the other, eventually, to a hyper fate reserved for the inhabitants of our planet. It assumes a world where the artificial element progressively contaminate the biological element to produce a hybrid transformation to androids, mirrors a world started at a more worrying contamination between nature and artifice.
Man promises a metamorphosis that led him to become a hybrid biomechanical be thinking? A sort of asexual mutant, ambiguous, perhaps immortal, in a situation in which progress has no other purpose than his own trial?
A future that size, along with the relentless advance of science and new and baffling case of physics and cosmology, will come to redefine many of the current conceptions of "reality."
Time from 17 to 20
Open every day except on holidays
Position the cursor on the images to view captions, click on images to enlarge them.
Posizionare il cursore sulle immagini per leggere le didascalie; cliccare sulle immagini per ingrandirle.
RO.MI. Arte contemporanea
presenta
"Giardino Siderale"
di Vincenzo Ceccato
Inaugurazione Sabato 9 aprile 2011 ore 19
Via Vetulonia, 55 – Roma
A due anni dalla presentazione dell'installazione "L'Ultima cena a 9 miliardi di anni luce", Vincenzo Ceccato propone nel vasto spazio della galleria RO.MI.,  un'altra grande opera multimediale dal titolo  "Giardino siderale". In questo lavoro che si sviluppa in circa 40 mq., l'artista prosegue la sua esplorazione che mette in rapporto l'arte e la scienza, soprattutto riferite alle più recenti teorie nell'ambito di fisica e cosmologia.
Il riferimento è ancora l'universo dove vengono idealmente proiettati i personaggi-manichini che abitano questo "giardino".
Tutto è artificiale, a cominciare dagli esseri post-umani, cloni, mutanti, fino alla vegetazione, alla luce al neon.
Si allude, da un lato a lontane galassie in cui eventuali civiltà molto evolute, siano pervenute ad una mutazione totalmente artificiale, dall'altro, in prospettiva,  ad un destino ipertecnologico riservato agli abitanti del nostro pianeta. Si ipotizza  una realtà in cui l'elemento artificiale progressivamente contaminerà l'elemento biologico producendo una trasformazione verso ibridi androidi, specchio di un mondo avviato ad una sempre più inquietante contaminazione tra natura e artificio.
All'uomo si prospetta una metamorfosi che lo porterà a diventare un ibrido essere biomeccanico pensante?  Una sorta di mutante asessuato, ambiguo, immortale forse, in una realtà in cui il progredire non avrà altro scopo se non il suo stesso processo?
Una dimensione futura che, insieme all'incessante progredire della scienza e alle nuove e sconcertanti ipotesi di fisica e cosmologia, verrà a ridefinire molte delle attuali concezioni del "reale".
RO.MI. Arte contemporanea
romi.art@fastwebnet.it – www.romiart.net
orario: 17 – 20 tutti I giorni escluso festivi
Via Vetulonia, 55 – Roma  | tel. +39 06.5115425 – +39 338 8097446