ENTRE SIEMPRE Y JAMÁS – LATIN AMERICAN PAVILION – IILA | 54TH INTERNATIONAL ART EXHIBITION – LA BIENNALE DI VENEZIA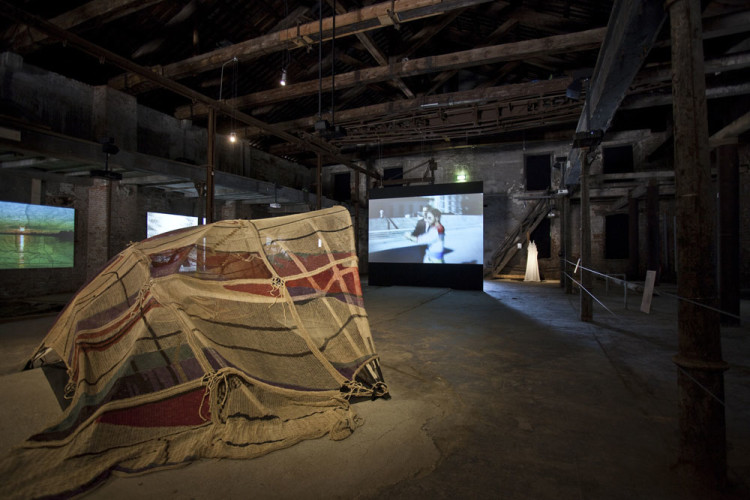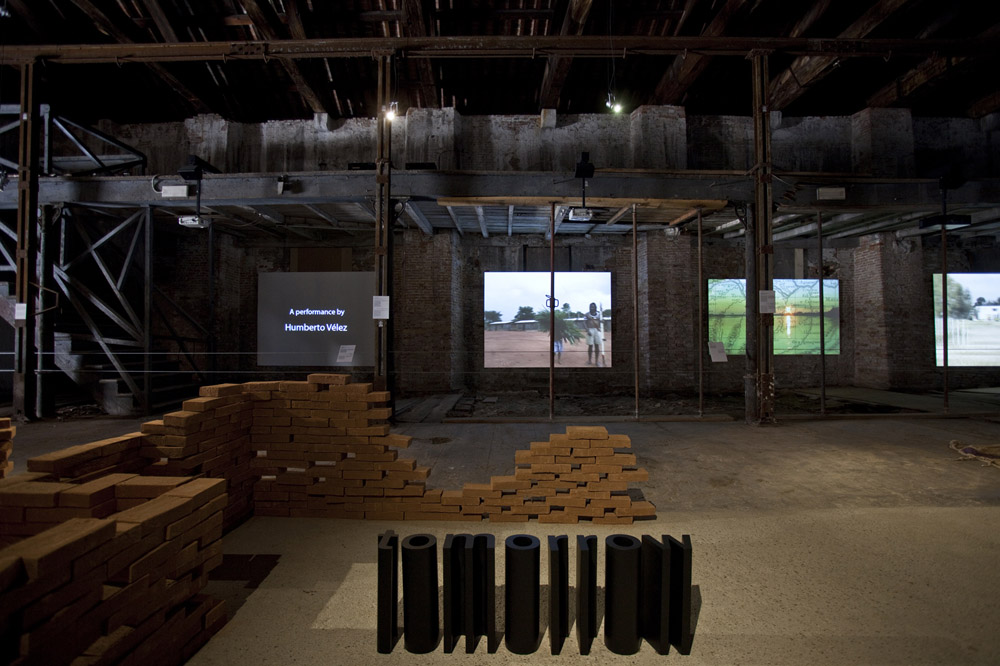 ENTRE SIEMPRE Y JAMÁS (Between Forever and Never)
Latin American Pavilion – IILA (Italo-Latin American Institute)
54th International Art Exhibition – la Biennale di Venezia
4th June – 27th Novembe
Enfoques del arte latinoamericano en torno al tema del Bicentenario
Destellos de un pretérito porvenir
por Patricia Rivadeneira
El verbo América es búsqueda de acontecimientos que no se cuentan en el cuento.
Roberto Matta
En 1810, varios países de América pusieron en marcha movimientos emancipadores que detonaron un fenómeno histórico cuyos efectos se prolongan hasta hoy. En esa fecha, de la que acaban de conmemorarse 200 años, las colonias españolas dieron los primeros pasos dentro de un camino por el que aspiraban a convertirse en repúblicas autónomas, autogobernadas y, por eso mismo, capaces de de forjar a pulso su destino y su identidad.
Las recientes conmemoraciones del inicio de este proceso han sido también, para las comunidades nacionales y locales, una oportunidad de confrontar críticamente el sueño y la utopía de ese épico gesto emancipador, que tuvo lugar en medio de gritos de guerra y derramamientos de sangre hace 200 años, y que gravita aun como una sombra inspiradora y polémica sobre la realidad política y cultural de la región. En forma paralela a las ceremonias oficiales, las diversas sociedades latinoamericanas se han dado a la tarea de activar confrontaciones críticas con los relatos y los sistemas de representación que han custodiado hasta ahora institucionalmente los 200 años de vida republicana, proceso reflexivo en que la representación y la producción artística han tenido una participación clave.
El Instituto Italo-Latino Americano (IILA), que por cerca de cuarenta años ha apoyado la presencia del arte latinoamericano en la Esposizione Internazionale d'Arte – la Biennale di Venezia, ha reunidos para su versión número 54 destacados frutos de este quehacer que, desde el régimen de la imagen, la composición, el movimiento y el sonido, interroga críticamente al relato tradicional republicano u ofrece nuevos perfiles para abordarlo. El espacio del Isolotto en los Arsenales, donde ha quedado albergado el Pabellón América Latina – IILA – único testimonio en pie de las fábricas navales venecianas del Trescientos – se ha convertido así en un inapreciable escenario para el despliegue de una profundidad histórica que, lejos de la pompa de las celebraciones oficiales, aborda la historia de la región desde sus latencias, sus sueños desvencijados, sus renovadas utopías, sus revueltas soterradas y sus pretéritos en pugna por existir.
Los trayectos que diseña la muestra son fruto de un trabajo curatorial que se preocupo fundamentalmente de dar lugar a las rutas inéditas que la producción de arte ha abierto para el reencuentro con la memoria histórica y con los acontecimiento que alguna vez proyectaron la autonomía cultural, económica y política de América Latina, lo que nos movilizó también a dar expresión a la temporalidad compleja en que parece realizarse, entre lo dado para siempre y lo eternamente proyectado al futuro, la experiencia histórica latinoamericana.
De allí el título del conjunto de obras – Entre Siempre y Jamás – que cita un verso del escritor uruguayo Mario Benedetti, y nos abre, por otra parte, a esa identidad visceral, a esa temporalidad compleja implícita en las obras y que creemos conmemora en ellas la colisión de visiones de mundo y estratos temporales que han debido integrarse y entremezclarse para producir la condición histórica del sujeto latinoamericano.
Entre Siempre y Jamás hace un gesto de reconocimiento de esa sorprendente realidad temporal compuesta de superposiciones, ofreciendo una imagen y una elaboración del pasado histórico republicano solo apreciable bajo la luz crítica del presente y el porvenir. Los trabajos incluidos en esta muestra – en la que convergen propuestas artísticas emergentes y consagradas que atraviesan América Latina – reescriben visualmente la historia latinoamericana y lo hacen desde las contingencias económicas y políticas que construyen el presente de la región; al mismo tiempo reinterpretan el relato republicano alterando paródicamente sus actores y sus próceres y otorgándole nuevos acentos, diversos y contemporáneos, a sus discursos fundacionales, con lo que reorientan interrogativamente estos discursos hacia el futuro. Al recorrer caminos intransitados de la historia y al fundirla con nuevos ímpetus emancipadores proyectados al provenir, estos trabajos traen a presencia la perturbadora memoria de aquellos acontecimientos que, al decir del artista chileno Roberto Matta, "no se cuentan en el cuento".
Hemos creído reconocer en esta nueva forma de compromiso de los artistas latinoamericanos con su pasado, una suerte de recuperación crítica del gesto utópico que alguna vez activó fuertemente las energías revolucionaras de la región, produciendo figuras político-intelectuales de alcance y resonancia universal. Lejos de los cantos de sirena del mercado del arte, que inducen y promueven los coqueteos escépticos y apolíticos de la obra con los fragmentos desintegrados de la historia moderna, los artistas presentes en esta muestra traducen el espíritu de una generación que vuelve a pensar en la historia como portadora de un posible sentido de "progreso". Un progreso respecto del que habría que agregar – como lo hacía Pier Paolo Pasolini en la arenas revolucionarias de los años 60 – difiere del "desarrollo" porque mientras el desarrollo persigue un simple aumento cuantitativo de disponibilidad de bienes, éste supone un mejoramiento cualitativo de nuestro modo de vivir.
En la medida en que se hunden en los laberintos de soledad que conducen al pasado latinoamericano para reencontrar la figura deslucida de ciertos acontecimientos o realidades interesadamente anulados por una conciencia política que avanza hacia el futuro por una vía desarrollista – como lo son por ejemplo las realidades que refieren a la supervivencia de las culturas y formas de vida ancestrales – y en la medida en que hacen suya una voluntad de producir una representación del futuro que incluya como una semilla de posibilidad a esos pasados denegados, las obras reunidas en el Isolotto del Arsenale proyectan un nuevo marco posible – utópico si se quiere, pero por eso mismo necesario en un contexto duramente golpeado por la cruda realidad – para el encuentro y el intercambio de la región Latinoamericana con la cultura global.
Position the cursor on the images to view captions, click on images to enlarge them.
Posizionare il cursore sulle immagini per leggere le didascalie; cliccare sulle immagini per ingrandirle.
PRESS RELEASE
ENTRE SIEMPRE Y JAMÁS (Between Forever and Never)
Latin American Pavilion – IILA (Italo-Latin American Institute)
54th International Art Exhibition – la Biennale di Venezia
4th June – 27th November 2011
IILA (Italo-Latin American Institute), International Organism, invited by la Biennale di Venezia since 1972, organises its own Pavilion dedicated to Latin America.
For the coming 54th International Art Exhibition IILA will present a project about the culture of the whole Latin America, through the artworks of artists from all the Continent. The Latin American Pavilion will be housed in Isolotto, inside the Arsenale.
For this 54th edition, IILA, together with the Commissioner Patricia Rivadeneira, IILA Cultural Secretary, has chosen to invite Alfons Hug as Curator of the Pavilion. Hug, one of the most important expert on Latin American art, was curator of the Bienal de São Paulo (2002 and 2004) and the Bienal del Fin del Mundo, Ushuaia (2009). At the moment he lives in Río de Janeiro, where he heads the Goethe-Institut, institutional partner of this exhibition.
The exhibition is entitled "Entre Siempre y Jamás" (Between Forever and Never), a quote from a poem by the Uruguay writer Mario Benedetti, is dedicated to the Latin American Bicentenary of Independence. The project recovers the concept of that independence and the significance of its social and cultural influences, articulating through art the temporal and local echoes that stem from it.
The artists participating in this exhibition have explored the length and breadth of Latin America.
They've visited small, tranquil towns in the hinterland of various countries as well as crowded and overflowing megalopolis.
Places firmly rooted in the past as well as modern metropolis that have entirely up-rooted all vestiges of history. Using contemporary resources, they've explored all 200 years of Latin American independence and its cultural patrimony.
The works on show recount the cultural, social and political worlds experienced by the contemporary American states. The artists invited to reflect on this theme are:
Leticia El Halli Obeid (Argentina), Narda Alvarado (Bolivia), Neville D´Almeida (Brazil), Sebastián Preece (Chile), Gianfranco Foschino (Chile/Italy), Juan Fernando Herrán (Colombia), Sila Chanto (Costa Rica), Reynier Leyva Novo (Cuba), María Rosa Jijón (Ecuador), Walterio Iraheta (El Salvador), Regina José Galindo (Guatemala), Adán Vallecillo (Honduras), Julieta Aranda (Mexico), Rolando Castellón (Nicaragua), Humberto Vélez (Panama), Claudia Casarino (Paraguay), Fernando Gutiérrez (Peru), David Pérez Karmadavis (Dominican Republic), Martín Sastre (Uruguay), Alexander Apóstol (Venezuela). In addition, because IILA's institutional aims include promoting cultural relations between Latin America, Italy and Europe, the exhibition project includes a number of artists who have realized their works in Latin America: Alberto de Agostini (Italy), Christine de la Garenne (Germany), Olaf Holzapfel with Teresa, Mirta, Dionisia, Noelia and Luisa Gutiérrez from the Wichi indigenous community (Germany/ Argentina), Bjørn Melhus (Norway/Germany).
TECHNICAL FORM
Entre Siempre y Jamás (Between Forever and Never)
Latin American Pavilion – IILA (Italo-Latin American Institute)
54th International Art Exhibition – la Biennale di Venezia
Isolotto, Arsenale – 30122 Venice.
Commissioner
Patricia Rivadeneira
Deputy Commissioner
Alessandra Bonanni
Curator
Alfons Hug
Co-curators
Paz Guevara Patricia Rivadeneira
Exhibition design: Paola Pisanelli Nero
Catalogue: Entre Siempre y Jamás, Sala Editori, Pescara , Italy 2011
For additional information Cultural
Department IILA Ph: +39 0668492.225/246 – fax +39 066872834
s.culturale@iila.org / www.iila.org

Press Office Latin American Pavilion – IILA
Federica La Paglia – Ph: +39. 338 9982553 / f.lapaglia@gmail.com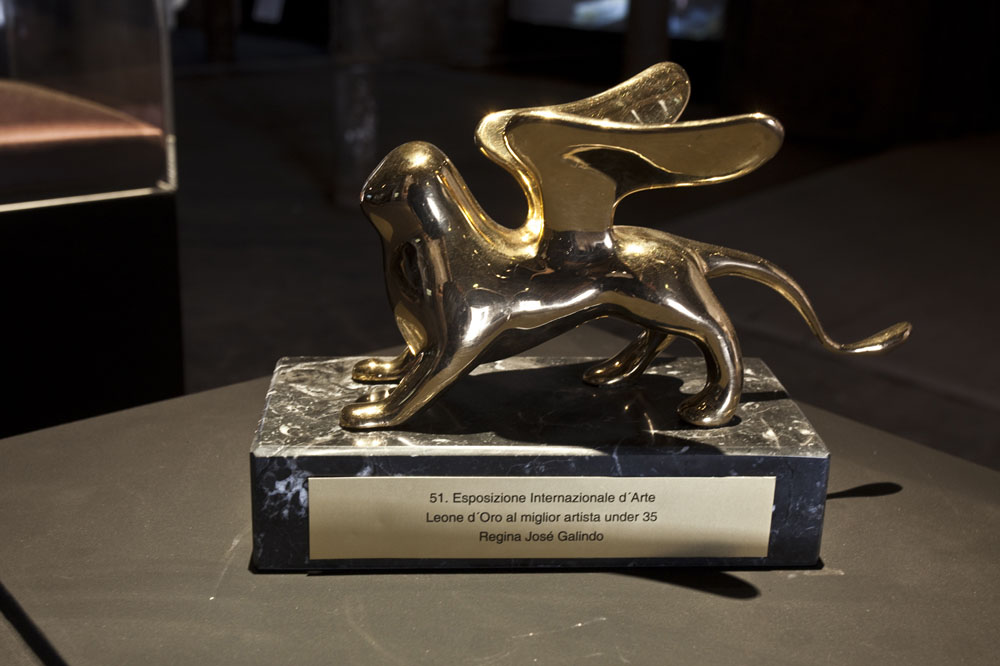 ISTITUTO ITALO-LATINO AMERICANO
Via Giovanni Paisiello, 24 – 00198 Roma
Tel. (+39) 06 / 68492.1 – Fax (+39) 06 / 6872834
info@iila.org – http://www.iila.org
L'Istituto Italo-Latino Americano (IILA) è un Organismo internazionale intergovernativo con sede in Roma. Ne sono membri l'Italia e le venti Repubbliche dell'America Latina ai sensi della Convenzione Internazionale firmata a Roma il 1° giugno 1966 ed entrata in vigore l'11 dicembre dello stesso anno a seguito della ratifica degli Stati Membri.
Stati Membri: Argentina, Bolivia, Brasile, Cile, Colombia, Costa Rica, Cuba, Ecuador, El Salvador, Guatemala, Haiti, Honduras, Italia, Messico, Nicaragua, Panama, Paraguay, Perù, Repubblica Dominicana, Uruguay, Venezuela.
Organi dell'IILA: Presidente, Consiglio dei Delegati, Comitato Esecutivo, Segretario Generale
L'IILA opera al servizio della collaborazione fra l'Italia e l'America Latina mediante molteplici attività e iniziative:
– Approfondimento dei temi di maggior interesse ed attualità nel contesto delle relazioni dell'America Latina con l'Italia e con l'Unione Europea;
– Progetti, sostenuti dal Ministero degli Affari Esteri, nel settore della cooperazione allo sviluppo che interessano i paesi membri;
– Promozione e intensificazione della collaborazione economica, sociale, scientifica, tecnologica e culturale fra l'Italia e l'America Latina;
– Manifestazioni per promuovere la conoscenza dell'America Latina in Italia;
– Promozione di Incontri Internazionali sia tematici che multidiciplinari, quali le Conferenze Nazionali biennali Italia-America Latina;
– Informazione sull'America Latina grazie alle pubblicazioni ed attività del Centro Studi e Documentazione ed al rilevante patrimonio librario della Biblioteca.
L'IILA è Osservatore Permanente presso l'Assemblea Generale delle Nazioni Unite e per lo svolgimento delle sue attività l'IILA collabora con organismi intergovernativi, istituzioni ed enti specializzati che si occupano dell'America Latina: Commissione Europea, Unesco, Banca Interamericana di Sviluppo, Organizzazione degli Stati Americani, Associazione Latino-Americana di Integrazione, Unione Latina, Sistema Economico Latinoamericano, Segreteria Generale Iberoamericana, etc.
AREA CULTURALE
– Iniziative per valorizzare il vasto e ricco patrimonio culturale latinoamericano, con particolare riferimento alla produzione letteraria, all'evoluzione artistica, alle principali realtà musicali, all'archeologia, antropologia, storia e architettura.
– Partecipazione con un proprio padiglione alla Biennale di Venezia, di Arte e di Architettura.
– Sostegno a istituzioni che promuovono il Cinema Latinoamericano e manifestazioni dedicate a paesi e registi latinoamericani
– Collaborazione con associazioni e istituzioni per la realizzazione di importanti iniziative volte a mantenere vivo l'interesse per il panorama culturale dell'America Latina.
AREA ECONOMICA E SOCIALE
– Cooperazione economico-sociale fra l'Italia e i paesi latinoamericani, con particolare riferimento ai sistemi produttivi e al ruolo delle piccole e medie imprese
– Promozione dei rapporti bilaterali con la realizzazione di Fori-paese a cui partecipano rappresentanti del settore pubblico, imprenditori, accademici e specialisti.
– Confronto tra il Sistema Italia e i Sistemi Paese degli Stati latinoamericani con il coinvolgimento dei Governi, dei Parlamenti, delle Regioni, del mondo imprenditoriale ed accademico.
– Promozione delle attività delle piccole e medie imprese e degli investimenti esteri, dialogo su tematiche di speciale rilevanza e attualità (integrazione regionale e subregionale, globalizzazione, coesione sociale, fenomeni migratori).
– Assistenza a missioni economiche ed imprenditoriali e cooperazione con le Regioni italiane per promuovere l'internazionalizzazione delle imprese.
– Collaborazione con la Commissione Europea per la realizzazione di progetti nel quadro dei programmi AL-Invest, Urb-AL, EuroSOCIAL, etc.
– Formazione di alto livello di funzionari latinoamericani mediante "Corsi di Perfezionamento in Commercio Internazionale e in Affari Europei Economici, Commerciali e di Cooperazione" realizzati in collaborazione con prestigiosi Atenei e Centri di Formazione.
AREA TECNICO-SCIENTIFICA
– Collaborazione con i governi e le istituzioni scientifiche ed accademiche e promozione di Accordi tra Università e Centri di Ricerca italiani e latinoamericani (ambiente, risorse energetiche rinnovabili, gestione territoriale dei rischi naturali, prevenzione delle catastrofi naturali, scienze mediche, geologia, farmacologia, risorse umane).
– Incontri internazionali in materia di prevenzione e mitigazione dei rischi naturali.
PROGRAMMI DI COOPERAZIONE ALLO SVILUPPO
– Programmi di cooperazione allo sviluppo, realizzati con l'appoggio del Ministero degli Affari Esteri italiano in settori prioritari: a) supporto all'organizzazione delle imprese; b) valorizzazione e tutela del patrimonio come risorsa di sviluppo; c) artigianato e recupero degli antichi mestieri.
– Progetti su scala regionale e subregionale e formazione professionale per l'inserimento nel mondo produttivo di giovani latinoamericani.
– Programmi di collaborazione accademica mediante la promozione di accordi tra Università italiane e latinoamericane su tematiche specifiche .
– Borse di studio per "stages" post-universitari di ricerca e specializzazione (agro-alimentare, ambiente, patrimonio culturale, sanità).
CENTRO STUDI E DOCUMENTAZIONE. BIBLIOTECA
Il Centro Studi e Documentazione è impegnato nel delineare i fenomeni che interagiscono nell'area latinoamericana e fra questa e l'Italia a livello nazionale e nella compagine europea. Le pubblicazioni curate dal Centro rispondono alle esigenze di aggiornamento metodologico e concettuale nell'intento di assicurare un corredo argomentativo alle istituzioni che si interessano all'America Latina.
La Biblioteca di circa 90 mila volumi, è annoverata fra le maggiori fonti di informazione sull'America Latina esistenti in Europa. La Biblioteca è collegata con le biblioteche specializzate del settore a livello nazionale e internazionale e vanta una apprezzabile emeroteca.
Il Centro Studi e la Biblioteca sono quotidianamente aperti al pubblico ed offrono un servizio di informazione e documentazione a quanti si interessano alle tematiche latinoamericane.