PERFORMING HISTORY – ROMANIAN PAVILION AT THE 54TH LA BIENNALE DI VENEZIA 2011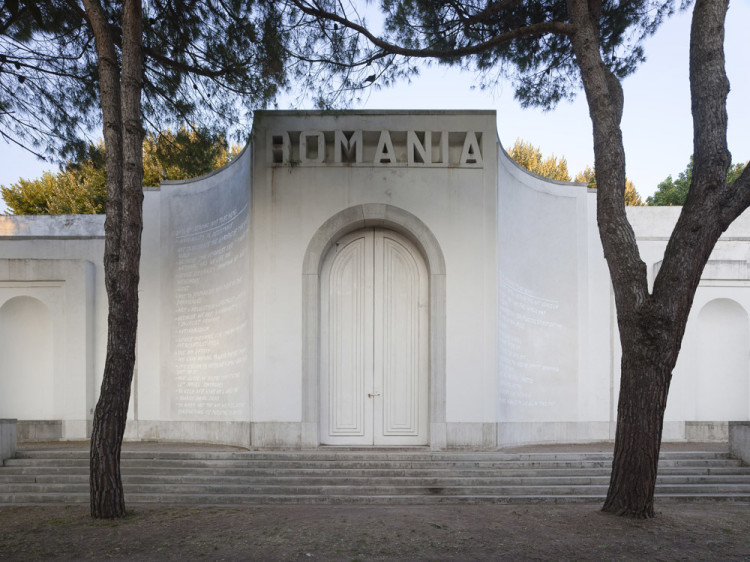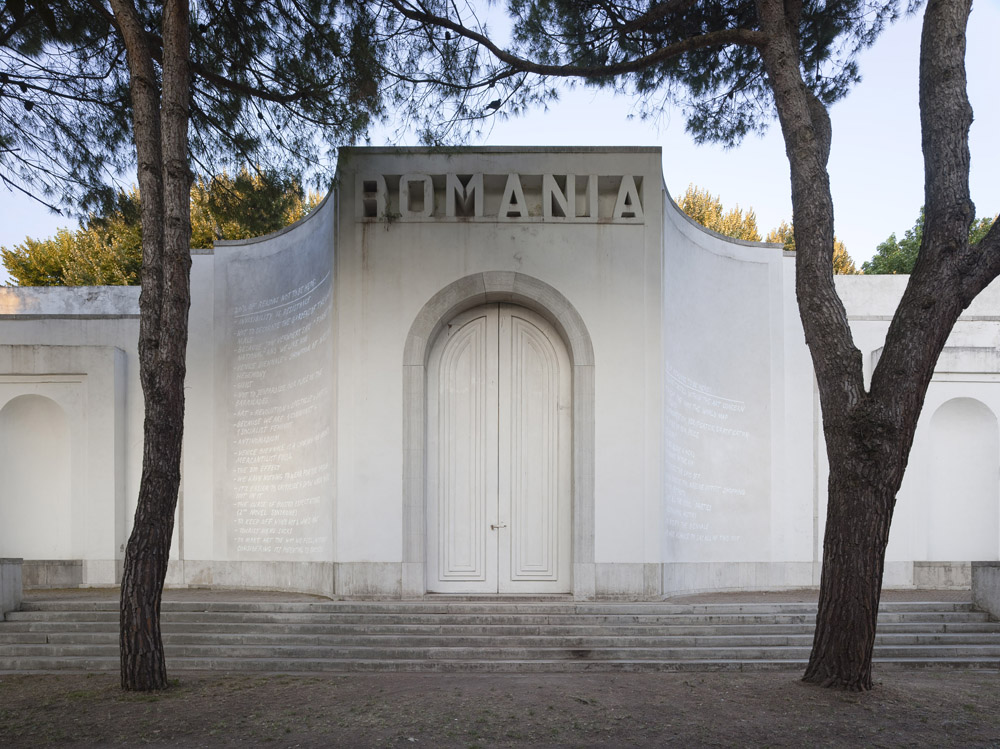 PERFORMING HISTORY
with Ion Grigorescu and the artist duo Anetta Mona Chisa & Lucia Tkácová
Curators: Maria Rus Bojan and Ami Barak
With the special collaboration of Bogdan Ghiu, the magazine IDEA arts + society and IRES
Commissioner: Monica Morariu
Vice-commissioner: Alexandru Damian
Romanian Pavilion – Giardini di Castello
June 4th – November 27th, 2011
Press Conference:
June 1st, 2011 at 3.15 PM
Exhibition Opening at the Pavilion:
June 2nd, 2011 at 2.15 PM
www.performinghistory.ro
PERFORMING HISTORY with Ion Grigorescu and the artist duo Anetta Mona Chisa & Lucia Tkácová is the project that represents the Romanian Pavilion at the 54th International Art Exhibition – la Biennale di Venezia 2011, Giardini di Castello.
PERFORMING HISTORY foregrounds the idea of multiple modes of relating to History, and of living History as a hypostasis of several different specific modernities.
By focusing on different aesthetic and artistic practices that are specific not only to Romania, but also to Eastern Europe in general, this project does not solely attempt to re-enact a lived history of the art of the past decades, or a post-totalitarian history of the East, but instead endeavours to highlight the fact that in this area, the dialectics of visual representation are strongly connected to the discourse of modernization.
The curatorial concept evolves as a challenging trans-generational dialogue between Ion Grigorescu, a legendary figure of Romanian experimental art, and the younger artists Anetta Mona Chisa & Lucia Tkácová; between the two curators, Maria Rus Bojan and Ami Barak, and also involving the writer Bogdan Ghiu and the sociologist Vasile Dâncu.
By means of a dynamic visual assemblage, the project functions as a meta-display in which history is performed and translated on different levels of meaning, reflecting the major challenges and paradigm shifts that are common to the Post- Communist area from Eastern Europe.
The ambiguous nature of the modernist traditions and the Eastern European neo avant-gardes, the aesthetics of the precariousness, the persistence of a specific minimal realism, the religious and the spiritual converted into conceptual art practices, the representation of the body, and the articulation of a new semiotics based on the reactivation of symbols inherited from the communist times are the topics to be explored.
Ion Grigorescu, born in 1945 in Bucharest, is an iconic figure of performance and conceptual art in Romania. Along with fellow Eastern European artists such as Jirˇí Kovanda, Július Koller, Mladen Stilinovic' or the late Tibor Hajas, Ion Grigorescu is increasingly acclaimed for his role in effectively cultivating resistance, and underground, clandestine art under Communist totalitarianism. As a forerunner of the conceptual and performative use of the body as an artistic medium in Romania since the early 1970s, Grigorescu is also one of the very few Romanian artists who have radically and conceptually illustrated contemporary concerns in perfect synchronicity with his time. Grigorescu has made an invaluable contribution to the shaping of a critical consciousness capable of articulating a genuinely universal critique in rationalist-discursive, performative, and artistic terms.
Within this exhibition, the artist takes the viewer on a journey along the threshold of the everyday, touching on all the emotional, social, historical, sexual, political, and spiritual aspects of life. In a display that should be read as a single installation, historical works that document some famous performances from the 1970s and 1990s are combined with new video pieces, including one work that has been specially commissioned for this project.
Describing an arch over time, the younger artists Anetta Mona Chisa & Lucia Tkácová reactivate historical references and convert them into new meanings and experiences, forging liaisons between generations, and probing critical and ethical continuity. The two artists have been working together since 2000. Their work attempts to bring to a more global consciousness a state of constant introspection, of curiosity in exploring the world they live in, and of the complex relationship between the individual and the collective in contemporary society. Their contribution to this project consists of a specially commissioned video work and a conceptual piece that covers the monumental façade of the Romanian Pavilion: a work that comments on the missions, structure, and potency of the Venice Biennale as an institution. Both works embrace the dissension as part of the inner conflict that defines the position of the artist in society today.
The catalogue, to appear as a special issue of IDEA arts + society magazine, edited by the author and theorist Bogdan Ghiu (who has had an essential input in this project since its inception) complements the exhibition. The editorial concept charts the evolution of the arts within the political and philosophical framework of Eastern Europe, a region undergoing a process of self-reinvention. Critics, curators, art historians, sociologists, and philosophers from the former Eastern bloc were invited to contribute.
In collaboration with Vasile Dâncu and the Romanian Institute for Assessment and Strategy (IRES), a sociological project of interaction with the audience has been developed. The aim of the study is to identify, within the European context, the Westerners' perceptions of the East in general, and of Communism in particular, but also to assess the recollection of Communism and the stereotypes referring to capitalism from the Easterners' point of view.
Opening times:
10 a.m. – 6 p.m. Closed on Mondays (excepting June 6th and November 21st, 2011)
Contact for press:
mbartagency@gmail.com, Tímea Lelik: +31.614789395, Hanna Alkema: +33.676994826
Organizers:
The Romanian Ministry of Culture and National Heritage, the Ministry of Foreign Affairs and the Romanian Cultural Institute.
Producers:
International Center for Contemporary Art Bucharest and MB Art Agency.
Partners:
IDEA, arts+society magazine, the Romanian Institute for Assessment and Strategy (IRES), the Romanian Lottery, Project Foundation and TVR Cultural.
The artists participation is supported by:
JGM Galerie, Paris, Galerija Gregor Podnar, Berlin & Ljubljana; Artra Gallery, Milan, Christine König Gallery, Vienna.
Sponsors:
Group Transilvae, ENEL Italia, Iordæchescu, Udrescu & Asociaflii, VenhoevenCS and I-Look.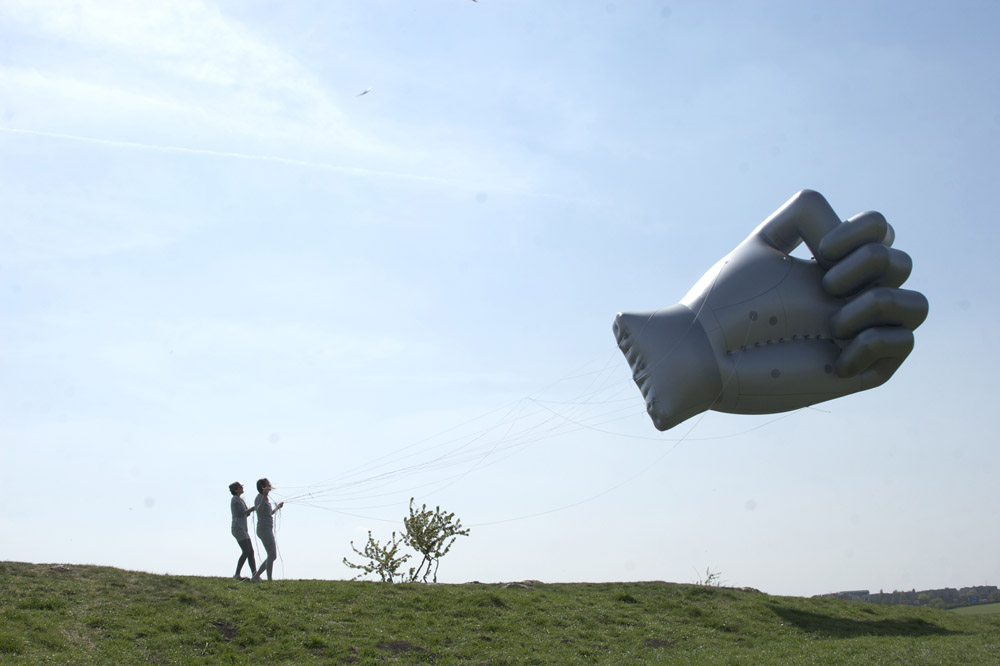 PERFORMING HISTORY
con Ion Grigorescu e il duo di artisti Ion Grigorescu and the artist duo Anetta Mona Chisa and Lucia Tkácová
Curatori: Maria Rus Bojan e Ami Barak
Con la collaborazione speciale di Bogdan Ghiu, della rivista IDEA arts + society e IRES
Commissario: Monica Morariu
Commissario aggiunto: Alexandru Damian
Padiglione Romania – Giardini di Castello
4 Giugno – 27 Novembre, 2011
Conferenza stampa:
1 Giugno, 2011 alle 15.15
Inaugurazione del Padiglione:
2 Giugno 2011 alle 14.15
www.performinghistory.ro
PERFORMING HISTORY con Ion Grigorescu e il duo di artisti Anetta Mona Chisa and Lucia Tkácová è il progetto che rappresenta
il Padiglione della Romania alla 54 Mostra Internazionale d'Arte – la Biennale di Venezia 2011, Giardini di Castello.
PERFORMING HISTORY ha come principale finalità l'idea di molteplici modalità di relazionarsi alla storia e alla storia attuale come ipostasi di diverse modernità specifiche. Concentrandosi su pratiche estetiche ed artistiche diverse che non sono specifiche solamente per la Romania, ma per tutto l'est europeo, questo progetto non prova solamente a rimettere in atto una storia vissuta dell'arte degli ultimi decenni o meglio la storia post-totalitarismo dell'Est, ma cerca invece di evidenziare che l'unico valido approccio possibile è quello di confrontare in modo equo tutti i diversi tipi di modernità e forme di modernizzazione.
Il concetto curatoriale evolve come dialogo a confronto transgenerazionale tra Ion Grigorescu, una figura leggendaria dell'arte sperimentale romena, e gli artisti Anetta Mona Chisa & Lucia Tkácová, tra i due curatori, Maria Rus Bojan e Ami
Barak, e il coinvolgimento dello scrittore Bogdan Ghiu e il sociologo Vasile Dâncu.
Il progetto propone una rivalutazione creativa della nostra propria storia con i mezzi di un assemblaggio dinamico visivo: una meta-presentazione nella quale la storia è esibita e traslata a diversi livelli di comprensione, che riflette le principali sfide e paradigmi comparsi che sono comuni all'area post-comunista dell'est Europa
Gli elementi esplorati sono la natura ambigua delle tradizioni moderniste e le neo avanguardie dell'est Europa, l'estetica della precarietà, la persistenza del realismo minimale, la religiosità e la spiritualità convertite in pratica artistica concettuale, la rappresentazione del corpo e l'articolazione di nuove semiotiche basate su riattivazione dei simboli ereditati dal periodo comunista.
Ion Grigorescu, nato nel 1945 a Bucarest, è una figura iconica della performance e dell'arte concettuale in Romania. Insieme ad altri artisti dell'est europeo quali Jirˇí Kovanda, Július Koller, Mladen Stilinovic' o, più tardi, Tibor Hajas, Ion Grigorescu è sempre più riconosciuto per il suo ruolo nella promozione dell'arte clandestina, di resistenza, durante il totalitarismo comunista. Precursore dell'uso concettuale e performativo del proprio corpo come medium artistico in Romania nei primi anni '70, Grigorescu e anche uno dei pochi artisti romeni che hanno illustrato in maniera radicale e concettuale temi contemporanei perfettamente sincronizzati con il proprio tempo. Grigorescu ha apportato un grandissimo contributo alla formazione della coscienza critica capace di articolare una critica genuina universale in termini razionalisti-discorsivi, performativi ed artistici.
Con questa mostra l'artista porta al visitatore in un viaggio dentro al quotidiano, per raggiungere sfere della vita emotive, sociali, storiche, sessuali, politiche e spirituali.
Con un display che funziona come un'unica istallazione, opere storiche, documentazioni di alcune delle più famose sue performance degli anni settanta e novanta vengono combinate in nuovi video, tra i quali uno di loro e stato commissionato appositamente per questo progetto.
Tracciando un intervallo, il più giovane duo di artisti Anetta Mona Chisa & Lucia Tkácová riattiva i riferimenti storici e gli trasforma in nuovi significati ed esperienze, rafforzando i collegamenti tra le generazioni e provando la continuità critica e etica. I due artisti lavorano insieme dal 2000. Il loro lavoro intende apportare una maggiore percezione globale dello stato di introspezione, una curiosità nell'esplorazione del mondo in cui vivono ed una relazione complessa tra individuale e collettivo nella società contemporanea. Il loro contributo al progetto consiste in un'opera video commissionata appositamente per l'evento ed un intervento concettuale che copre le facciate del Padiglione Romania. L'ultima opera tratta la missione, la struttura e la potenzialità della Biennale di Venezia quale istituzione. Entrambe le opere trattano le dissensioni quali parti del conflitto interno che definisce la posizione degli artisti nella società odierna.
Il catalogo, che apparirà come un numero speciale della rivista IDEA arts + society, edito dallo scrittore e teorico Bogdan Ghiu – che ha avuto un contributo essenziale al progetto già dall'inizio – completa la mostra. Il concetto editoriale traccia l'evoluzione degli artisti fra la struttura politica e filosofica dell'est europeo, una regione che sta attraversando un processo di propria reinvenzione. Sono stati invitati a scrivere i contributi critici, curatori, storici d'arte, sociologi, filosofi dell'ex Cortina di Ferro.
In collaborazione con il dott. Vasile Dâncu e l'Istituto Romeno per Valutazione e Strategia (IRES) è sviluppato un progetto speciale di interazione con il pubblico. Lo studio sperimentale proverà a "tuffarsi" nella memoria collettiva dell'Est e dell'Ovest per indagare sulla ricezione del progetto Performing History. Lo scopo dello studio è stato di identificare le percezioni occidentali sull'est generalmente e sul comunismo particolarmente, ma anche per valutare una ricollocazione del comunismo e degli stereotipi riguardanti il capitalismo dal punto di vista dell'Est.
Con questo progetto, gli artisti e curatori desiderano rivedere le opportunità per dibattere le dinamiche delle modernità dalla prospettiva specifica. Il tema della 54. Mostra Internazionale d'Arte – la Biennale di Venezia, "ILLUMInations", ha
caratteristiche particolarmente favorevoli a riguardo: la ridefinizione dell'identità, la rivisitazione e la rivalutazione della tradizione della modernità, la riaffermazione delle potenze nell'arte, una nuova sobrietà artistica; in breve, il bisogno del riassestamento comprensivo della storia e la riflessione delle sue eredità culturali.
Giorni d'apertura: Orario: 10.00–18.00. Chiuso il Lunedì (ad eccezione del 6 Giugno e 21 Novembre 2011)
Contatto per materiali stampa: mbartagency@gmail.com, Tímea Lelik: +31.614789395, Hanna Alkema: + 33.676994826
Organizzatori:
Ministero Romeno della Cultura e del Patrimonio Nazionale, Ministero degli Affari Esteri e Istituto Culturale Romeno.
Produttori:
Centro Internazionale d'Arte Contemporanea di Bucarest e MB Art Agency.
Partner:
Rivista IDEA arts + society, Istituto Romeno per Valutazione e Strategia della Romania (IRES), Lotteria Romena, Project Foundation e TVR Cultural.
La partecipazione degli artisti è sostenuta da: JGM Galerie, Parigi, Galerija Gregor Podnar, Berlino, Ljubljana, Artra Gallery, Milano, Christine König Gallery, Vienna.
Sponsor:
Group Transilvae, ENEL Italia, Iordæchescu, Udrescu & Asociaflii e VenhoevenCS e I-Look.
Position the cursor on the images to view captions, click on images to enlarge them.
Posizionare il cursore sulle immagini per leggere le didascalie; cliccare sulle immagini per ingrandirle.