GUGGENHEIM MUSEUM PRESENTS LEE UFAN: MARKING INFINITY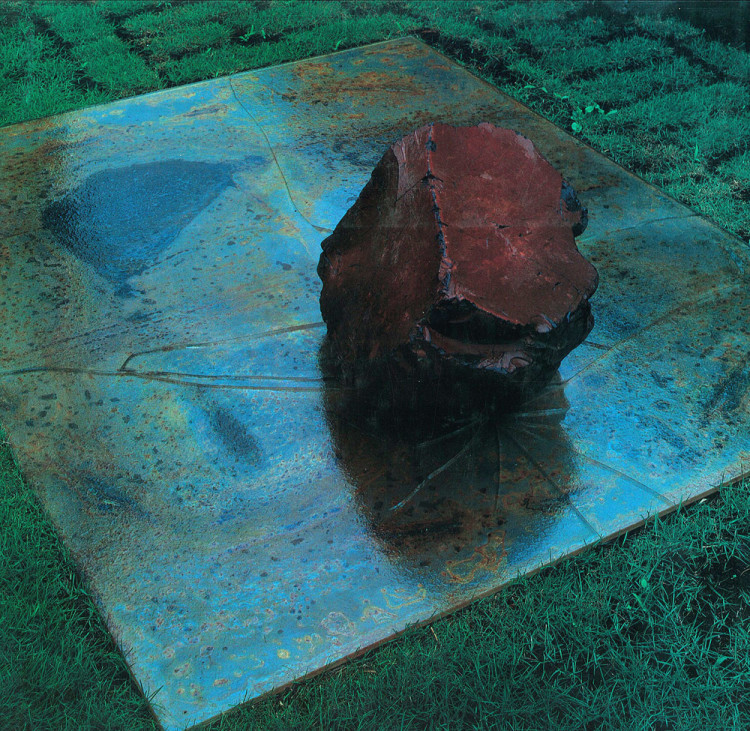 First North American Retrospective of the Internationally Acclaimed Artist,
Featuring Sculpture, Paintings, Works on Paper, and Installations
Exhibition: Lee Ufan: Marking Infinity
Dates: June 24–September 28, 2011
Venue: Solomon R. Guggenheim Museum, 1071 Fifth Avenue, New York
Location: Full rotunda and ramps; Annex Levels 4 and 7
Preview: Thursday, June 23, 10 am–12 pm

Position the cursor on the images to view captions, click on images to enlarge them. Posizionare il cursore sulle immagini per leggere le didascalie; cliccare sulle immagini per ingrandirle
(NEW YORK, NY – March 29, 2011)—The Solomon R. Guggenheim Museum presents Lee Ufan: Marking Infinity, the first North American museum retrospective devoted to the artist-philosopher Lee Ufan (surname: Lee, given name: Ufan), a preeminent sculptor, painter, and writer active in Korea, Japan, and Europe over the last forty years. The exhibition positions Lee as a historical figure and contemporary master, charting the artist's creation of a visual, conceptual, and theoretical language that has radically expanded the possibilities for Post-Minimalist art. His deliberately limited and distilled gestures, guided by an ethics of restraint, produce emptiness that is generative and vivid; it is this sense of infinitude that forms the material and substance of his art.
Featuring some ninety works from the 1960s to the present—including a new site-specific installation— the exhibition will be installed throughout the museum, beginning with the rotunda floor and extending up the six ramps of the Frank Lloyd Wright–designed building and into two Annex Level galleries. The selection of sculpture, paintings, works on paper, and installations includes Lee's most iconic works, many presented in the United States for the first time. Objects are on loan from major public and private collections in Japan, Korea, Europe, and the United States. Lee Ufan: Marking Infinity is on view from June 24 through September 28, 2011.
This exhibition is made possible with lead sponsorship from Samsung.
Major support is provided by the Korea Foundation. Generous support is also provided by The Japan Foundation. Additional support is provided by the E. Rhodes and Leona B. Carpenter Foundation.
We recognize the Leadership Committee for the exhibition, including founding support from Timothy Blum; the Dedalus Foundation, Inc.; HyungTeh Do; Arne Glimcher; Marc Glimcher; Elvira González; Tina Kim; HyunSook Lee; Nicholas Logsdail; Isabel Mignoni; the Naoshima Fukutake Art Museum Foundation; Jeff Poe; Thaddaeus Ropac; Rosemarie Schwarzwälder; Masami Shiraishi; Sadao Shirota; and Jill Silverman.
Lee Ufan: Marking Infinity is organized by Alexandra Munroe, Samsung Senior Curator, Asian Art, at the Solomon R. Guggenheim Museum. Sandhini Poddar, Assistant Curator, Asian Art, and Nancy Lim, Asian Art Curatorial Fellow, provided curatorial support.
Richard Armstrong, Director of the Solomon R. Guggenheim Museum and Foundation, noted, "Lee Ufan is an artist of extraordinary creative vision. Admired, even revered, abroad, Lee is surprisingly littleknown in North America, and this late-career survey, which we offer to the public as part of the Guggenheim's Asian Art Initiative, is overdue."
"Samsung is proud to support this exhibition of the work of Lee Ufan. Samsung is a passionate patron of the arts with many activities from the opening of Leeum, Samsung Museum of Art, in Seoul in 2004, to sponsored Korean art galleries and exhibitions in museums around the world. We are happy that Lee Ufan: Marking Infinity will bring the work of an outstanding and innovative artist to audiences in North America," said David Steel, Executive Vice President at Samsung Electronics America.
Artist's Background
Lee Ufan was born in southern Korea in 1936 and witnessed the political convulsions that beset the Korean peninsula from the Japanese occupation to the Korean War, which left the country divided in 1953. He studied painting at the College of Fine Arts at Seoul National University and soon moved to Japan, where he earned a degree in philosophy from Nihon University, Tokyo, focusing on phenomenology and structuralism.
Lee is an influential writer on aesthetics and contemporary art and is recognized as the key theorist of Mono-ha, an antiformalist, materials-based art movement that developed in Tokyo around a series of seminal writings Lee published between 1968 and 1971. In these and later essays (selections of which are featured in the exhibition catalogue for Lee Ufan: Marking Infinity), Lee constructs an aesthetic system that challenges the closed objecthood of modern art. He eschews objective form for a relational structure and spatial dynamic that induces us to encounter the bare existence of what is actually before us, to focus on "the world as it is." He promotes these mutual relationships between work, viewer, and surroundings by shifting the artist's role from an act of creation to a practice of mediation. Rooted in his philosophical stance and going beyond the binaries of Eastern and Western aesthetics, Lee's art and writings partook of the radical global rethinking that transformed contemporary art in the 1960s and 1970s, when terms such as "system," "structure," and "process" recast the object as a dynamic event occurring outside the studio confines in everyday time and space. His sculptures were shown in several group exhibitions at Tokyo's leading galleries and museums in the late 1960s and 1970s, a period when he also began presenting his work in Germany and France. Coincidental with the early recognition of his work in Europe, Lee's minimalist, systematic paintings gained critical praise both in Tokyo and Seoul, where he became a seminal figure in the Korean monochrome school.
Lee established a studio in Paris in the 1970s and has since split his time between Japan and France. He was a visiting professor at Ecole Nationale Supérieure des Beaux-Arts in Paris during the 1990s and professor of art at Tama Art University in Tokyo from 1973 to 2007. From the 1971 Paris Biennale, which introduced Mono-ha to Europe, to his solo exhibition Lee Ufan: Resonance at the 2007 Venice Biennale, Lee has won great recognition for his work. He has been the subject of major exhibitions at the Royal Museums of Fine Arts of Belgium, Brussels (2009); the Yokohama Museum of Art (2005); the Musée d'Art Moderne de Saint-Etienne Métropole (2005); the Samsung Museum of Modern Art, Seoul (2003); Kunstmuseum Bonn (2001); the Galerie Nationale du Jeu de Paume, Paris (1997); and the National Museum of Contemporary Art, Seoul (1994). He was awarded the Praemium Imperiale for painting in 2001 and the UNESCO Prize in 2000. Lee is the author of seventeen books, including the English-language anthology The Art of Encounter (2007). In 2010, the Lee Ufan Museum, designed by Tadao Ando, opened at Benesse Art Site Naoshima, Japan; and in 2011, Lee's work will be featured in two venues at the Venice Biennale, Palazzo Bembo and Palazzo Grassi.
Exhibition Overview
The exhibition has been designed in close collaboration with the artist and will feature signature works from Lee's sculptural series Relatum (1968–) as well as works from Lee's five major series of paintings, works on paper, and prints spanning 1972 to the present: From Point and From Line (1972–84), From Winds (1982–86), With Winds (1987–91), Correspondance (1991–2006), and Dialogue (2006– ). A selection of iconic work from Lee's Mono-ha period will offer a rare appearance of this vanguard movement in a U.S. museum.
Six key sculptures and paintings from the 1960s to the present will be installed on the rotunda floor, the High Gallery, and Rotunda Level 1 as an introduction to the exhibition. These include Phenomena and Perception B (1969/2011), a sculpture of the Mono-ha period that Lee will re-create for this exhibition comprising a large rock, a pane of glass, and a sheet of rolled steel. In an act of controlled chance, he drops the rock on the plates, cracking the glass on impact and bringing into being a relationship of coexistence between them. Also included in the introductory galleries is a recent painting, Dialogue (2008), composed of just two broad, grey-black brushstrokes that hover on an expanse of white canvas ground. Like much of Lee's work, Dialogue activates a resonance between what is seen and unseen, made and not made.
Early Drawings and Painting Series: 1964–1978
The exhibition is organized both chronologically and thematically. Beginning on Rotunda Levels 2 and 3, graphite drawings and early paintings chart the initial development of Lee's visual language. In Untitled (1964), Lee strikes the paper repetitively to create a dense field of dots or lines, the two basic units of East Asian calligraphy and painting that Lee learned as a child and that remain central to his conceptual and compositional principles.
In 1972–73, Lee embarked on two painting series, From Point and From Line. For From Point, he mixed ground mineral pigment with animal-skin glue, the traditional medium of East Asian painting, and brushed this powdery, crystalline emulsion on a primed canvas in a performative, systematic act.
Restricting his palette to a single color on a white ground (cobalt blue or burnt orange, evoking sky and earth, respectively), Lee loaded his brush with pigment and marked the white canvas with regular dabs from left to right until there was no more left on the brush. Works in the From Line series pursue a similar approach, moving vertically with a single gestural stroke, literally tracing the recurring passage of cyclical time. This sense of temporal infinitude is enhanced by Lee's choice to leave the canvases unframed, allowing us to imagine the painting expanding into its surroundings.
Mono-ha Sculptures and Installations: 1968–1979
Installed in the galleries and outdoor terrace of Annex Level 4, and along Rotunda Level 4, the exhibition features fourteen sculptures and installations from Lee's historic Mono-ha period. Literally "School of Things," this Japanese art movement grounded in the critique of modernity produced floorbased, scatterlike works that explore the phenomenological encounter between natural and industrial materials, employing rocks, steel plates, glass panes, lightbulbs, cotton, and Japanese paper in their barest condition to create vividly real spatial and temporal structures. Mono-ha works are essentially performative and site-specific, requiring Lee to recreate them onsite. After 1972, Lee titled his sculptural works Relatum, a philosophical term denoting objects or events between which a relation exists. "A work of art, rather than being a self-complete, independent entity, is a resonant relationship with the outside," Lee has written. "It exists together with the world, simultaneously what is and what is not, that is, a relatum."
Relatum (formerly Words, 1977/2011) will be installed on Annex Level 4, presenting an array of floor cushions, each loaded with one or more large, bodily stones. This uncanny work, conflating the outdoors with the artifice of a gallery, encompasses the relationships between the site, its lighting, and our movement through it. In Relatum (formerly Phenomena and Perception A, 1969), Lee takes a broad band of latex marked as a measuring tape, lays it across the floor, and places three stones of varying sizes on it at various points. The elastic band stretches and buckles, disrupting the system of measurement it codes. Another 1969 Relatum (formerly System A) presents a cube of steel plates whose seams burst with wads of artificial cotton. While presenting a physical opening up of the object to the surrounding world, Lee explores the conceptual coexistence of structure and process, permanence and mutability.
Relatum, With Winds, and Correspondance Series: 1980–2009
In the 1980s, Lee developed two series, From Winds and With Winds, in which free and dynamic brushstrokes stir up a deeply empty space. While this painterly development appears expressive and full, it reflects Lee's increasing interest in painting as a visible structure of invisible forces: his touch activates what he calls "the living composition of the empty spaces." These compositions become distilled in Lee's Correspondance series, which comprise of a few black brush strokes rhythmically placed on large white canvases.
Throughout the 1970s, Lee increasingly limited his choice of sculptural materials to steel plates and stones, conceptualizing the materials as connected opposites: the factory-rolled steel is the stone's distant, abstract product. To Lee, the stone in its natural state belongs to an unknown world of "externality" or "the other" that exists beyond the self. Arranging the plates and stones in precise relationships leaning against the wall or each other, or lying on the floor—the Relatum works revolve around the spatiotemporal relationship between the viewer, the components, and their surroundings.
Dialogue Series and Site-Specific Installation
Annex Level 7 presents six paintings from Lee's recent Dialogue series, including a two-panel folding screen. Lee paints these works with the canvas laid on the floor, marking their white surfaces with one, two, or three squarish strokes of grey-black oil paint mixed with mineral pigment. He sees emptiness not in a negative sense but as a powerful field of contact and interrelationship brought about by minimal interventions. In the same gallery, Lee will create a site-specific installation placing a single, broad, viscous stroke of paint on each of three adjacent walls of an empty room. Dialogue—space (2011) sets up a rhythm that exposes and enlivens the emptiness of the space, creating what Lee calls "an open site of power in which things and space interact vividly."
Exhibition Catalogue
The exhibition is accompanied by a richly illustrated 200-page catalogue surveying the artist's sculptures, paintings, installations, and works on paper from the 1960s to the present as well as the artist's writings, with an anthology of critical and theoretical works that includes seminal essays on contemporary art published in English for the first time. The catalogue offers new perspectives on Post- Minimalism as a transnational phenomenon and positions Lee's sources and practices within complex cultural, social, and political histories, spanning the mid-twentieth century to the present. This volume includes an essay by Alexandra Munroe; a meditation on Lee's poetics by Tatehata Akira, a poet, critic, and President of Kyoto City University of the Arts; and a narrative chronology of the artist's life and work compiled by Tokyo-based scholar Mika Yoshitake. Priced at $45 in a hardcover edition, the exhibition catalogue can be purchased at the Guggenheim Store or online at guggenheimstore.org beginning in mid-June.
Education and Public Programs
For complete information about the range of public programs presented in conjunction with Lee Ufan: Marking Infinity, please visit guggenheim.org/education. Highlights include:
Artist Conversation: Lee Ufan with Alexandra Munroe
Friday, June 24, 6:30 pm
Marking Infinity for Families
Sunday, July 17, 10:30 am–12 pm
A family-oriented exploration of Lee Ufan: Marking Infinity will incorporate conversation and creative hands-on gallery activities. For families with children ages 5–10.
The Art of the Encounter: Readings
Tuesday, July 26, 6:30 pm
Poets, critics, and philosophers read excerpts from Lee's writings on art and philosophy in the museum
galleries (in English).
Symposium
States of Emergency: The Agency of Objects, ca. 1970
Friday, September 16, 12 pm