COLOGNE CONTEMPORARIES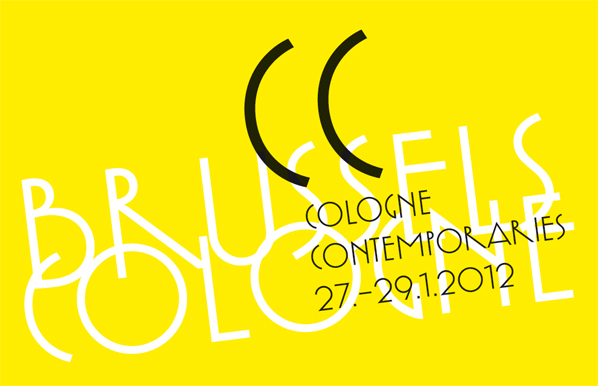 For the 5th time Cologne Contemporaries, the young gallery collective from Cologne, invites you to an evening of joint openings and a gallery weekend. This year's special event is a curated exhibition to which we invited young colleagues from Brussels to continue the collaboration with the neighboring BeNeLux art scene.
The curated exhibition will be on show on Saturday and Sunday, 28th and 29th January at the spacious industrial halls of the Carlswerk in Cologne-Mülheim and includes artist positions selected from the participating Brussels and Cologne galleries.
On Friday, 27th January the CC-Galleries will have their joint opening receptions and throughout the weekend will offer special opening hours.
Admission to the exhibition at the Carlswerk is free of charge.
For more information and to download a map for the gallery weekend please visit www.cc-nkg.com or facebook.
Download: BCC-Flyer
Herzliche Einladung zum Brussels Cologne Ausstellungswochenende!
Bereits zum fünften Mal laden die jungen Kölner Galerien zu gemeinsamen Eröffnungen und anschließendem Rundgang ein. In diesem Jahr wird dieses Ereignis jedoch von einer Ausstellung im Carlswerk in Köln-Mülheim begleitet, zu der wir auch sechs Galerien aus Brüssel eingeladen haben. In dieser kuratierten Schau, die am 28. und 29. Januar zu sehen ist, werden Werke von Künstlern aus den Kölner und Brüsseler Galerien gezeigt. Die gemeinsamen Eröffnungen in den Kölner Galerien finden einen Tag vorher, am Freitag, den 27. Januar, statt. Am Wochenende werden die Galerien ebenfalls geöffnet sein.
Der Eintritt zu der Ausstellung ist frei.
Weitere Informationen und einen Lageplan mit allen allen wichtigen Adressen finden Sie unter www.cc-nkg.com – facebook.