JAPAN PAVILION AWARDED GOLDEN LION FOR BEST NATIONAL PARTICIPATION – LA BIENNALE DI VENEZIA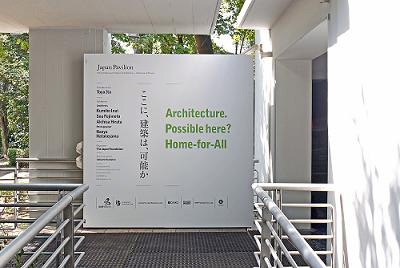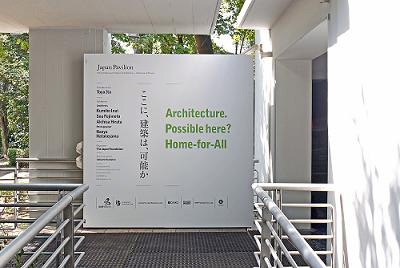 13th International Architecture Exhibition – La Biennale di Venezia
Japan Pavilion awarded Golden Lion for Best National Participation
Architecture. Possible here?
Home-for-All
Commissioner: Toyo Ito
Exhibitors: Kumiko Inui, Sou Fujimoto, Akihisa Hirata (architects), Naoya Hatakeyama (photographer)
The Japan Pavilion (Commissioner: Toyo Ito; organizer: The Japan Foundation) has been awarded the Golden Lion for Best National Participation at the 13th International Architecture Exhibition – La Biennale di Venezia.
This year's exhibition at the Japan Pavilion, titled "Architecture. Possible here? Home-for-All" presents, in conjunction with Commissioner Toyo Ito and participating architects Kumiko Inui, Sou Fujimoto, Akihisa Hirata, and photographer Naoya Hatakeyama, a document of the construction of a "Home-for-All" community center for victims of the Tohoku earthquake and others in the city of Rikuzentakata, and questions the possibility of architecture post-quake.
This year's winners were unveiled to coincide with the opening of the Biennale at 11am on 29 August 2012 (local time). We are delighted to announce that the Japan Pavilion's "Architecture. Possible here?" won the Golden Lion for Best National Participation.
This is Japan's second Pavilion award (Golden Lion), the first being in 1996 at the 6th International Architecture Exhibition for Commissioner Arata Isozaki's "Fractures."
Commissioner Toyo Ito: Comments
Let me first say what an honor this is. Our theme this time being the highly unusual one of "catastrophe" we were concerned about to what extent people from other countries would understand the exhibit; we are delighted they have been able to do so, and that the exhibit has been awarded this prize.
This was, in addition, a small project conceived under special conditions – those of a disaster-affected area – and we are also very pleased to have it so broadly understood that within that small project we take a fresh look at architecture in the most primitive of terms: asking what is architecture, and what does it mean for people to gather together?
Outline of the Biennale
Exhibition period: 29 August to 25 November 2012
Opening hours: 10 am–6 pm
Closed Mondays (except 3 September and 19 November 2012)
Venue: Giardini di Castello, Arsenale, and others
Director: David Chipperfield
Theme: Common Ground
Outline of the Japanese participation
Organizer: The Japan Foundation
Venue: The Japan Pavilion at the Giardini (designed by Takamasa Yoshizaka, completed in 1956)
Address: Padiglione Giapponese, Giardini della Biennale, Castello 1260, 30122 Venezia
Special support: Ishibashi Foundation
Cooperation: Jun Sato Structural Engineers Co., Ltd., Daiko Electric Co., Ltd.,
EASTWEST Inc., DNP Fotolusio Co., Ltd.
Commissioner: Toyo Ito
Exhibitors: Kumiko Inui, Sou Fujimoto, Akihisa Hirata (architects)
Naoya Hatakeyama (photographer)
Japan Pavilion official website: http://www.jpf.go.jp/venezia-biennale/