MIROSLAV SIK TO REPRESENT SWITZERLAND AT THE 2012 VENICE ARCHITECTURE BIENNALE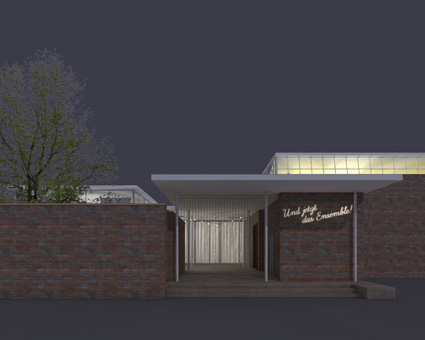 Miroslav Šik to represent Switzerland at the 2012 Venice Architecture Biennale
On the recommendation of its Biennale Jury, Pro Helvetia's Board of Trustees has nominated Miroslav Šik for the 2012 Architecture Biennale in Venice. In the opinion of Pro Helvetia, Miroslav Šik is a strong and effective voice in the field of architecture theory and contemporary Swiss architecture.
Miroslav Šik will represent Switzerland at the 2012 Architecture Biennale in Venice. By recommending Šik, Pro Helvetia's Biennale Jury underlined its intention to encourage discussions on the theory and design methods of contemporary architecture in addition to the examples of Swiss architectural practice presented in Venice.
Since 1980, Miroslav Šik has been noted for his incisive positions as a theorist, teacher and architect. His progressive approach combined with artistic and architectural qualities are manifested by his buildings and projects as well as by his numerous published essays. The term «analogous architecture», which he coined, deserves special mention. It is understood to mean designing new building via analogy to existing ones. Miroslav Šik explores forms of contemporary urban development that are in line with the times but also, beyond modernism and post-modernism, emphasise continuity. His teaching at the Swiss Federal Institute of Technology (ETH) in Zurich, based on his holistic view of architecture, exerts significant influence on contemporary architectural creation in Switzerland.
Miroslav Šik was born in Prague in 1953 and emigrated to Switzerland in 1968. In the 1970s he studied architecture at the ETH in Zurich under Aldo Rossi and Mario Campi. As an assistant to Fabio Reinhart at the ETH he initiated the manifesto and exhibitions on «analogous architecture» in cities including Berlin, Vienna, Stockholm and Paris. Miroslav Šik runs his own architecture firm in Zurich and has been Professor at the ETH since 1999.
Pro Helvetia's Biennale Jury
In accordance with Switzerland's new Arts and Culture Promotion Act, Pro Helvetia will be responsible for Switzerland's contributions to the art and architecture biennales in Venice from 2012. The Biennale Jury has now for the first time presented its choice for the renowned architecture biennale.
The Jury is made up of the following well-known art and architecture experts: Peter Fischli, artist; Katya García-Antón, curator; Simona Martinoli, Art and Architectural Historian; Joanna Mytkowska, art critic and curator of the Warsaw Museum of Modern Art; Arthur de Pury, curator at the Centre d'art de Neuchâtel; Philippe Rahm, architect (chairman); Peter Schneemann, director of the art history institute of the University of Bern.
Media Relations: Juliette Wyler, Communication
tel. +41 44 267 71 51, Fax +41 44 267 71 06, jwyler@prohelvetia.ch
.-.-.-
Padiglione della Svizzera alla 13. Mostra Internazionale di Architettura – la Biennale di Venezia
Miroslav Šik
«And Now the Ensemble!!!»
Commissari: Pro Helvetia, Fondazione svizzera per la cultura (Marianne Burki,
Responsabile Arti visive; Sandi Paucic, Responsabile di progetto Biennali Arti Visive)
Espositori: Miroslav Šik in collaborazione con Knapkiewicz & Fickert e Miller & Maranta
Evento collaterale: Salon Suisse, curato da Robert Guy Wilson
Palazzo Trevisan degli Ulivi
CONFERENZA STAMPA LUNEDI' 27 AGOSTO 2012 ORE 14:30
Padiglione della Svizzera, Giardini
Miroslav Šik, architetto e professore del Politecnico di Zurigo (ETH), teorico e iniziatore dell'«Architettura analogica», rappresenta la Svizzera alla 13. Mostra Internazionale di Architettura – la Biennale di Venezia. Con la sua esposizione «And Now the Ensemble!!!» invita colleghi, committenti e istituzioni a progettare nuovi edifici sempre come parte integrante dell'ambiente preesistente. Dall'edizione di quest'anno la Fondazione svizzera per la cultura Pro Helvetia amplia inoltre la sua proposta con un programma di eventi collaterali dal titolo «Salon Suisse».
Miroslav Šik va da sempre controcorrente sostenendo un'architettura non spettacolare, rifiutando l'architettura degli eventi, delle star e degli edifici isolati dal contesto. Il professore del Politecnico di Zurigo, che rappresenterà la Svizzera alla 13. Mostra Internazionale di Architettura – la Biennale di Venezia, vorrebbe invece che ogni nuovo edificio venisse creato in dialogo con l'ambiente circostante: la sua attenzione è rivolta infatti, in primo luogo, agli esseri umani che abitano un edificio e vivono nelle città. Šik ha invitato a collaborare gli studi di architettura Knapkiewicz & Fickert di Zurigo nonché Miller & Maranta di Basilea. Insieme hanno elaborato collage dei rispettivi edifici e progetti che rispecchia in modo programmatico la loro concezione dell'architettura.
La mostra «And Now the Ensemble!!!» è un appello agli architetti, ai costruttori e alle autorità affinché considerino il design urbano e l'architettura come un'opera d'arte collettiva basata sul dialogo e in costante evoluzione. Nella sala principale del padiglione svizzero questo appello verrà esplicitato da un manifesto visuale sotto forma di gigantesco murale-collage. L'opera, realizzata accostando immagini di edifici e progetti preesistenti, è frutto della collaborazione dei tre studi di architettura svizzeri che per anni hanno contribuito alla diffusione di un approccio organico, evocativo e di atmosfera all'architettura urbana.
Un edificio appena costruito o ristrutturato entra immancabilmente in relazione dialettica con l'ambiente circostante attraverso le sue linee, le emozioni che suscita e la funzione che svolge, anche se la costruzione sembra essere frammentaria o singolare. Cogliere le caratteristiche e l'identità di uno spazio quotidiano, facendo sì che possano pervadere qualsiasi nuovo progetto, e fondere il vecchio con il nuovo in un insieme «vitale», richiede una buona dose di empatia, grandi capacità architettoniche e una profonda conoscenza delle tradizioni storiche ed architettoniche locali. Progettare nuove unità all'interno di un complesso esistente non significa imitare un determinato modello urbano. Richiede un'interpretazione dello spazio basata su soluzioni già adottate e comprovate, una modernizzazione moderata e l'uso di elementi inconsueti al fine di dare un tocco di novità all'atmosfera complessiva. L'obiettivo è creare un insieme con un forte effetto spaziale e un carattere proprio, trasformando un tessuto di edifici pensati individualmente, frutto di successive trasformazioni, in un complesso armonioso. Un tale approccio al design e all'architettura dà corso a una forma contemporanea e continua di sviluppo urbano, che va oltre il modernismo e il postmodernismo. Se però l'elemento del dialogo viene tralasciato, se l'approccio scelto si basa unicamente sulle mode del momento o su opere di architetti star, il risultato può anche essere bello e spettacolare, ma rimane isolato e completamente avulso dall'ambiente circostante. Lungi dall'essere un insieme ben orchestrato, la somma di tali edifici è un caos e costituisce un ulteriore passo verso la monotonia globale.
Dall'edizione di quest'anno Pro Helvetia integra l'esposizione del padiglione svizzero con un ampio programma di eventi collaterali dal titolo «Salon Suisse» che, rifacendosi ai classici salotti letterari, stimola lo scambio fra specialisti e pubblico nel veneziano Palazzo Trevisan. In questo contesto Šik avrà la possibilità di confrontarsi con un pubblico eterogeneo e diversificato.
Tutte le informazioni sulla presenza della Svizzera alla 13. Mostra Internazionale di Architettura – la Biennale di Venezia sono disponibili sul sito web www.biennials.ch.