SPENCER FINCH – LISSON GALLERY – MILAN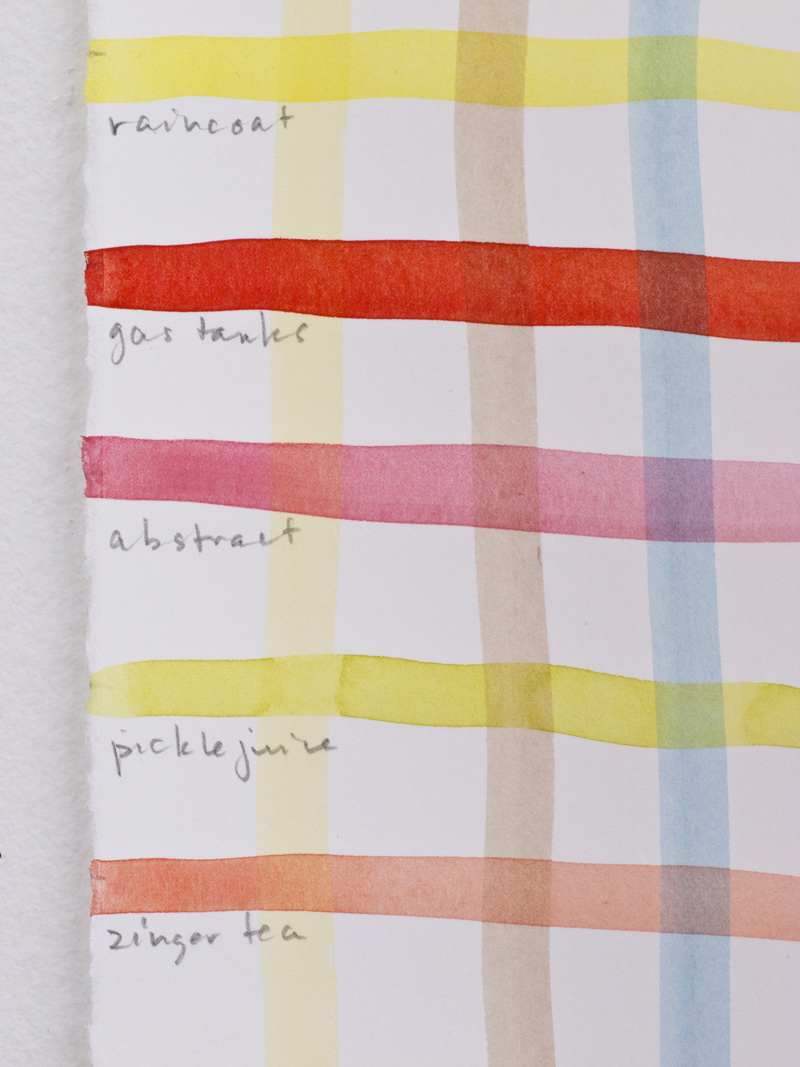 Spencer Finch
Not precisely knowing
Not precisely knowing not
16 November 2012 – 11 January 2013
Via Zenale 3, Milan
Spencer Finch will present a series of new works including a site-specific LED installation, a suite of photographs and a large watercolour that explore memory, colour and the relationship between the conscious and the unconscious. At the core of Finch's practice is his on-going investigation into the nature of light, colour, memory and perception. He uses scientific method to poetic effect, examining the mechanics and mystery of perception.
A Midsummer Night's Dream is a large, outdoor installation that comprises a forest of barely perceptible vertical brass rods of varying heights, each with a tiny LED at its tip. Like fireflies against the night sky, the LEDs light up intermittently and in different configurations, choreographed to 'perform' a scene from Shakespeare's play. The spectator is invited to track these blinking LEDs in their jerky, unpredictable trajectory. Finch is fascinated by the process of taking a beautiful, natural phenomenon and re-contextualising it in the cultural space of the gallery: a transformation that provokes a meditative observation that in turn inspires wonder. It is an arguably crude, theatrical animation that, in this suspension of disbelief, becomes a serene and mesmerizing experience.
Inspired by Emily Dickinson's poem, The Angle of a Landscape, Finch has created a series of 31 photographs documenting his first perspective on waking each day, throughout the month of October. Whether this be on an aeroplane, in a hotel room or at home, before sunrise or later in the day, he endeavours to capture the moment between sleep and wakefulness, the space between consciousness and unconsciousness – a perceptual landscape of experience.  The resultant images initially appear abstract but on closer inspection are revealed as, for example, the corner of his bedding, a pillow or a chest of drawers. Installed in a single, multi-panel grid, the images function like the pages of a visual diary.
Between 2000 and 2002, in the hope of creating a work about colour that could circumvent his perceptual apparatus, Finch kept a diary in which he recorded the colours from his dreams. It is to this diary that Finch returns for his new, large watercolour. Fascinated by the concept of mapping dreams and of attempting to capture the memory of colour, Finch has made a grid comprising 49 vertical and 69 horizontal coloured lines at one-inch intervals.  Each horizontal line is taken from this dream-colour diary and each vertical line relates to a colour remembered from early childhood: the colour of the house steps; his toy phone; a couch his parents owned; their first car and the teacups they used. On the one hand, a memory of an actual colour and, on the other, a memory of an imagined, dreamed colour.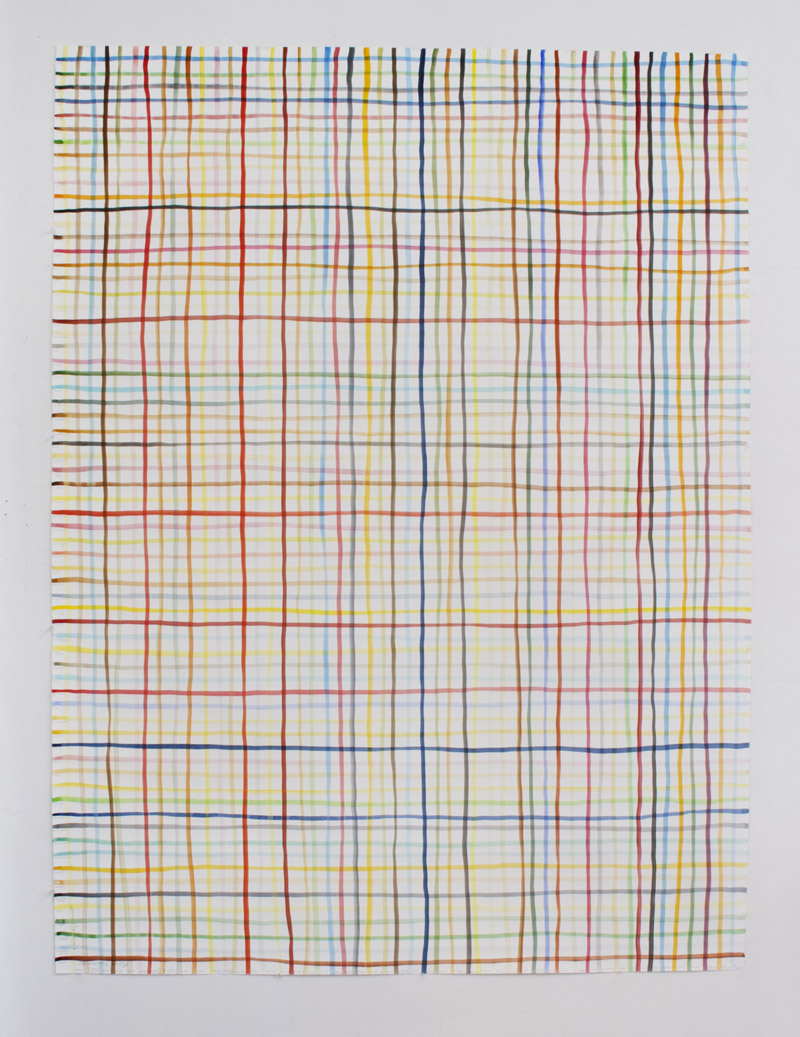 Spencer Finch
Not precisely knowing
not precisely knowing not
16 novembre 2012 – 11 gennaio 2013
Lisson Gallery Milan – Via Zenale 3
Inaugurazione: giovedì 15 novembre 2012, ore 19 – 21
Lisson Gallery Milan è lieta di annunciare, dal 16 novembre 2012 all'11 gennaio 2013, la personale di Spencer Finch Not precisely knowing. Not precisely knowing not.
Spencer Finch presenterà una serie di nuovi lavori tra cui una installazione LED creata appositamente per la galleria, una serie di fotografie e un acquerello di grandi dimensioni che esplorano la memoria, il colore e il rapporto tra conscio e inconscio. Al centro della pratica artistica di Finch vi è la sua indagine continua sulla natura della luce, del colore, della memoria e della percezione. Finch utilizza il metodo scientifico per ottenere effetti poetici, indagando la meccanica e il mistero della percezione.
"A Midsummer Night's Dream" (Sogno di una notte di mezza estate), 2012,  è una grande installazione esterna che consiste in una foresta di barre d'ottone verticali di diverse altezze, appena percettibili, ognuna con un piccolo LED sulla punta. Come lucciole che si stagliano nel cielo notturno, i LED si accendono a intermittenza, disegnando diverse figure, secondo una coreografia che ricorda la messa in scena di una pièce shakespeariana. Lo spettatore è invitato a seguire la traccia lampeggiante dei LED, nella loro imprevedibile traiettoria a scatti. Finch è affascinato dal processo che si ottiene prendendo un fenomeno naturale di grande bellezza e ri-contestualizzandolo nello spazio culturale della galleria: si ingenera una trasformazione che invita all'osservazione meditativa che a sua volta suscita meraviglia. Si tratta di un'animazione teatrale e primitiva ma che in questa sospensione di incredulità, diventa un'esperienza serena e affascinante.
Ispirandosi alla poesia di Emily Dickinson "The Angle of a Landscape" (L'angolo di Paesaggio), 2012, Finch ha realizzato una serie di 31 fotografie che documentano la sua prima visione al risveglio ogni giorno, per tutto il mese di ottobre. Che si tratti di un aereo, di una camera d'albergo o della sua casa, prima dell'alba o nel corso della giornata, Finch si sforza di catturare il momento tra il sonno e la veglia, lo spazio tra la coscienza e l'incoscienza – esperienza di un paesaggio percettivo. Le immagini che ne esitano sembrano a un primo sguardo astratte, ma a un più attento esame queste si rivelano, mostrando, ad esempio, l'angolo di un letto, un cuscino o un cassetto per la biancheria. Installate su una griglia con un unico multi-pannello, le immagini funzionano come le pagine di un diario visivo.
Tra il 2000 e il 2002, nella speranza di creare un lavoro sul colore che potesse eludere il suo apparato percettivo, Finch ha tenuto un diario nel quale ha annotato i colori dei suoi sogni. È a questo diario che Finch fa riferimento per il suo nuovo grande acquerello. Affascinato dal concetto di poter mappare i sogni e dal tentativo di catturare la memoria del colore, Finch ha realizzato una griglia che comprende 49 linee verticali e 69 linee orizzontali colorate, a intervalli regolari di un pollice. Ogni linea orizzontale è presa da questo diario dei sogni-colore mentre ogni linea verticale si riferisce a un colore rimasto impresso nella sua memoria sin dalla prima infanzia: il colore dei gradini della sua casa, del suo telefono giocattolo, di un divano appartenuto ai suoi genitori, della loro prima automobile e delle tazze da tè che erano soliti utilizzare. Da un lato la memoria di un colore reale e dall'altro la memoria di colore immaginario, solo sognato.
Cenni biografici sull'artista
Spencer Finch (1962) ha esposto a livello internazionale presso importanti istituzioni. Mostre personali: Art Institute of Chicago, Chicago, IL (2011), Emily Dickinson Museum, Amherst, MA (2011), Corcoran Gallery of Art, Washington, DC (2010); Frac des Pays de la Loire, Carquefou, Francia (2010), Galleria d'Arte Moderna di Queensland, Brisbane (2009); Dundee Contemporary Arts, Dundee (2008), MASS MoCA, North Adams, MA (2007).
Tra le collettive: Museum of Contemporary Art San Diego, La Jolla, CA (2011), Folkestone Triennial, Folkestone (2011), Hayward Gallery, Londra (2010), Solomon R. Guggenheim Museum, New York (2010), 53ma Biennale di Venezia (2009), Whitney Museum of American Art di New York (2004). Tra i suoi progetti di arte pubblica: la commissione per la High Line (2009) e Park Armory Avenue, New York (2008).
INFORMAZIONI PRATICHE
Mostra
Spencer Finch
Not precisely knowing
Not precisely knowing not
Date: 16 novembre 2012 – 11 gennaio 2013
Sede: Lisson Gallery Milan
via Zenale 3, Milano – T +39 02 89 05 06 08
Orari di Apertura: da Lunedì a Venerdì: 9.30–13.00 e 15.00–18.00
Contatti per la stampa:
Paola C. Manfredi Studio – T +39 02 87238004 – press@paolamanfredi.com
Facebook  Paola C. Manfredi Studio
Twitter @PCMstudio