COMPANION – THE ITALIAN LITERATURE OF MIGRATION – SUDLAB – PORTICI – NAPOLI

"Companion"
II Viale Melina , 4-6 – 80055 – Portici (NA) – ITALY
www.sudlab.com/
"Cultivating Bridges. Migrants worlds, images, words, songs"
It's an action-event curate by Lidia Curti and Michaela Quadraro, about the perspectives and poetic writings of the Diaspora with the readings from the novels' pages of  Igiaba Scego, the reflections by Iain Chambers on the blues and the Mediterranean and the installation by Lello Lopez from his project "Companion". An important part of the event are the sounds of the Tunisian musician Marzouk Mejiri and the jazz of Elizabeth Serio and the still frame captured from the video of the sea that is both hope and death. The intent is to create an encounter that becomes a bridge between two cultures.
This project originates from the phenomenon of migrant writers who write in Italian: the Italian literature of migration, a dimension which is progressively more problematic and encompassed within the contemporary writing field. If the linguistic element bears the ideas of identity and of being part of a specific human and territorial reality, these new linguistic subjects highlight the transient nature of the concept of identity itself and its definition as ethnical and cultural belonging.
"Companion" finds its roots in a reflection on a short story I wrote in 2005 about a street vendor called Ibrahim whom I met by chance and whose Italian I was enchanted by. "Companion" aims to suggest, from an extra methodic angle,  that there are changes in our own identity as a people due to the new poetic and communicative formats expressed by migrant writers. My attention was drawn by those who come from the Mediterranean shores Italy has often woven its fate with, as well as by those writers who come from ex Italian colonies Italy still has a historical and an overall moral debt with.The project consists of two installations of 260x480cm. Each installation is composed of ten digital photographs where, in grey acrylic, I have written names, work and date of Italian-writing migrant writers. A nucleus of eighteen collage on picture measuring 25x35cm as well as a work on paper of 140x200cm are connected to the first set of photographs. Beside the work on paper, directly on the wall, you can read the story titled "Ibrahim".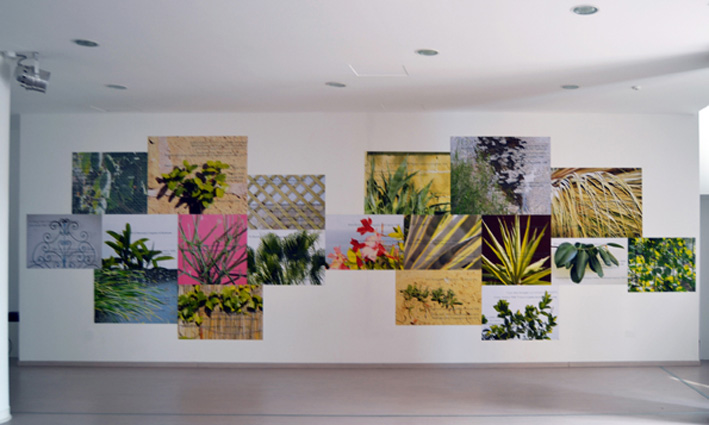 "Companion"
II Viale Melina , 4-6 – 80055 – Portici (NA) – ITALY
www.sudlab.com/
Questo progetto trae origine dal fenomeno degli scrittori immigrati che scrivono in italiano: la letteratura italiana della migrazione, una dimensione sempre più problematica e avvertita nel panorama della scrittura contemporanea. Se l'elemento linguistico mostra il carattere identitario e rivela la coscienza di appartenere a una definita realtà umana e territoriale, questi nuovi soggetti linguistici mettono in evidenza la natura transitoria del concetto di identità e la sua definizione come appartenenza etnica e culturale. Partendo da una riflessione su un breve racconto che scrissi nel 2005 su un venditore ambulante di nome Ibrahim, che incontrai per caso, e che mi incantò col suo italiano, "Companion" vuole suggerire, da un punto di vista extrametodico, la possibilità che mutamenti della nostra identità di popolo sono in atto grazie alle nuove poetiche e ai nuovi modelli espressivi di questi scrittori. La mia attenzione è caduta su quelli provenienti dai Paesi delle sponde del Mediterraneo con i quali abbiamo spesso intrecciato i nostri destini e sugli scrittori provenienti dalle ex colonie italiane verso i quali abbiamo un debito storico e soprattutto morale. Materialmente il progetto si compone di due installazioni di cm260x480. Ognuna di esse è composta da dieci fotografie digitali su cui con acrilico di colore grigio ho trascritto nomi, opere e date di scrittori immigrati che scrivono in italiano. A queste si connette un nucleo di diciotto collage su foto di cm 25 x 35 e un'opera su carta di cm140x200. Di fianco a quest'ultima e direttamente sulla parete è trascritto il racconto "Ibrahim".