ANIMA / VISCERA – ETTI ABERGEL – YAEL BALABAN – OFRI CNAANI – GALLERIA MARIE-LAURE FLEISCH – ROMA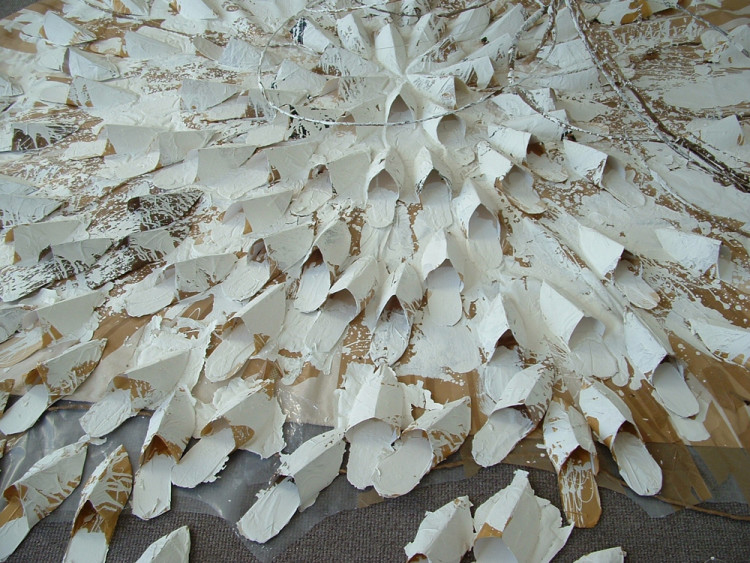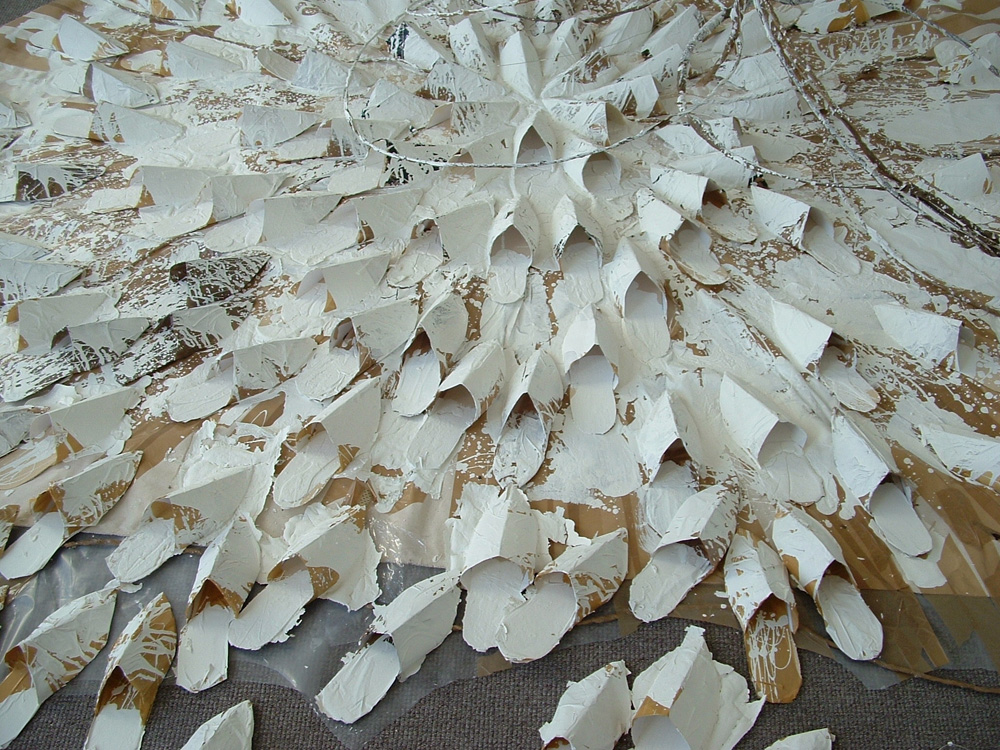 ANIMA / VISCERA
Etti Abergel | Yael Balaban
Project Room: Ofri Cnaani
dal progetto About Paper. Israeli Contemporary Art, a cura di Giorgia Calò
Maya Attoun, Hilla Ben Ari, Yifat Bezalel, Maya Zack, Etti Abergel, Yael Balaban, Ofri Cnaani
Performance di Ofri Cnaani: lunedì 10 dicembre 2012, ore 18.00
Casa delle Letterature, P.zza dell'Orologio 3 | Roma
Inaugurazione mostra: lunedì 10 dicembre 2012, ore 18.30
Galleria Marie-Laure Fleisch | Vicolo Sforza Cesarini 3A | Roma
Dal 10 dicembre 2012 al 16 febbraio 2013
Lunedì 10 dicembre alle ore 18.30, la Galleria Marie-Laure Fleisch ospita la doppia personale di Etti Abergel e Yael Balaban intitolata Anima / Viscera e una Project Room di Ofri Cnaani. Questo è l'ultimo appuntamento del progetto About Paper. Israeli Contemporary Art, che si concluderà con la presentazione dell'omonimo libro (Postmedia Books, ingl/ita) martedì 18 dicembre alle ore 18,30 nella sala conferenze del MACRO di Roma.
Lo spazio espositivo si struttura su due registri: da una parte abbiamo le grandi installazioni di Etti Abergel che scandiscono lo spazio nella sua totalità, cogliendo il loro potere indipendente che li rende corpi scultorei isolati. I lavori, uno dei quali site specific realizzato con materiali recuperati a Roma durante la sua permanenza, si presentano come un diario capace di documentare un viaggio interiore. L'artista accumula oggetti, parole e immagini compiendo una serie di azioni come legare, ammucchiare, dipingere, impacchettare, appendere, colare. Atti che vengono applicati agli oggetti finché essi cessano di essere ciò che sono e iniziano a trasformarsi in qualcosa di altro, reinterpretati dall'artista in forme diverse. Abergel con le sue sculture appese sembra volere staccarsi dalla dimensione concreta e tangibile dello spazio per perdersi nelle viscere di un luogo interiore.
Dall'altra parte della sala espositiva abbiamo i disegni su carta di Yael Balaban, ispirati agli Ignudi michelangioleschi della Cappella Sistina. I muscolosi corpi torniti del Buonarroti qui si intersecano e si fondono con voluttuosi motivi vegetali diventando così ibridi organici. Sono corpi a cui l'artista ha deciso di eliminare la testa, che esibiscono la loro nudità maschile come oggetto del desiderio. Balaban li delinea meticolosamente con una tecnica a penna densa, quasi una cesellatura, che contrasta con il bianco candido che li circonda e li stacca, in un connubio emozionale di forza e rigore.
Nello spazio della Project Room saranno esposti i lavori di Ofri Cnaani nei quali il corpo femminile, raffigurato in stampe e cianotipi di piccole dimensioni, risulta essere il tema centrale di questa sua ricerca. L'artista lo pone in relazione con oggetti e macchine, dando luogo a immagini in cui l'erotismo rimanda ad aspetti controversi del femminismo e della relazione tra uomo e donna, in un suo atto di negazione e di rivolta rispetto ad una cultura patriarcale. La performance YES YES YES che accompagna l'evento espositivo, è un viaggio intellettuale e fisico che completa la ricerca dell'artista, ponendosi come passaggio da una rappresentazione bidimensionale a una tridimensionale.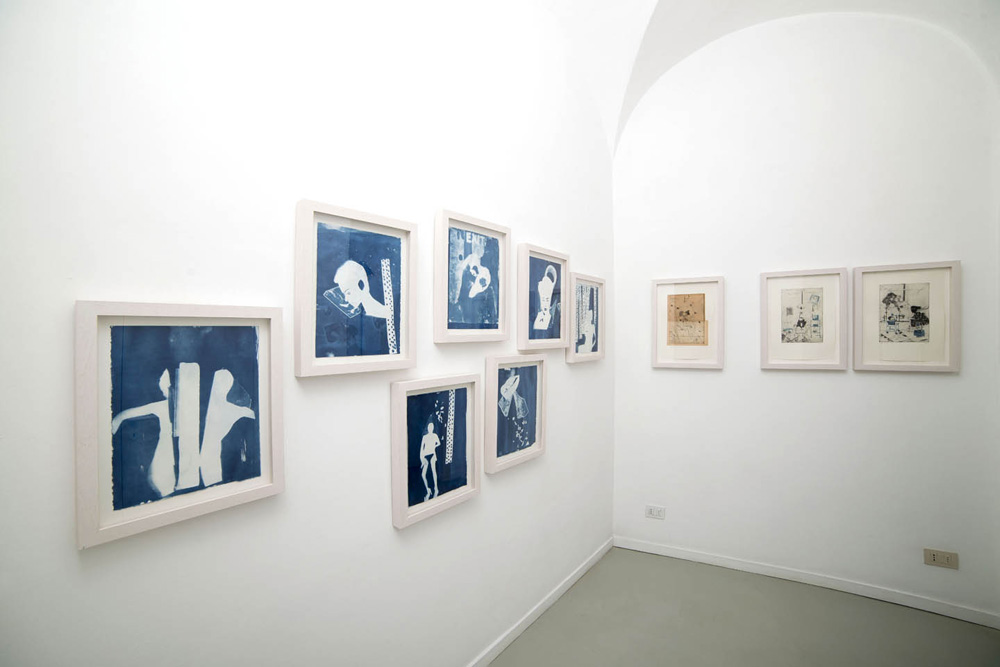 Etti Abergel (Israele, 1960) vive e lavora a Gerusalemme. Insegna Disegno, Scultura ed Educazione Artistica presso lo Shenkar College of Engineering e Design al Kerem Institute. Tra i premi vinti: Janet and George Jaffin Award for Excellence in the Visual Arts from the America-Israel Cultural Foundation nel 2005. Le sue recenti personali sono state: Between Chapters, Dvir Gallery at Hangar 2, Old Jaffa Port, Jaffa-Tel Aviv (2011); Cracks in Naked Walls installation, Gallery of the Center for Art, Science and Technology of the Technion-Israel Institute of Technology, Haifa (2010). Tra le collettive ricordiamo: Mini Israel, The Israel Museum, Gerusalemme (2006); Such Stuff As Dreams Are Made On, Chelsea Museum New York Week of Israeli Art (2005); Clandestini, Biennale di Venezia, curata da Francesco Bonami (2003).

Yael Balaban (Russia, 1958) vive e lavora a Haifa. Tra le mostre personali ricordiamo: Making Order. Yael Balaban / Drawings, Municipal Art Gallery, Rehovot, Israele (2012); Lost Time, Artist Wall, Janco-Dada Museum, Ein Hod (2011); Kapusta, Shay Arye Gallery, Tel Aviv (2010); Everybody's Air, Jerusalem Art Center (2008). Mentre fra le collettive ricordiamo: Drawing Connection, Siena Art Institute, Siena (2011); Edges & Curves, Haggus Society, Los Angeles, USA (2011); Salame 008, Bezalel Academy of Arts (2008).

Ofri Cnaani (Israele, 1975) vive e lavora a New York. Insegna alla School of Visual Art di New York e al Transart Institute di Berlino. È stata due volte vincitrice del America-Israel Cultural Foundation Award. Tra le mostre personali: BMW Guggenheim Lab, PS1/MoMA, NYC; Fisher Museum, LA; Twister, Rete Musei Lombardia per l'Arte Contemporanea, Milano; Kunsthalle Galapagos, NYC; Andrea Meislin Gallery, NYC; Braverman Gallery, Tel Aviv; Pack Gallery, Milano; Haifa Museum of Art, Israel; Herzlyia Museum of Art, Israel.
Galleria Marie-Laure Fleisch| Vicolo Sforza Cesarini, 3A |00186 Roma | t. +39 06 688 91936| info@galleriamlf.com| www.galleriamlf.com | lunedì-venerdì 14.00-20.00|sabato 16.00 – 20.00 | mattina e domenica su appuntamento| Press office: press@galleriamlf.com
Position the cursor on the images to view captions, click on images to enlarge them. 

Posizionare il cursore sulle immagini per leggere le didascalie; cliccare sulle immagini per ingrandirle.